Introduction
Cake Batter Ice Cream is a beloved flavor at Cold Stone Creamery. Now, you can indulge in this delightful treat without leaving the comfort of your home. Made with only 7 simple ingredients, this homemade ice cream captures the rich and creamy essence of birthday cake.
Embrace the Summertime with Cake Batter Ice Cream
As summer approaches, it's time to gather a collection of homemade ice cream recipes. Cold Stone's Cake Batter Ice Cream is a heavenly and creamy delight that truly tastes like cake batter! And the best part? It's incredibly easy to make at home. With just 5 minutes of preparation, your ice cream machine will do the rest.
If you fondly remember licking the spoon when you were young, then this homemade ice cream recipe is perfect for you. If you don't have an ice cream machine, don't worry! You can also try making my Ice Cream in a Bag, No-Churn Peaches and Cream Ice Cream, or No-Churn 2-Ingredient Strawberry Ice Cream.
Ingredient Notes and Substitutions
Boxed Cake Mix: You'll need a box of yellow cake mix, but don't follow the preparation instructions. Instead, measure out the appropriate amount of the powdered mixture and combine it with the other ingredients listed in this cake batter ice cream recipe.

Heavy Cream and Whole Milk: These two ingredients are crucial for achieving a creamy consistency. For an even creamier texture, you can substitute the milk with half and half or sweetened condensed milk. While I haven't personally tried dairy-free substitutes, you might be able to use them. Just ensure that your cake mix is also dairy-free!

Vanilla Extract: The flavor of the vanilla extract really shines through in this recipe, so it's essential to use the highest quality you can find.
Tips for Making Birthday Cake Flavored Ice Cream
Choose the right cake mix: After testing this recipe with various cake mixes, we found that Pillsbury Classic Yellow Moist Supreme comes closest to replicating the classic Cold Stone Cake Batter Ice Cream flavor. However, if you're not aiming for an exact copycat recipe, feel free to use your favorite white or yellow cake mix.

Wait to add sprinkles: Add the sprinkles during the "mix-in" phase of the churning process. If your ice cream machine doesn't have this option, you can add them just before your cake batter ice cream is done or fold them in after transferring the mixture to the pan before freezing.

Soften before serving: Once your homemade Cold Stone cake batter ice cream is ready, it will be quite firm. To make it easier to scoop, let it sit on the counter for a few minutes or run your scoop under hot water (and dry) before using it.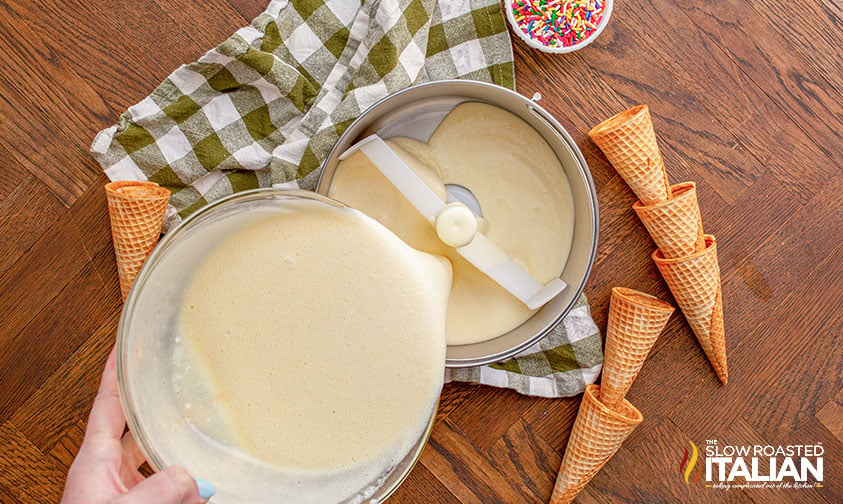 Flavor Variations
Don't limit yourself to just one flavor! While chocolate cake batter ice cream made with a box of chocolate cake mix is a delicious option, you can get even more creative with mix-ins. After all, the best part of ordering cake batter ice cream at Cold Stone is choosing the additional ingredients!
Swirl in sauce: Make easy homemade toppings like hot fudge, caramel sauce, strawberry topping, or even jams and jellies.

Like it chunky? Incorporate chopped candy, mini marshmallows, crushed cookies, or edible cookie dough chunks.

Swap the sprinkles: Use different colors of sprinkles for different occasions. For example, red and green for Christmas, pastel colors for Easter and springtime, or red and blue for patriotic holidays.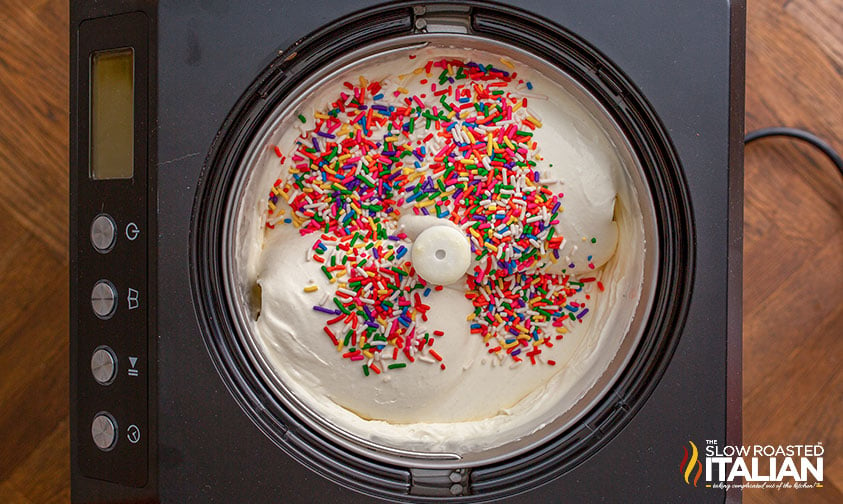 Storing Your Homemade Cake Batter Ice Cream
If you can't finish the ice cream right away, store it in a shallow airtight container. Press plastic wrap onto the surface before closing the container to prevent ice crystals from forming on the frozen dessert.
Homemade cake batter ice cream can be kept in the freezer for up to 2 weeks. However, after that, it may start to become grainy. Remember to store the ice cream in the back of the freezer for the most consistent cold temperature. Avoid storing it in the freezer door, as the temperature fluctuations may affect the taste and texture.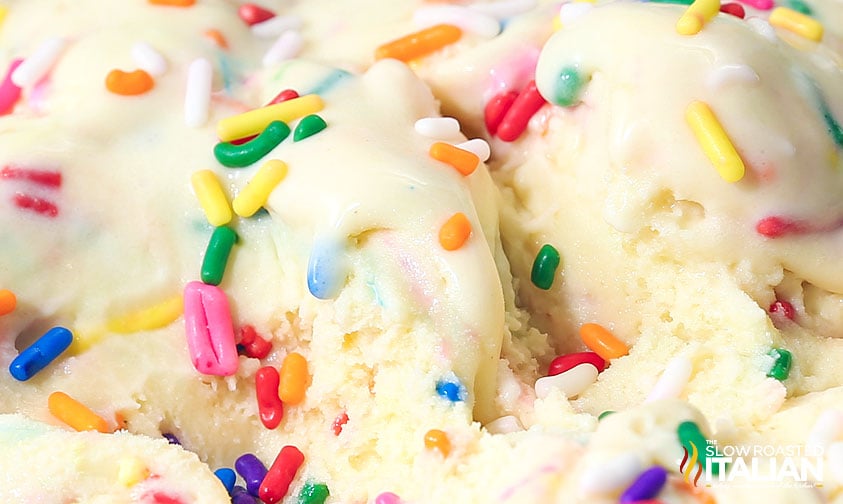 Conclusion
Enjoy this delicious homemade Yellow Cake Batter Ice Cream with love, from our simple kitchen to yours. For more amazing ice cream recipes and delightful culinary creations, visit Ice Cream.
Originally published June 2015. Updated and republished July 2023.
Note: This article may contain affiliate links. By purchasing a product through an affiliate link, the price remains the same for you, and The Slow Roasted Italian receives a small commission. Thank you for supporting us and helping us create more fabulous recipes!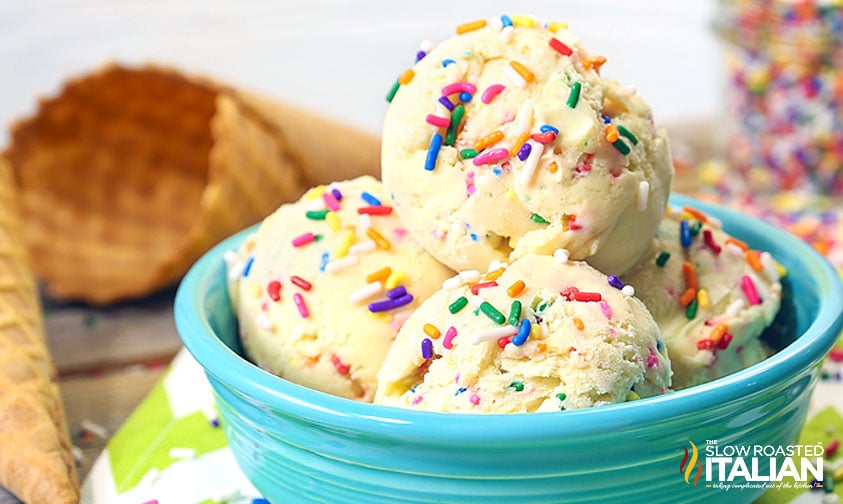 ---
Remember, if you're craving a delectable homemade ice cream that tastes just like cake batter, this Yellow Cake Batter Ice Cream recipe is a must-try. With its creamy texture, delightful flavor, and endless customization options, it's the perfect treat for any occasion. Get ready to enjoy the nostalgic taste of licking the spoon, right in your own home!