Here are the best information about Disney world ice cream voted by users and compiled by us, invite you to learn together
Whether you're standing in the middle of Main Street U.S.A., taking a breather back at your Disney Resort, or dashing from one attraction to another… anytime at Disney is a good time for ice cream! So, try not to judge our overindulging ice cream-loving taste buds as we share our top nine favorite places to find the very best ice cream at Walt Disney World.
9 – Happy Landings Ice Cream @ Typhoon Lagoon
It may be number ten on the list, but Happy Landings Ice Cream still gets high marks from us! Get this – they have a Sand Pail that they fill with ice cream… chocolate and vanilla soft-serve ice cream, waffle cone, and Oreo cookie pieces, sprinkles, hot fudge, caramel sauce, whipped cream, and a cherry of course! All of this goodness is layered into the Sand Pail to be enjoyed. The best part is they give you a shovel to eat it with. Just awesome! If you aren't tempted to indulge in the Sand Pail, grab a classic ice cream snack like Mickey's Ice Cream Bar.
8 – Auntie Gravity's Galactic Goodies @ Magic Kingdom
What's better than Tomorrowland'sTomorrowland's Space Mountain? A ride on Space Mountain and an ice cream to follow it! Get your feet back on the ground with a visit to Auntie Gravity's Galactic Goodies for a delicious line-up of ice cream selections. In the mood for a Caramel, Strawberry, or a Hot Fudge Sundae? Auntie Gravity's has you covered. Go simple with a soft-serve cone or cup, or enjoy an Ice Cream Float with a fountain beverage of your choice. This is an especially great place to keep in your hip pocket on those hot and crowded park days.
7 – 50's Prime Time Café @ Hollywood Studios
Mom is calling and she has some impressive ice cream options for you to enjoy! 50's Prime Time Café at Hollywood Studios has a perfect 50's-era atmosphere with Moms, Dads, Aunts, and Uncles as the servers. Catch a 50's television show on the tube while you dine. Be prepared however to order an ice cream dessert to wrap up this perfect meal! The Ice Cream Sundae or one of their other flavored shakes are tasty as well. Plus, most of their other dessert are served A 'la mode! If you don't have a dining reservation, check out the Tune-In Lounge inside the restaurant and snag an ice cream to go.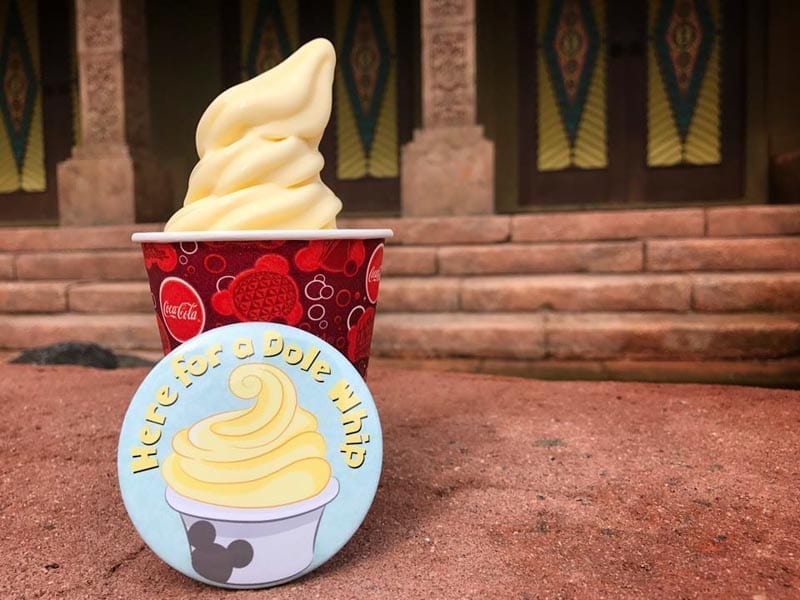 6 – Aloha Isle @ Magic Kingdom
The Dole Whip! This is probably one of the most nostalgic ice cream choices you'll find at Disney World. If you've never had one, or even if you've had multiple – a stopover in Adventureland at Aloha Isle is never a bad idea. The light and refreshing pineapple with soft-serve vanilla or swirled ice cream is such a delectable treat! Disney even offers Mobile Ordering for Dole Whips on the My Disney Experience App at Aloha Isle. If you aren't at Magic Kingdom – don't fret! You can get a Dole Whip at either Disney's Polynesian Resort or Disney's Pop Century Resort. Different versions (including alcoholic Dole Whips) are available at Animal Kingdom as well.
5 – Gelateria Toscana @ Epcot's World Showcase
An ice cream list isn't complete without an Italian Gelato! Nestled perfectly in the Italy Pavilion around Epcot's World Showcase is a small kiosk called Gelateria Toscana that holds big flavor. Do you want your Gelato to come in a cup, cone, or between a cookie sandwich? As if that's not a difficult enough choice, you'll need to decide what flavor of Gelato you want! You can even try their options like cannoli and delicious bakery items. If you're heading to Disney Springs, you will also find outstanding Gelato options at the Vivoli il Gelato in The Landing. Yum!
4 – Ghirardelli Soda Fountain & Chocolate Shop @ Disney Springs – Marketplace
World-famous chocolate and ice cream is a combination we can't get enough of! Located in Disney Springs Marketplace, Ghirardelli serves up unforgettable ice cream goodness. An insane list of sundaes awaits with options like Sea Salt Caramel Sundae, Golden Gate Banana Split, Marina Raspberry Sorbet Sundae, and Painted Ladies Mint Bliss. Sundaes aren't your thing? Check out their long list of shakes and floats or stick with the scoop or cone. A chocolate/ice cream heaven awaits!
3 – L'Artisan des Glaces @ Epcot's World Showcase
We're traveling to France (that is France in Epcot's World Showcase) for a satisfying array of ice cream flavors delivered with a dose of French detail. Our favorite selection at L'Artisan is actually their alcoholic option, the Ice Cream Martini! If that's not your style, they have a great selection of ice cream flavors to put in a cup or cone to allow for easy wandering of the France Pavilion while you snack. Some especially memorable flavors include Caramel Fleur de Sel, Coffee, Cinnamon with Caramelized Pecan, and Coco-white Chocolate. Their sorbets and artisan specials (like the Macaron Ice Cream Sandwich) are also fantastic choices.
2 – Plaza Ice Cream Parlor @ Magic Kingdom
Main Street U.S.A. is such a memorable place at Magic Kingdom. One of the shops that stands out the most for us would have to be the Plaza Ice Cream Parlor nestled on the corner just across the way from Casey's Corner. This is a great place to breeze in and out before a parade to enjoy a tasty treat while waiting for the entertainment. The menu offers all the favorites you'd expect at an ice cream parlor, but with a few Disney touches like cookie Mickey Mouse ears that can be added to ice cream selections. A timeless favorite here is Mickey's Kitchen Sink Sundae which comes in a plastic souvenir sink! We'd also recommend the "Cheers to 50 years!" Sundae, and Omnibus Sundae!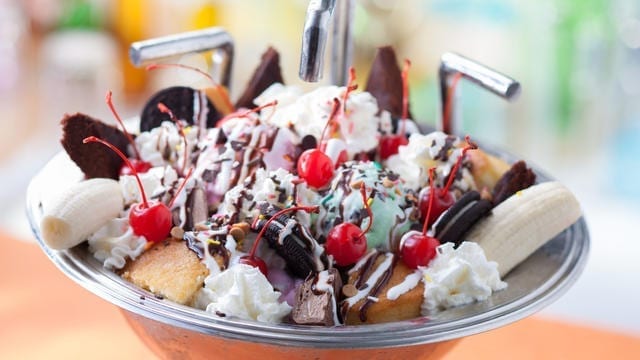 1 – Beaches & Cream Soda Shop @ Disney's Beach Club Resort
If the home of the Kitchen Sink wasn't on this list, we'd have to call shenanigans! This restaurant at Disney's Beach Club is a great spot to remember the old-fashioned soda shop while playing your favorite tunes on the jukebox. Dine-in for some tasty American classics like burgers and fries before diving into your ice cream dessert. The Kitchen Sink we mentioned is a mountain of ice cream that when delivered to the table sets of alarms! 8 scoops of ice cream and EVERY topping in-store is what you and your hopefully very hungry friends can look forward to! While the kitchen sink is the most popular, more fantastic ice cream options include the No Way Jose, Classic Banana Split, Malts, Coke or Root Beer floats, and much more. Adult Hard Floats are available here too. No reservations? No worries, you can simply order your ice cream to-go at the special to-go counter. Beaches & Cream is truly that all-American ice cream joint you'll want to visit again and again.