Here are the top best How to make sorbet without ice cream maker voted by readers and compiled and edited by our team, let's find out
This no churn raspberry sorbet is the ultimate summer treat! It's light, refreshing, flavorful, and can easily be made without an ice cream maker. Made with just 5 simple ingredients, homemade sorbet is naturally low in calories, gluten-free, and dairy-free!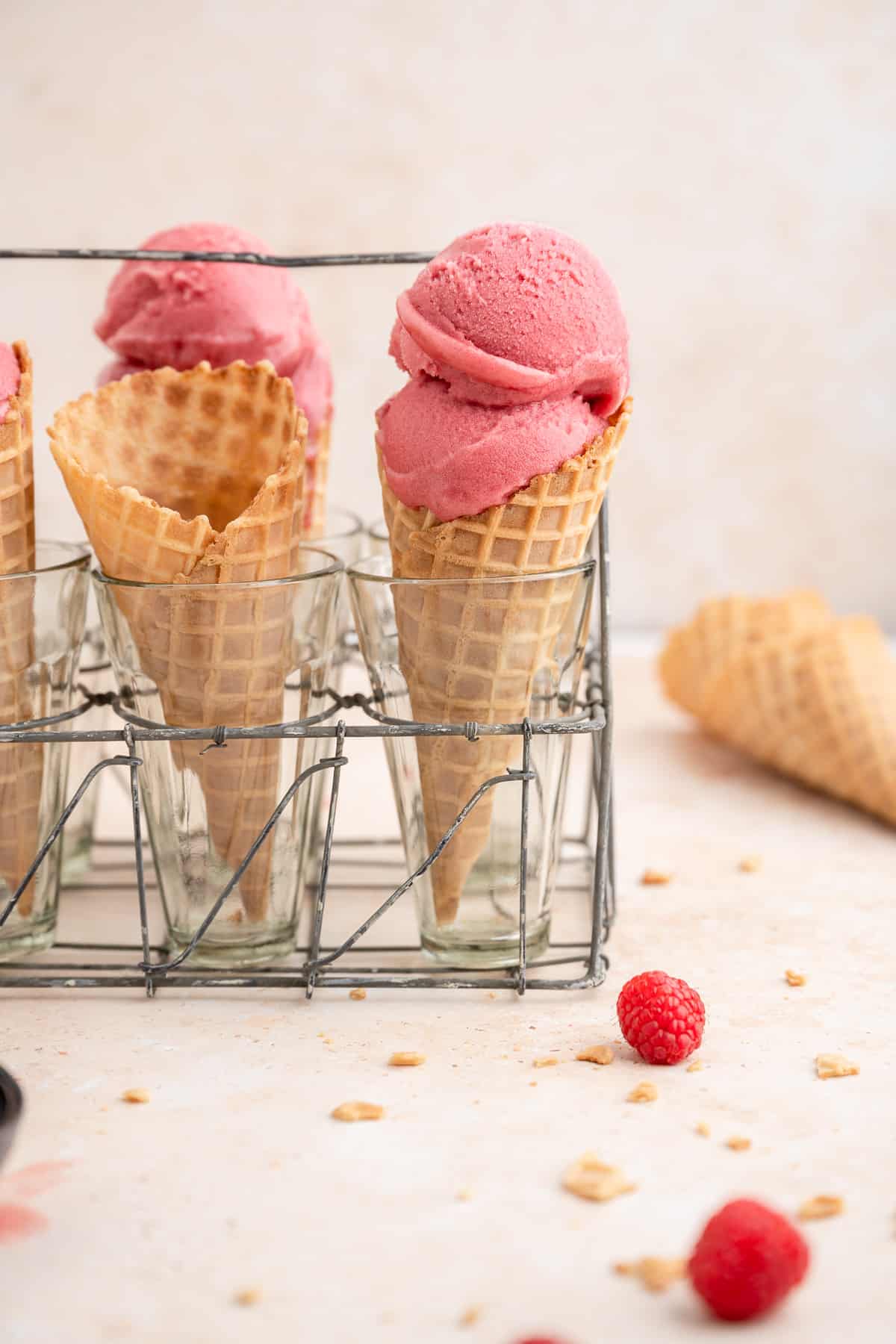 Jump to:
Ingredients
Instructions
Recipe Variations & Substitutions
Expert Tips
FAQ
📖 Recipe
💬 Reviews
Since going vegan a few years ago, raspberry sorbet has become my favorite frozen dessert so it's about time it hit the blog. It's creamy, tangy yet sweet, and a healthy-ish alternative to ice cream. This recipe is no different!
I love this recipe because it's so simple and customizable. I know this recipe is a raspberry sorbet, but you can use just about any fresh fruit you love! Let's get cooled off, shall we?
Ingredients
This recipe only calls for handful of simple ingredients that you likely already have on hand: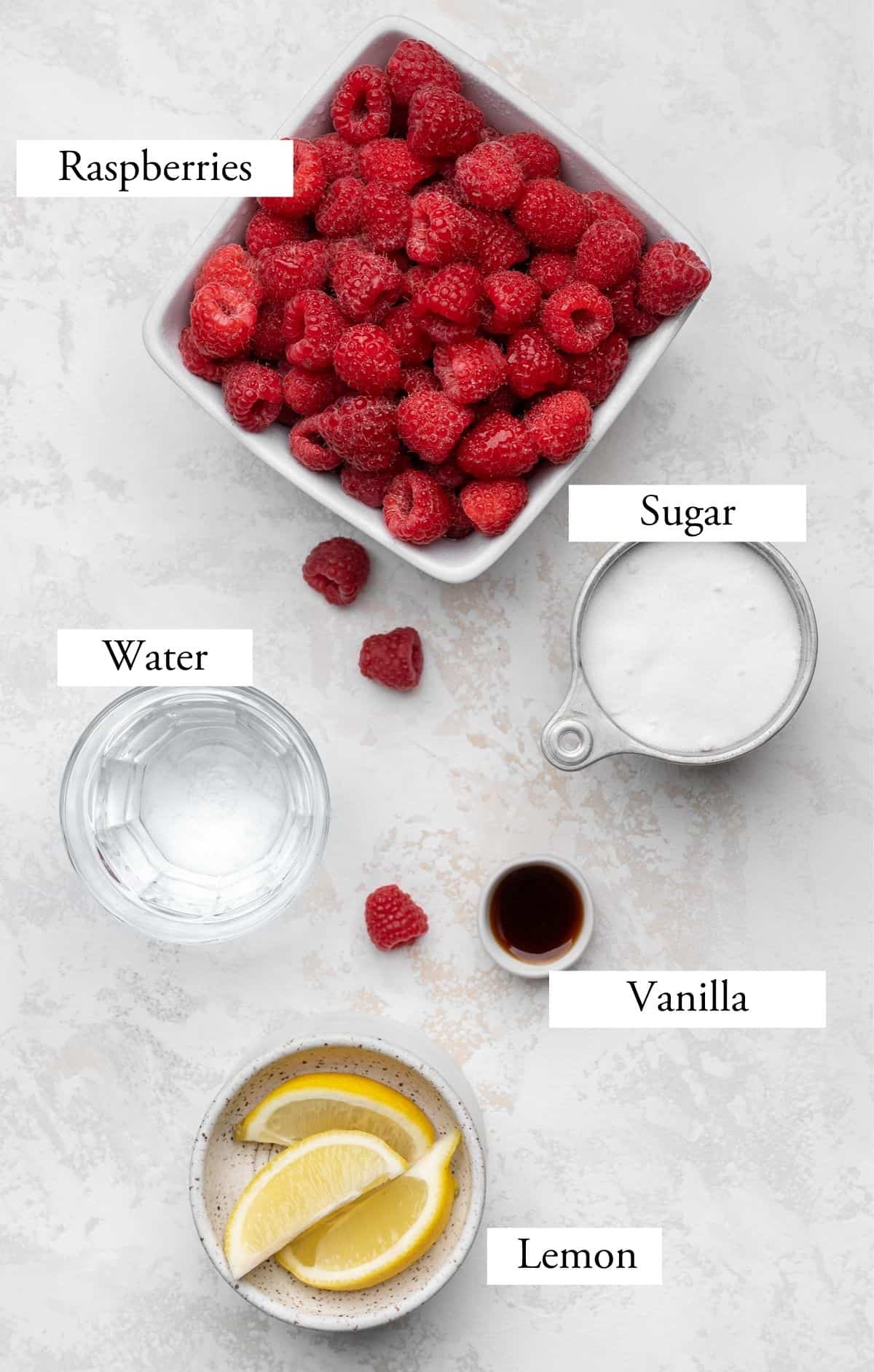 Raspberries: fresh, ripe raspberries are the heart and soul of this recipe. You can definitely use frozen raspberries but I think fresh works best! If you do use frozen, blend them first then see how much water you need, if any at all.
Water: only a little to give the raspberries something to blend into.
Sugar: sugar is necessary because it lowers the freezing point of water, ensuring that the sorbet does not freeze into an inedible ice cube. Also, raspberries are naturally quite tart in flavor, so this will help bring some sweetness to the sorbet. I highly recommend sticking to the amount of sugar noted here, as adding less will make your sorbet too icy while adding more could lead it to not freeze.
Lemon Juice: to enhance the raspberry flavor and bring out some of that tartness.
Instructions
If you've ever wondered how to make sorbet without an ice cream maker, HERE'S HOW! Because this no churn raspberry sorbet is made without an ice cream maker, it is a bit more time consuming (while still being super easy) but I promise it's totally worth it.
To a food processor (recommended) or high-speed blender, add raspberries and water. Blend on high for 2 minutes or until fully puréed. There should be no chunks of raspberries left and will be pretty watery.
Place a fine mesh strainer over a large bowl and pour the raspberry purée through. You may need to gently push/scrape the purée through the strainer using a rubber spatula. Discard the seeds.
Add sugar, vanilla, and lemon juice to the strained purée and whisk until the sugar has fully dissolved.
Pour into a shallow, non-stick 9-inch cake pan and freeze until solid. Depending on your freezer, it could take anywhere from 2-4 hours. I know it's super liquidy but do not worry, it will freeze!
Once frozen, remove from your freezer. It will be pretty icy and crystallized at this point, similar to a granita, and not creamy and smooth like a traditional sorbet – that's okay, it will get there! Using a spoon, break the frozen mixture into large chunks. In two separate batches, put the broken pieces into the food processor and blend for 2-3 minutes or until creamy and smooth.
Pour the sorbet into a loaf pan and freeze again until solid enough that it's scoopable (about 2 hours)!
Serve in a bowl or on a cone and enjoy!
Recipe Variations & Substitutions
I love this no churn raspberry sorbet so much and truly think it is *chef's kiss* but feel free to try out these variations:
Make this recipe refined sugar-free by using maple syrup instead of sugar. You could also make an entirely sugar-free raspberry sorbet by using sugar-free maple syrup or a sugar substitute like monk fruit sweetener. Please note this could alter the texture, flavor, and freezing time.
Switch up the fruit! This recipe will work well with pretty much any fresh fruit. If you don't love raspberries, I recommend trying this out with fresh blackberries, strawberries, or mangoes instead.
Add extra flavors to this sorbet by adding fresh mint leaves to turn this into a raspberry mint sorbet or cutting the amount of raspberries in half and adding another fruit in and turning it into a mango raspberry sorbet, for example!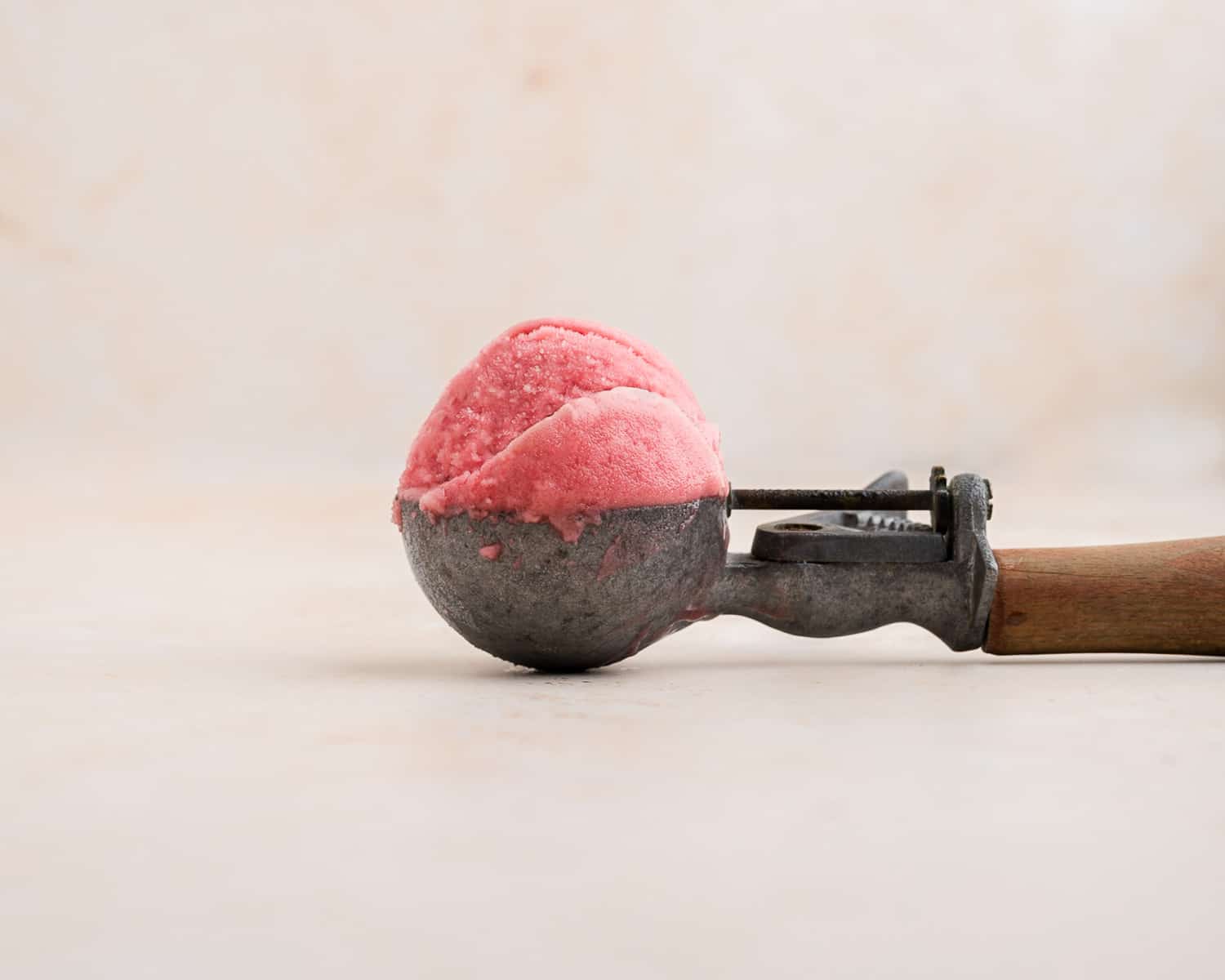 Expert Tips
These are just a few easy tips to ensure your sorbet comes out perfectly!
Strain the sorbet before freezing it. Even if you don't use raspberries and are using a different berry, still do this! Leaving the seeds in totally takes away from the signature creaminess of a sorbet.
Make sure you're using the two different pans for the different freezing stages. They make a difference in how the sorbet freezes!
During the second freeze, I like to give the sorbet a stir halfway through to ensure no crystallization happens.
FAQ
Be sure to leave a comment and rating down below if you try this recipe! Subscribe to my newsletter and follow along on Instagram for more recipes and updates.
Print
📖 Recipe