Here are the best information about Homemade chocolate chip mint ice cream public topics compiled and compiled by our team
Vegan mint chocolate chip ice cream with just 4 key ingredients! This refreshing ice cream is incredibly creamy and easy to make. It's no-churn so you don't need an ice cream maker!
I've also included an option for those who want to flavor and color their ice cream using fresh mint and spinach. You can use this recipe to make my vegan mint chocolate ice cream cake!
Ingredients to make this recipe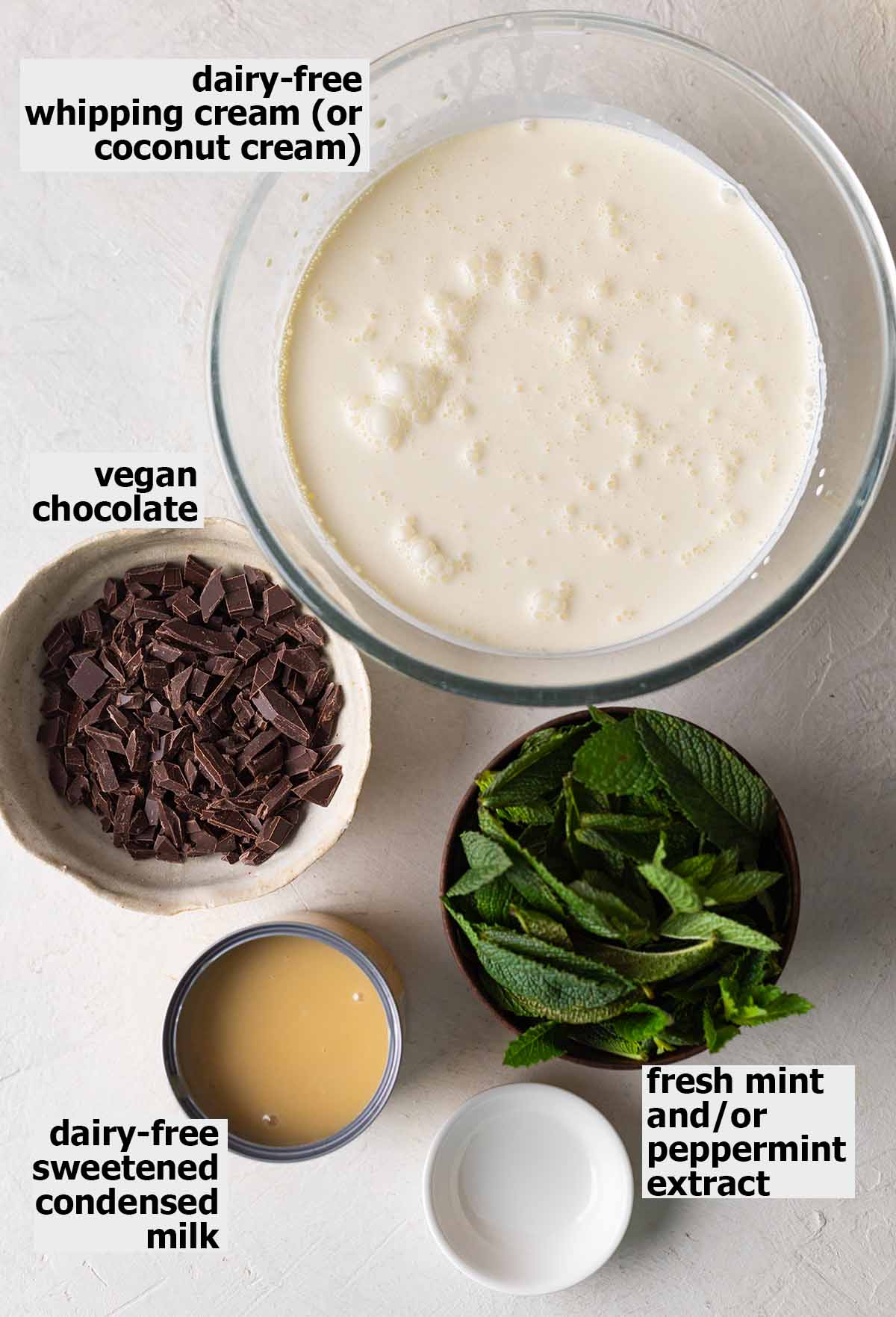 Notes about the ingredients
Dairy-free whipping cream OR thick scoopable coconut cream. If you use coconut cream, I recommend buying full-fat canned cream rather than canned coconut milk as you'll get more of the thick scoopable cream.
Dairy-free condensed milk such as soy, coconut or oat. You can use either store-bought or homemade. We don't have to add sugar or maple syrup to the ice cream as the condensed milk is already sweet! The condensed milk prevents the cream from freezing into a brick of ice. Note that this isn't the same as evaporated milk!
Peppermint extract or fresh mint leaves for flavor. Mint leaves on their own will make the ice cream a very pale green. As David Lebovitz says, mint is a plant so it'll naturally vary in color and flavor, especially in ice cream. So adjust accordingly!
Vanilla extract and salt (optional but recommended). Alcohol and salt will lower the freezing/melting temperature of the ice cream which means your ice cream is less likely to freeze into a solid block.
If you'd like to make your ice cream green, you can use either green food coloring or baby spinach leaves. Don't worry, it won't taste like spinach!
A complete list of ingredients, quantities and instructions are in the gray recipe card at the bottom of this post.
Optional: naturally coloring and flavoring the ice cream
A choc mint ice cream-colored and flavored naturally has a more unique flavor profile. Note that due to the high water content in fresh mint and baby spinach, if you use both ingredients, your ice cream *may* be a little icy.
If you're using mint leaves or baby spinach leaves, it's best to first blend them with a small portion of your dairy-free cream. If you're just using peppermint extract and green food coloring, you can skip this step!
It may initially look like A LOT of mint/spinach. However, once you blend it, it'll decrease in size.
Your green mixture may look anywhere from vibrant fluorescent green to a dull slime like it's from a children's movie. The color will depend on the initial color of your leaves! Either way, don't worry! The color dilutes once it's mixed with the dairy-free cream.
You can use the mint spinach cream (with the pulp) as is. Alternatively, you can sieve the mixture to remove any chunks of leaves. Some graininess may remain which is fine!
Once you've done that, mix the green cream with your dairy-free condensed milk, vanilla extract and salt, if using. Chill in the fridge until needed.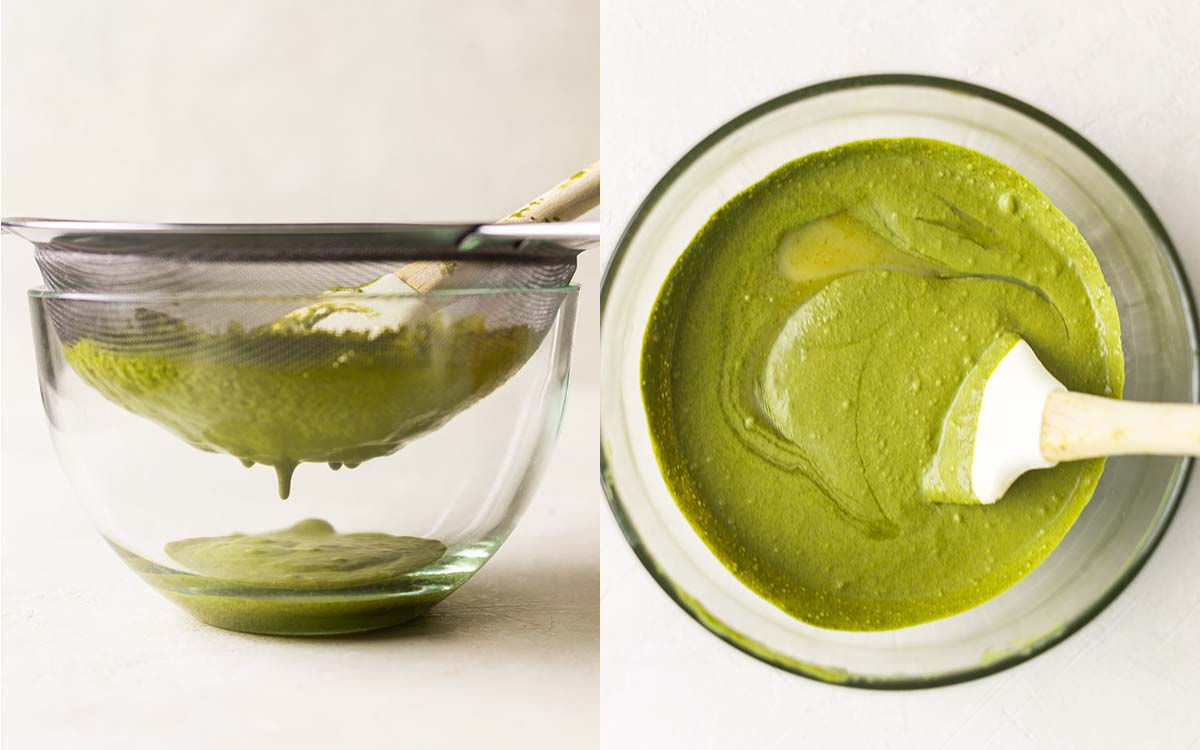 How to make the mint ice cream
If you're using peppermint extract or store-bought food coloring, add them directly to your can of condensed milk and mix until combined. If you're using vanilla extract or salt, mix them with your condensed milk too. It's easier to mix these ingredients now than later on. And by mixing them in the can, there's one less bowl to wash!
Pour your dairy-free cream (or scoop your thick coconut cream) into a large bowl or stand mixer. Using an electric whisk or a whisk attachment, whisk the cream until soft peaks form.
I had to change bowls as I didn't anticipate how much my plant cream would grow (hint: much more than coconut cream)! Some brands of coconut cream don't expand significantly after whipping so you may get a little less than pictured.
Then add your minty condensed milk to the bowl of whipped cream.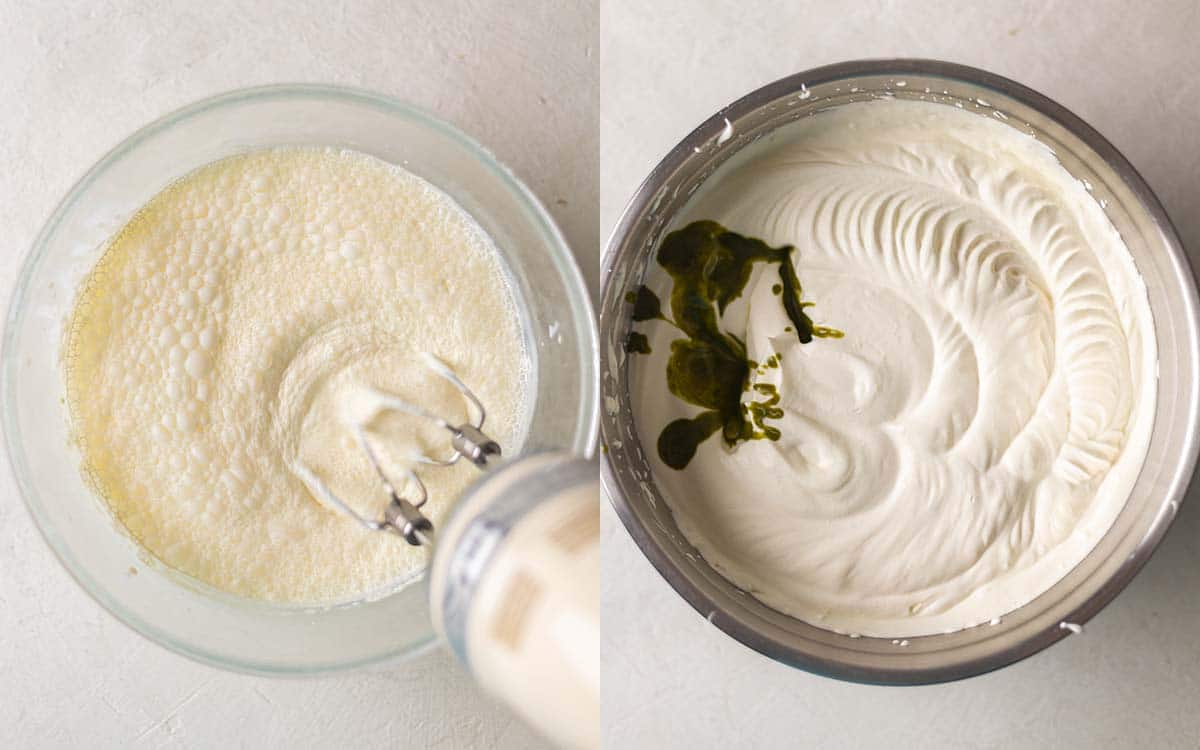 Using a spatula, fold the mixture until combined! We want to make sure the condensed milk and cream are well combined while maintaining as much air in the cream as possible.
Then add your chocolate chips and fold until just combined.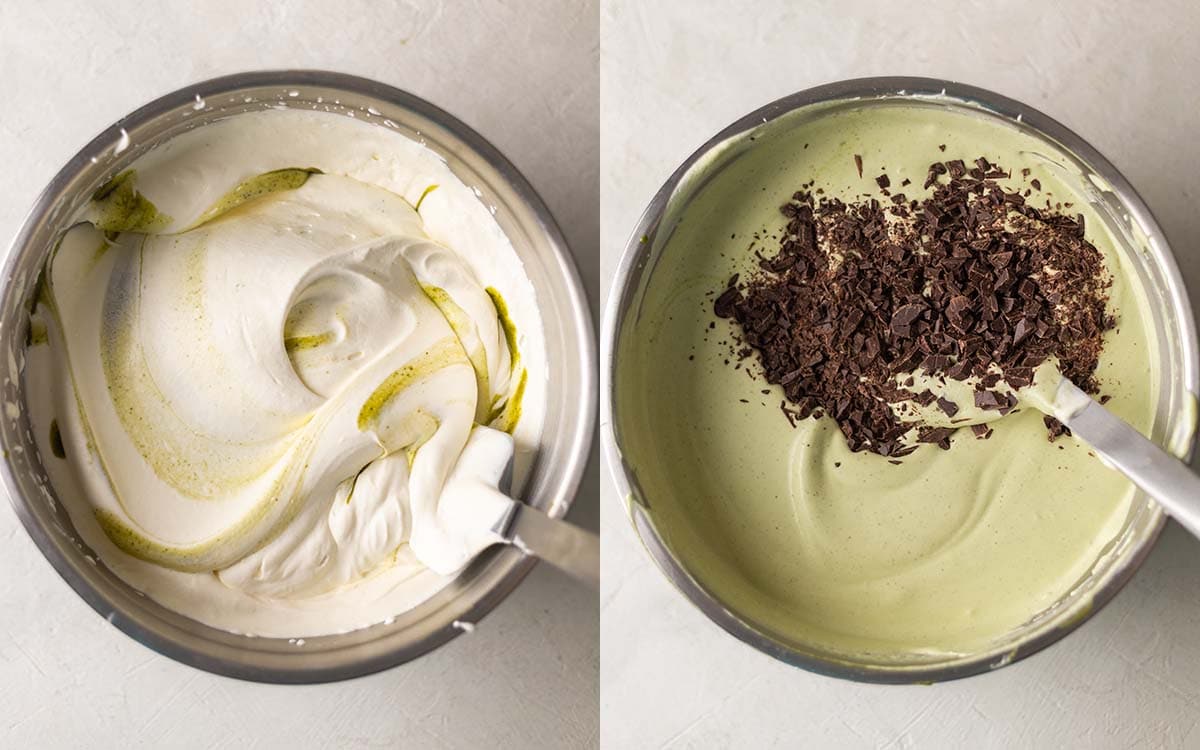 Pour or scoop your vegan mint chocolate chip ice cream into a freezer-safe container or tin. I used an 8-inch loaf tin!
Sprinkle your ice cream with the remaining chocolate. Cover and freeze for at least 4 hours or until firm.
Customizing this vegan ice cream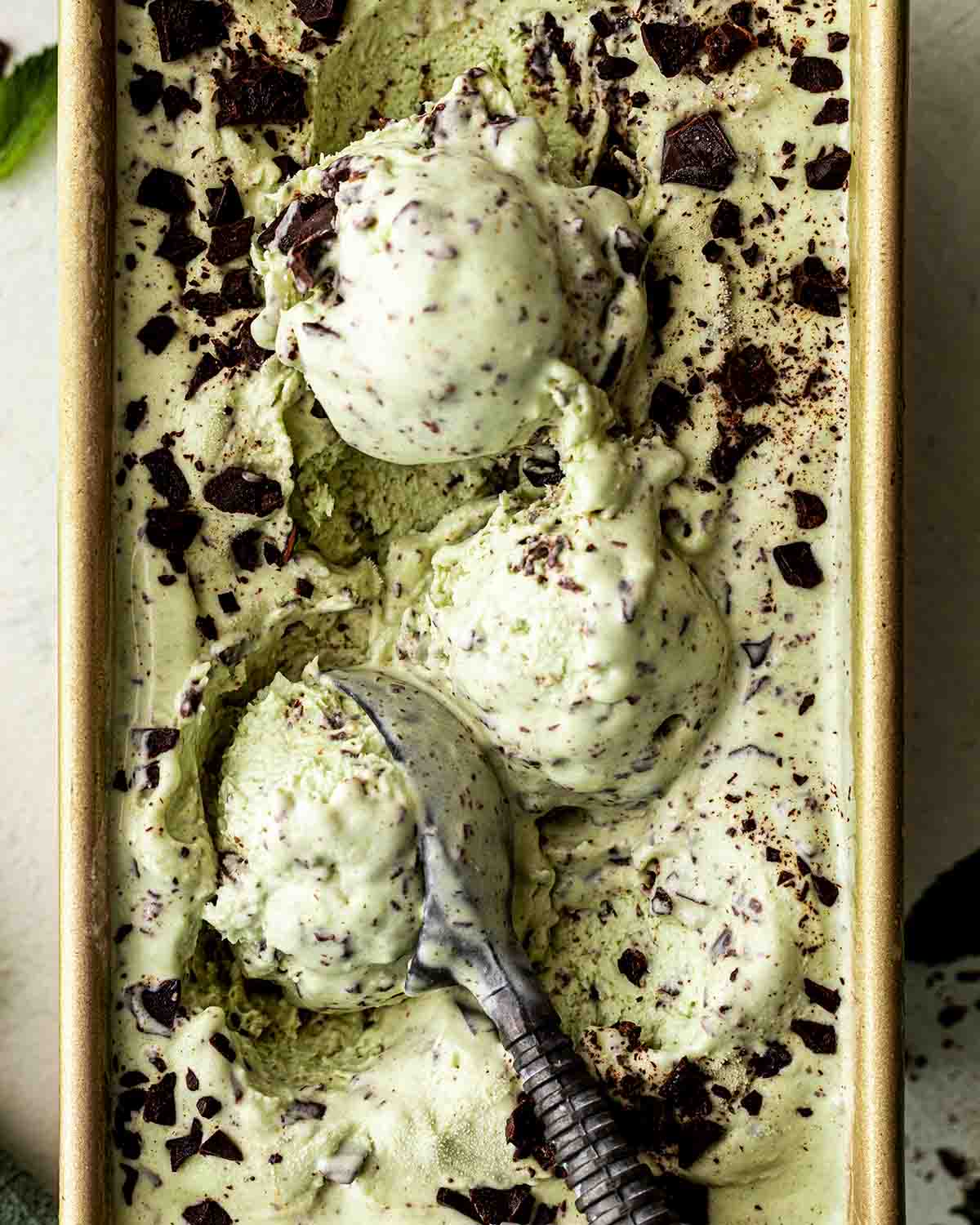 More vegan ice cream recipes
Follow Rainbow Nourishments on Instagram, Facebook, and Pinterest, and subscribe via email to receive all of our latest recipes!
This post may contain affiliate links. As an Amazon Associate, I may earn a small commission from qualifying purchases at no additional cost to you.