The Timeless Delight of Chocolate Chip Ice Cream
Chocolate Chip Ice Cream is a beloved and timeless flavor that has won over the hearts of many. Creating this delectable treat is a breeze with a Philadelphia-style ice cream base that is free from eggs. This means you can whip up this fantastic ice cream recipe in no time with your ice cream maker. Not only is this recipe naturally gluten-free, egg-free, and nut-free, but it also guarantees an incredible taste experience.
If you're a fan of chocolate chip ice cream, you might want to give mint chocolate chip ice cream a try. Alternatively, indulge in the rich coffee flavor of Java Chip Ice Cream if you're a chocolate chip connoisseur. Craving a simpler chocolate fix? Opt for No Churn Chocolate Ice Cream—equally satisfying.
What Makes This Chocolate Chip Ice Cream Recipe Special
Classic Ice Cream Flavor
Combine the goodness of vanilla ice cream with chewy bits of chocolate, and you have an irresistible treat that appeals to everyone. It's an obvious choice when selecting a recipe to delight your family and friends.
Easy to Make
Unlike traditional French-style ice creams that require an egg-based custard, Philadelphia-style ice cream comes together rapidly with just heavy cream, milk, and sugar. No cooking involved, and the ice cream base doesn't need to chill for long, resulting in shorter preparation time.
Just Six Simple Ingredients
This recipe calls for basic ingredients that you may already have on hand in your pantry! No need to make a shopping trip.
Egg-Free Creaminess
While some churned ice cream recipes rely on egg yolks to achieve a creamy custard base, this recipe proves that eggs aren't necessary. You'll enjoy perfectly creamy chocolate chip ice cream without a single egg in sight.
Chemical-Free Goodness
Crafting your own Chocolate Chip Ice Cream from scratch means you have total control over the ingredients. Unlike store-bought varieties, which often contain unnecessary preservatives, your homemade creation will be pure and free from any unwanted chemicals.
Chocolate Chips or Chunks
Feel free to use chopped chocolate for your ice cream recipes. The varying sizes and textures add a delightful element, although mini chocolate chips work just as well.
Ingredients for Homemade Chocolate Chip Ice Cream
To prepare churned chocolate chip ice cream, gather these simple ingredients:
Heavy cream: A must-have ingredient for that creamy texture.
Whole milk: Blending whole milk with heavy cream ensures the perfect consistency. Avoid using low-fat milk; you need the fat content of whole milk.
Granulated sugar: This simple option provides the necessary sweetness and texture.
Vanilla extract: Elevates the flavor of the milk and cream.
Salt: A pinch of kosher salt balances the sweetness and enhances the overall taste.
Semi-sweet chocolate: Approximately one cup of chopped semisweet chocolate or miniature chocolate chips will suffice.
If you have any questions regarding these ingredients, feel free to leave a comment below.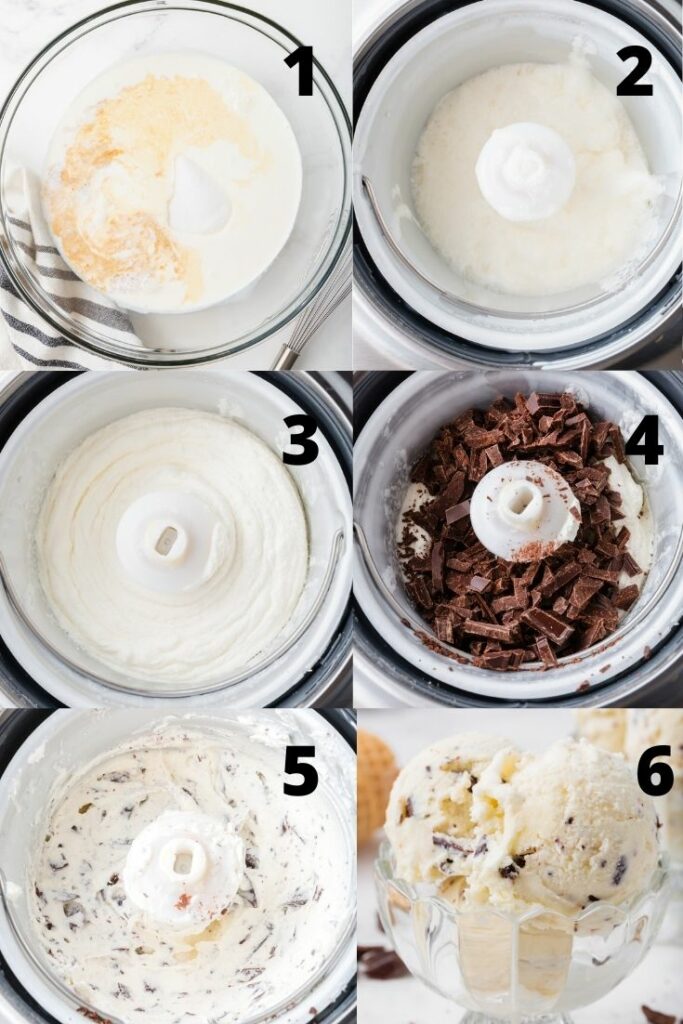 How to Make Chocolate Chip Ice Cream from Scratch
Follow these steps to create your own delectable chocolate chip ice cream:
In a large bowl, whisk together the heavy cream, whole milk, granulated sugar, vanilla extract, and kosher salt for 2-3 minutes until the sugar dissolves completely. The mixture should not feel gritty when rubbed between your fingers.
Churn the ice cream mixture in your ice cream machine's bowl according to the manufacturer's instructions. The process typically takes around 25 minutes.
The ice cream is ready when it reaches a thick, soft-serve consistency.
During the last two minutes of churning, add the chocolate chips or chunks.
Continue mixing until the chocolate is evenly distributed throughout the ice cream.
Spoon the finished ice cream into a shallow container or loaf pan. Cover the surface with plastic wrap, ensuring it comes into contact with the ice cream. Freeze for at least 4 hours or until solid. Allow the ice cream to sit at room temperature for 5 minutes before serving.
Please note: The numbered steps correspond to the images above for illustration purposes. For a complete list of ingredients and instructions, refer to the recipe below.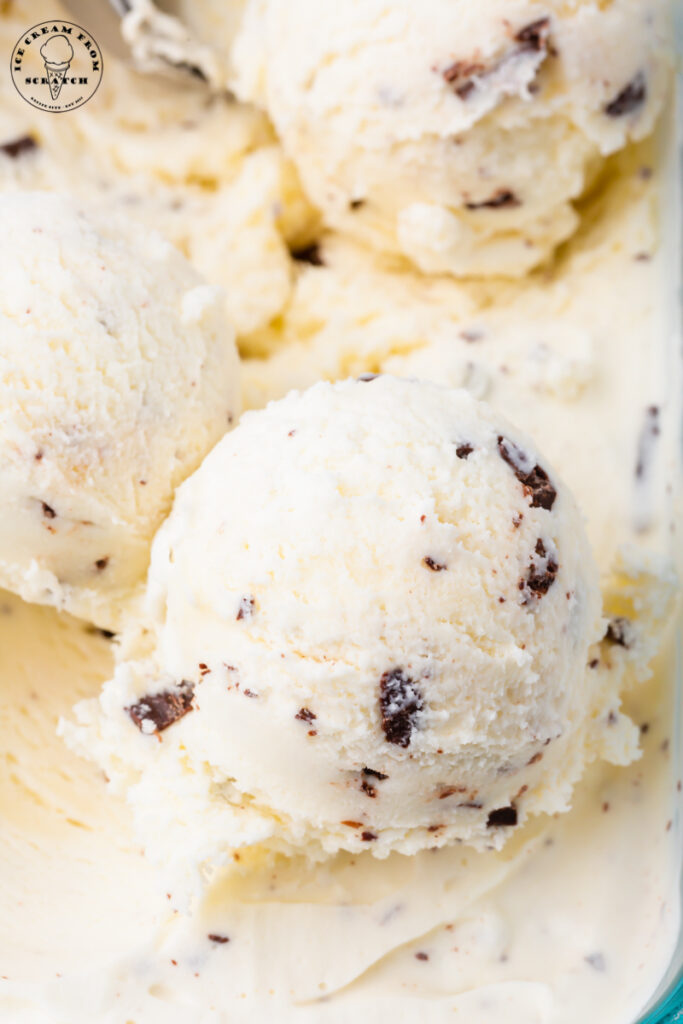 Storing Chocolate Chip Ice Cream for Ultimate Freshness
To maintain the freshness and quality of your Chocolate Chip Ice Cream, store it in an airtight container in the freezer. We recommend using reusable ice cream containers and placing a piece of parchment or wax paper on top of the ice cream. When properly stored, the ice cream will remain delicious for up to one month.
Tips for Creating the Best Chocolate Chip Ice Cream
Opt for high-quality ingredients to achieve the best results when making homemade ice cream.
Always start with chilled ingredients, including the bowl of your ice cream machine. This applies to both no-churn and churned ice cream recipes.
Ensure your ice cream mixture is adequately chilled before churning. If needed, refrigerate it for at least 30 minutes before processing to achieve a thick consistency.
Don't compromise on fat content. Full-fat milks and creams are essential for creating the perfect homemade ice cream. Low-fat alternatives often result in icy textures and inconsistent quality.
When adding extra ingredients, such as fruits or candies, limit yourself to one or two choices. Chop them into pieces no larger than a blueberry or pea.
Feel free to experiment with different types of chocolate, such as dark or milk chocolate or a combination of both. Sugar is crucial for the creamy texture of your ice cream and should not be skimped on.
No-Churn Chocolate Chip Ice Cream Method
Transforming this chocolate chip ice cream recipe into a no-churn delight is incredibly easy. Simply follow these steps:
Chill a shallow container or loaf pan in the freezer while preparing the ice cream mixture.
Pour the chocolate chip ice cream mixture into the chilled container and freeze for 3-4 hours. Every 30 minutes during the first 2 hours, stir the ice cream to incorporate air. This will result in a creamy, smooth texture.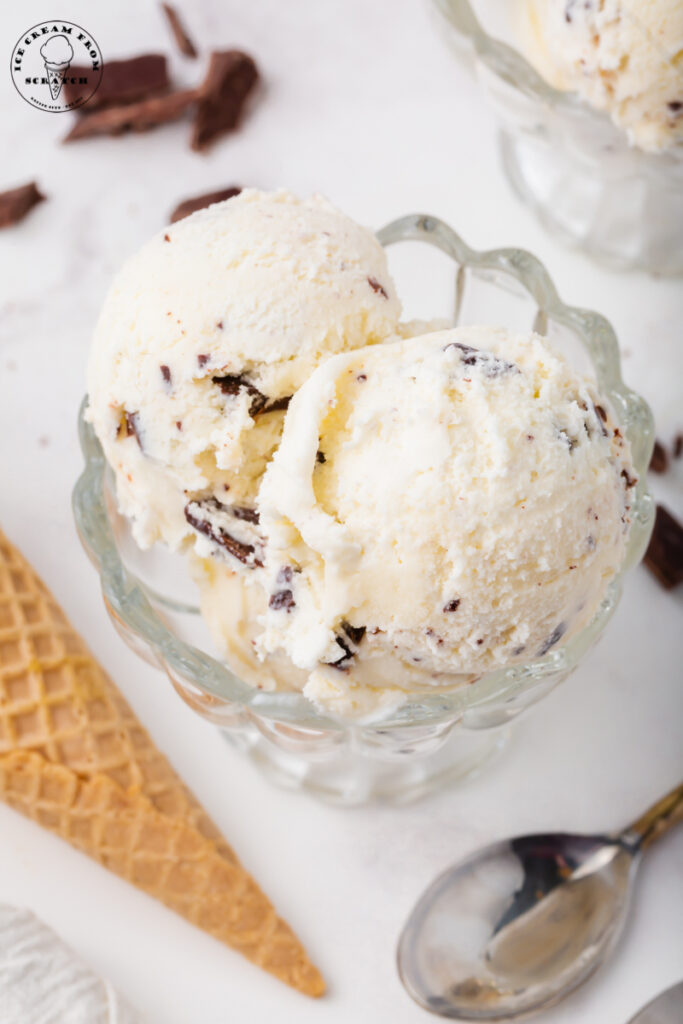 Get Creative with Chocolate Chip Ice Cream Add-Ins
This chocolate chip ice cream recipe serves as a perfect canvas for your creativity. Feel free to experiment with various add-ins to create your unique ice cream concoctions. While the simplicity of chocolate chip ice cream is its charm, there's no harm in pushing the boundaries:
Add more chocolate: Incorporate other types of chocolate chips, chopped candy bars, or even chocolate cake or cookies like Oreos.
Try a swirl: Enhance the flavor profile by including a fudge sauce, caramel, or marshmallow creme swirl.
Get creative: Chop and add fruits like bananas, cherries, or strawberries for a burst of freshness.
Experiment with nuts: Peanuts, almonds, or walnuts will bring a delightful crunch to your chocolate chip ice cream.
Understanding Semi-Sweet Chocolate
Semi-sweet chocolate typically contains at least 50% cacao and less than 50% sugar. You can find semi-sweet bars in the baking section of the grocery store, or you can opt for a dark chocolate bar with a slightly higher sugar content.
Alternatives to Chewing on Chocolate Chips
If you're not a fan of the texture that frozen chocolate chips provide, fret not. Chopping the chocolate into smaller pieces is an excellent solution. It ensures that the chocolate is not overly chewy, making for a more enjoyable eating experience.
Ice Cream Sandwiches: A Perfect Pairing
Imagine the delightful combination of vanilla chocolate chip ice cream nestled between two cookies. Creating your own ice cream sandwiches is a fantastic idea! You can also try using chocolate chip cookies for an extra dose of chocolatey goodness.
How to Chop Chocolate for Homemade Ice Cream
Two methods prevail when it comes to adding chocolate chunks to ice cream. My preferred method is to chop the chocolate directly from the bar, resulting in varying sizes of chocolate pieces. A sharp chef's knife is the best tool for this task. If you prefer a smoother texture, another method involves melting down the chocolate with a small amount of water. Once spread into a thin layer and solidified on a parchment-lined sheet pan, the chocolate can be chopped into softer, fudgy pieces.
More Mouthwatering Homemade Ice Cream Recipes
Peanut Butter Ice Cream: Smooth and rich, this recipe is a must-try.
Death by Chocolate Ice Cream: The name says it all—indulge in heavenly chocolate goodness.
Strawberry Ice Cream: Another beloved classic flavor that you shouldn't miss out on.
Birthday Cake Ice Cream Recipe: Perfect for all types of celebrations, this recipe promises delightful flavors.
Here are some helpful tools for making ice cream:
Cuisinart 2QT Ice Cream Maker: This versatile machine churns ice cream, sorbets, and frozen yogurt.
Loaf Pan: Choose a 9 x 13 loaf pan or a shallow pan to suit your needs.
Ice Cream Scoop: Ensure you have a reliable ice cream scoop for easy serving. We highly recommend this one.
Ice Cream Containers: Keep a couple of ice cream containers on hand for storing your homemade creations.
Note: The provided links will direct you to the exact products on Amazon. As an Amazon associate, I earn a small commission from qualifying purchases.
Stay Connected
For more delightful recipes and inspiration, follow us on Pinterest. Feel free to leave any questions or comments below.
Did You Try This Chocolate Chip Ice Cream Recipe?
We would love to hear your thoughts! Share your experience in the comments below, and let us know if you added any exciting extra ingredients.