Below is a list of the best Unique ice cream flavors public topics compiled and compiled by our team
Vanilla, strawberry and chocolate may be the most common ice cream flavors at grocery stores and ice cream shops across the country, but artisan makers are starting to think outside the box when it comes to crafting new and unexpected varieties of this beloved summertime treat. Curious to know more about some of the most unique ice cream flavors in the U.S.? Here's where to find them.
See more: 10 Best Ice Cream Shops in America
1. Lobster Ice Cream
Ben and Bill's Chocolate Emporium – Bar Harbor, Maine
When in Maine … you order lobster ice cream. If you happen to be strolling down Main Street in Bar Harbor and see the sign for Ben and Bill's Chocolate Emporium, don't miss the chance to stop in for this one-of-a-kind local treat. Even if you aren't feeling adventurous enough to try vanilla ice cream blended with bite-size pieces of lobster, the novelty makes it well worth a taste. You can guarantee the lobster will be as fresh as it gets – and you might just find the combination to be surprisingly delicious.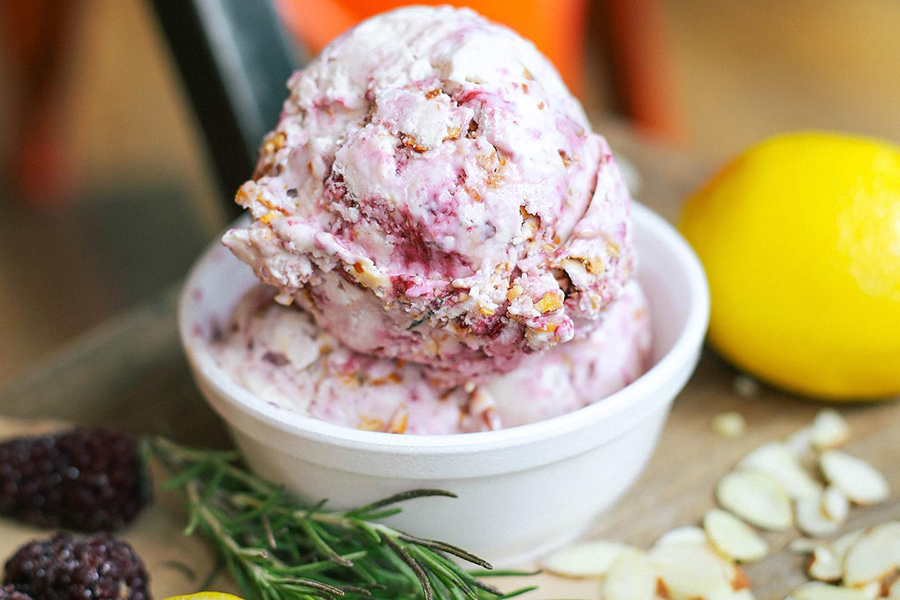 2. Goat Cheese Ice Cream
Rockwell Ice Cream – South Jordan, Utah
Rockwell Ice Cream in South Jordan, Utah won an award for Best Ice Cream in America in 2019 with this unique flavor. As you might have guessed, their G.O.A.T. is a goat cheese based ice cream with swirls of lemon jam, plump blackberries, honey and rosemary-toasted almonds for a little extra crunch. It's goat cheese forward, so anyone who loves the savory, tangy flavor will likely want a second scoop of this one.
See more: 10 Creative Homemade Ice Cream Recipes to Try This Summer
3. Roasted Turmeric and Candied Ginger
Coppa – Juneau, Alaska
How would you like to stop by Juneau's very first handmade ice cream shop? Next time you find yourself in Alaska, stroll through Coppa and experience everything there is to love about this beautiful ice cream parlor and coffee shop combo. As for what to order, we recommend their Roasted Turmeric and Candied Ginger flavor. It's not only delicious, but anti-inflammatory as well. A win-win!
4. Sweet Corn
Sweet Republic – Scottsdale, Phoenix and Tempe, Arizona
In Arizona, Sweet Republic has created a surprising treat that screams summer. This unique ice cream flavor is decadent, delicious and contains whole kernels of locally grown sweet corn. Don't knock it until you try it because many happy customers have walked away saying it's an unexpectedly tasty dessert.
5. Thai Basil Coconut
Creole Creamery – New Orleans, Louisiana
A hearty scoop of Thai Basil Coconut ice cream sounds like a good way to cool off a hot summer day. It makes sense you would find this wild creation in the heart of Lousiana. A little bit of spice, a touch of fresh herbs and the smooth creaminess of coconut? It's easy to see why this imaginative flavor is so popular.
6. Butter Beer
Walnut Beach Creamery – Milford, Connecticut
Gourmet ice cream abounds at Walnut Beach Creamery in Milford, Connecticut. Small batches of each flavor are made in their own kitchen, including Butter Beer, which is bound to delight Harry Potter fans everywhere. Curious what it tastes like? They say it reminiscent of butterscotch, so we're pretty certain J.K. Rowling would approve.
7. Baked Brie with Almond Ricotta Macaroons
Loblolly Creamery – Little Rock, Arkansas
Loblolly Creamery uses local and organic ingredients as often as possible when concocting their small batch, handcrafted ice cream flavors. And while you could easily order something more traditional, like vanilla or milk chocolate, they also offer tons of out-of-the-box, artisanal flavors like their Baked Brie with Almond Ricotta Macaroons.
See more: Got Milk? 13 Fascinating Dairy Facts
8. Honey Jalapeño Pickle
Sweet Action Ice Cream – Denver, Colorado
Yes, you read that right. Honey Jalapeño Pickle ice cream is on the menu at Sweet Action Ice Cream in Denver. Before you get too tempted to skip right by this admittedly strange flavor, though, consider the fact that they've been named one of the best ice cream shops in the country by Food & Wine, Thrillist and VegNews. Clearly they know what they're doing!
9. Bacon Maple Crunch
Rehoboth Beach Ice Cream – Rehoboth Beach, Delaware
Everyone raves about bacon, but would you put it in your ice cream? Maybe when it's combined with maple syrup you would. At least that's what the artisan makers at Rehoboth Beach Ice Cream did. They even took their homemade bacon ice cream to a championship in Kansas City and finished 5th out of 500, so there's definitely something to savor here.
10. Lemon Olive Oil
Milk Sugar Love – Jersey City, New Jersey
Would you order a creamy lemon olive oil ice cream? Made with lemon-infused Sicilian olive oil, this artisan dessert is one of the most unique on the menu at Milk Sugar Love, a small ice cream shop in Jersey City. Their menu varies from week to week as they come up with new and innovative flavors, so you never know if you'll find something even more outside the box from time to time.
See more: North Dakota Dairy Processors Churn Out Award-Winning Ice Cream, Gelato and More
11. Pear and Blue Cheese
Salt and Straw, Portland, Oregon
How do you make a pear and blue cheese ice cream? Salt and Straw does it by candying Oregon Bartlett pears to emphasize their natural flavors, then folding in crumbled bites of cave-aged blue cheese from Rogue Creamery. This marriage of ingredients gives you the smooth, sweet taste of pears combined with the bold punch of blue cheese. Think of it as a new way to experience sweet and savory.
See more: Deciphering Dairy: Myths vs Facts
12. Firecracker
Clumpies – Chattanooga, Tennessee
If Firecracker ice cream doesn't sound like a winner, we aren't sure what does. This one begins as an all-fruits base but includes a healthy smattering of Pop Rocks. The end result? A sweet and tasty scoop of fruity ice cream complete with all the crackling you could ever hope for.
See more: Have a Cow: 11 University Dairies That Sell Ice Cream, Cheese and More
13. Kraft Macaroni and Cheese
Van Leeuwen Ice Cream – New York, New York
Did you grow up on Kraft macaroni and cheese? If so, this might be your dream come true. VanLeeuwen Ice Cream in New York came up with this limited edition flavor to celebrate National Mac and Cheese Day. People had strong reactions to its release, but the numbers don't lie. It's was sold out virtually everywhere, so clearly there are plenty of takers!