Below is a list of the best Best ice cream seattle public topics compiled and compiled by our team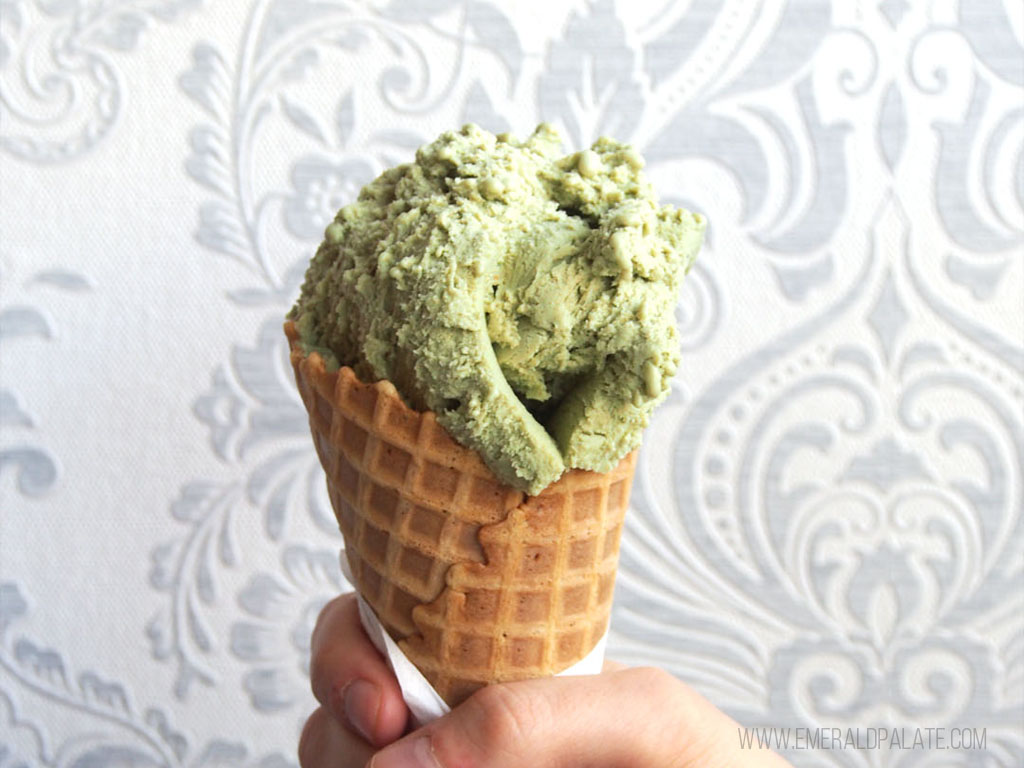 Ice cream shops in Seattle are serious business. Everyone has their favorites, and they'll be really loud about their opinions to ensure you think it's one of your favorites, too.
But I'm going to say it: I don't agree with a lot of those "best ice cream in Seattle" lists. There are some big-name ice cream places in Seattle who have achieved super-star status. They've helped paved the way for Seattle to become a breeding ground for artisanal ice cream shops focused on handmade ice cream with ingredients you can pronounce. And I'm thankful for that.
However, the ice cream at these places can be argued as "good". But the "best"? That's where I draw the line.
At first I thought there was something wrong with me because zealots would consistently say they had a life-changing flavor at some of these places. National magazines cover some of these places in their print publications (that's prime real estate).
So I decided to think really hard about the places I would consider the best ice cream shops in Seattle. Out of the dozens you'll find here, there were really only a few that I'd recommend to my foodie friends as places they can't miss when visiting.
So here it is. My possibly controversial list of the best ice cream shops in Seattle.
Best Ice Cream Shops in Seattle
Before I dive right in with my curated list of the best ice cream shops in Seattle, I think it's important to know what I expect from my ice cream. To me, the best ice cream should:
Be creamy. I have no patience for ice-y ice cream.
Have intense flavor. I don't want to be saying, "Hmm…I think I taste X."
Not look or taste artificial. I can't stand when a flavor doesn't taste anything like the real thing. And it better not be fluorescent.
Be consistently good. It can't taste different from batch to batch.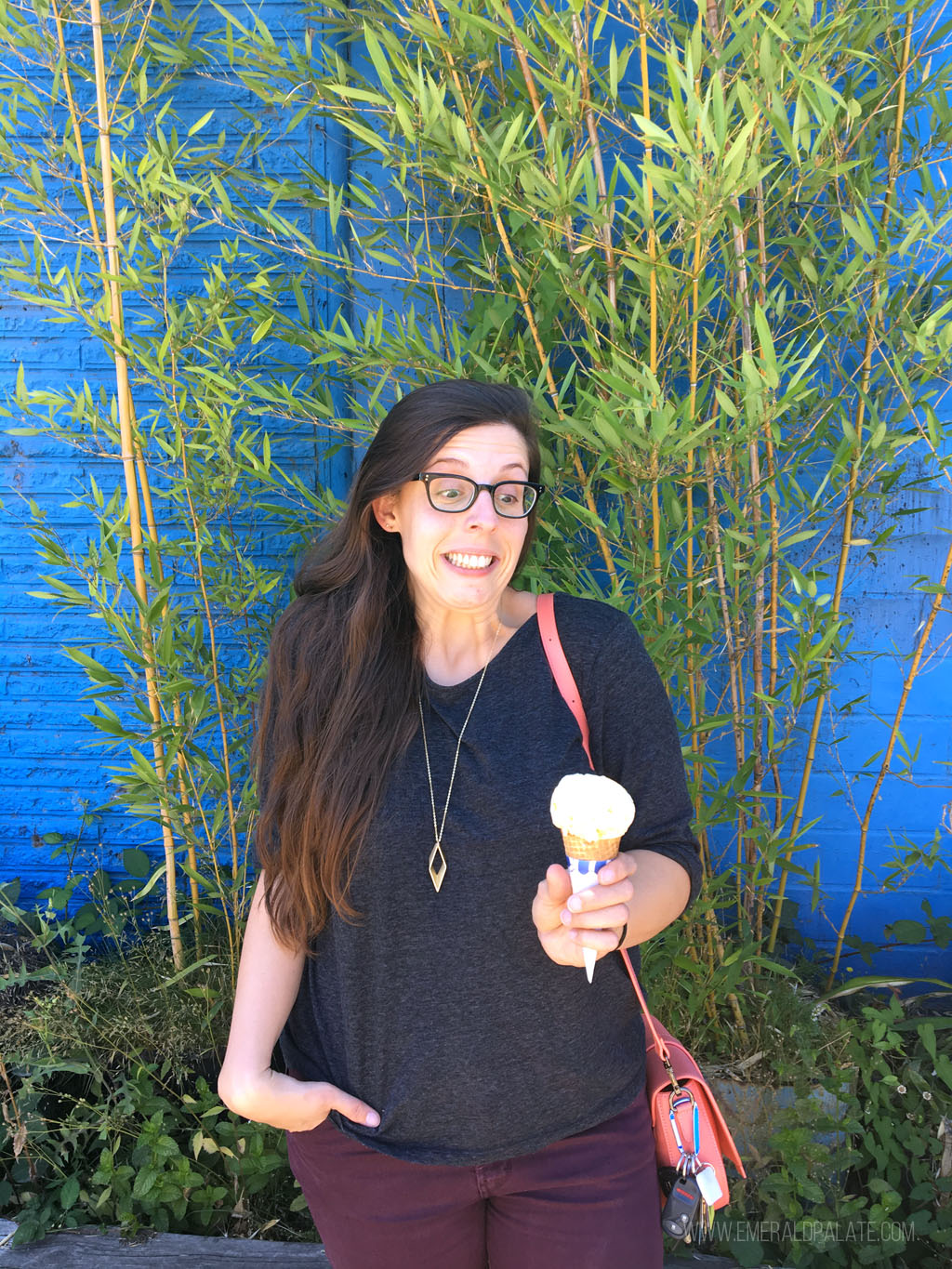 I said before that there's a lot of arguably good places for ice cream in Seattle. I'm not trying to undermine the hard work they put into their ice cream or, in some instances, their successful efforts in putting Seattle on the map for ice cream. It's just that if I was to sit someone down and have real talk about the best ice cream shops in Seattle, they wouldn't be on that list because they don't meet one or more of my expectations for ice cream.
So here we go, my definitive list of what I consider the best ice cream shops in Seattle. If there's one you read about, but don't see on this list, it's safe to say I wouldn't consider them the best.
D'Ambrosio Gelato
website | neighborhood: Ballard & Downtown | recommended flavor: pistachio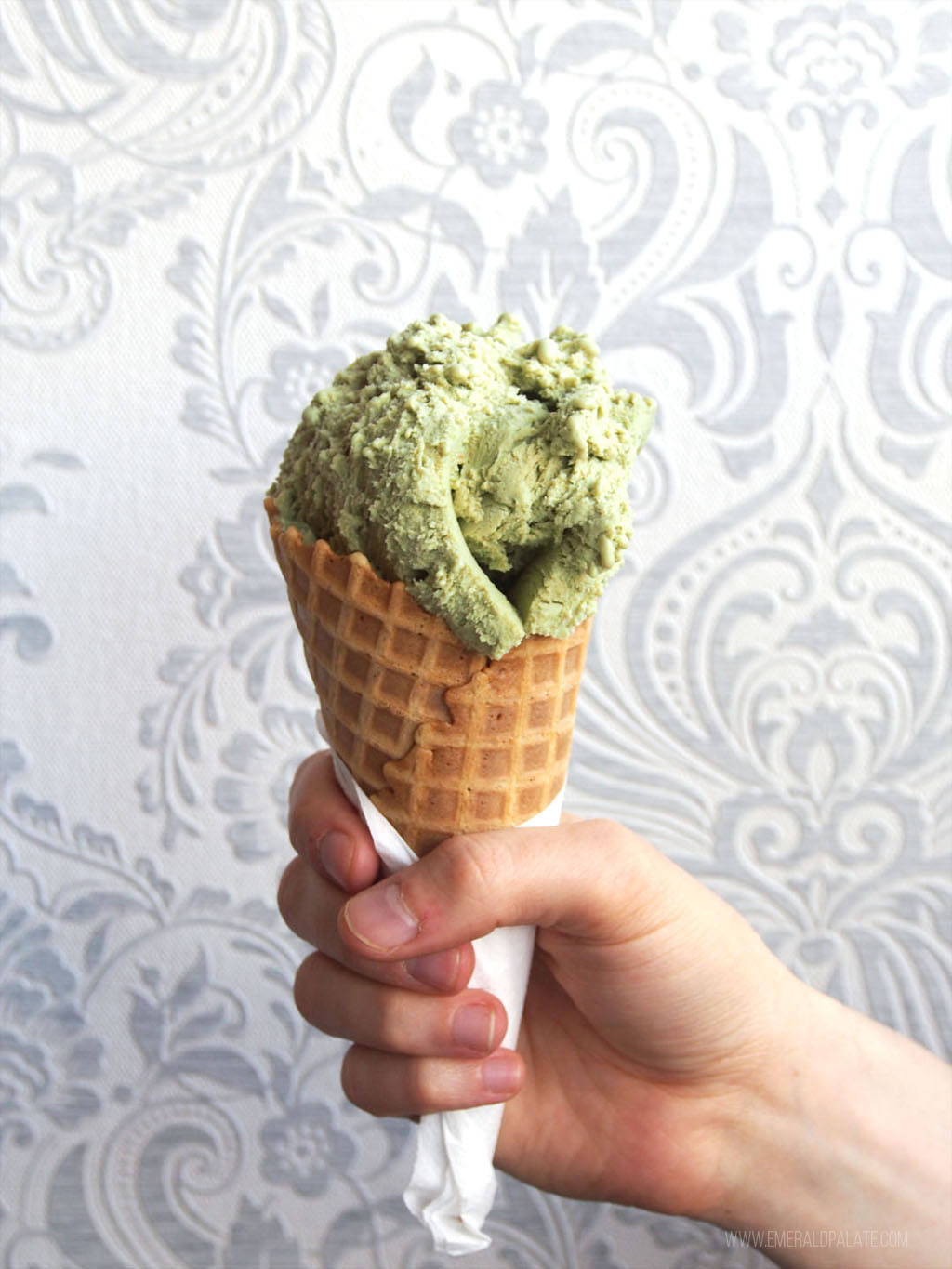 I haven't tried all the gelato in Italy. But I can tell you the pistachio gelato at D'Ambrosio is better than any of the gelato I've had there.
Their gelato is creamy and has that authentic, pistachio taste. It's a muted, pale green. Exactly the color pistachio ice cream should be. If you see fluorescent green in ice cream, please run. There's no food that's naturally that color. Yes, even that mint chip.
A trick I learned from an Italian in Italy was that if you walk by a gelato shop and it's puffed up into a beautiful peaked mound, you should find somewhere else. That is a tell-tale sign that that it's not legit. D'Ambrosio passes this test and also mine.
If you're interested in learning more about the story behind D'Ambrosio and how it is making some of the best gelato outside Italy, read their interview in my self-guided Ballard food tour.
Nutty Squirrel
website | neighborhoods: Phinney Ridge, & Magnolia | recommended flavors: pistachio and nutty squirrel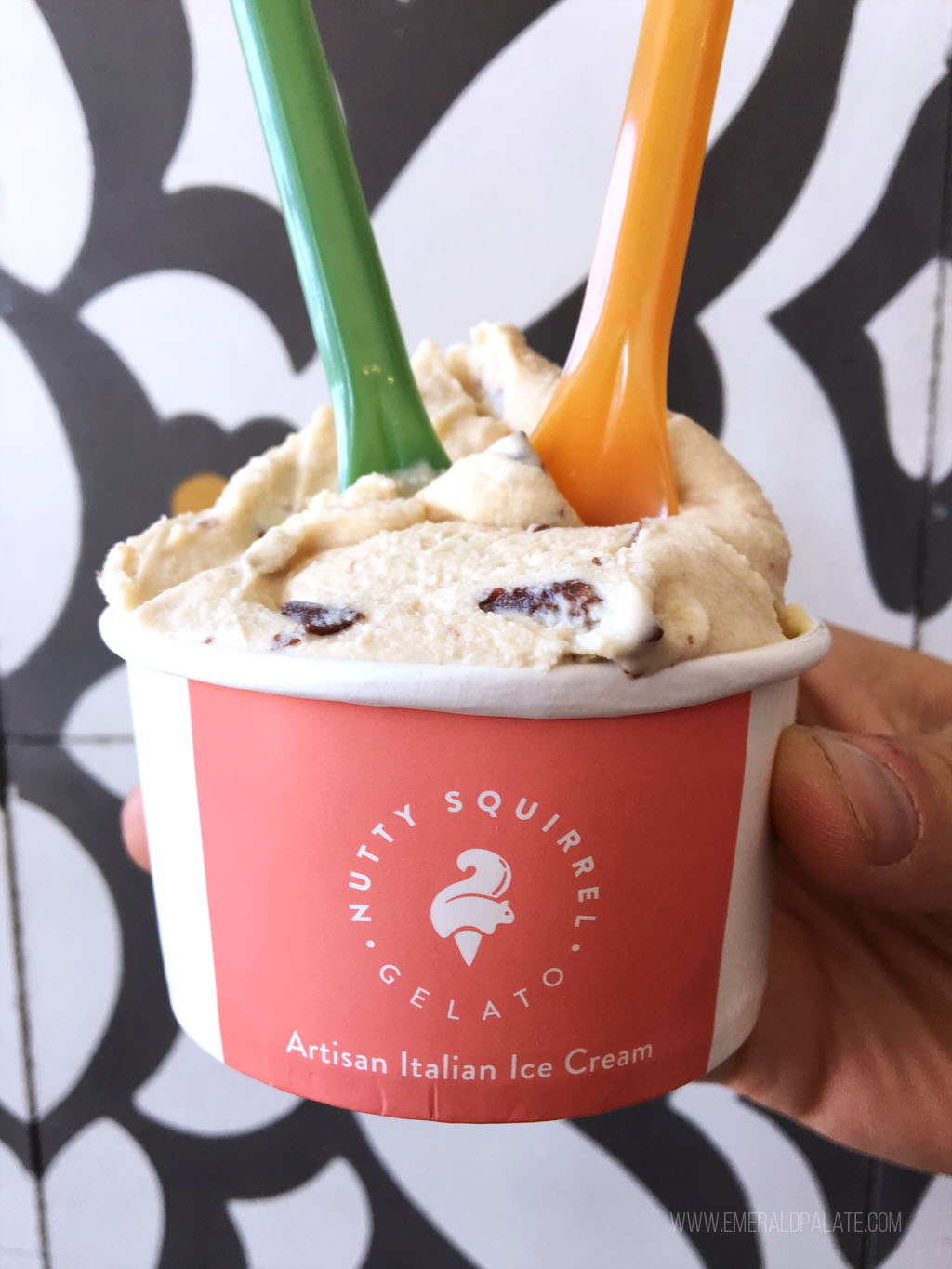 The Nutty Squirrel is another place to get incredible gelato in Seattle. I mentioned above that I look for creaminess in ice cream. Gelato delivers on that because it naturally has a denser, creamier texture thanks to less air being incorporated into it when mixed. Plus there are less calories and fat because it's made mostly with milk instead of cream. This means fat doesn't coat the taste buds as much, so flavors are more vibrant.
This explains why Nutty Squirrel is so damn good. I never knew why pistachio was always my go-to gelato flavor until I interviewed D'Ambrosio. They said, "Pistachio is the litmus test of gelato." Their argument is that it's super difficult to make authentic-tasting pistachio gelato with crappy or artificial ingredients.
Nutty Squirrel passes this litmus test. It's that muted green color I look for and subtle nutty flavor that almost tastes like amaretto if you close your eyes.
Another amazing flavor is their nutty squirrel flavor. It's a vanilla cream base with French caramel, peanuts, and chocolate flakes. The peanut is super intense, but somehow light (no peanut butter vibes here). And I love the dose of little chocolate flecks.
Shug's Soda Fountain
website | neighborhood: Downtown | 1525 1st Ave | recommended flavor: vanilla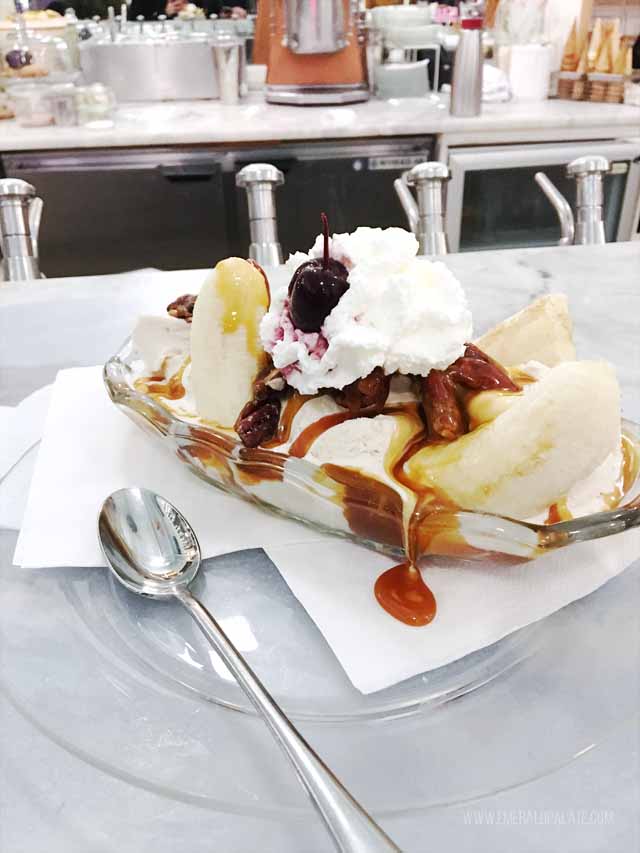 Shug's is one of the most Instagrammable restaurants in Seattle. It's got that old school soda fountain vibe with pastels, marble everywhere, and those cute little vintage glass ice cream cups. You may remember I mentioned them before in my guide to exploring downtown Seattle and my Pike Place Market guide.
They serve Lopez Island Creamery's ice cream, now made in Anacortes but originally from this little island in the San Juan Islands.
Using Lopez Island Creamery's creamy, bean-flecked vanilla ice cream as its base, Shug's makes a knockout banana split made with brûléed bananas. I'm kind of down on raw bananas, but once caramelized they are magical. When you get that perfect bite of sweet banana, creamy ice cream, and dark cherry, every worry leaves your being and it's just you, that ice cream, and those calories.
Bluebird Ice Cream
website | neighborhood: Phinney Ridge & farmers markets | recommended flavors: Caffe Vita & snickerdoodle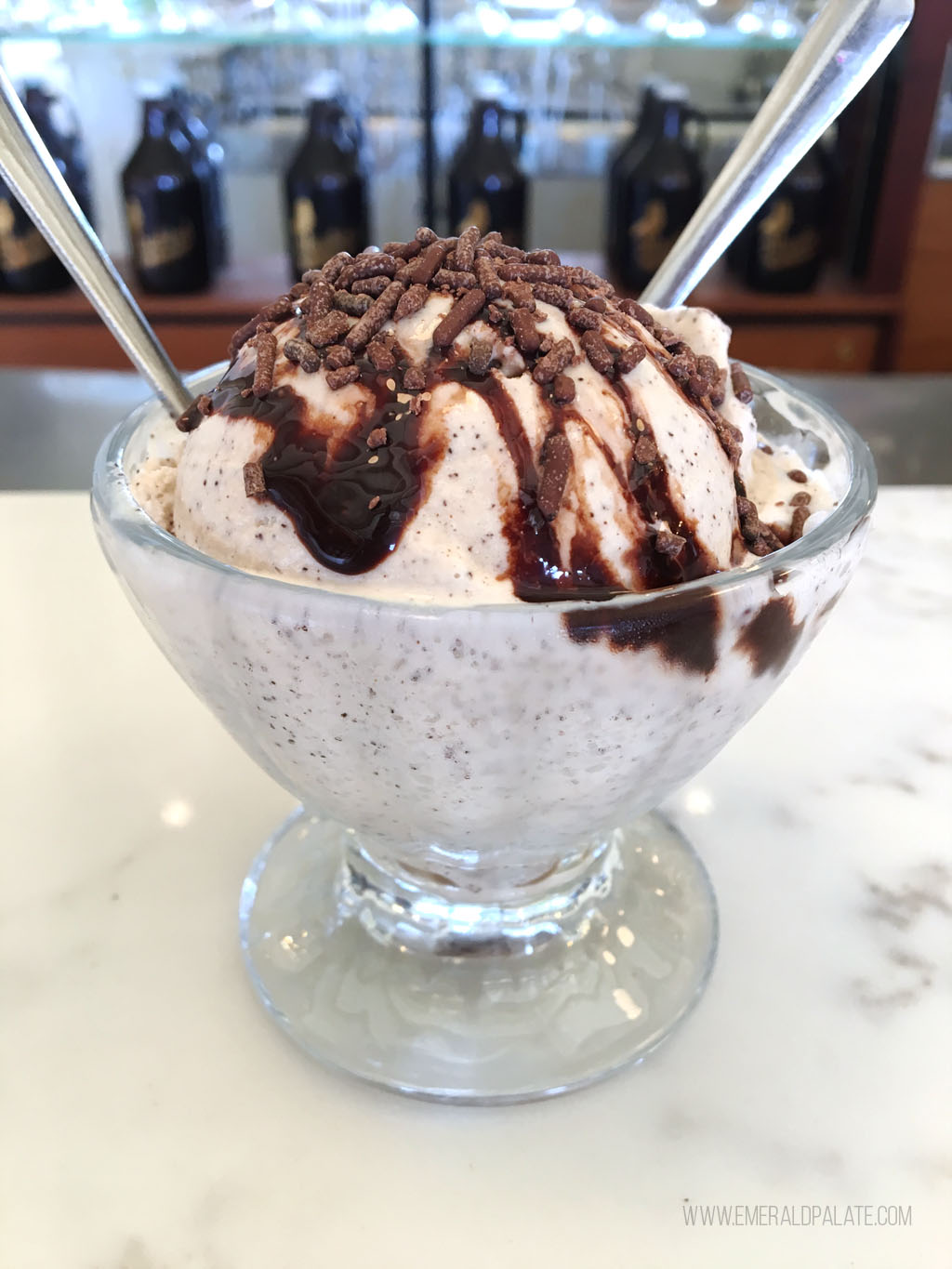 Bluebird is another one of those old-school soda fountain type ice cream shops in Seattle. They make their own root beer and serve beer, both in standalone pints and in their ice cream (hello boozy flavors!). But my favorites are their coffee and snickerdoodle flavors.
The coffee flavor uses local Caffe Vita beans and has a deep, espresso flavor. I hate when you get coffee ice cream and it's more like a water-down iced coffee. This is more like that irresistible first cup in the morning.
The snickerdoodle has that sweet and spicy flavor from the cinnamon, similar to the topping of one of my favorite childhood cookies.
I don't typically get toppings, but I love how Bluebird has real chocolate sprinkles. Every time I go back to the east coast, I get soft serve with rainbow sprinkles. And every time I say, "I can feel myself getting cavities." I love how these are just like eating little bits of chocolate. I'm still probably getting cavities, but at least it doesn't get stuck in your molars like those artificial jimmies.
Note, they used to have a bunch of brick and mortars but now do popups and farmers markets mostly.
Frankie & Jo's
website | neighborhood: Ballard & Capitol Hill | recommended flavor: date shake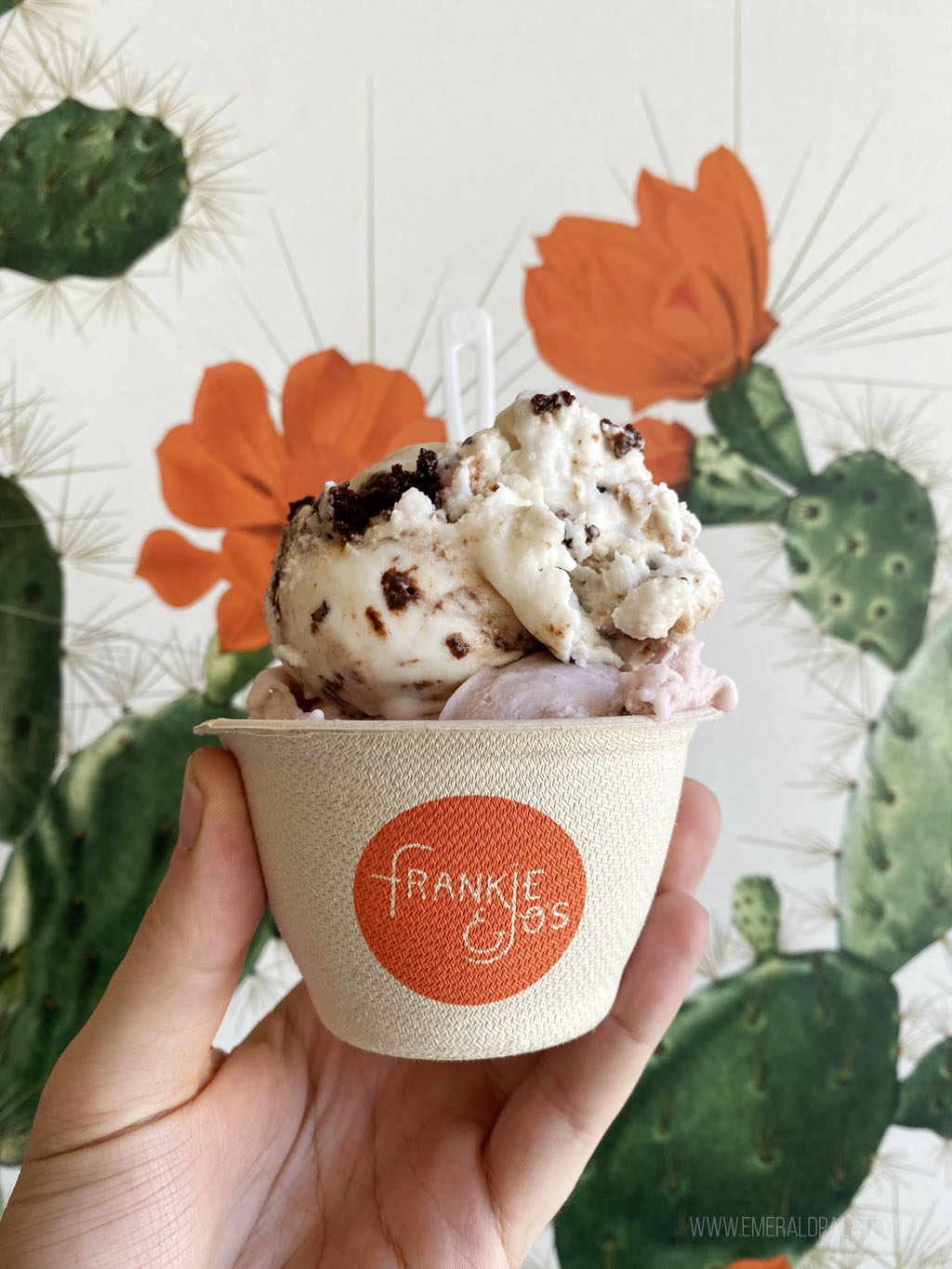 Being a bit of an ice cream snob, I didn't think one of the best vegan restaurants in Seattle would make ice cream that passes my test. Yet, Frankie & Jo's is hands down one of the best ice cream shops in Seattle, hands down.
This B-Corp makes completely plant-based vegan ice cream out of gum-free coconut milk and oat milk. You'd think the texture would be affected by not using dairy, but Frankie & Jo's makes some of the creamiest ice cream on this list.
I honestly like most of the flavors at Frankie & Jo's, such as their popular mint brownie. But I'd say my favorite is their date shake, an ode to the popular milkshake you find everywhere in Palm Springs. It's sweet and reminds me a bit of butter pecan sans the pecans. Definitely try this if you go!
Husky Deli
website | neighborhood: West Seattle | 4721 California Ave SW | recommended flavor: strawberry
This family-owned business sits among some of the best restaurants in West Seattle and is the type of shop I grew up getting ice cream at on the east coast. It's no frills, inside a convenience store, and has a ton of flavors lining the case. You wouldn't think they'd make their own ice cream, but they do. nd it's extra creamy just the way I like it.
They have a ton of regular and "gourmet" flavors here, but I'm partial to their strawberry. It tastes like strawberries without feeling artificial. It's also the perfect flavor mixer when you want to get more than one scoop since it goes with so many of their other flavors.
Milk Drunk
website | neighborhood: Beacon Hill | 2805 Beacon Ave S | recommended flavor: anything with the magic shell
This ice cream shop in Seattle is owned by the same people behind one of my favorite restaurants, Homer. In fact, it was at their finer dining restaurant that they started selling soft serve ice cream out of a window before expanding to create Milk Drunk. This more casual space a little ways down the street from Homer serves ice cream and fried chicken, a match made in heaven.
Their ice cream is often made with interesting flavors like turmeric, fig, and plum that makes this place more chef-y. They've been able to achieve great consistency in their soft serve, and some of the flavors are really great.
My favorite thing here though is the magic shell. It's a sauce that hardens to make a candy-like shell around the ice cream. I'm partial to the chocolate because it reminds me of the beloved dip cones of my childhood.
While I find Milk Drunk's shell a bit sweet and overpowered by coconut oil flavor compared to the OG style I'm used to, there's no denying it's good. My one complaint is that the shell is rather thick, so if you get it in a cup you can't easily break it with the dinky tasting spoon they give you. So get ready to use some muscle!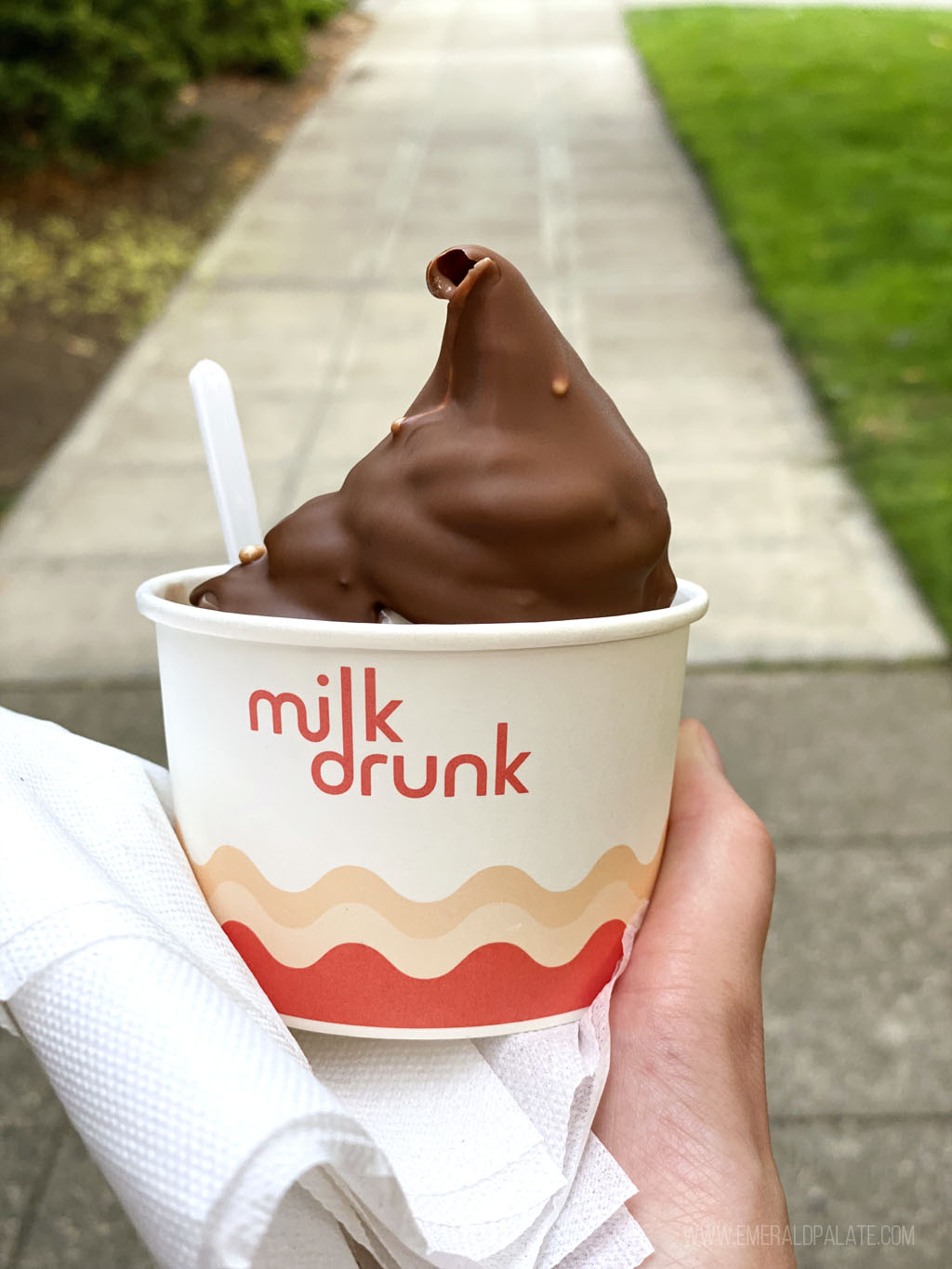 Hot Cakes
website | neighborhood: Capitol Hill | 1650 E Olive Way | recommended flavor: vanilla with chocolate shell
Hot Cakes has locations in Ballard and Capitol Hill, but it's their Cap Hill location that has one of my favorite desserts of all time: chocolate dip ice cream. I grew up eating these on the east coast and they're sort of impossible to find in Seattle.
While Pick-Quick has the most "authentic" version to my childhood nostalgia I've found, Hot Cakes elevates this typically chemical-laden treat and pumps up the flavor. You can taste real vanilla in their creamy soft serve, and the chocolate is excellent.
So while it's a bit more artisanal than the version I grew up eating, it's damn good and I'd eat it again and again. Word of warning: It's messy AF so get lots of napkins! PS – The pic below is from a spot in LA to show you what it traditionally looks like. I'll update with a Hot Cakes photo next time I go!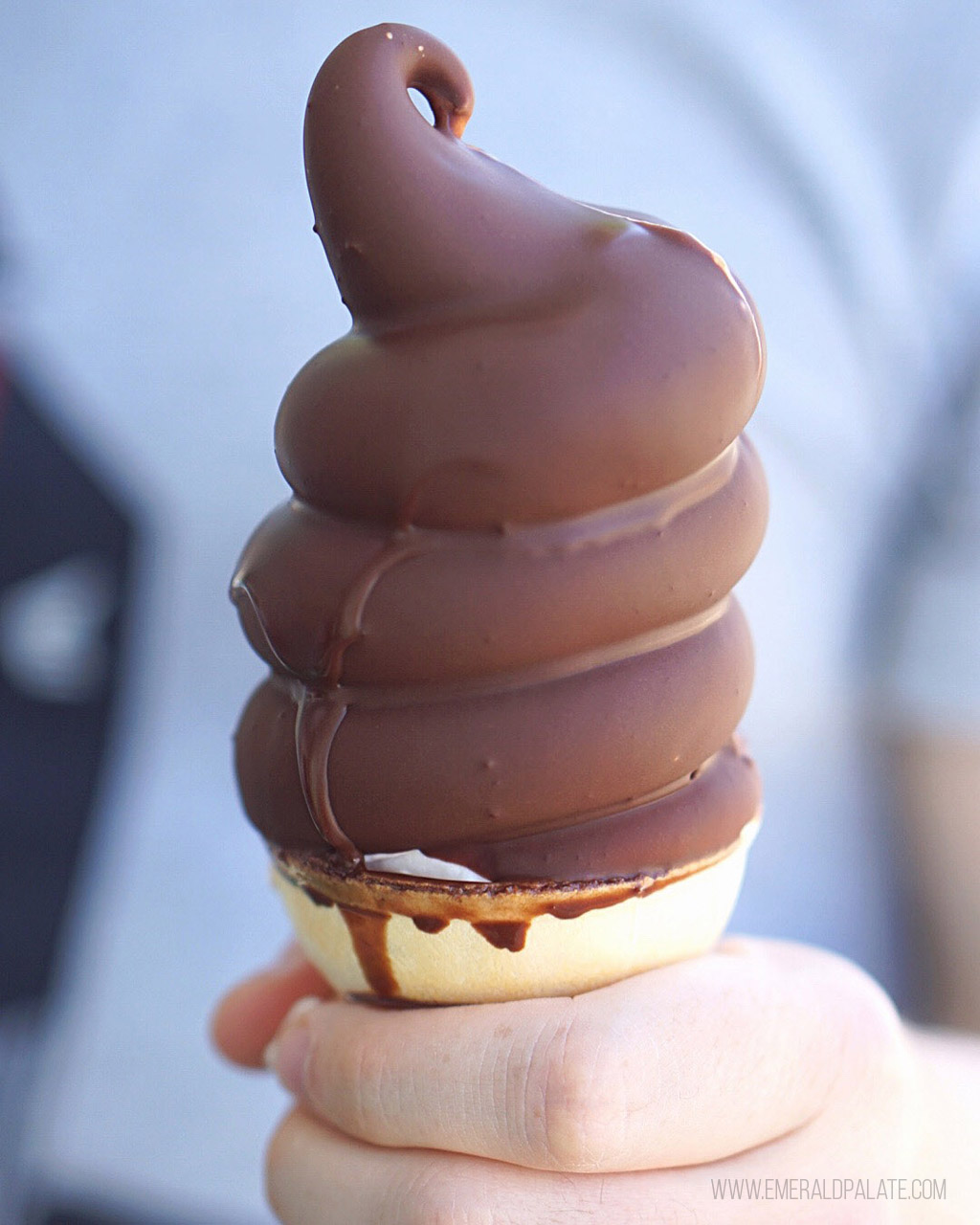 Places I Still Need to Try
To make sure you don't think I hate places not on this list that I haven't tried yet, here are some of the spots I've heard good things about:
The Pastry Project (Pioneer Square)
King's Deli (Central District)
Kryse (Beacon Hill)
Laina's Handcrafted Ice Cream (Rainer Valley)
Creamy Cone Café (Rainier Valley)
Moto (West Seattle)
More Desserts in Seattle
Once you make your way through the best ice cream in Seattle, fulfill that sweet tooth craving at these other spots:
Best Cookies and Desserts in Seattle
Dessert Delivery in Seattle
Chocolate Made in Seattle Worth Seeking Out