Sharing is caring!
Looking for some Ice Cream Cone Templates? We've got some great options just for you!
If you're searching for a suitable ice cream cone template, we have several that are perfect for crafting and art projects.
Ice cream cones are not only a delicious summer treat but also make for a fun summer craft project.
Our ice cream templates provide an excellent way to create customized cones for various enjoyable activities.
And if you like these, you'll also love our popsicle template too!
Creative Ice Cream Cone Craft Ideas
Planning to use these templates for ice cream cone crafts? We have a ton of fun ideas!
Decorate your ice cream cone: Print out a large ice cream template and let your creativity loose. Color the ice cream scoop and cone in different shades or use craft paper or tissue paper for a unique touch. Add some glue and glitter or sprinkle cut-up scrap paper as colorful sprinkles. You can even top it off with a cherry, like a big red pom-pom!
Mix and Match: Another exciting ice cream craft idea is to cut out the ice cream scoops and use them as templates to create different flavors of ice cream. Brown for chocolate, white for vanilla, and green for mint. Cut out ice cream cones from colored paper to represent various flavors. Have fun mixing and matching different combinations of ice cream flavors and cones. See how many unique combinations you can come up with!
Coloring pages: These templates can also double as ice cream cone coloring pages. Print and bring out the crayons or colored pencils for a fun kids' activity. Use the medium-sized templates as ice cream coloring pages and experiment with different patterns and colors for each cone.
Other Creative Uses
These templates have more than just crafting possibilities. Here are some other ways you can utilize them:
Ice cream cone stencils or outlines
Party decorations for an ice cream-themed event
Coloring pages for a free and enjoyable activity at parties
String them together to create an ice cream banner
Or use them to practice color patterns!
Available Ice Cream Templates
We offer a variety of printable ice cream templates to suit your needs. From large ice cream cones to small ones, as well as individual ice cream scoops and cones.
Large Ice Cream Craft Templates
We have a blank ice cream cone template available in both large and small sizes. Additionally, we have a more detailed ice cream printable that works perfectly as a coloring page. It features separate scoop and cone templates that can be cut out and used as traceable templates.
Small Ice Cream Printables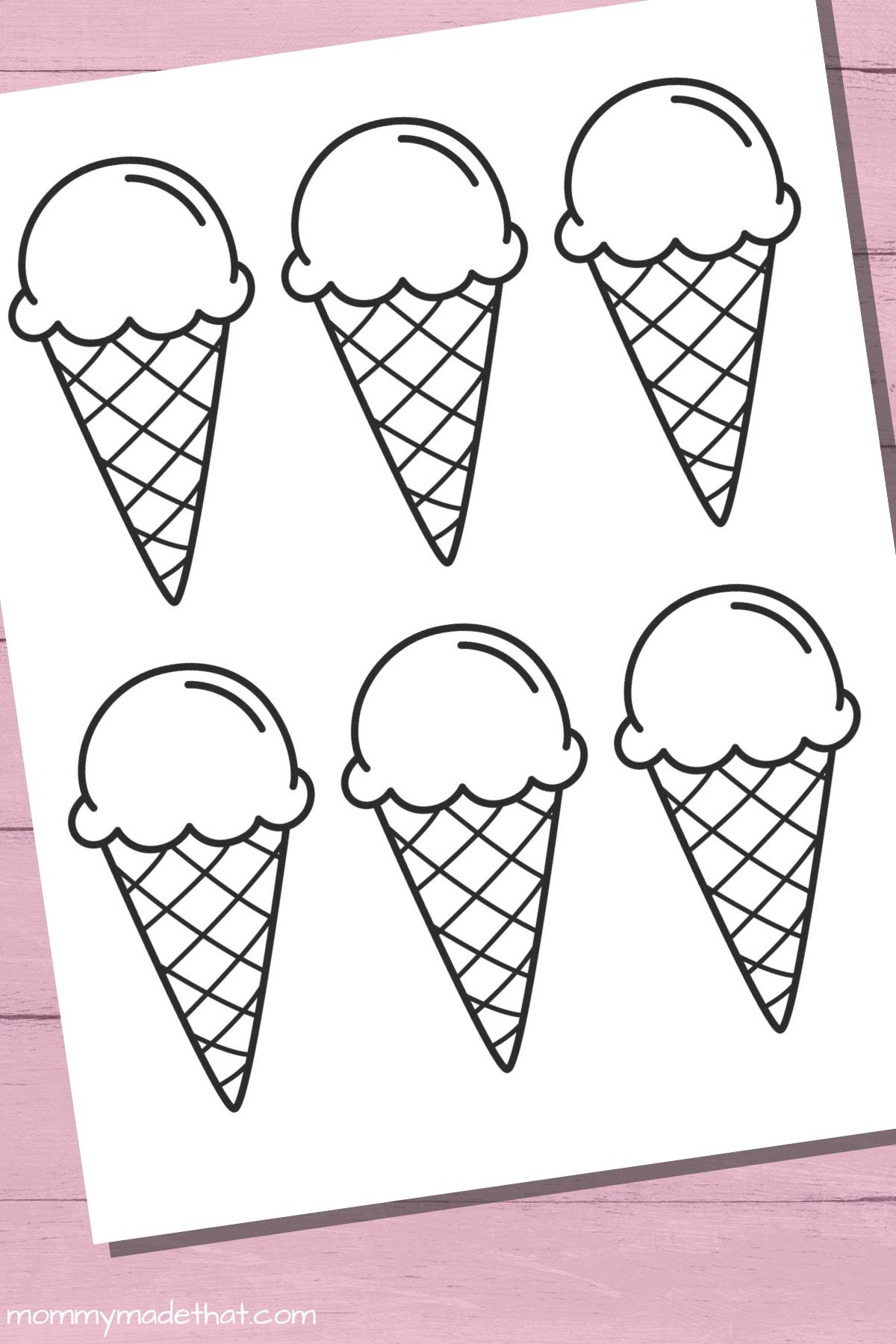 We also provide the above ice cream outlines in smaller sizes. You will find several scoops of ice cream on one page, as well as several ice cream cone shapes on another. These smaller templates are especially suitable for patterns and activities for kids and young children.
Small Printable Ice Cream Cones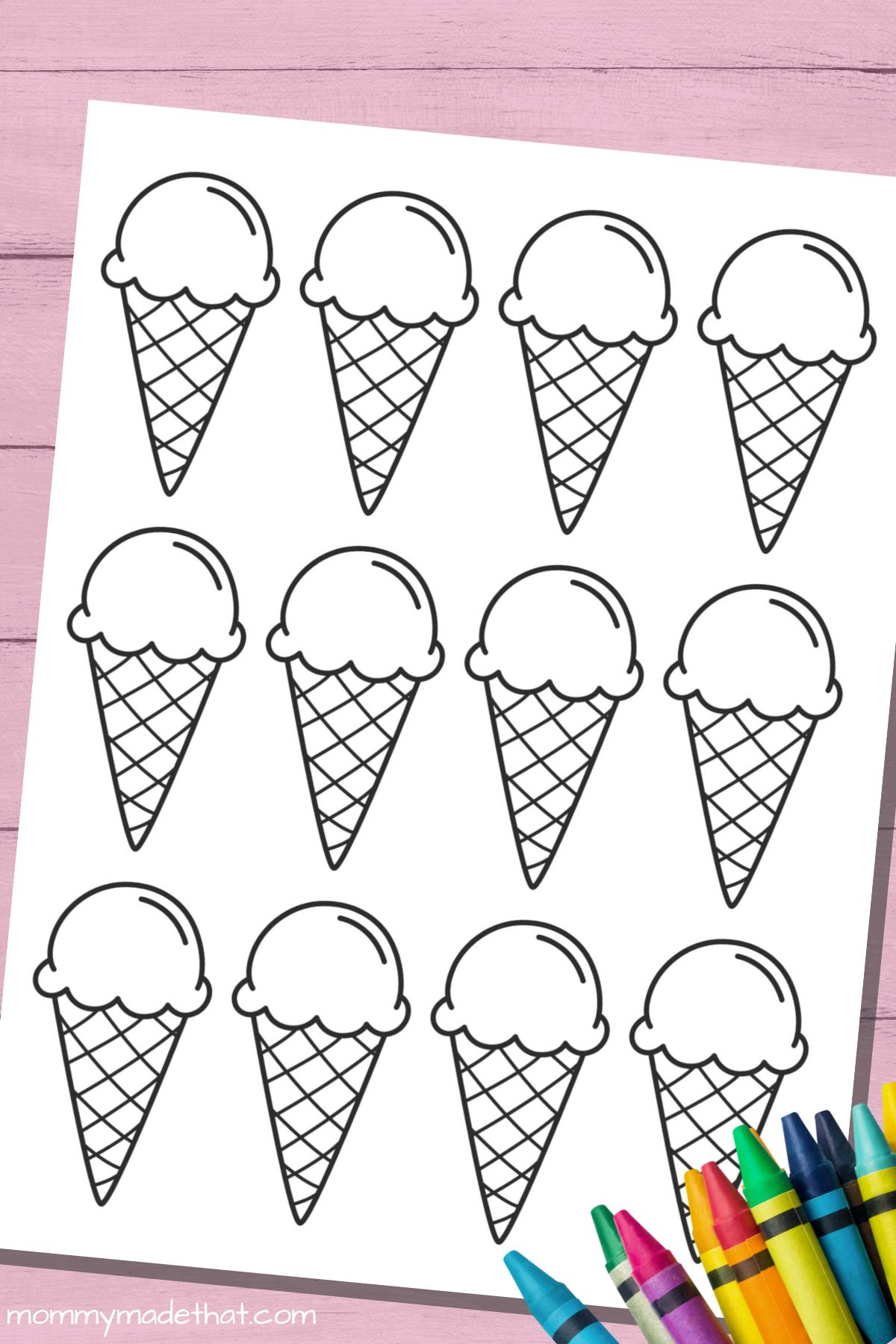 Finally, we have the smallest ice cream templates, with 12 printable ice cream cones per page. These are ideal for practicing patterns with various colors. Encourage kids to color each cone using different colors in a distinct pattern.
How to Get the Templates
To acquire the free printable ice cream templates, simply enter your email in the form below. We will send the ice cream printables straight to your inbox, along with updates on new free printables and resources.
Please note that these templates are for personal or classroom use only and not for commercial purposes. However, feel free to download and print as many as you like!
Once you receive the PDF, you can select and print only the templates you want to use or print them all. If you encounter any printing issues, make sure to click the "fit to page" button before printing to rectify the problem.