Ice cream is more than just a dessert; it's a companion that accompanies us through the ups and downs of life. Whether it's a birthday, a wedding, or even a regular day that needs a touch of sweetness, ice cream always manages to make everything better. In the heart of Kansas, Cindy and Jim England, the owners of Sylas & Maddy's Homemade Ice Cream stores in Lawrence and Olathe, are on a mission to enhance life's experiences with their delectable creations.
A Dream Come True
When the Englands moved to Lawrence from Minnesota in 1996, they quickly realized that they were missing a classic mom-and-pop ice cream shop in their new community. Determined to fill this void, they took matters into their own hands and opened Sylas & Maddy's Homemade Ice Cream. Their first location on Massachusetts Street in Lawrence was soon followed by a second store in Olathe. The Englands wanted their stores to offer not only delicious ice cream but also a cozy and welcoming atmosphere.
A Taste of Perfection
At Sylas & Maddy's, every scoop of ice cream is crafted with care and love. Using only the finest ingredients, they create specialty flavors that are simply irresistible. Fresh watermelon goes into their watermelon sherbet, and each bucket of ice cream is blessed with a whole pie for their pie flavors. It's this attention to detail and dedication to quality that sets their ice creams apart from the rest. The result is a mouthwatering array of 150 flavors, with "Da Bomb" reigning as the all-time favorite. Bursting with cookie dough, Oreos, and chocolate flakes, this flavor offers a delightful explosion of taste in every bite.
A True Kansas Treasure
Sylas & Maddy's Homemade Ice Cream has earned its reputation as the number one ice cream shop in Kansas, and it's not hard to see why. From the moment you step into their stores, you can feel the warmth and passion that the Englands have poured into their business. The popularity of their ice cream is evident as lines stretch out the door and down the street, especially on a sunny summer day. But fear not, because the friendly and efficient staff ensures that your wait is worthwhile.
A Commitment to Quality
Sylas & Maddy's not only delights ice cream lovers but also plays an essential role in supporting the Kansas economy and dairy industry. They source their dairy from Anderson Erickson Dairy, a family-owned business in Des Moines, Iowa, renowned for its commitment to creating delicious dairy products for over eight decades. By partnering with Anderson Erickson, Sylas & Maddy's ensures that their ice cream is made from the freshest and finest ingredients, providing customers with a truly exceptional experience.
A Dairy Farmer's Love Affair
Behind every spoonful of ice cream lies the dedication and care of dairy farmers. MeLissa Dryzmalla, a dairy farmer in Newton, recalls fond childhood memories of her grandpa churning ice cream on warm summer days. Today, she and her husband operate a fifth-generation farm, milking 200 Holstein cows. The milk produced on their farm goes to Hiland Dairy in Kansas City, a member of the Dairy Farmers of America cooperative. The Dryzmallas prioritize food safety and quality, ensuring that each glass of milk is full of goodness.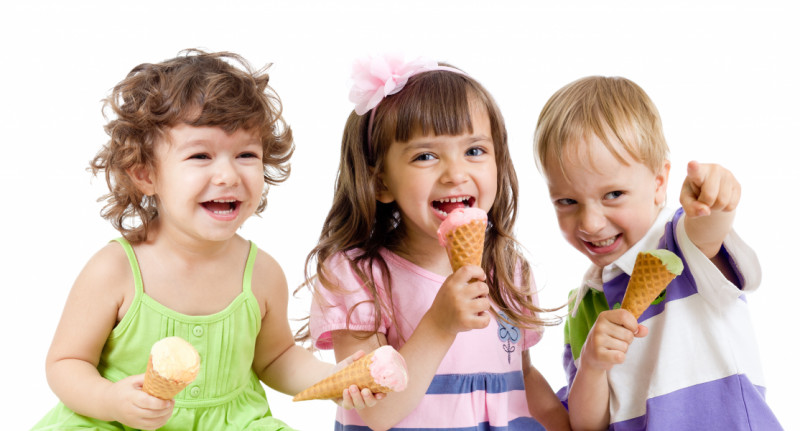 The Nutritious Indulgence
Ice cream might be a sweet treat, but it also contains a surprising amount of nutrition. Packed with vitamins A and D, riboflavin, and calcium, ice cream allows us to enjoy the best of both worlds—a delectable dessert that nourishes our bodies. So, the next time you're craving something delightful, head over to Sylas & Maddy's or your favorite local ice cream parlor and savor the joy of a creamy scoop or two.
Remember, life is meant to be celebrated, and ice cream is always there to make the moments a little sweeter. Treat yourself to the delicious creations of Sylas & Maddy's Homemade Ice Cream, and discover the magic that lies within each tantalizing flavor. Indulge, enjoy, and let the creamy goodness transport you to a world of pure delight. Visit Ice Cream for more mouthwatering treats.