Are you looking for a delightful low-carb dessert? Try out this fantastic keto raspberry cottage cheese ice cream recipe. This smooth and creamy no-churn ice cream requires only three ingredients. Not only is it high in protein, but it is also sugar-free and low in calories. If you want to enhance the flavor, add the keto nut crumble to give it a cheesecake-like taste. Each serving of this scrumptious treat contains just 96 calories, 4.7 grams of carbs, and 14.4 grams of protein.
A Delicious and Healthy Option
Looking for another mouthwatering keto dessert? We also recommend trying out our keto peanut butter whipped cottage cheese. It's an absolute delight!
I'm still obsessed with my whipped cottage cheese recipe. This time, I decided to freeze it and turn it into a delightful ice cream. By adding fresh raspberries and a simple crunchy crumble, I created a magnificent flavor combination that tasted like a sugar-free cheesecake frozen treat. It was absolutely amazing! I've also tried it with fresh strawberries, and it was equally delicious.
Now, let me share with you my incredible keto raspberry cottage cheese ice cream recipe. With just a few ingredients and a few minutes of your time, you can create a heavenly dessert. Simply freeze it for a few hours, and you'll have a creamy, sweet treat that is low in carbs, high in protein, low in calories, and sugar-free. Best of all, it's absolutely delicious and a guilt-free indulgence that you can enjoy with your family, especially during the summer. Don't worry if you can't freeze it; it tastes equally delicious as a whipped cottage cheese snack too.
The Ingredients You'll Need
To create this simple yet divine recipe, you only require three basic ingredients: fresh raspberries, cottage cheese, and a sweetener of your choice. If you'd like to add a delightful nut crumble topping, you'll need pecans, butter, and some sweetener. However, if you have a nut allergy, you can omit the nuts. While I didn't use any flavor extract, feel free to incorporate raspberry or vanilla extract to enhance the taste.
I found this amazing Good Culture low-fat cottage cheese at Target, and it has become my go-to keto cottage cheese option. It contains just 3g net carbs per ½ cup, which is considerably lower than most other brands. If possible, opt for whole milk cottage cheese, as it generally contains fewer carbs and results in a creamier texture. Unfortunately, I didn't have any on hand, but it still turned out fantastic.
This particular brand boasts no preservatives, live and active cultures for gut health, and a thick, smooth, and creamy texture. However, feel free to use any brand you prefer. The carb count may vary slightly, but it will still be low in carbs.
If you don't have access to fresh fruit, frozen fruit works just as well. Additionally, if you're not fond of raspberries, feel free to experiment with other berries such as blackberries, strawberries, or blueberries.
I used Bocha Sweet sweetener, but you can opt for any sweetener you like. If you're not concerned about carbs and prefer to use regular sugar or natural sweeteners such as honey, maple syrup, or even coconut sugar, go ahead. Feel free to try different nuts, such as almonds, walnuts, hazelnuts, or macadamia nuts.
Moreover, if you're not watching your carb intake, crushed graham crackers or Biscoff cookies can serve as an alternative to nuts.
How to Make Keto Raspberry Cottage Cheese Ice Cream
You can enjoy this delectable low-carb, high-protein ice cream with or without the nuts. The nuts provide a crumble topping that gives it a cheesecake-like taste, but they are not essential.
Here's a step-by-step guide:
If you're using nuts, heat a small skillet over medium heat. Add butter, chopped nuts, and sweetener, and mix well. Toast the nuts for at least 5 minutes until they turn golden brown and emit a pleasant aroma.
Remove the nuts from the heat and transfer them to a plate or paper towel to cool.
While the nuts cool, add the cottage cheese to a food processor or high-speed blender. I personally find it easier to clean the food processor, so that's what I used. Blend until the cottage cheese becomes smooth and creamy. Avoid using an immersion blender, as it may not eliminate all the lumps, but it could still be used if necessary.
Add half of the raspberries and the sweetener to the blended cottage cheese, and continue blending until you achieve a creamy consistency.
Spoon the mixture into a bowl and fold in the remaining raspberries, making sure to chop them before adding them to the blend.
Transfer the finished cottage cheese ice cream to a freezer container. If you're using the nut crumble, sprinkle it on top before placing the container in the freezer for 1-2 hours.
Once the ice cream reaches your preferred level of firmness, simply scoop and enjoy!
Keep an eye on your ice cream after 1 hour, as it may become too soft. If that happens, return it to the freezer and check it at 30-minute intervals.
If you leave it in the freezer for longer than 2 hours, it may become too hard. In such cases, simply let it sit on the counter for 10-20 minutes to soften or microwave it in 10-second increments until it reaches a scoopable consistency.
Remember to store any leftovers in a freezer-safe container to maintain its freshness. Scroll down to find the printable recipe card.
If you're not in the mood to freeze it, you can always enjoy it as a smoothie bowl.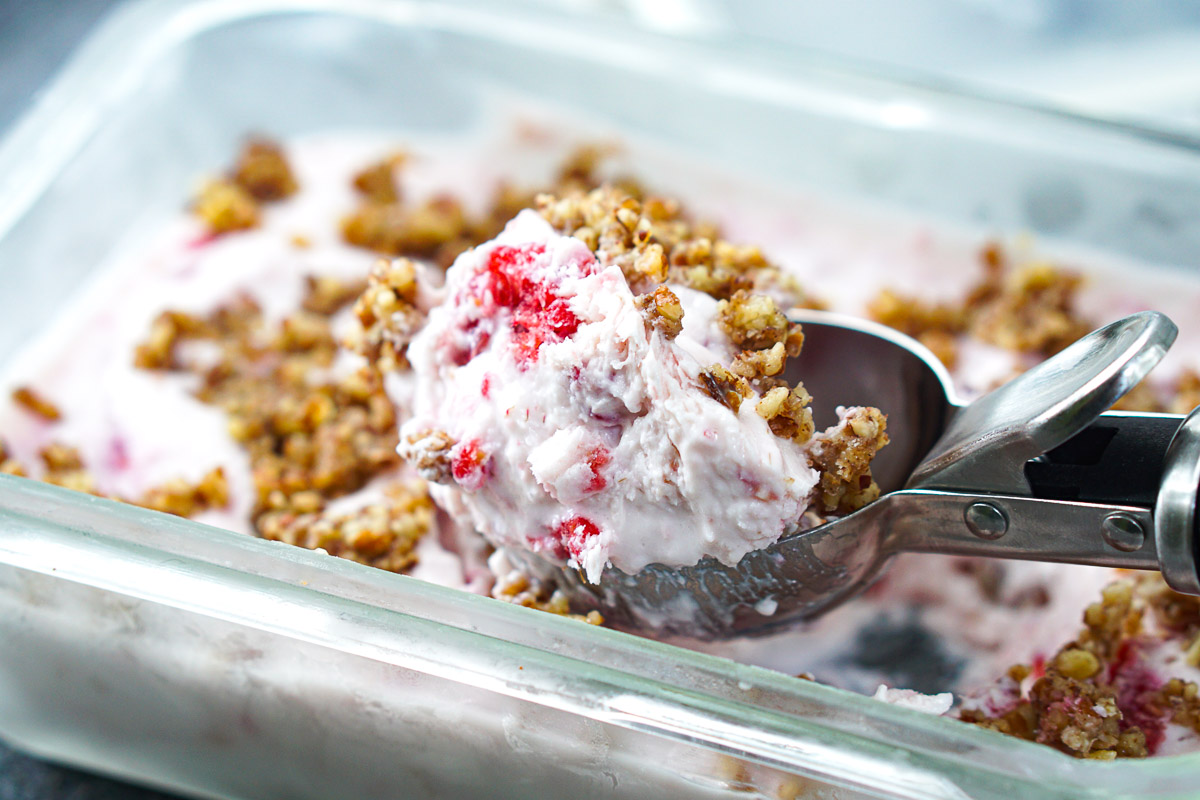 More Healthy Ice Cream Recipes to Explore
I absolutely adore traditional ice cream, especially during the summer, but it doesn't always agree with me. Therefore, I've spent years experimenting with various low-carb versions. Although my Ninja Creami machine remains my favorite, this recipe is the second easiest one I've come across.
If you're interested, here are some other homemade ice cream recipes and techniques I've tried:
Ninja Creami ice cream maker: chocolate, strawberry, salted caramel (maple and coffee flavors coming soon)
No-churn recipes: caramel butter pecan
Regular ice cream maker: black cherry and chocolate peanut butter ice cream
Blender recipes: pumpkin, blueberry, coconut berry (please note these are not low carb)
Dash pint mini maker: vanilla, healthy chunky monkey (please note these are not low carb)
Greek yogurt-based: chocolate soft serve
If you're a fan of cottage cheese, I highly recommend giving this healthy cottage cheese ice cream a try. It's the perfect high-protein dessert for satisfying your sweet tooth.
The best part is that it's incredibly easy to make and packed with protein. Plus, it's sugar-free and low in calories. Just imagine all the flavor combinations you can explore. So go ahead and indulge guilt-free.
Nutritional Information (per serving, no nuts):
Calories: 96
Fat: 2.7g
Carbs: 6.7g
Fiber: 2g
Protein: 14.4g
Net Carbs: 4.7g
Nutritional Information (if using nuts):
Calories: 241
Fat: 18.5g
Carbs: 8.6g
Fiber: 3.3g
Protein: 15.7g
Net Carbs: 5.3g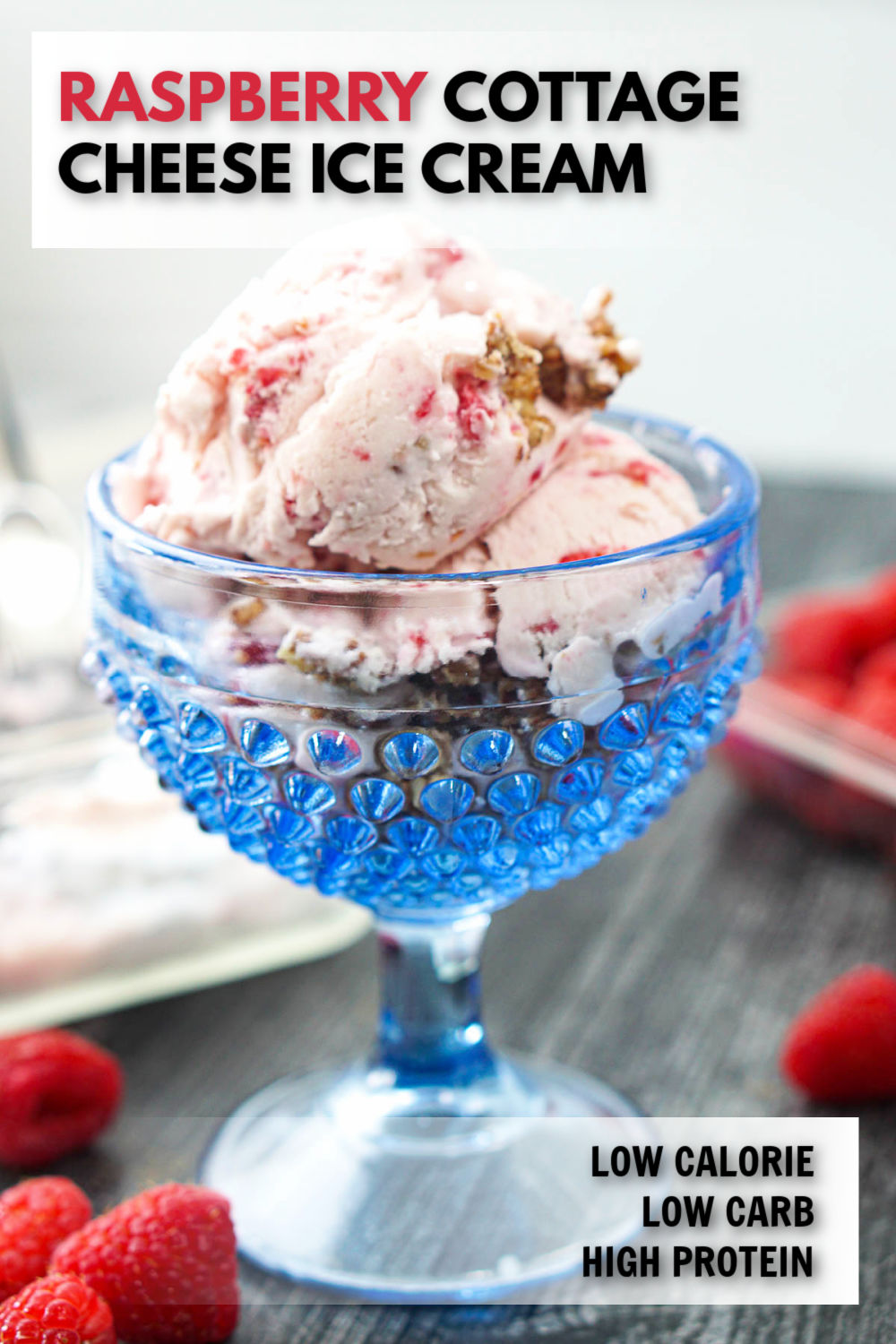 Remember, for more incredible ice cream recipes, visit the Ice Cream directory.