Introduction
Indulge in the creamy goodness of homemade Strawberry Cheesecake Ice Cream. This delectable treat combines the lusciousness of cheesecake ice cream, a delightful strawberry sauce, and crushed graham crackers. It's a recipe that will leave you craving for more.
The Perfect Blend of Flavors
Strawberry Ice Cream is a beloved flavor that ranks third in popularity, just behind vanilla and chocolate. And for good reason—the combination of strawberries and cream is simply divine. The slightly tart flavor of strawberries is beautifully balanced by the sweetness of cream and sugar, as showcased in our scrumptious Strawberry Ice Cream and Strawberry Shortcake Ice Cream recipes. If you're a fan of cream cheese, you'll also love our New York Style cheesecake-inspired Strawberry Cheesecake ice cream, complete with a graham cracker crust and a delightful strawberry topping.
Why You'll Love This Recipe
Philadelphia Style Creaminess
Unlike traditional ice cream recipes that call for egg yolks, this recipe follows the Philadelphia style. That means you can enjoy a rich and creamy homemade ice cream without the hassle of making a custard.
Fresh and Natural Ingredients
When you make ice cream at home, you have full control over the quality of the ingredients. Say goodbye to artificial flavors and colors found in store-bought strawberry ice cream. With this recipe, you'll savor the pure, all-natural goodness of fresh ingredients.
Wallet-Friendly Delight
If you're tired of splurging on expensive store-bought pints of Ben and Jerry's Strawberry Cheesecake, this recipe is a game-changer. You'll be delighted to discover that you can make a larger batch of ice cream for the same price, and the taste will be even more satisfying.
Step-By-Step Instructions
We've got you covered with detailed step-by-step instructions for every stage of the ice cream-making process. From preparing the ice cream base to churning the mixture and storing the final product, you'll become an ice cream-making pro in no time.
Ingredients for Homemade Strawberry Cheesecake Ice Cream
Strawberries: Opt for fresh strawberries to ensure the best flavor. Frozen berries tend to have excess water content.
Sugar: Plain, white, granulated sugar is perfect for adding sweetness and achieving the ideal ice cream texture.
Cream Cheese: A must-have ingredient to capture the essence of cheesecake. Remember to let it reach room temperature for a smooth incorporation into the base.
Heavy Cream: The key to achieving a creamy texture in your ice cream.
Whole Milk: A combination of heavy cream and regular milk guarantees the creamiest homemade ice cream.
Vanilla Extract: Use high-quality pure vanilla extract to infuse your ice cream base with a delightful flavor.
Kosher Salt: A touch of salt balances the sweetness, resulting in a perfectly balanced ice cream.
Graham Crackers: Crushed graham crackers mimic the graham cracker crust of a classic strawberry cheesecake. You can use traditional or gluten-free graham crackers.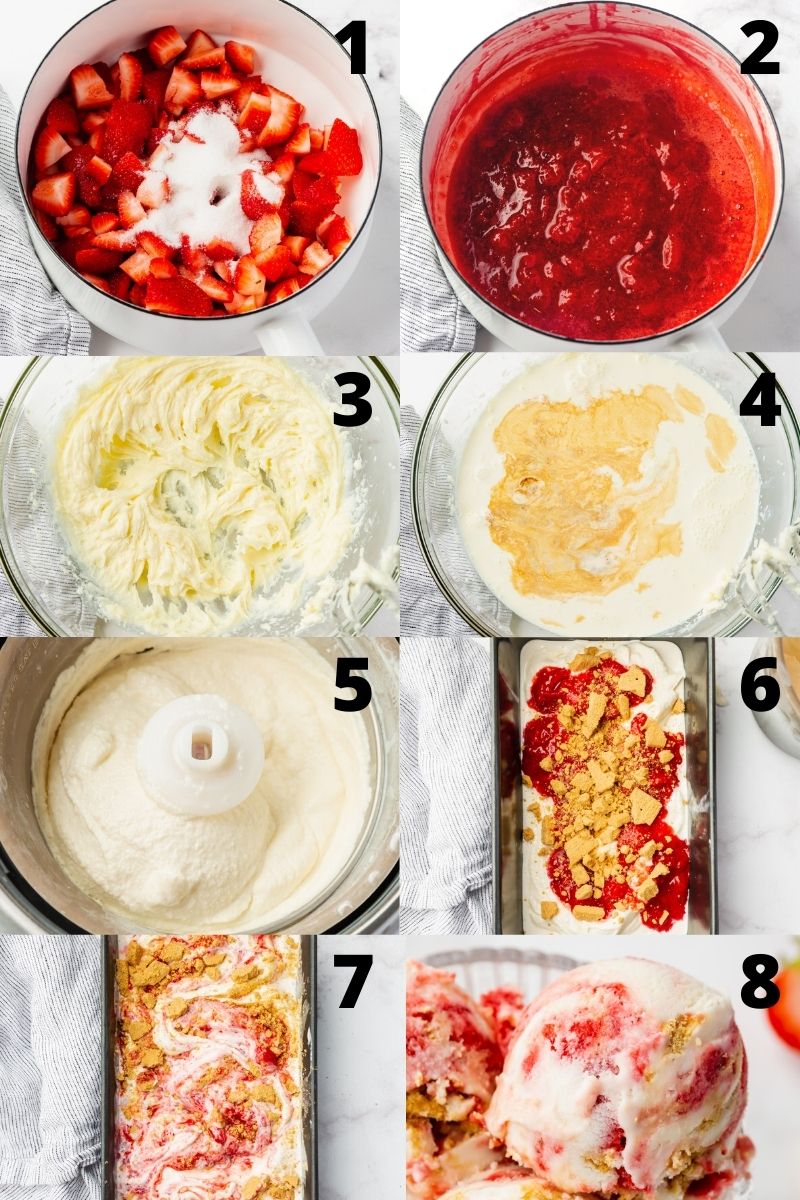 How to Make Homemade Strawberry Cheesecake Ice Cream
Start by freezing the bowl of your ice cream maker for at least 24 hours. Ensure it's completely frozen before proceeding.
In a medium saucepan, combine diced strawberries and ¼ cup of granulated sugar. Heat over medium heat, bringing the mixture to a boil. Reduce heat and let it simmer for 10 minutes until the strawberry sauce thickens slightly. Allow it to cool to room temperature and then refrigerate until ready to use.
In a large bowl, beat the cream cheese and the remaining ¾ cup of granulated sugar until smooth using an electric mixer.
Add the heavy cream, whole milk, vanilla extract, and salt. Mix until smooth. Refrigerate the mixture for 30 minutes to ensure it's adequately chilled before churning.
Churn the ice cream base in your ice cream machine according to the manufacturer's instructions, approximately 25 minutes or until the consistency resembles soft-serve ice cream.
Spoon one-third of the ice cream base into a shallow container or loaf pan. Drizzle one-third of the strawberry sauce over the ice cream and sprinkle one-third of the graham crackers on top.
Repeat the layering process two more times with the remaining ice cream base, strawberry sauce, and graham crackers. Use a knife to lightly swirl the layers together.
Press plastic wrap or wax paper onto the surface of the ice cream to prevent freezer burn. Freeze for at least 4 hours or until solid. Allow the ice cream to sit at room temperature for about 5 minutes before serving.
Please refer to the complete recipe for a detailed list of ingredients and instructions.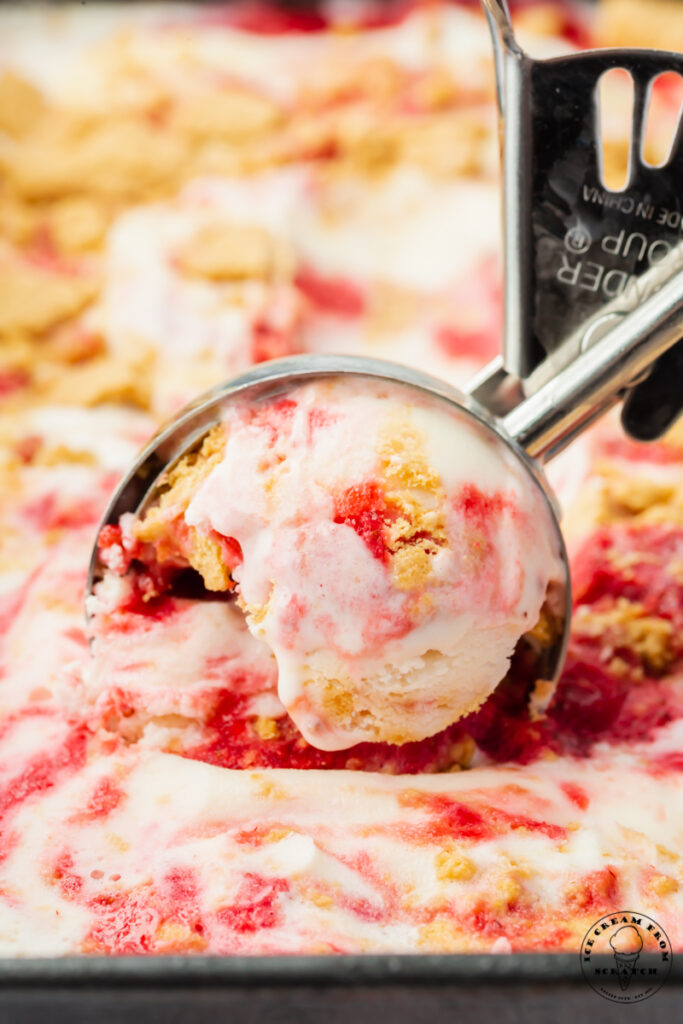 Storing Strawberry Cheesecake Ice Cream
To keep your Cheesecake ice cream fresh, store it in an airtight container in the freezer. Place a piece of parchment paper or wax paper on top to prevent ice crystals from forming. Your homemade ice cream will stay delicious for up to one month.
Tips for Making the Perfect Strawberry Cheesecake Ice Cream
Quality Ingredients: Choose high-quality ingredients for the best results when making homemade ice cream.
Chill Out: Whenever possible, start with chilled ingredients. This applies to both no-churn and machine-made ice cream recipes.
Cream Cheese: Bring the cream cheese to room temperature before incorporating it into the ice cream base to avoid lumps.
Don't Skimp on Fat: Opt for high-fat milks and creams to achieve a creamy and consistent texture. Low-fat alternatives can result in icy ice creams.
Moderate Add-Ins: If you're adding extra ingredients, limit yourself to one or two. Chop them into small pieces to ensure even distribution in the ice cream.
Sugar, the Sweet Secret: Sugar not only adds sweetness but also contributes to the creamy texture of the ice cream. Don't skimp on it!
Fresh is Best: Whenever possible, use fresh strawberries. If fresh ones aren't available, thaw frozen strawberries, drain excess liquid, and then cook the strawberry sauce.
Texture Variation: If desired, you can mash or puree the cooled strawberry sauce for a different texture. However, the original recipe with small strawberry pieces adds a delightful touch.
Experiment with Other Fruits: While this recipe focuses on strawberries, you can also try raspberries, blueberries, or cherries for a fruity twist.
Shortcut Option: If you're short on time, you can use a jar of strawberry ice cream topping instead of making the fresh strawberry syrup from scratch.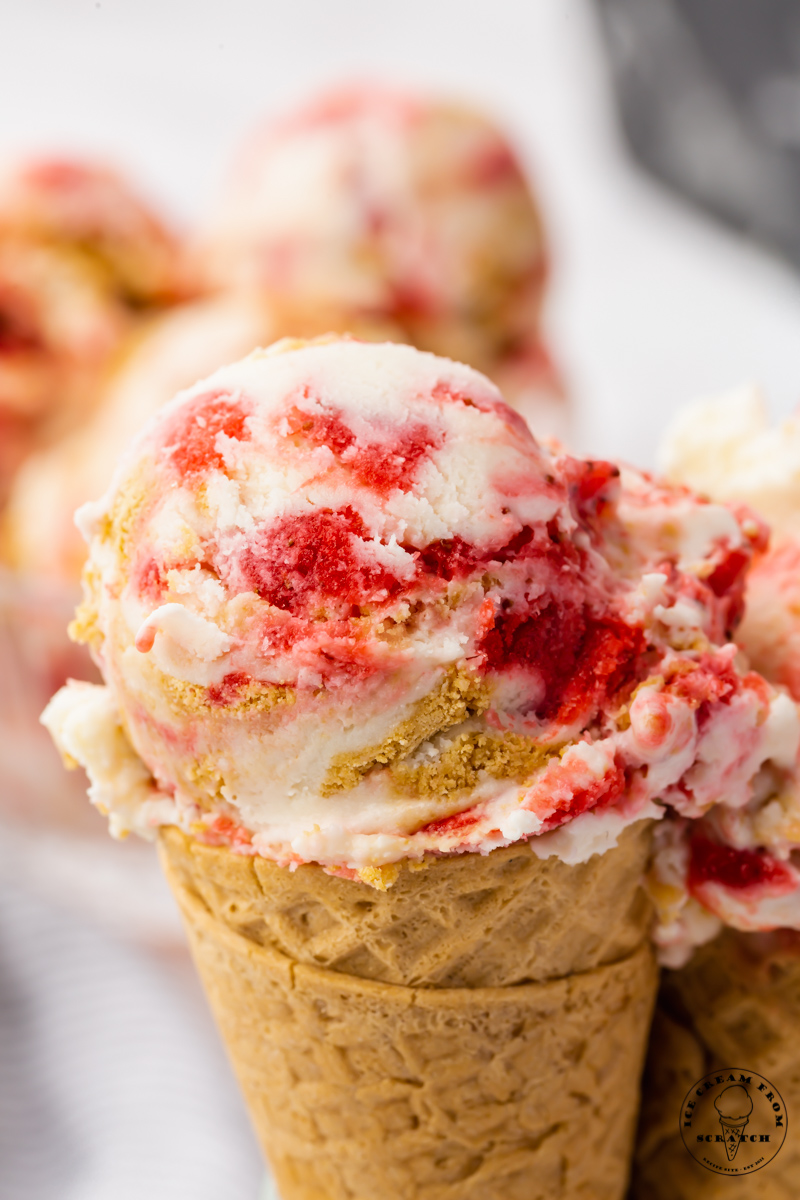 No-Churn Option
If you don't have an ice cream maker, you can still enjoy this delightful treat. Here's how:
Chill a shallow container or loaf pan in the freezer while preparing the ice cream ingredients.
Pour the ice cream mixture into the prepared pan and freeze for 3-4 hours. Stir the ice cream every 30 minutes during the first 2 hours to incorporate air into the mixture, resulting in a creamy and smooth texture.
After the first two hours, swirl in the strawberries and graham crackers to maintain distinct layers in your ice cream.
Enhance Your Cheesecake Ice Cream
While Strawberry Cheesecake ice cream is already a perfect treat, you may consider adding these additional ingredients:
Other Cookies: Replace graham crackers with gingersnaps, Oreos, or shortbread cookies. Alternatively, stir in chunks of pound cake for a delightful twist.
Chocolate: Enhance the flavor by adding finely chopped chocolate or a swirl of hot fudge sauce.
For more cheesecake-inspired ice cream recipes, be sure to try our blueberry cheesecake ice cream.
Remember, don't go overboard with mix-ins to ensure the ice cream remains easy to scoop and enjoy.
Softening Homemade Ice Cream
Unlike commercially-made ice creams that contain preservatives, our homemade version freezes quite solid. To achieve the perfect scoopable consistency, allow the ice cream to sit at room temperature for a few minutes before serving. It's worth the wait!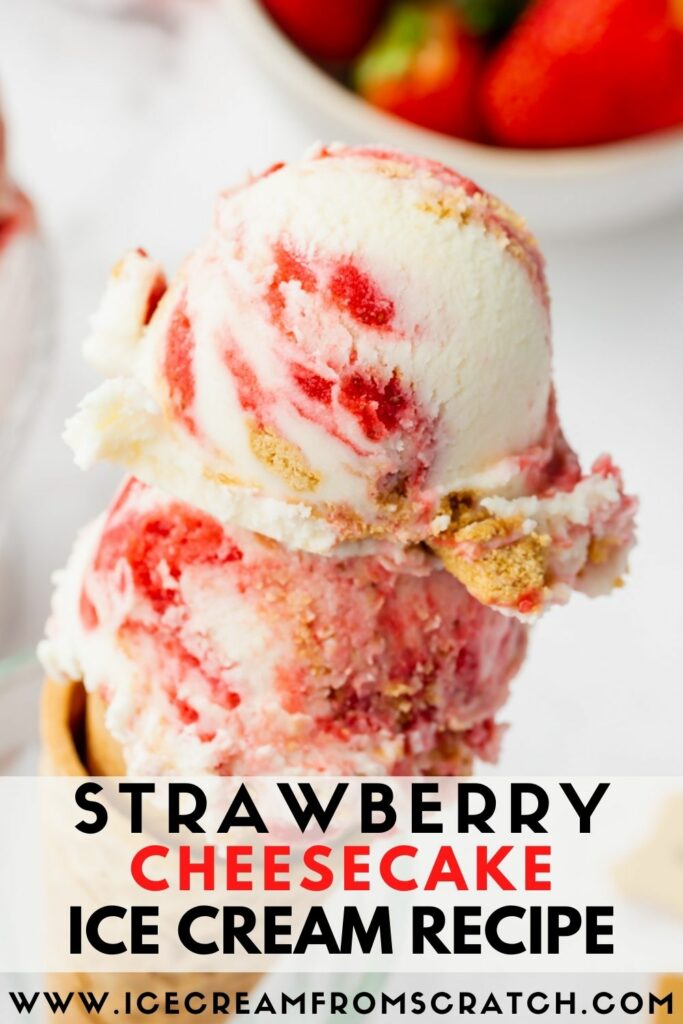 More Homemade Ice Cream Recipes to Enjoy
Expand your ice cream repertoire by trying these delicious flavors inspired by classic desserts:
Apple Pie Ice Cream
Banana Pudding Ice Cream
Birthday Cake Ice Cream
Pumpkin Pie Ice Cream
Mississippi Mud Ice Cream
Banoffee Pie Ice Cream
Essential Tools for Homemade Ice Cream Making
To elevate your homemade ice cream game, make sure to have these handy tools on hand:
Cuisinart 2QT Ice Cream Maker: This versatile machine churns out ice cream, sorbets, and frozen yogurt effortlessly.
Loaf Pan: Choose a 9 x 13 loaf pan or a shallow pan to store your ice cream. We recommend this one.
Ice Cream Scoop: A good-quality ice cream scoop makes serving a breeze. Check out our favorite scoop.
Ice Cream Containers: Keep your homemade ice cream fresh using dedicated ice cream containers. We recommend having a couple on hand.
Please note that the provided Amazon links allow us to earn a small commission as an Amazon associate.
Connect with Us
We'd love for you to join our ice cream-loving community. Follow us on Pinterest or leave a comment below if you have any questions. We're here to help!
And if you try this Strawberry Cheesecake Ice Cream recipe, share your thoughts in the comments. Let us know if you decided to add any extra goodies to make it extra special!
Click here to explore more delicious ice cream recipes and flavors from Ice Cream.