Are you ready to take your love for peanut butter to new heights? Look no further than Reese's Peanut Butter Ice Cream! This delectable treat combines the creaminess of vanilla with the irresistible taste of peanut butter and Reese's cups. It's a match made in ice cream heaven that will leave you craving for more.
The Perfect Combination
This recipe is a personal favorite of mine. The addition of creamy peanut butter not only enhances the flavor but also provides delightful little bites of peanut butter cups scattered throughout the ice cream. It's a truly indulgent experience that will satisfy any sweet tooth.
Making It Your Own
What kind of ice cream machine do you have? Whether it's a four-quart, two-quart, or something else entirely, this recipe can be easily adjusted to suit your needs. Simply change the serving size directly in the recipe cards. Just remember, when filling your machine, always leave room for expansion. Leaving a couple of inches will allow the ice cream to expand and freeze properly.
Recipe for a 2-Quart Ice Cream Maker
If you're using a smaller ice cream maker, you'll need to adjust the quantities accordingly. Make sure your machine has enough room for the ice cream to expand as it freezes. We don't want it to stay in liquid form!
The Tempering Process
One important step in this recipe is tempering the eggs. This ensures that they are safe to eat in their raw form. If you prefer, you can use pasteurized eggs instead. Tempering is especially important if you're serving the elderly or anyone with a health condition. It's always better to be on the safe side.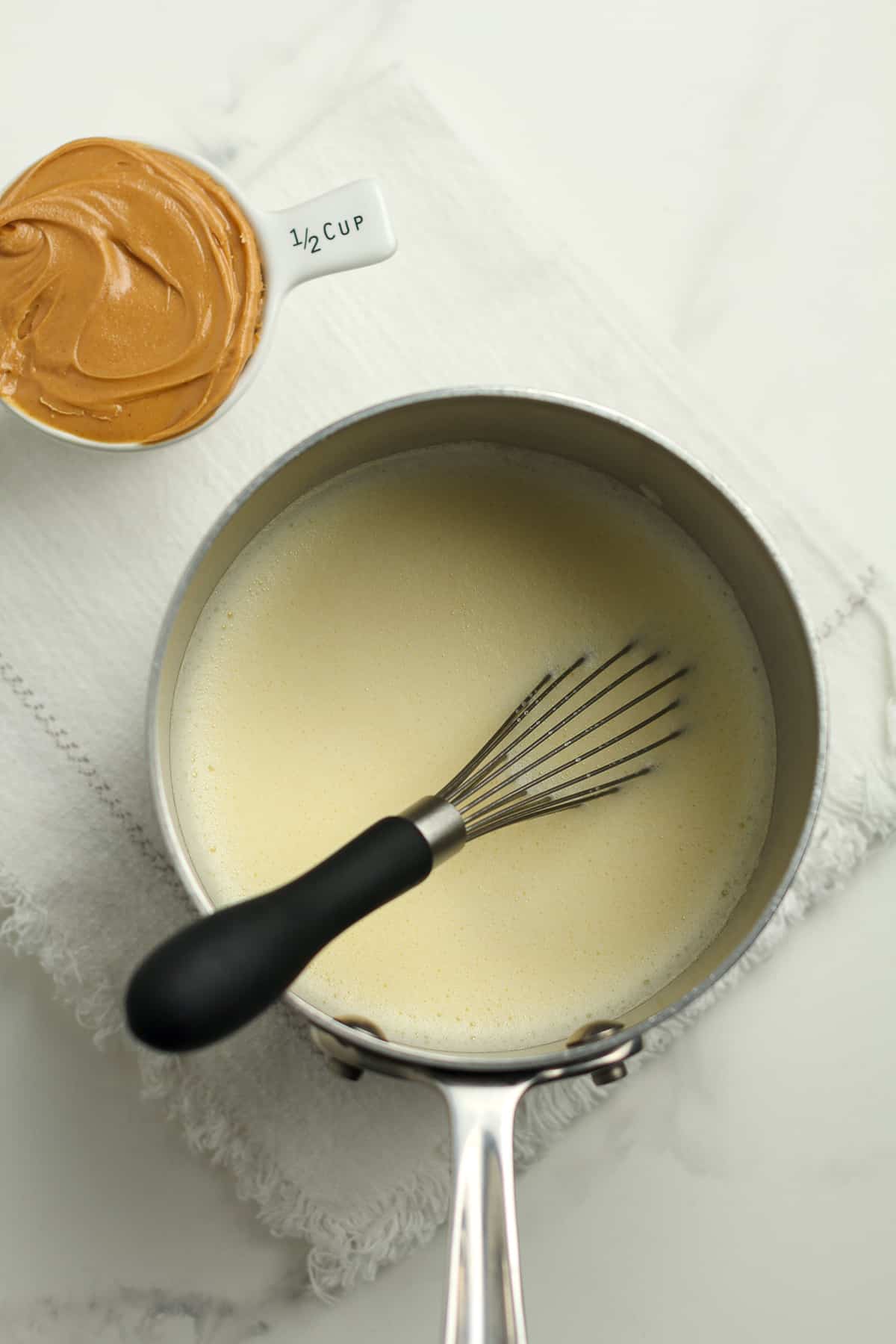 Let's Get Churning
Step 1: Add peanut butter. Stir the creamy peanut butter into the tempered egg mixture until it reaches a smooth and creamy consistency.
Step 2: Add remaining ingredients. Pour the hot mixture into an 8-cup measuring cup or large bowl. Add the remaining sugar, heavy cream, and vanilla extract. Whisk well to combine.
Step 3: Chill. Place the ice cream mixture in the refrigerator until it becomes cold.
Step 4: Churn ice cream. Start your 2-quart ice cream maker (I use a KitchenAid Attachment) and pour the chilled mixture into the bowl while it's running. Let the mixer churn until the ice cream sets, thickens, and rises toward the top of the bowl.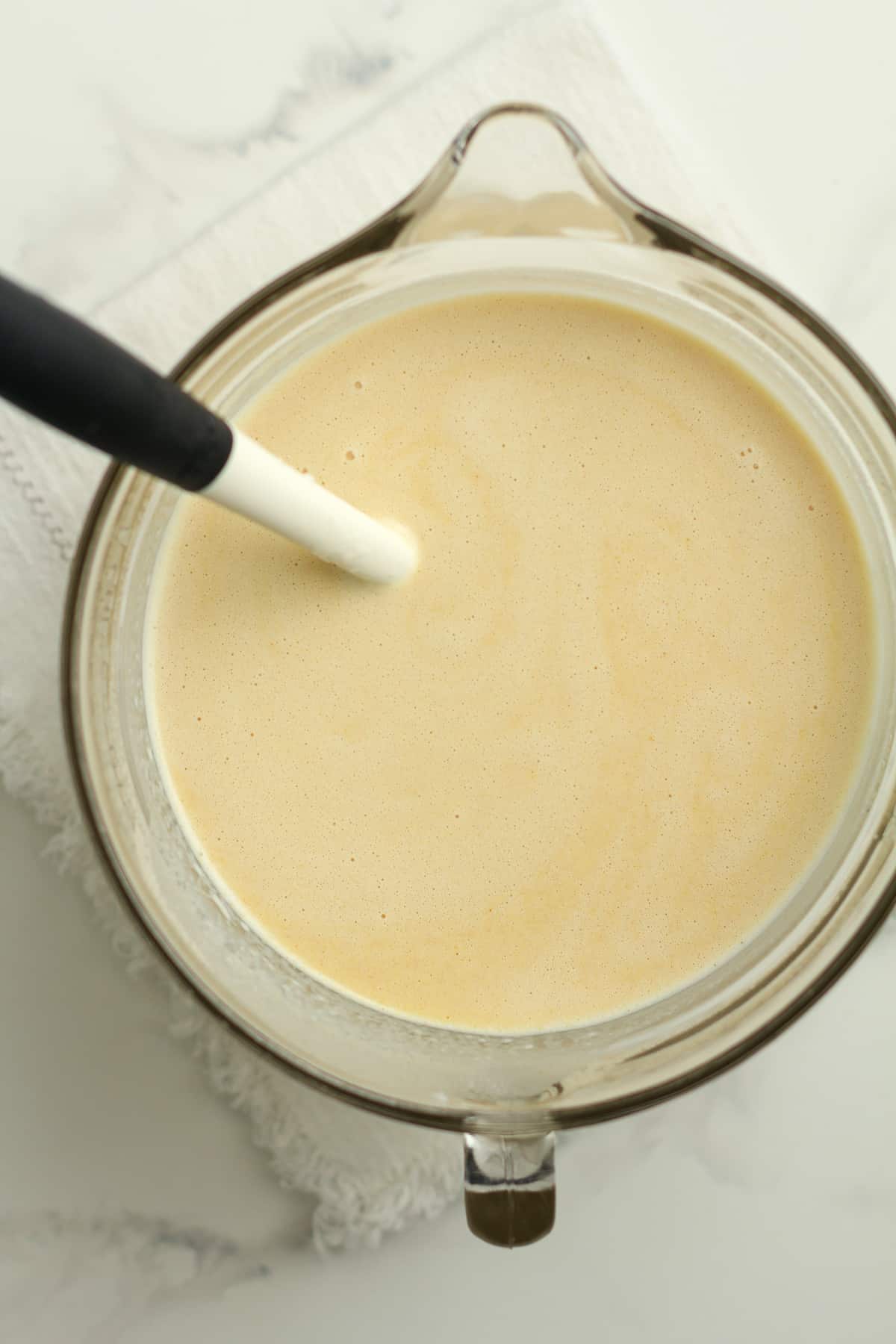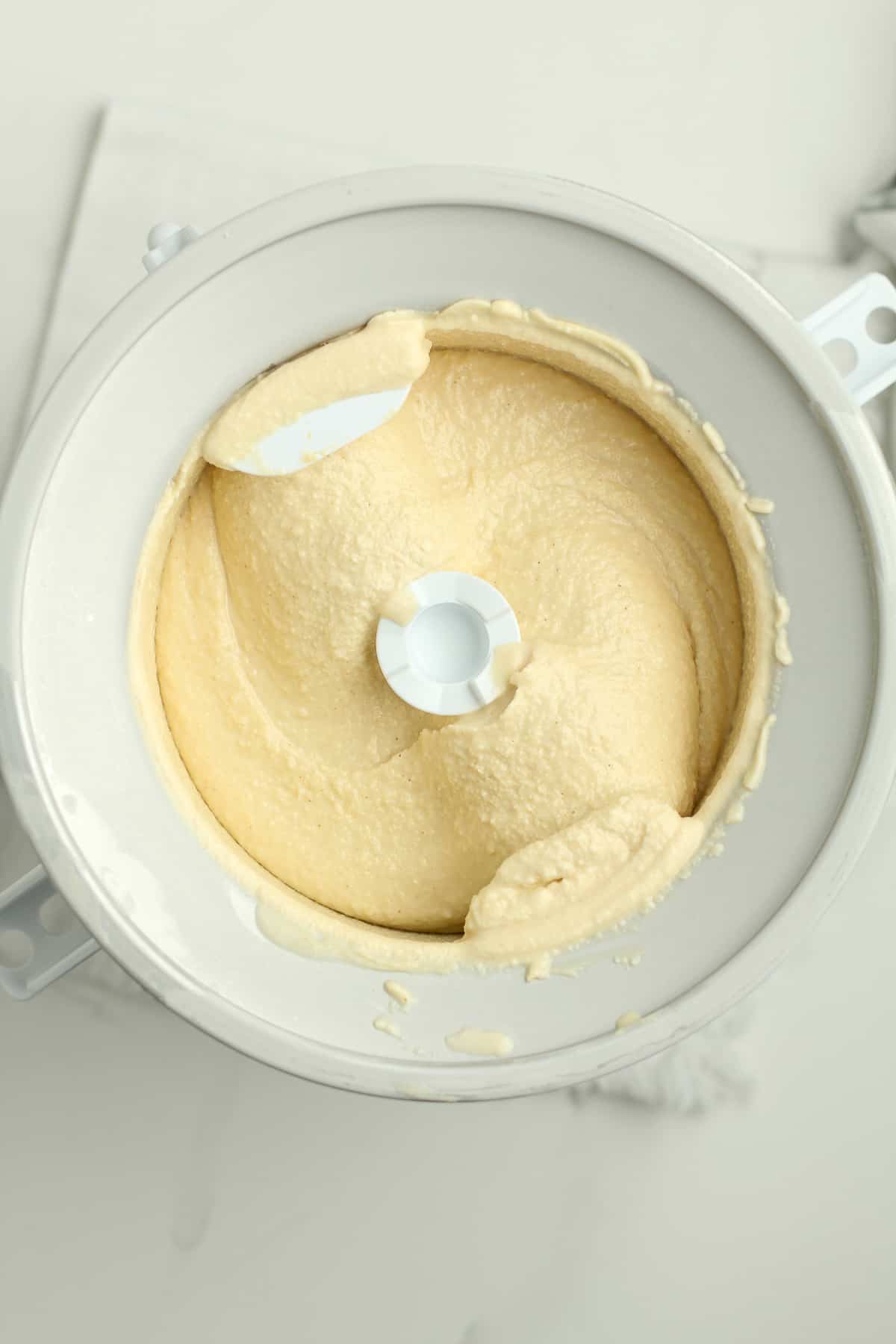 Step 5: Add Reese's peanut butter cups. Spoon the churned ice cream into a freezer-safe container and stir in the chopped Reese's peanut butter cups.
Step 6: Freeze. Place the container in the freezer for a couple of hours to allow the ice cream to firm up. Initially, it will be very soft, but freezing it will give it the perfect texture.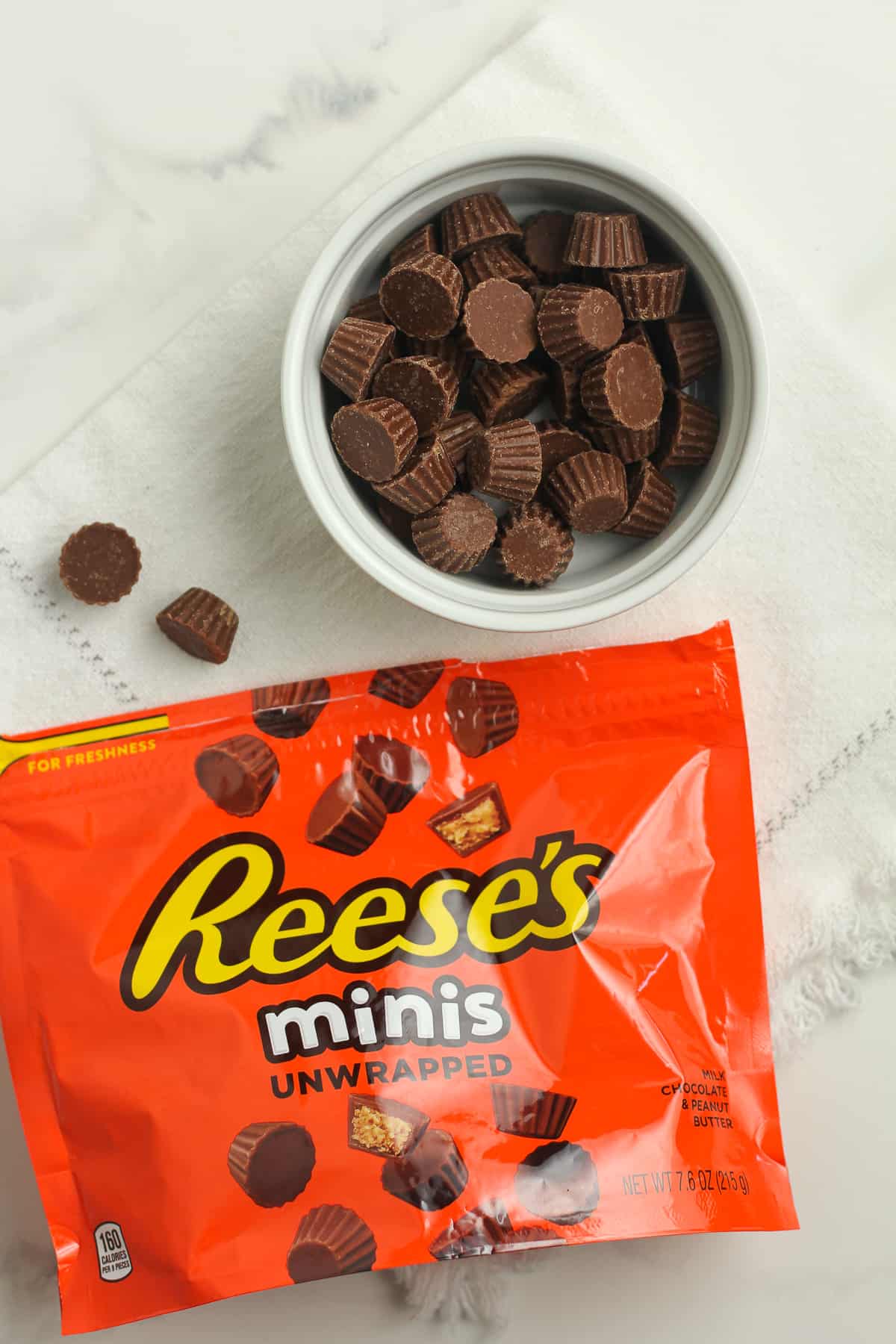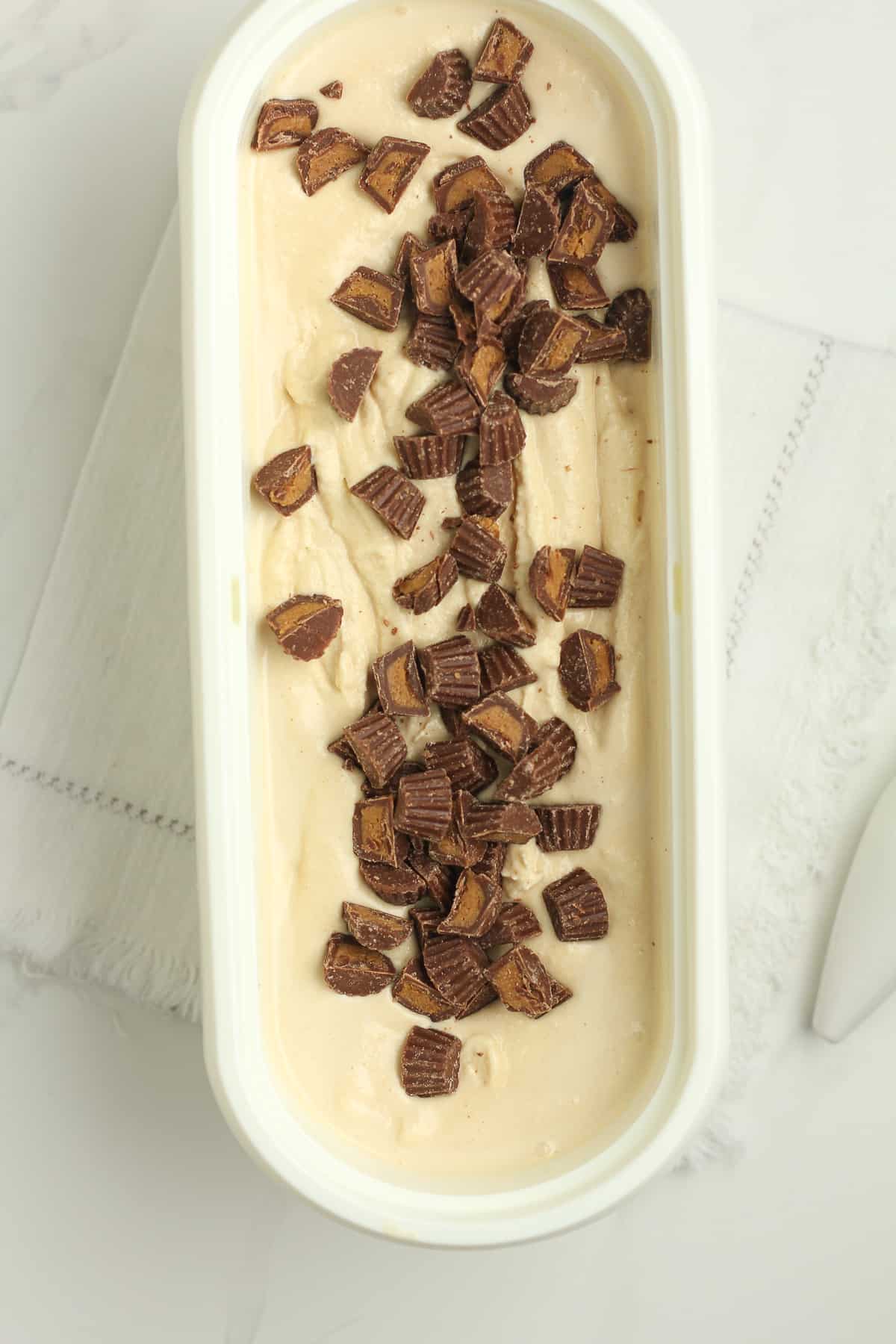 Step 7: Serve. Serve this delightful ice cream with some extra Reese's peanut butter cups, if desired. It's a treat that's sure to impress!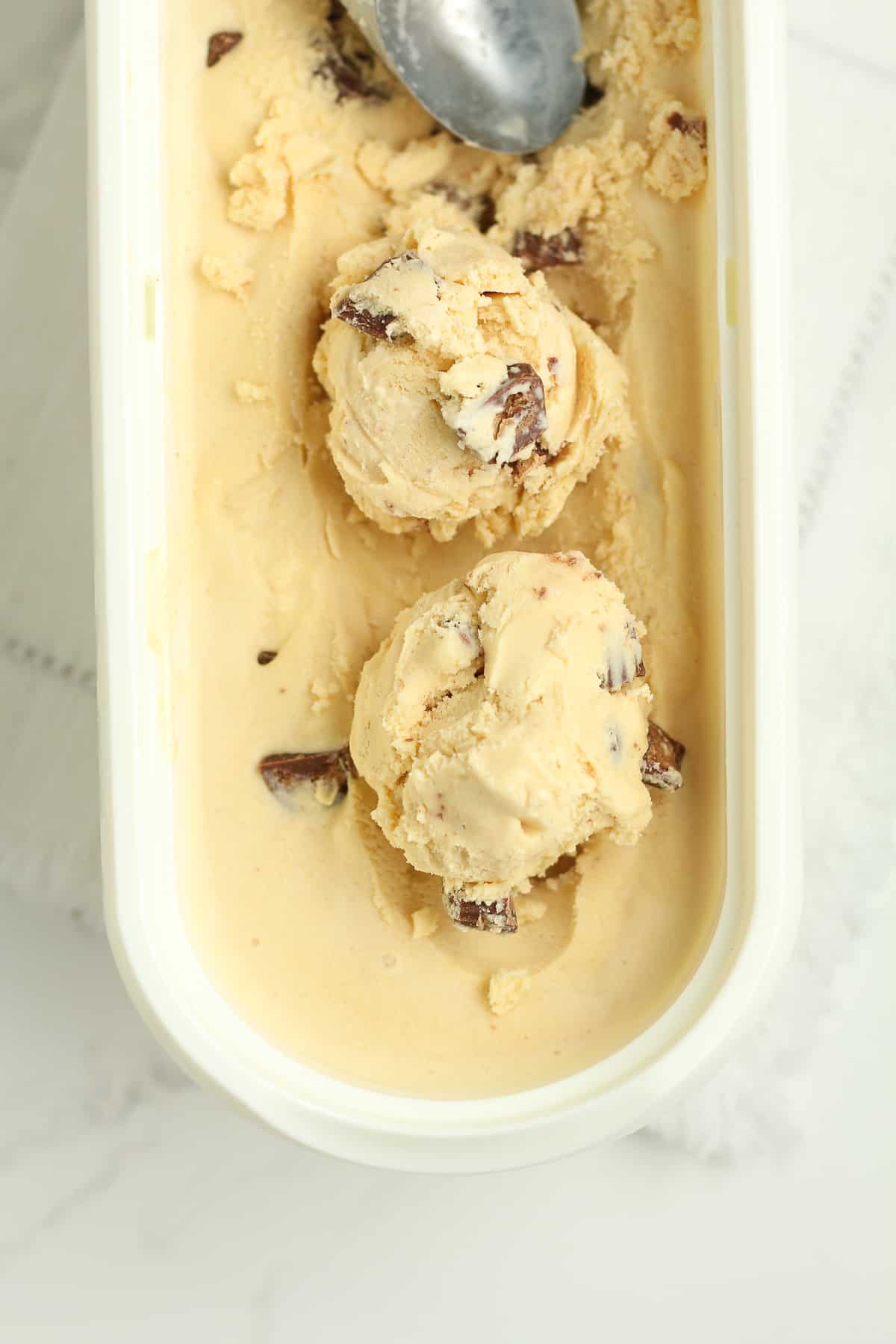 Share Your Thoughts!
If you decide to try this recipe, please let us know your thoughts. Comment and leave a review on the blog so we can hear about your delicious ice cream experience. Don't forget to follow us on Ice Cream! We look forward to sharing more delightful recipes with you.
xoxo,
Sue