Ice cream is the ultimate summer indulgence, and when it's packed with the perfect combo of chocolate and peanut butter, it becomes even more irresistible. If you're a fan of Reese's Peanut Butter Cups, get ready to have your taste buds blown away by this homemade Reese's Cup Ice Cream. Filled with creamy peanut butter and chunks of the iconic candy, this frozen treat is easy to make and will satisfy all your cravings. Plus, it's made with real ingredients, so you can feel good about indulging in this sweet delight.
Beat the Summer Heat with Homemade Ice Cream
When the temperature soars and the summer heat becomes unbearable, nothing beats the refreshing taste of ice cream. And this Reese's Cup Ice Cream is no exception. Whether it's a scorching summer day or any other day of the year, the combination of chocolate and peanut butter in frozen form is pure bliss.
Easy to Make with 6 Real Ingredients
This recipe requires only six simple ingredients, most of which you probably already have in your pantry or refrigerator. With just creamy peanut butter, sugar, heavy whipping cream, whole milk, vanilla extract, and miniature Reese's Peanut Butter Cups, you can create a batch of this delectable ice cream. And if you're a peanut butter lover like me, make sure to stock up on Reese's cups when they're on sale.
How to Make Reese's Cup Ice Cream
Step 1: Blend the Peanut Butter Mixture
In a large bowl, use a hand-held electric mixer to blend the peanut butter, sugar, milk, and vanilla until creamy and well-combined. This should take about 5 minutes.
Step 2: Add the Heavy Cream
Pour the heavy cream into the peanut butter mixture and blend until everything is fully combined.
Step 3: Freeze in an Ice Cream Maker
Transfer the mixture to your electric ice cream maker and freeze according to the manufacturer's instructions.
Step 4: Add the Peanut Butter Cups
When the ice cream is almost set, pause the machine and add in the quartered miniature peanut butter cups.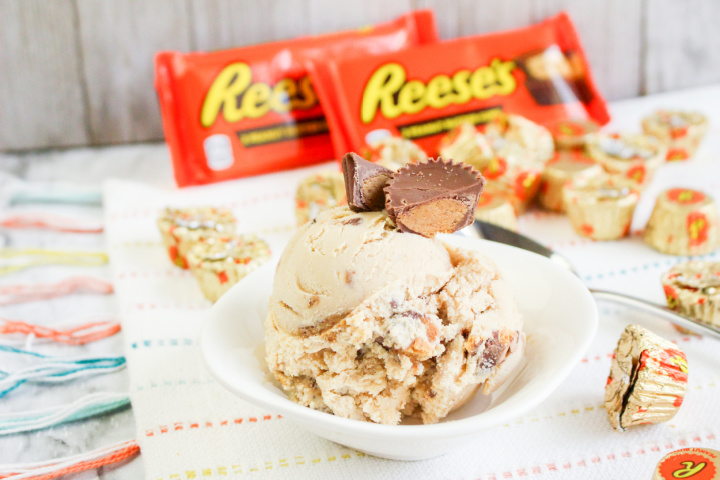 Step 5: Complete the Freezing Process
Cover the ice cream again and restart the machine, allowing it to churn until the ice cream reaches the desired consistency, similar to soft serve. For a firmer texture, transfer the ice cream to a freezer-safe container, such as a loaf pan, cover it with plastic wrap, and freeze for about 4 hours.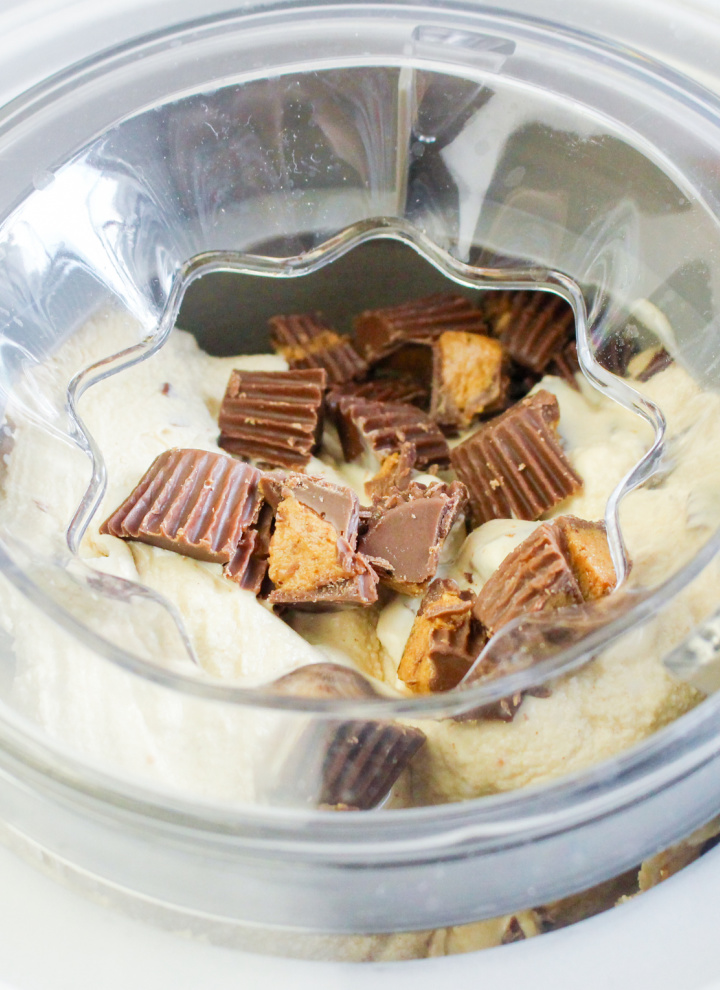 Tips, Tricks, and FAQs
If you prefer crunchy peanut butter, feel free to substitute it for the creamy variety.
To easily measure and remove the peanut butter from the cup, lightly spray the measuring cup with nonstick spray.
Not a fan of peanut butter cups? Customize your ice cream by adding in your favorite chopped candies, cookies, or nuts.
Before purchasing an ice cream maker, make sure to check the instructions. Some models require you to freeze the bowl or container 24 hours in advance.
Whole milk is best for this recipe, as it adds richness and creaminess to the ice cream.
More Frozen Desserts to Beat the Heat
If you're looking for more icy treats to keep you cool this summer, here are some other delicious options:
Lemon Raspberry Cheesecake Ice Cream
Easy Cherry Pecan Ice Cream
2-Ingredient Mango Sherbet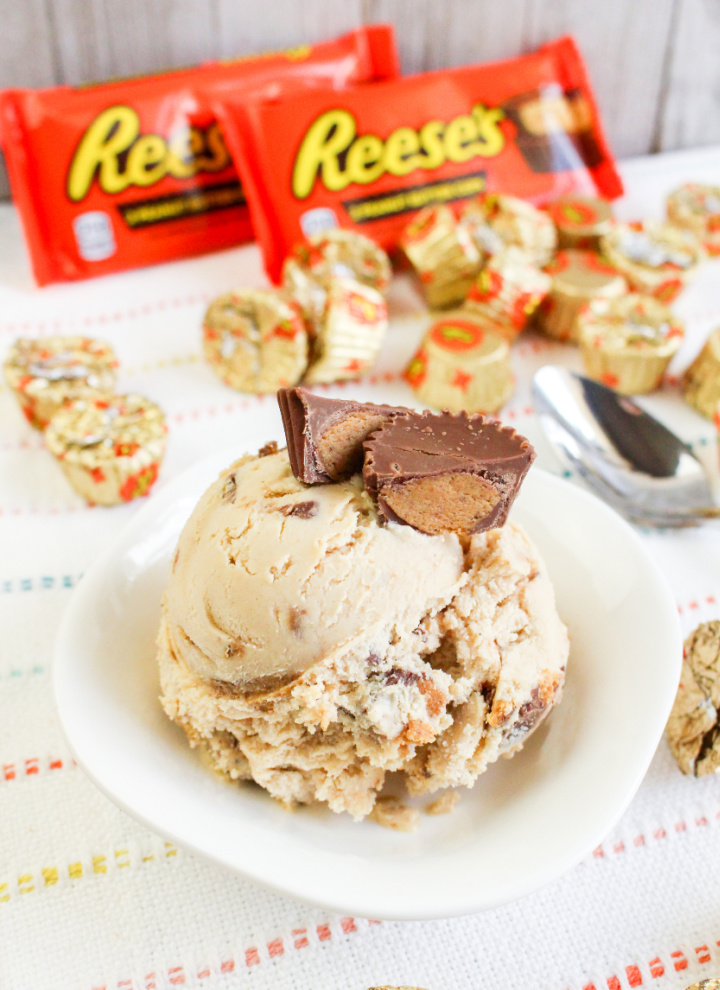 Connect with Blogghetti for the Latest Recipes
Stay updated with the latest recipes from Blogghetti by following us on social media. Be sure to use the hashtag #Blogghetti on Instagram if you try any of our recipes for a chance to be featured.
Enjoy the creamy goodness of homemade Reese's Cup Ice Cream and savor the delightful combination of peanut butter and chocolate in every bite. Treat yourself to this cool and refreshing dessert that's perfect for any hot summer day. Happy indulging!
---
This article was brought to you by Ice Cream, your go-to directory for all things ice cream.