We all know that indulging in ice cream should be a special treat enjoyed in moderation. However, there are those days when you're feeling down and all you want is a pint of ice cream to give you an instant burst of happiness. But be cautious, because indulging in that giant spoonful of goodness can lead to overeating, especially when you're drawn to the unhealthiest pints in the freezer. Some ice cream brands pack an alarming number of calories, fat, and sugar into a single pint. (Yikes!)
Identifying the Unhealthiest Options
To help you make informed choices, we have compiled a list of the most caloric and sugar-filled pints from some of the top-selling ice cream brands nationwide. We focused specifically on ice cream pints or pint equivalents ranging from 14 to 16 ounces. Sorbet and dairy-free options were excluded from our analysis.
Keep reading to discover the unhealthiest ice cream pints in terms of calories. And if you're interested, also check out our article on 8 Ice Cream Brands That Use the Highest Quality Ingredients.
Ben & Jerry's "Everything But The Ice Cream"
Described as a heavenly mix of chocolate and vanilla ice creams combined with peanut butter cups, fudge-covered toffee, white chocolatey chunks, and fudge-covered almonds, this pint offers a delightful array of flavors and textures. However, all this indulgence comes at a high caloric cost. A single pint of this ice cream surpasses the calorie count of three pints of Halo Top's Candy Bar or Chocolate Cake Batter flavors, which are the highest-calorie options from that brand, with only 360 calories per pint.

Courtesy of Ben & Jerry's
Häagen-Dazs "Coffee Chocolate Brownie Ice Cream"
Häagen-Dazs takes their classic coffee ice cream to new heights by combining it with luscious brownie swirls, decadent espresso chocolate sauce, and crunchy cocoa nibs. While both the pint of Häagen-Dazs ice cream and a grande Mocha Frappuccino from Starbucks are approximately 16 ounces, the ice cream packs more than double the calories—even when made with whole milk. So, if you've already bought this pint, consider replacing it with your favorite coffee from the nearest café for the sake of your health.

Courtesy of Häagen-Dazs
Ben & Jerry's "NY Super Fudge Chunk"
This decadent treat combines rich chocolate ice cream with white and dark fudge chunks, pecans, walnuts, and fudge-covered almonds. It may seem as irresistible as "the city that never sleeps," but be cautious, as indulging in too much of this pint can leave you with a pair of pants that refuse to zip. Just one teeny pint accounts for about 70% of the recommended daily value for sugars.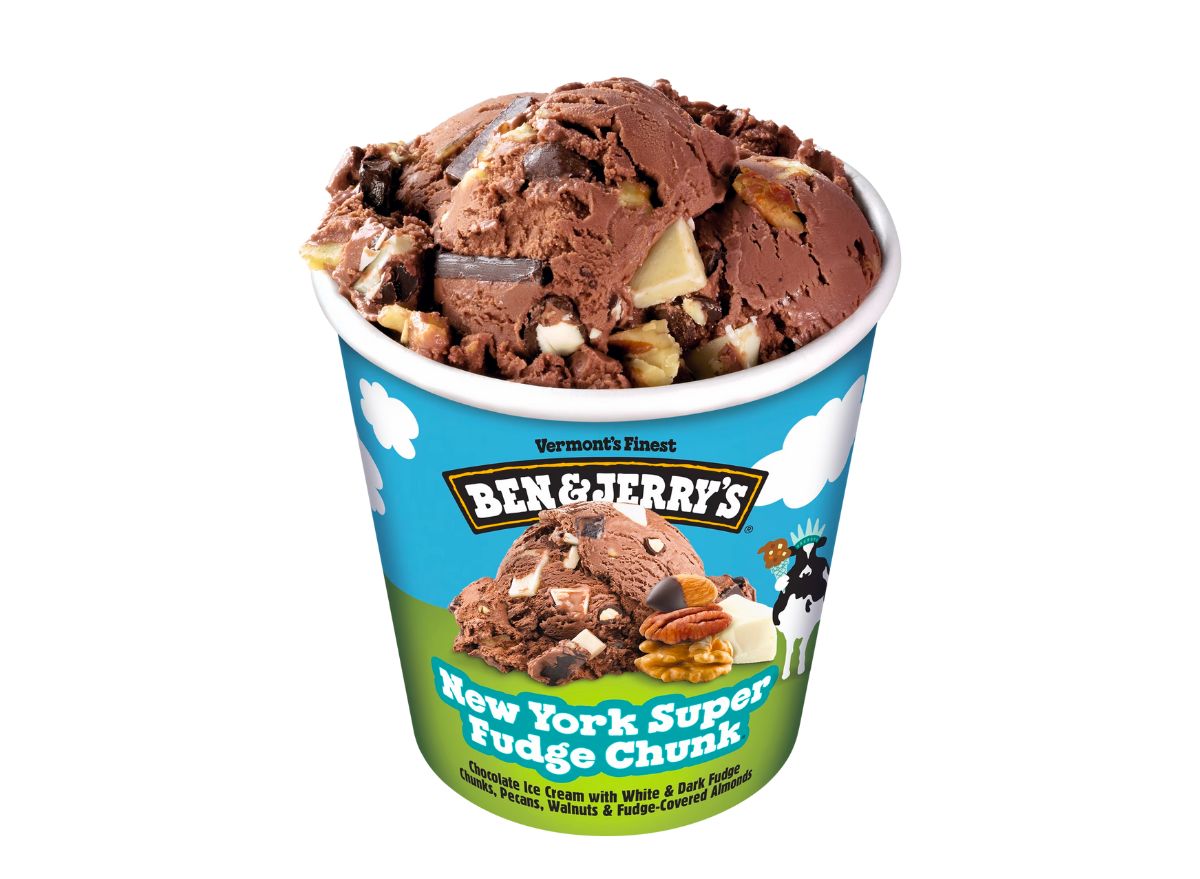 Courtesy of Ben & Jerry's
Blue Bunny's "Peanut Butter Party Ice Cream"
Blue Bunny, a reputable ice cream company available in many supermarkets, offers the Peanut Butter Party ice cream. A single pint of this flavor packs nearly 800 calories, which is almost half of your daily calorie intake. Remember that ice creams with peanut butter mixed in tend to be high in calories and fat. Just two tablespoons of peanut butter contain about 16 grams of fat and nearly 200 calories.

Courtesy of Blue Bunny
Blue Bell Creameries' "Pecan Pralines 'n Cream"
Originating in Brenham, Texas, and selling ice cream for over a century, Blue Bell Creameries has become a nationally recognized brand. While most of their ice cream flavors are relatively healthy, Pecan Pralines 'n Cream stands out for all the wrong reasons. It not only packs the most calories among Blue Bell's pints but also contains a staggering 81 grams of sugar. To put that into perspective, it's as much sugar as you'll find in two 12-ounce cans of Coca-Cola.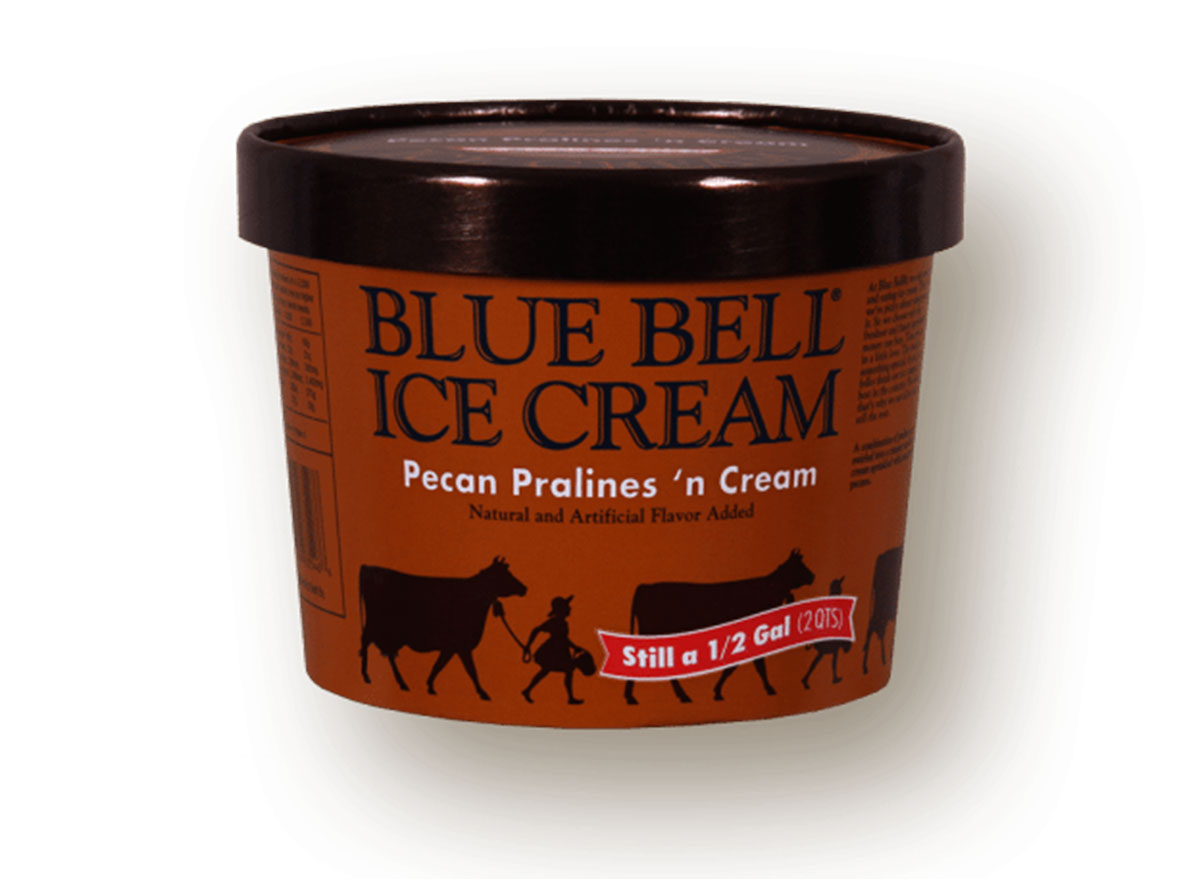 Courtesy of Blue Bell Creameries
Coolhaus' "Street Cart Churro Dough"
Coolhaus takes ice cream flavors to the next level with their unique creations. However, indulging in their funky flavors can cost you a significant number of calories and saturated fat. The Street Cart Churro Dough ice cream, for example, can account for about half of your daily calorie intake and contains just 15 grams less total saturated fat than a whole stick of butter. While Coolhaus products don't use artificial sweeteners, the calorie and fat content of this pint should be considered carefully.

Courtesy of Cool Haus
Häagen-Dazs' "Chocolate Peanut Butter Ice Cream"
Here we have another peanut butter-flavored ice cream from Häagen-Dazs. A single pint of this rich treat contains nearly 1,200 calories, which is less than a traditional pint of ice cream but still quite excessive. To provide some context, you would consume fewer calories if you ate two McDonald's Quarter Pounder sandwiches (with cheese). If you're a peanut butter enthusiast looking to watch your waistline, it might be time to explore alternative ice cream brands. For instance, Enlightened's Chocolate Peanut Butter ice cream pint contains a mere 400 calories.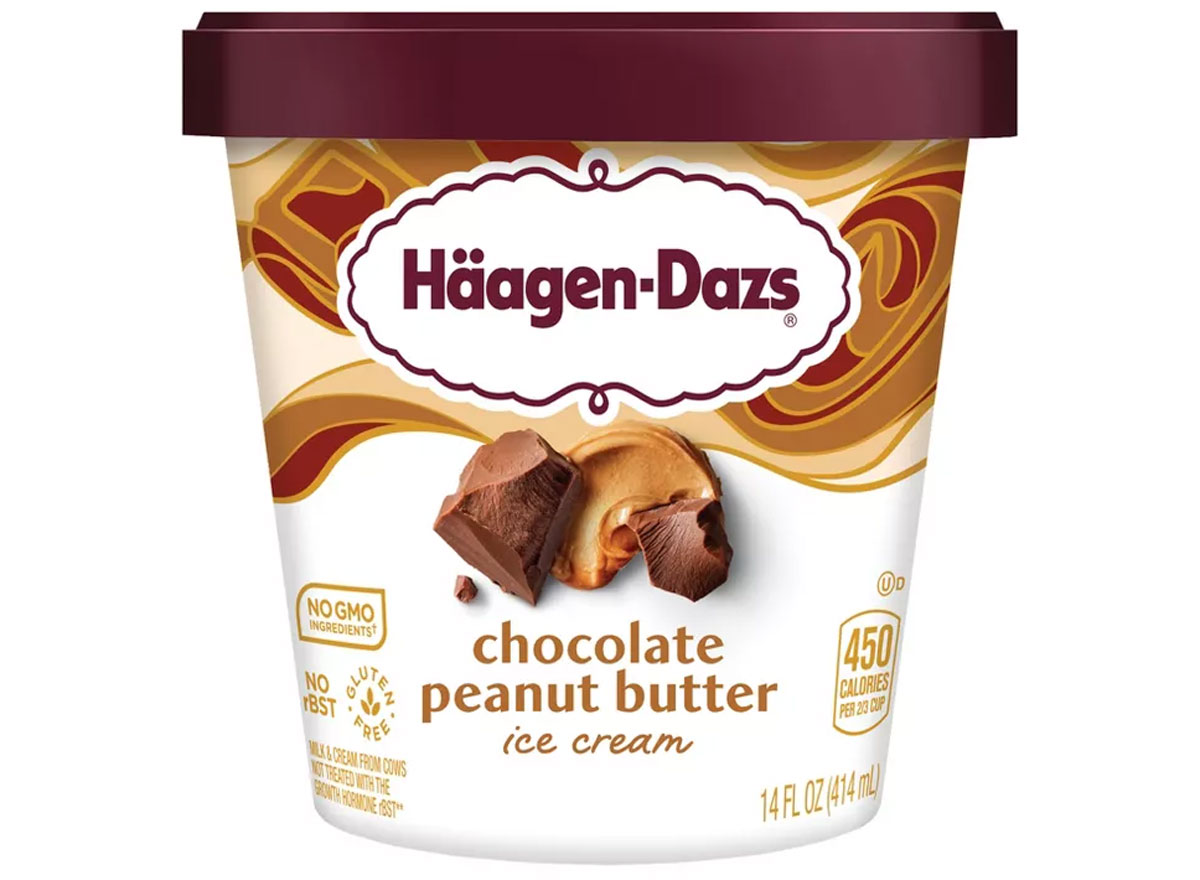 Courtesy of Häagen-Dazs
Ben & Jerry's "Chubby Hubby"
With a name like "Chubby Hubby," it's no surprise that this Ben & Jerry's flavor is filled with indulgence. A combination of vanilla malt ice cream, peanutty fudge-covered pretzels, fudge, and peanut buttery swirls make this pint a delight for the taste buds. Unfortunately, it also accumulates a significant amount of saturated fat, carbs, and sugar. This flavor remains one of Ben & Jerry's most popular pints.

Courtesy of Ben & Jerry's
Ben & Jerry's "Peanut Butter Cup"
Finally, we come to the most unhealthy ice cream pint on our list: Ben & Jerry's Peanut Butter Cup. This pint holds the dubious honor of combining the highest number of calories, saturated fat, and sugar among all the brands mentioned. If you're a peanut butter lover who wants to save your waistline, it may be time to explore alternative ice cream brands. For example, Enlightened's Chocolate Peanut Butter ice cream pint contains a mere 400 calories.

Courtesy of Ben & Jerry's
Remember, moderation is key when it comes to enjoying ice cream. Indulge in these unhealthier options sparingly and consider healthier alternatives for more frequent enjoyment. Treat yourself, but always keep your health in mind.
A previous version of this story was originally published in March 2019. It has been updated to include additional copy and proofreading revisions, more research, and updated contextual links.