Introduction
Looking for a way to add a burst of tropical flavor to your desserts? Look no further! This Pineapple Topping recipe is the perfect addition to ice cream, cakes, and even savory dishes like ham and chicken. Made with just three simple ingredients, this versatile topping can be whipped up in no time!
Why You'll Love This Recipe
Quick and Easy: With just three ingredients, you can create a delicious and healthy pineapple sauce that your kids will adore.
No Hassle: No need to search for fresh pineapples or spend time coring and chopping. Canned pineapple is the star of this recipe!
Endless Possibilities: This sauce is incredibly versatile, perfect for topping ice cream, snacking, or adding a hint of sweetness to both sweet and savory dishes.
Ingredients
The beauty of this recipe lies in its simplicity. Here's what you'll need:
Crushed Pineapple: Look for canned pineapple in juice, not heavy syrup, to let the natural sweetness shine.
Sugar: Add a touch of sweetness with this pantry staple.
Cornstarch: The secret ingredient for achieving that perfect thickness in your sauce.
For the full list of ingredients and their quantities, refer to the recipe card below.
How to Make Pineapple Sauce
Creating this homemade sauce is as easy as 1-2-3. Follow these simple steps and get ready to indulge in a bowl of your favorite ice cream topped with this tropical treat.

Drain the pineapple juice into a small saucepan.
Add sugar and cornstarch, then whisk until combined.
Cook over medium-low heat until dissolved and the syrup begins to thicken (approximately 5 minutes).
Add in the pineapple and continue to cook over medium-low heat for 12-15 minutes, until the sauce thickens further.
Allow the sauce to cool before serving or storing in the fridge.
Substitutions
Here are a few substitutions you can make to ensure that this recipe suits your taste preferences:
Sugar: If you prefer to reduce the amount of sugar used, you can replace some of it with honey, maple syrup, or even brown sugar for a richer flavor, especially when using the sauce on ham.
Cornstarch: While arrowroot is an alternative thickening agent, cornstarch works best in this recipe.
Low Sugar: To make a low-sugar version, feel free to use your favorite cup-for-cup sugar-free sweetener. Give it a try and let me know how it turns out!
Variations
Looking to put your own spin on this easy recipe? Here are a few variations to consider:
Spices: Add a hint of spiciness by incorporating a dash of cinnamon or nutmeg into the sauce.
Fruity: Boost the flavor profile by combining the pineapple sauce with other fruit purees like mango, strawberry, or peach.
Citrus: Craving a tangy twist? Add a small amount of lemon or lime zest to your sauce while it's cooking.
If you enjoy making homemade dessert toppings, give our Strawberry Sauce recipe a try!
Storage and Freezing
Storage: Store any leftovers in an airtight container in the refrigerator for up to a week.
Freezing: If you want to save some for later, allow the sauce to cool completely before transferring it to a resealable freezer bag or container. Freeze for up to three months. When you're ready to use it, simply thaw it overnight in the refrigerator.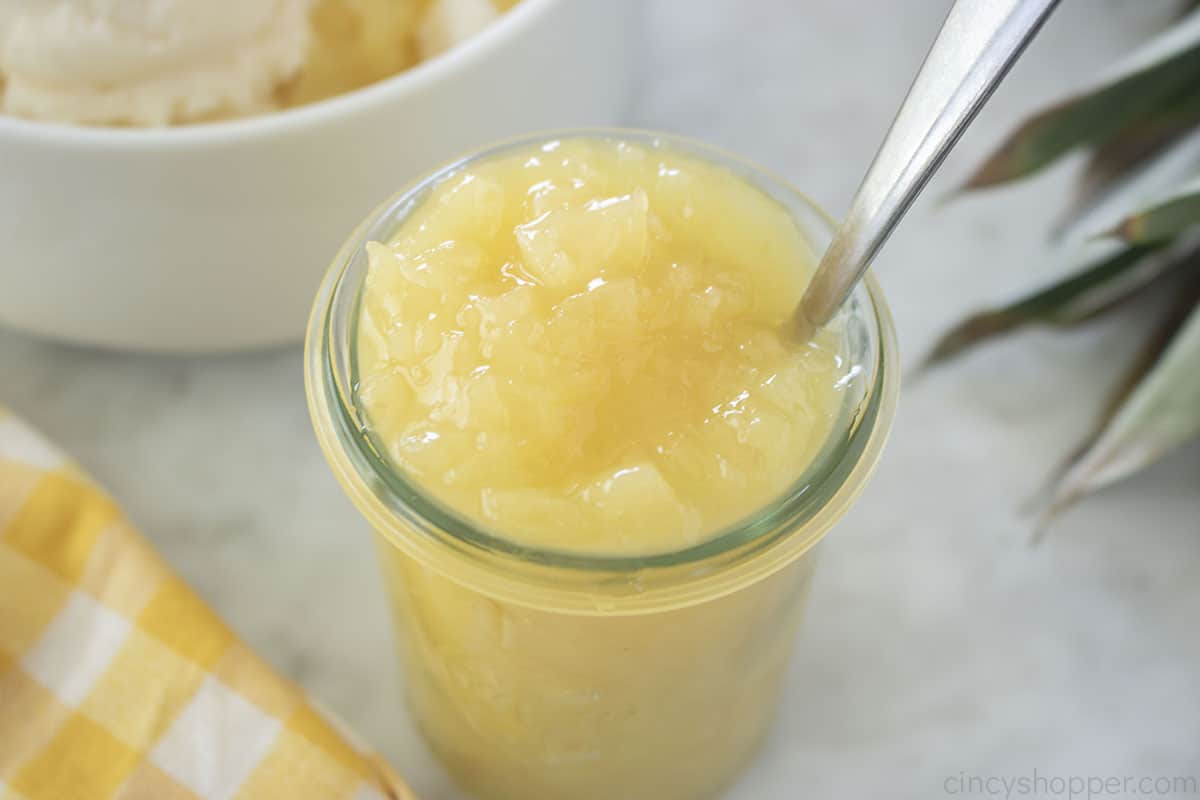 Conclusion
So whether you're craving a refreshing ice cream topping, a flavorful addition to your favorite cake, or a delightful glaze for your ham, this Pineapple Topping recipe has got you covered. Enjoy the tropical twist and elevate your desserts to a whole new level!
For more delectable recipes and ideas, visit Ice Cream – your go-to source for all things ice cream.
Additional Resources:
Other Pineapple Recipes
Other Fillings and Sauces