Here are the top best Coconut pineapple ice cream voted by readers and compiled and edited by our team, let's find out
Pineapple Coconut Ice Cream is an easy-to-make no-churn frozen dessert. Packed with fresh and fun tropical flavors, this creative, non-alcoholic twist on a piña colada is the perfect homemade summertime treat for adults and kids alike.
Want more ice cream recipes? Try our Lemon Strawberry Cheesecake Ice Cream (also a no-churn) or Homemade Fresh Peach Ice Cream (made the traditional way).
There's almost nothing better on a hot summer's day than the heavenly combination of creamy coconut and tangy pineapple. This simple no-churn ice cream perfectly encapsulates these classic summer flavors. Made with fresh pineapple, shredded coconut, heavy whipping cream, and sweetened condensed milk, this ice cream is a quick and cool dessert that can be whipped up in a matter of minutes. And the bonus is there is no need for an ice cream maker.
What is in Pineapple Coconut Ice Cream?
Simple ingredients make up this frozen treat, and only a handful are needed. Make a quick run to the store, and you are ready to be making ice cream.
What is No-Churn Ice Cream?
There are two ways to make homemade ice cream. The first way is to create a cooked custard base which you then churn into ice cream using a special piece of kitchen equipment. These ice cream churners are bulky and can be expensive; therefore, not many people own one.
Luckily there is an easier way to make homemade ice cream—the no-churn method! This method involves whipping heavy cream and folding it into a mixture of sweetened condensed milk and other add-ins to create a creamy, scoopable ice cream-like dessert.
How to Make Pineapple Coconut Ice Cream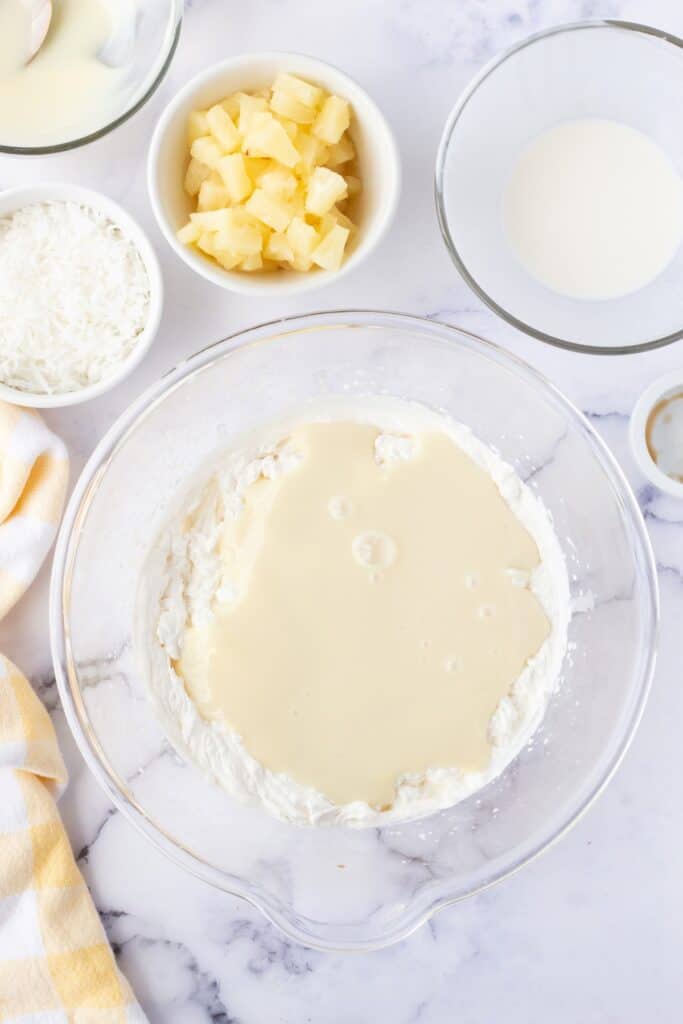 Add the heavy whipping cream to a large mixing bowl and use your electric mixer to whip it to stiff peaks.
Use your rubber spatula to gently fold the sweetened condensed milk into the whipped cream.
Add the diced pineapple and shredded coconut and mix until they're evenly distributed throughout the mixture.
Transfer the ice cream mixture to your loaf pan and place it in the freezer to set.
Once your pineapple and coconut ice cream is completely frozen, scoop it, serve, and enjoy!
Who Makes Pineapple Coconut Ice Cream?
The most popular store-bought pineapple coconut ice cream is made by Haagen-Dazs. Unlike the Haagen-Dazs version, my version of this tropical ice cream flavor features shredded coconut. The store-bought version boasts a coconut ice cream base.
Is Pineapple Coconut Ice Cream Gluten-Free?
Yes! This no-churn homemade ice cream is completely gluten-free! It can also be made dairy-free by swapping out the heavy whipping cream for coconut cream and the sweetened condensed cow's milk for a can of sweetened condensed coconut milk. This will also give your ice cream an extra boost of coconut flavor!
How to Store and Serve Coconut Pineapple Ice Cream
This ice cream is best stored in an airtight container in the freezer. When stored properly, this ice cream will stay good for up to 3 months.
I recommend serving this frozen treat in a waffle cone. This sweet treat is extra fun when topped with toasted coconut, coconut whipped cream, or some maraschino cherries. You can even scoop this ice cream into a glass of pineapple juice or pineapple pop to create a pineapple coconut float!
Expert Tips and Tricks
If you're a big fan of pineapple flavor, I recommend adding ¼ cup of fresh pineapple juice to your no-churn ice cream base.
Want to give this no-churn ice cream even more fun texture? Try tossing in a few chopped and toasted macadamia nuts.
Lastly, plan ahead! You want to make sure that this pineapple coconut ice cream has plenty of time to set. I find that it takes about 6 hours in the freezer before this no-churn ice cream is ready to serve.
Pin it HERE!!
Pin it HERE!!