Below is a list of the best Blue cheese ice cream public topics compiled and compiled by our team
★★★★★ 5 from 4 reviews
Pear Blue Cheese Ice Cream has a unique and complex taste with an unusual flavor combination that will knock your taste buds for a loop with each spoonful. Our basic ice cream base is mixed with creamy blue cheese, and L'Epicurien Pear Preserves with Dried Apricots & Honey, creating a delightful and pleasant experience in your mouth.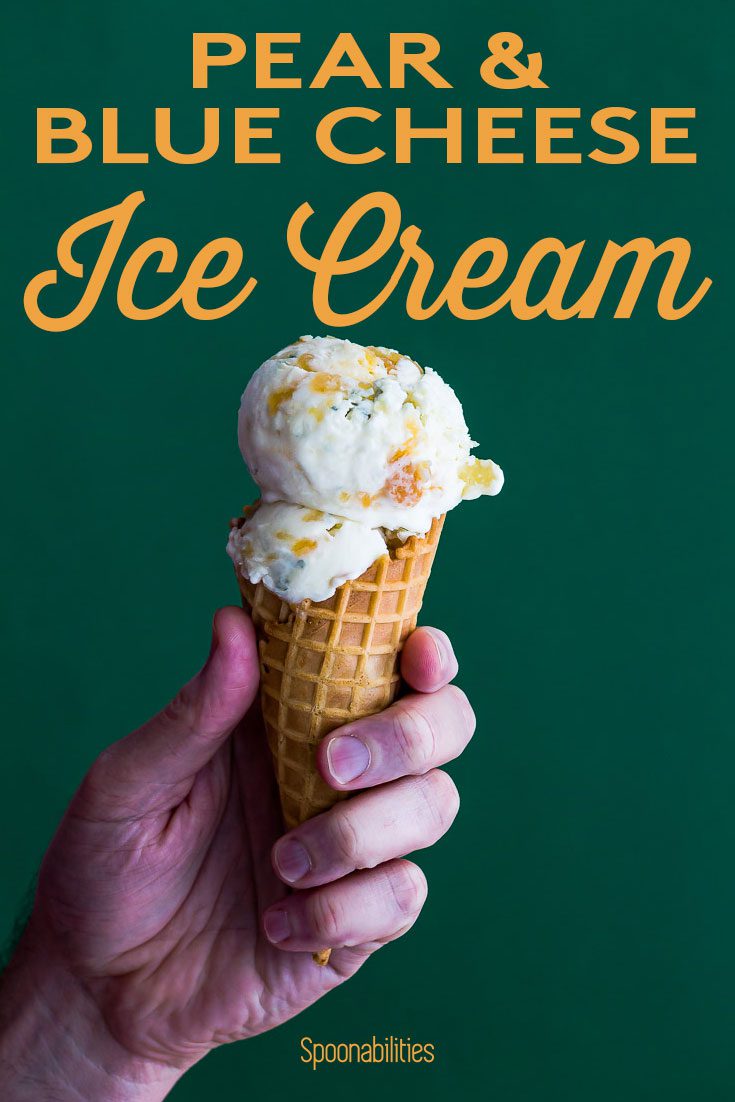 Blog post contains products you can purchase in our online shop, and affiliate links. Read our Disclosure Policy.
Hello my friends.
Is it hot, or is it just me? Summer is in full swing, and you can really feel it. You know what that means — ice cream season is here! Continuing our National Ice Cream Month celebration, we are presenting you with an unusual flavor which will be surprisingly delicious and complex.
July is my favorite month of the year because that means dusting off my ice cream maker and putting my creative hat on because ice cream has no boundaries. Do you need proof? I'll tell you all about my pear and blue cheese ice cream with pear preserves with dried apricots and honey. I know that's a long name, but it's totally worth it. The ice cream consists of three main components: the ice cream base, the blue cheese, and the Pear Preserves which also has apricots and honey in it.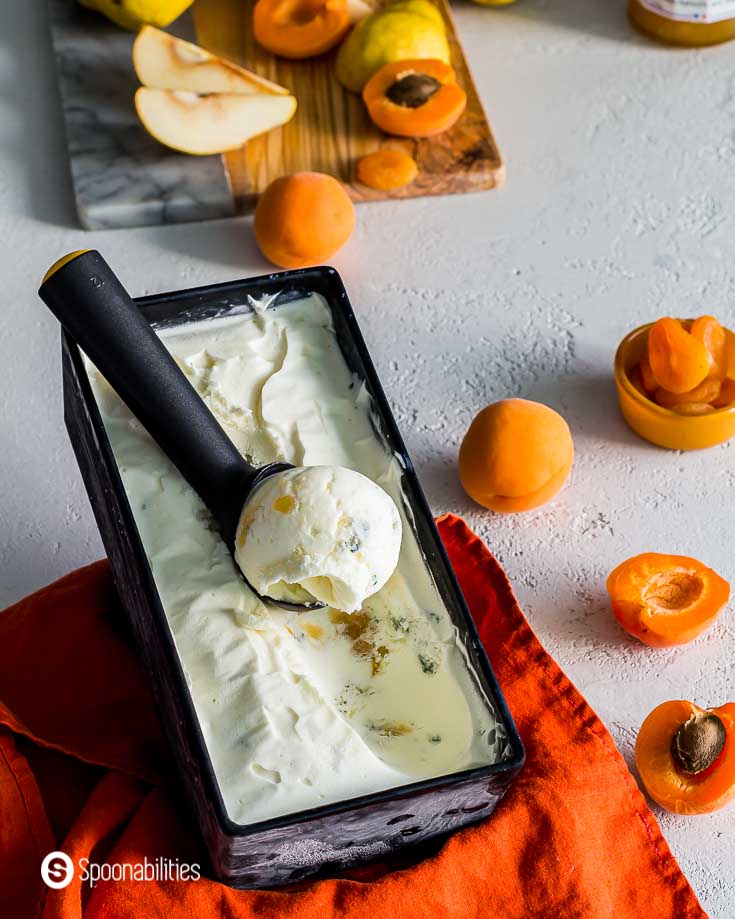 Key Elements for this Pear & Blue Cheese Ice Cream
#1. The Blue Cheese. Blue cheese is one of the noblest foods out there. It's been around for centuries, and it has always been in fashion. Blue cheese is a mysterious matter. It kind of starts as regular cheese until producers add penicillium roqueforti bacteria to the curds, and the blue veins you either hate or love are born.
There are all kinds of blue cheese, from Gorgonzola to Roquefort to local varieties, so find one that appeals to you. My selection is based on two different factors: the creaminess, and the strength of the blue cheese flavor. You must pick a blue cheese on the creamy side that will complement the other flavors and not fight or overpower the whole ice cream. After some long research and testing, I found Point Reyes Farmstead's Blue Original Raw best suited to accomplish the right balance. This cheese has an ultra-creamy texture, and is sweet with medium-strong blue mold flavor.
#2. The Pears. Pears are a great ingredient too that is often under-represented in the realm of ice cream. But that changes today.
The problem with pears is that they're seasonal and not overly sweet unless they're perfectly ripe. Here's where L'Epicurien Pear Preserves with Apricots & Honey comes in. Made with 64% French Williams pears that turn from green to golden as they ripen, and a kiss of honey and dried apricots, this is an incredible spread for all purposes, and, it makes mean ice cream. This preserve is fantastic in a cheese/charcuterie platter, with yogurt, or filling for a cake. As we speak, I'm developing a recipe, including this preserve in a Dominican Cake. Hopefully, this recipe will be released this Fall/Winter season.
Like this recipe so far? Be the first to know when we release new ones!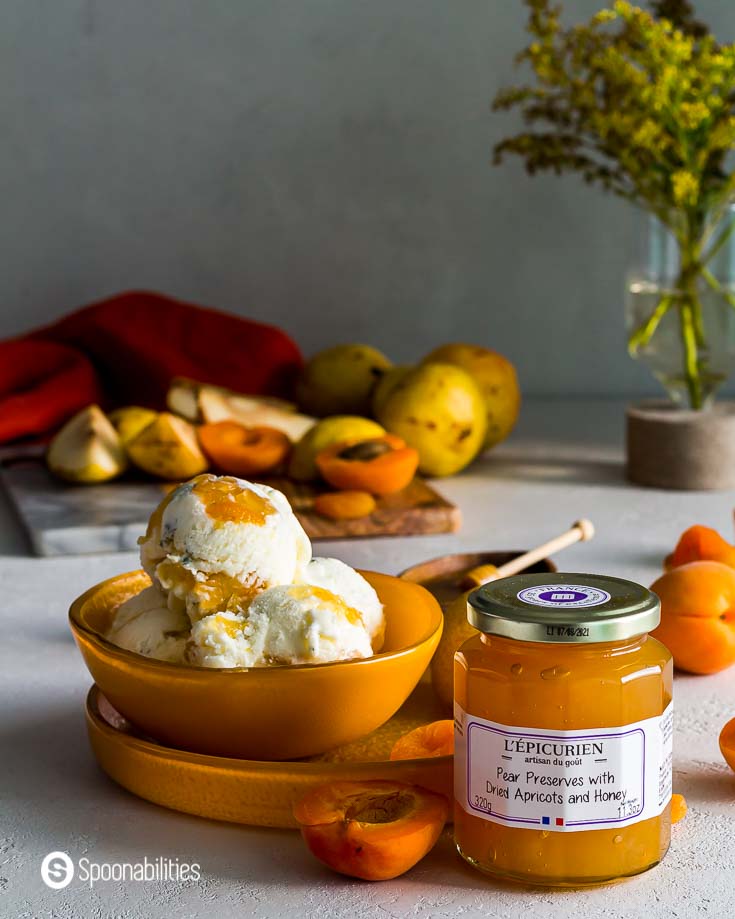 The Secret of the Ice Cream Base
For this recipe, we'll be using a homemade ice cream base, and it's one of those things you will want to know how to make by heart because it's a white canvas for creativity. Once you get it right, you can make ice cream with, literally, anything you have in your fridge and pantry.
Xanthan gum might be the scariest sounding ingredient you'll use to make the ice cream base but fear not. Xanthan gum is just a thickener and emulsifier. It's the product of unusual, natural sugar fermentation, and it's everywhere in almost all the food we eat. You just don't know it. Just make sure you add just a small amount of the stuff. For this recipe, we'll use a teaspoon tip. More than that and things get messy.
After the ingredients are mixed together, let the ice cream base "age" in the refrigerator overnight. This process will give the proteins in the milk time to relax. As a result, your ice cream will have a smoother texture and a more robust milky flavor.
This ice cream base comes from the Salt & Straw Ice Cream Cookbook and the inspiration for this ice cream flavor. They make a pear ice cream too, but for their ice cream they use pear puree and candied pears. We are taking a shortcut because we are using the L'Epicurien Pear Preserves with Apricots & Honey, and by adding this preserve, we are creating a more complex flavor which will balance out the taste of the blue cheese.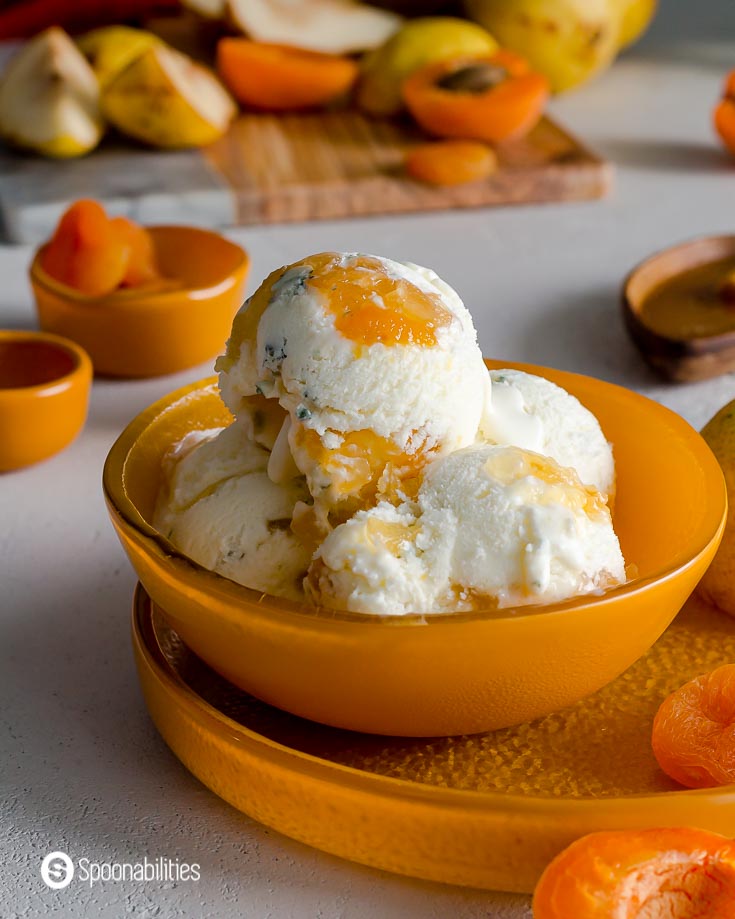 A Few More Tips Before We Get Churning
Patience is virtue. You must make your ice cream base at least one day before you're ready to put together this sweet and pungent ice cream. You also must wait for the right texture as you churn your mix in the ice cream machine.
Letting your ice cream set for a few hours in the freezer after assembling, is the hardest part because you know you're dying to try it! But breathe, patience is the difference between a good homemade ice cream and a glorious frozen treat.
If you are planning to make different flavors this season, double or triple the ice cream base, put it in the freezer until you are ready to use it. Store the base in a 3-cup deli plastic containers, and defrost it in the refrigerator two days before churning.
The homemade eggless ice cream base we use in this recipe is the same as the one the Salt & Straw ice cream shop uses, and the recipe is foolproof to give you an incredible mouthfeel, creaminess and will freeze wonderfully. But if you are looking for an easier base with fewer ingredients, check out the vanilla ice cream base we published recently.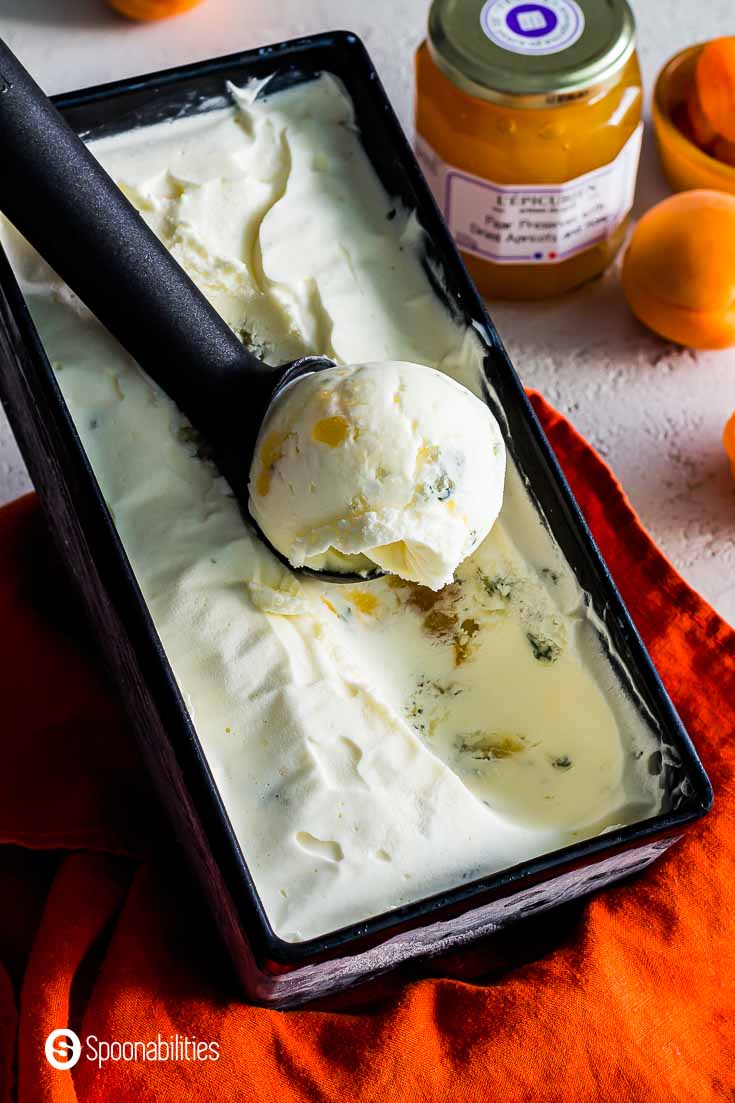 How to make Pear & Blue Cheese Ice Cream
After you make the base, you have two options. One possibility is to add the blue cheese while the base is still warm, in which the cheese will melt, and this will give you a less strong blue cheese flavor. I prefer the other method we use in this recipe. The idea is to get the taste of the blue cheese and the pear flavor in each bite, and also the honey and dried apricot taste from the preserves.
As previously mentioned, the ice cream base gets better consistency if you leave it in the refrigerator for 24 hours or more. When you are ready, put the base in the ice cream maker, turn on the machine and churn until the mixture has a soft-serve texture, about 20-30 minutes. Check your ice cream maker manual; each brand may perform differently.
Remove the middle turning paddle of the ice cream maker and quickly add the crumbled blue cheese and combine. Stir the pear preserves with a fork to loosen it. Using a freezer-friendly container, quickly alternate spooning layers of the ice cream mixture and generous dollops of the pear jam. Then gently spread the pear preserves to break up the clumps.
Cover with parchment paper, pressing it to the ice cream's surface, and cover with a lid if you have one. It's okay if the parchment hangs over the rim. Store it in the coldest part of your freezer (farthest from the door) until firm, for at least 6 hours. It will keep well in the freezer for up to 3 months, but I guarantee you won't have it that long.
Get ready to undertake one of the most exciting desserts we've shared at Spoonabilities, and don't forget to order your L'Epicurien Pear Preserves with Apricots & Honey, and/or any of our other jams, preserves, fruit spreads and caramel sauces to go with your ice creams. Let's get churning and share your creation with us in the comment section or on social media tagging @Spoonabilities and using the hashtag #NoJarsLeftBehind.
Happy Churning!
Carlos LeoYour Recipe Concierge!
Do you need more ice cream ideas?
Check out this selection from our ice cream recipe collection:
Homemade Strawberry Ice Cream with White Balsamic Vinegar
Homemade Goat Cheese & Raspberry Jalapeño Ice Cream
Olive Oil Ice Cream Recipe
Caramel Corn Ice Cream with Vanilla Goat Milk Caramel Swirl
Honey Labneh Ice Cream
Coconut Cream Lingonberry Pops
Vanilla Fig Almond Ice Cream
Cherry Chocolate Ice Cream
Peppers in Paradise Pineapple Jalapeno Ice Cream
Pistachio Ice Cream with Rosewater & Saffron
Coconut Ice Cream with Hazelnut Brown Butter Sage Sauce
That should keep you busy for a while 😉
Print
Available here today in our online shop:
Available via these affiliate links:
Disclaimer: Links that open in another site, i.e. Amazon, may be affiliate links where at no additional cost to you, we may receive a small commission should you decide to purchase the item. Read our Disclosure Policy.