Below is a list of the best Ice cream cupcake cones voted by users and compiled by us, invite you to learn together
Layers of red, white, and blue cake baked inside an ice cream cone and topped with fluffy buttercream frosting make these patriotic ice cream cone cupcakes a showstopping dessert for your 4th of July celebrations!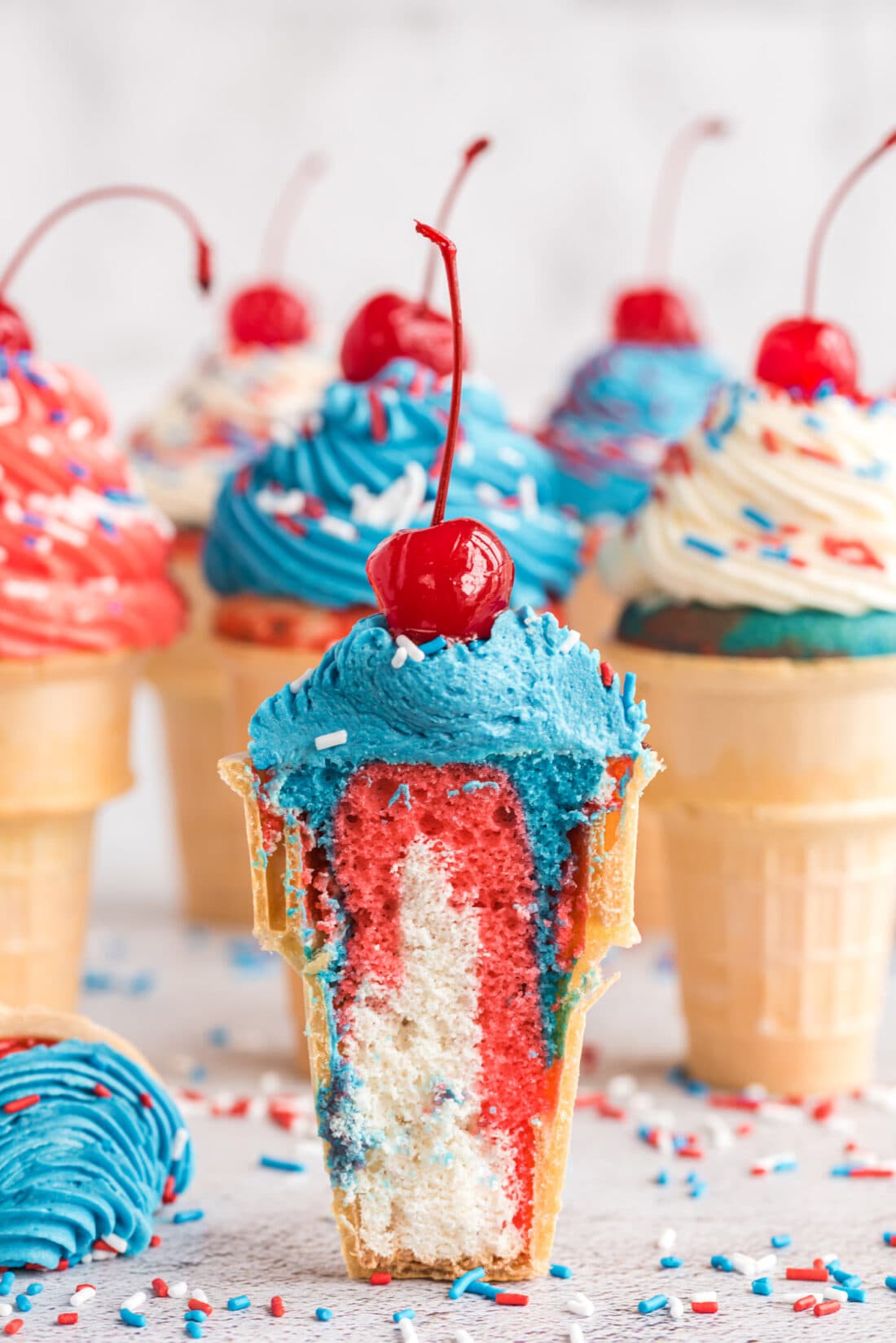 Why this recipe works
How fun are these patriotic ice cream cone cupcakes? Pillowy buttercream frosting is piped on top of colorful red, white, and blue cake in a cone to mimic the look of sweet soft serve ice cream. And what ice cream isn't complete without sprinkles and a cherry?
Though they might look difficult, they are really quite straightforward to make with a boxed cake mix, food coloring, and a simple homemade buttercream frosting. However, they will take a bit of time to prep because you'll be separating them into portions to add color. Otherwise, they're easy enough for anyone to tackle and definitely impressive to everyone that sees them.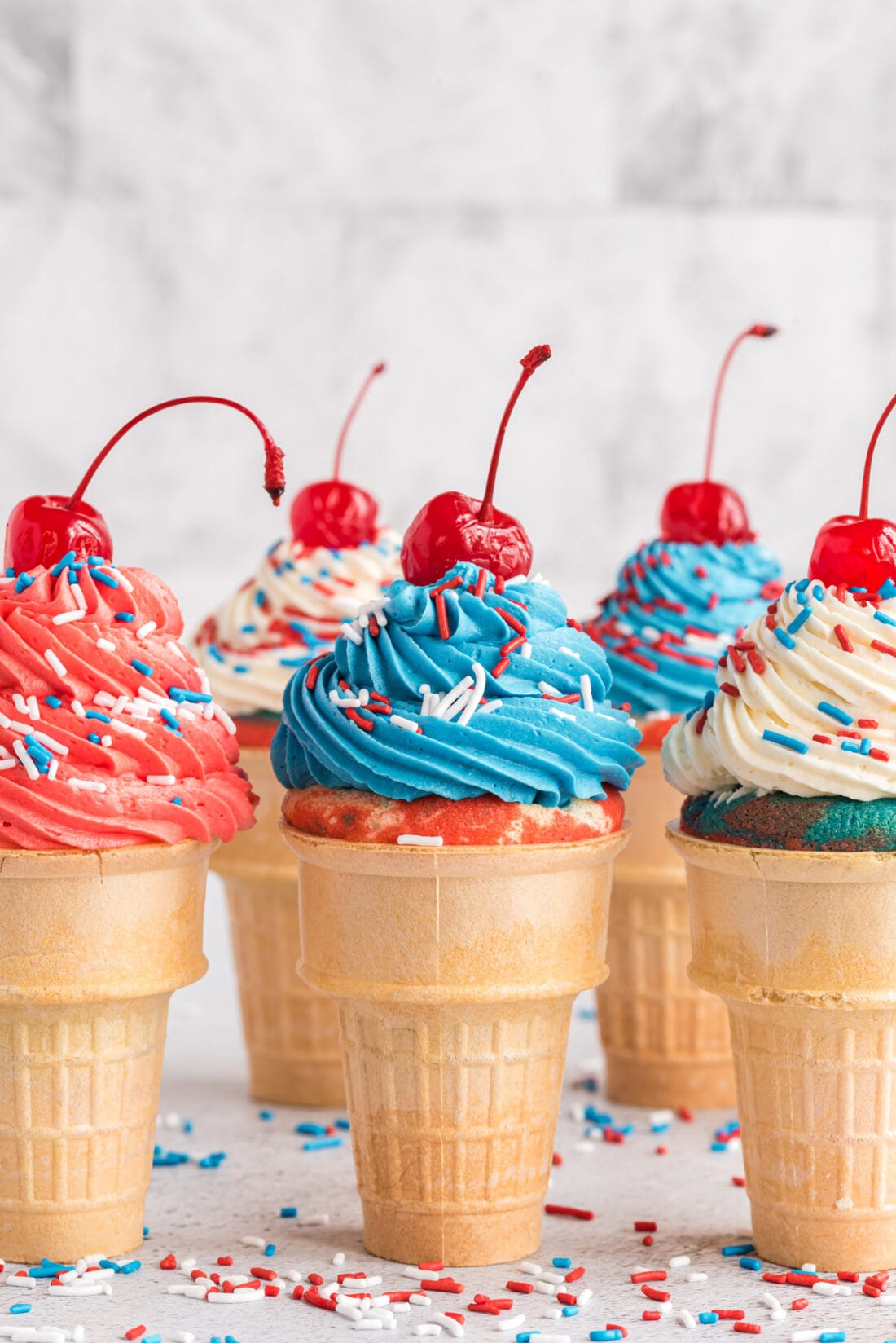 Ingredients you will need
Get all measurements, ingredients, and instructions in the printable version at the end of this post.
Ingredient Info and Substitution Suggestions
CAKE – To save a lot of time and even more prep, grab a box of white cake mix. You will also need the ingredients listed on the back of your particular cake mix box. I highly recommend white cake over yellow or other flavors, as it'll show the colors better – plus, you want that white layer to actually look white. If you prefer to make it homemade, check out my classic white cake recipe.
CONES – Grab cake cones (ice cream cone cups) for this recipe. You can sometimes find them in different colors, the brand Joy carries them and they are called Joy color cone cups which come in a pack of red, blue, and purple cones. However, because the cake is already so colorful, regular ice cream cone cups do the trick wonderfully.
FOOD COLOR – Use gel food coloring, not liquid food color. Gel food color will produce more vibrant colors.
How to Make Patriotic Ice Cream Cone Cupcakes
These step by step photos and instructions are here to help you visualize how to make this recipe. You can Jump to Recipe to get the printable version of this recipe, complete with measurements and instructions at the bottom.
Preheat oven to 350F.
Prepare the dry cake mix according to package instructions.
Separate the cake batter into 3 equal bowls. Add a small amount of red food coloring to one bowl, and a small amount of blue food coloring to another, leaving one of the bowls plain.
Place cake cones into a cupcake pan. Alternating between colors, pour the batter into your ice cream cones filling until they are about 3/4 full. It's easiest to add the batter into piping bags or ziptop baggies with the corners snipped off.
Bake for 15 minutes or until a toothpick comes out clean.
Remove the cones from the oven and allow them to fully cool. EXPERT TIP – Turn the cones upside down and poke a hole on the bottom side of the cone to allow steam to escape and prevent them from becoming soggy.
For the frosting, beat the softened butter in the bowl of a standing mixer using the whisk attachment until light and fluffy.
Add in powdered sugar. Mix slowly, gradually increasing the speed so that the powdered sugar stays in the mixing bowl.
Beat in vanilla extract.
Add 4 tablespoons of the heavy cream and whisk on high speed. Scrape down the sides of the bowl and add 3-4 tablespoons more of heavy cream, beating until desired consistency is achieved (about 5 minutes).
Divide the frosting into three bowls (about 2 cups each bowl).
Leave one bowl as white frosting. Add a small amount of red gel food coloring to the second bowl and mix to combine. Then, add blue gel food coloring to the third bowl and mix to combine.
Add each frosting to their own individual piping bags fitted with a tip. Pipe on all three of the colors to one cone or alternate between the cones using a single color.
Garnish with red, white, and blue sprinkles and top with a maraschino cherry.
Frequently Asked Questions & Expert Tips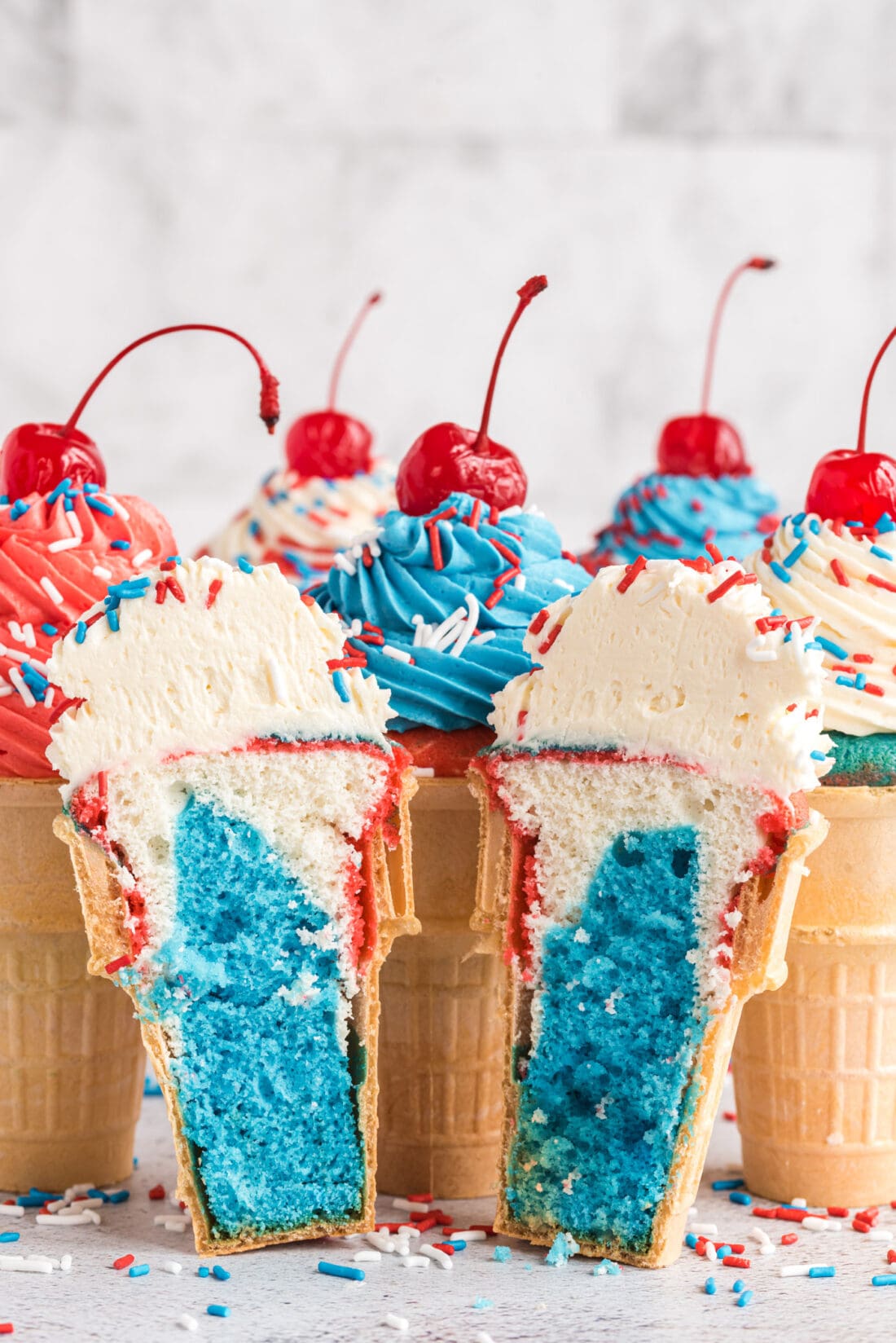 Serving Suggestions
There are so many different ways to make these cones. Here are a few examples:
Individually pour the colored batter into their own separate cones so you have solid cake colors.
If making solid colored cupcake cones, top with corresponding colors; for example – if you have a red cupcake, top it with blue frosting and white sprinkles and so on so forth.
Add all three different colored frostings to a single piping bag for a swirled red white and blue presentation.
Use this as a base recipe for different holidays, party themes, or sports team colors!
More Patriotic Recipes
Taco Salad Flag
Patriotic Candy Bark
4th of July Jello Shots
American Flag Brownies
Patriotic Charcuterie Board
Patriotic Mini Cheesecakes
Red White and Blue Poke Cake
Patriotic Vodka Lemonade Slushie
I love to bake and cook and share my kitchen experience with all of you! Remembering to come back each day can be tough, that's why I offer a convenient newsletter every time a new recipe posts. Simply subscribe and start receiving your free daily recipes!