Below are the best information about Sun dried tomato pasta salad voted by users and compiled by us, invite you to learn together
Pasta salad with sun-dried tomatoes and artichoke hearts is one of the simplest pasta salads you can make. Fresh mozzarella and Gaeta olives are tossed with the bowtie pasta, sun-dried tomatoes, and artichoke hearts and topped with an incredible vinaigrette. This is so good and so easy you'll want to make it all summer long!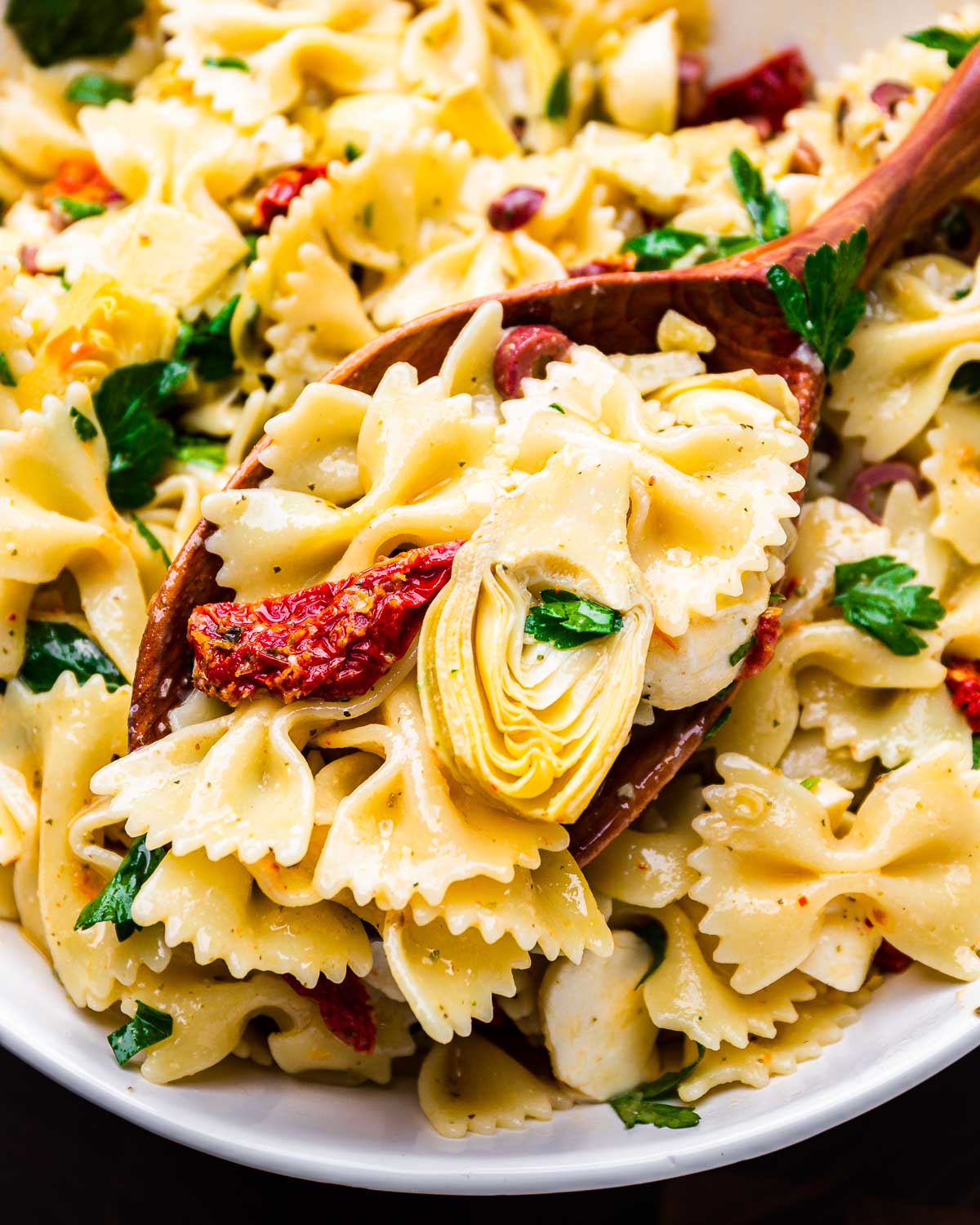 When the warm weather starts we instinctively move toward pasta salad and grilled meats in our house.
There is nothing better than some grilled chicken thighs, grilled veggies, and a deliciously tangy pasta salad.
And this pasta salad with sun-dried tomatoes and artichokes is one of our favorites for a few reasons.
First and foremost, it tastes delicious and has a variety of textures from the artichoke hearts, sundried tomatoes, fresh mozzarella, and olives.
Secondly, this dressing is so good that I'll usually make double the amount, use half on the pasta salad, and save the rest for a green salad on another night.
And thirdly, this is so incredibly easy because there are just a few simple ingredients needed.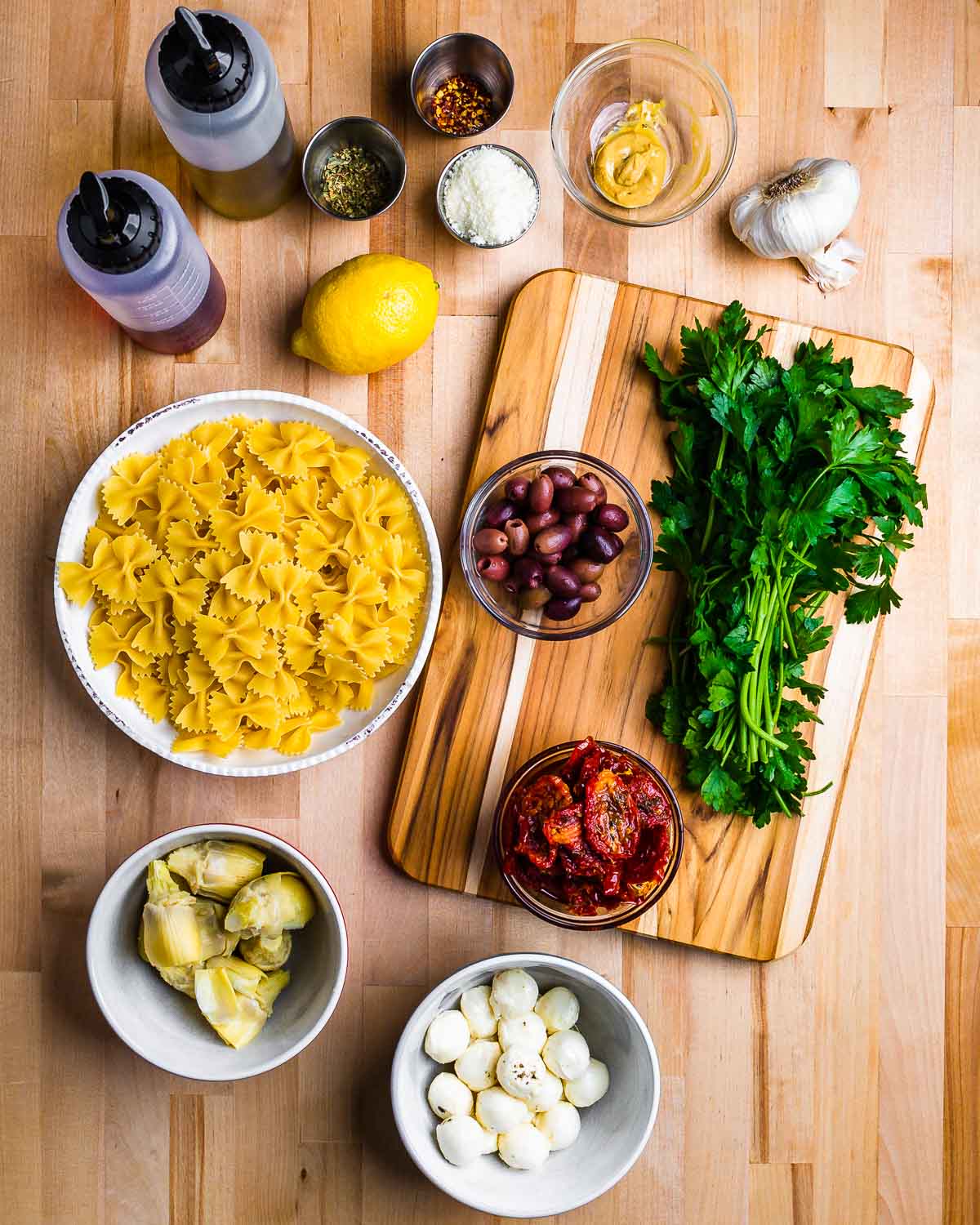 How to make sun-dried tomato artichoke heart pasta salad
Each number corresponds to the numbered written steps below.
Bring a pot of salted water (2 tbsp Kosher salt per gallon of water) to boil and cook 1 pound of bow tie pasta until al dente. When the pasta is done, drain and rinse the pasta until it's cool to stop the cooking process. Note: I only recommend rinsing pasta when using it for pasta salads. Otherwise, rinsing is a no-no. Then, slice the artichoke hearts (from 2 15-ounce cans) into quarters.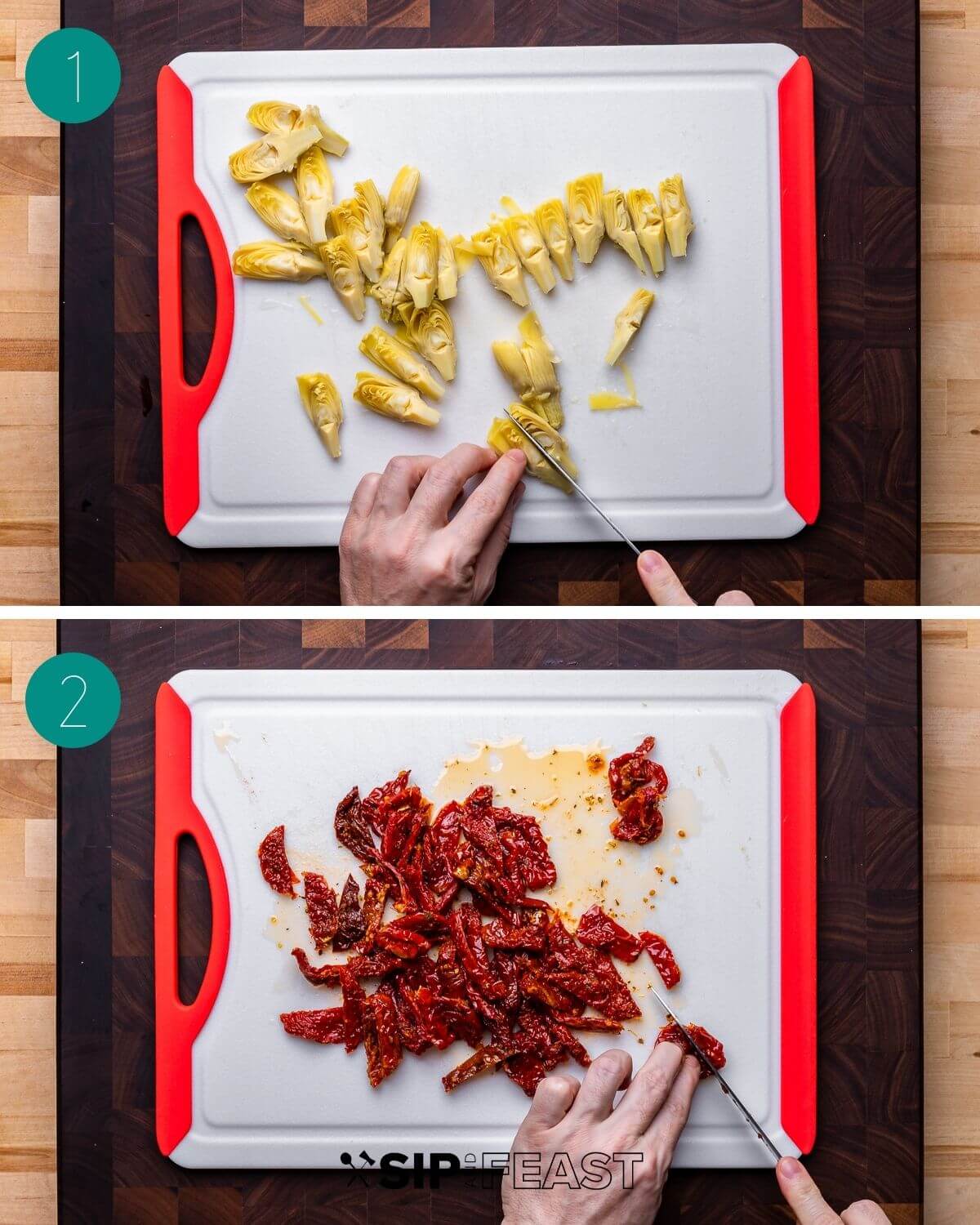 Drain and slice the sun-dried tomatoes (from 1 12-ounce jar) and make sure to save the oil for later on in the recipe as it will be added to the dressing. Chop ½ cup of Italian flat-leaf parsley, slice ½ cup of pitted Gaeta olives, and halve 8 ounces of fresh mozzarella balls. Mix the artichokes, sun-dried tomatoes, olives, mozzarella, and parsley in a bowl with the cool pasta and set aside while you make the dressing.
Slice 2 cloves of garlic and using the flat part of a knife and a touch of coarse salt, scrape the garlic until a paste-like consistency is achieved.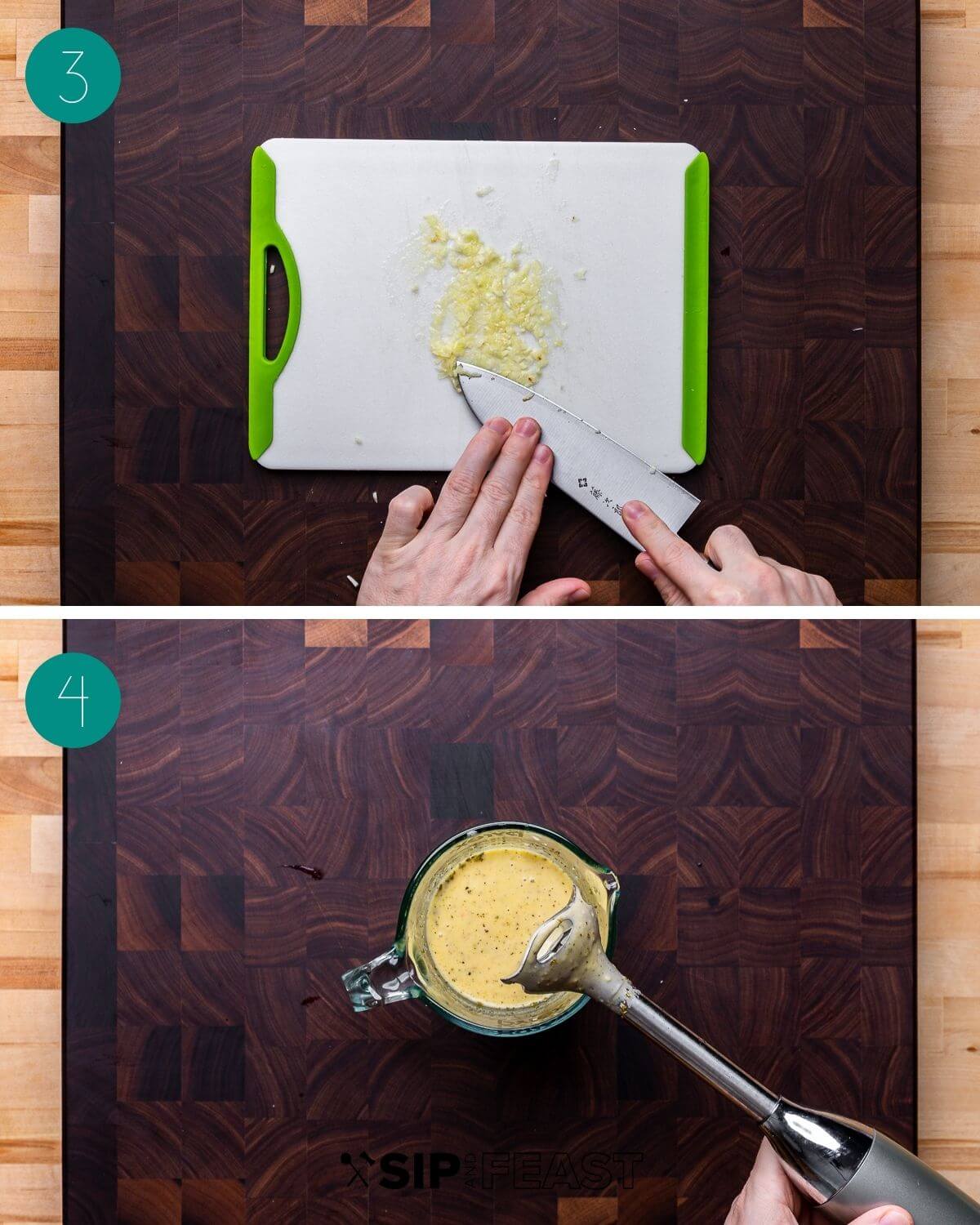 To a mixing bowl, measuring cup, or wide mouth mason jar add the garlic paste, ¼ cup red wine vinegar, ¼ cup of lemon juice, ¾ cup of sun-dried tomato oil (or extra virgin olive oil), 2 teaspoons of Dijon mustard, ¼ cup grated Pecorino Romano cheese, 2 teaspoons dried oregano, and a ¼ teaspoon of crushed red pepper flakes. Using a whisk or immersion blender, combine the ingredients until emulsified. Alternatively, if using a mason jar, you can cover it and shake it or use a food processor or blender. Taste test the dressing and season with salt and pepper if required.
Pour ¾ of the dressing on top of the pasta mixture and mix well.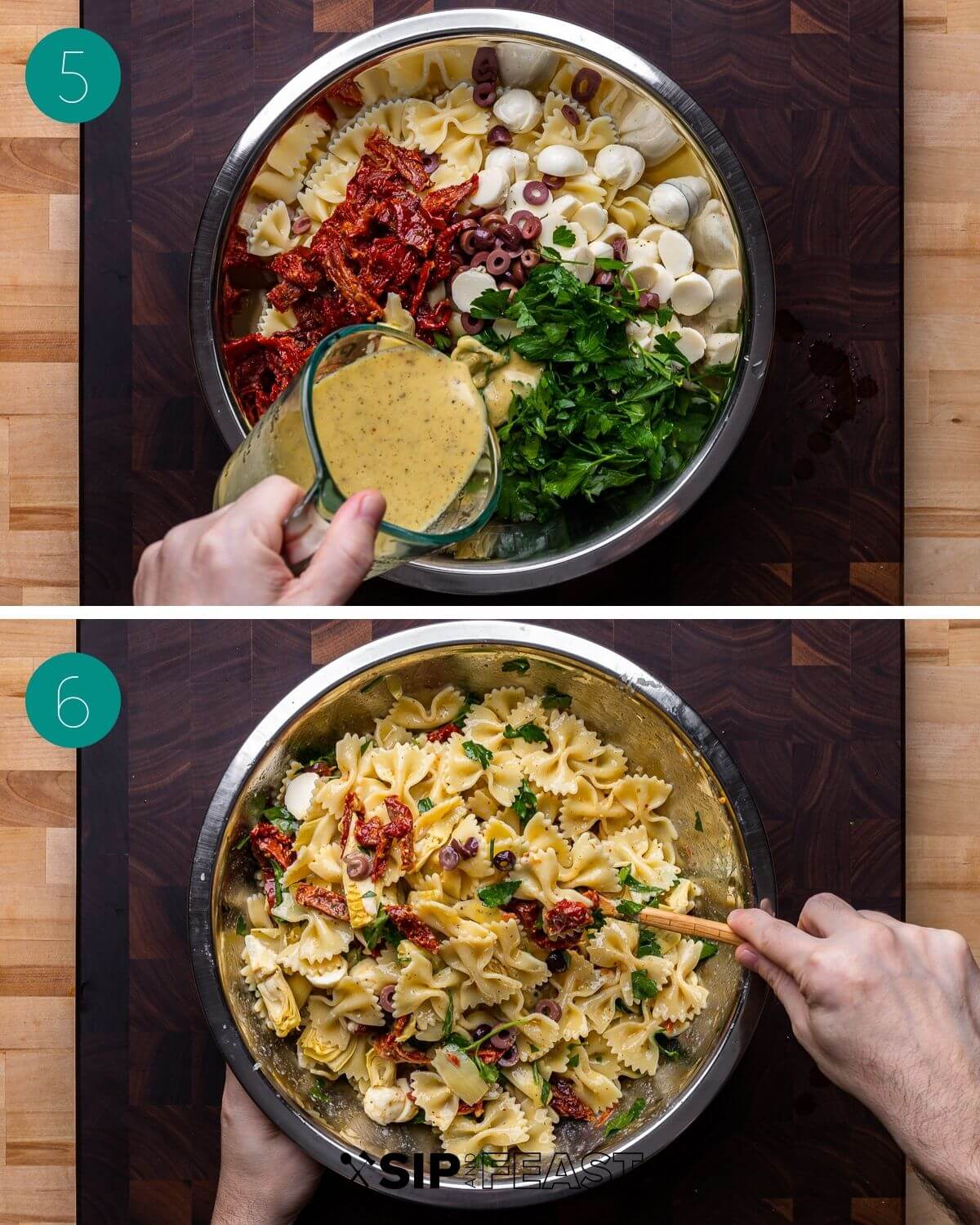 If you need more dressing, add a little at a time to achieve the desired consistency. The remaining dressing can be served on the side or saved in the fridge for a green salad during the week. The pasta salad's flavor will taste much better if chilled for at least an hour prior to serving. Enjoy!
Top tips
The pasta. I used bow ties in this recipe because I love the texture they add. You can definitely use other pasta shapes like penne or fusilli if you prefer. Whichever you choose, just be sure to cook it al dente and rinse with the cold water to stop the pasta from cooking further. Note: Pasta salads are the only time you will ever want to rinse the pasta to cool it down.
The mozzarella. I used mozzarella balls for this recipe. If you can't find them, you can use cubed fresh mozzarella or even block mozzarella. Also, if you can find mozzarella pearls, which are smaller in size, you can use those too.
The olives. I used Gaeta olives for this recipe but you can also use kalamata, oil-cured, or green olives depending on your taste. I recommend using pitted olives but if you can't find them a straw works well to easily push out the pits.
The vinaigrette. I love including some oil from the jar of sun-dried tomatoes in the vinaigrette for this sun-dried tomato artichoke pasta salad. It adds additional sun-dried tomatoey flavor which is just outstanding! I also use this trick in my creamy sun-dried tomato chicken recipe and think it just adds a little something extra. I personally recommend making double the amount of vinaigrette and saving half for another use during the week. You'll likely have some leftover even if you don't double it, but since you're making the vinaigrette anyway, may as well just make extra. It can stay for 3 days in the fridge and be used on another pasta salad, or a simple green salad.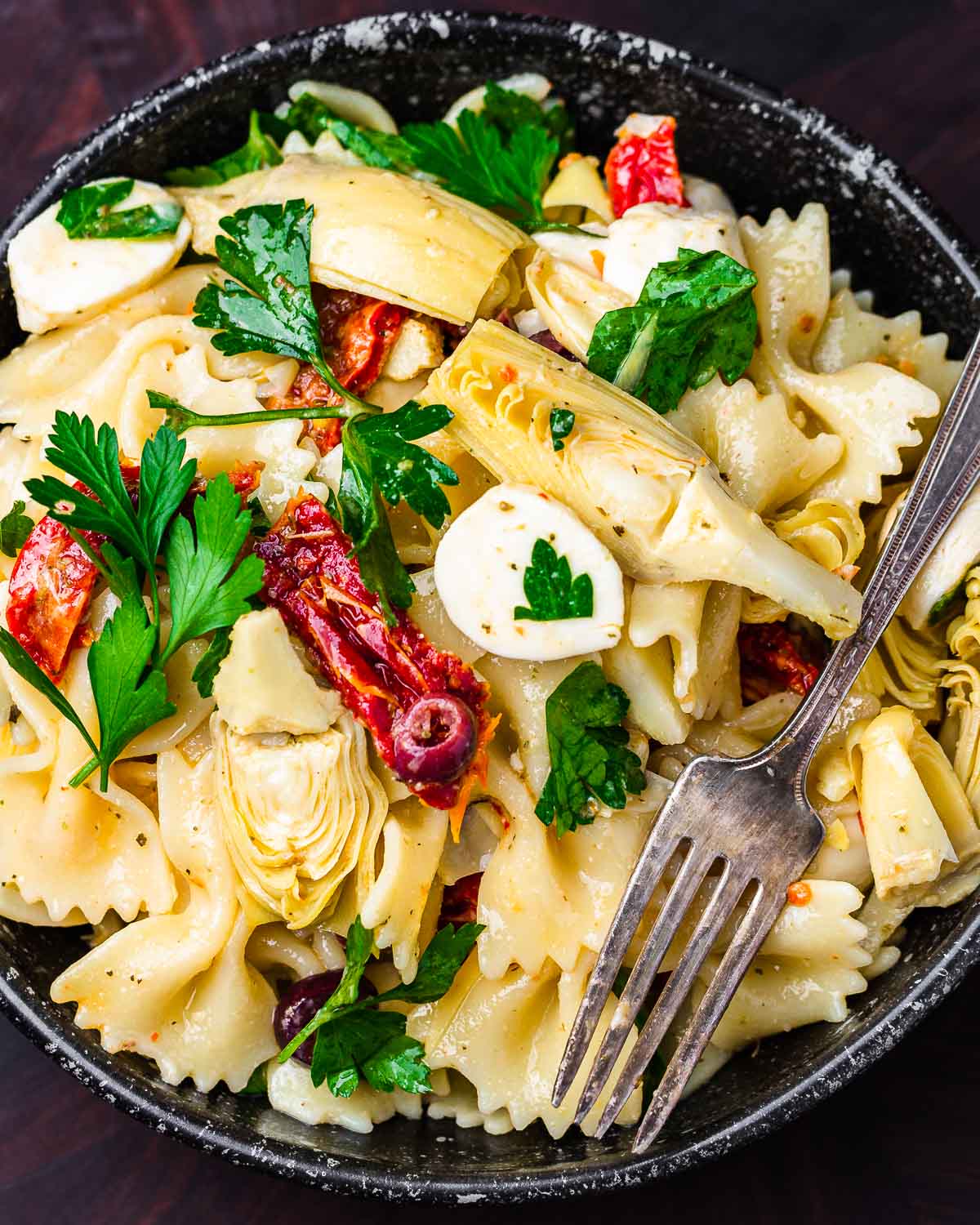 More summer sides
Here are a few of our favorite warm-weather sides that are perfect for barbeques, gatherings, or just simple evenings at home.
Chicken pesto pasta salad – Seared chicken breast tossed with penne pasta in a simple pesto sauce.
Italian pasta salad – Fusilli pasta tossed with tomatoes, olives, salami, and mozzarella in an easy vinaigrette.
Spinach gorgonzola pasta salad – Baby spinach, bowtie pasta, and crumbly gorgonzola plus a tangy vinaigrette.
Potato and green bean salad – Tomatoes, potatoes, and fresh green beans in a simple vinaigrette.
Greek pasta salad – Kalamata olives, feta, fresh dill, tomatoes, and cucumbers tossed with penne in a Greek-style vinaigrette.
Grilled fennel salad – Oil-cured olives, grilled fennel and lemons, and shaved Parmigiano Reggiano.
If you've enjoyed this pasta with sun-dried tomato and artichoke recipe or any recipe on this site, give it a 5-star rating and leave a review.
Some people learn by watching. If you're that type of person, you can find most of our recipes on YouTube and our Facebook Page.