Below are the best information about Best ice cream in paris public topics compiled and compiled by our team
Here's my address book for the most popular and some favorite places for ice cream in Paris. I update the list from time to time, and for the most up-to-date information, check out my Paris Pastry app, which lists over 300 of my favorite places in the city for ice cream, chocolate, pastries, and hot chocolate.
In addition to these glaciers, some of the pâtisseries make their own exceptionally-good ice cream which they'll scoop up from freezers parked on the sidewalks outside during the summer. Some of the best include Kayser, La Maison du Chocolat, and A La Mère de Famille.
Many of the places keep curious hours, some of which I've noted. Most don't open until mid-morning, and one, Deliziefollie, simply closed for the winter while Berthillon closes mid-July for the summer. I've listed phone numbers so you can call in advance.
Berthillon
Little needs to be said about Berthillion that hasn't already been said. This most-famous of all Parisian glaciers makes what many consider the best ice cream in the world. Go see for yourself! I was a fan of their glace chocolat until I saw the light and switched to the chocolat amer sorbet, which has the deep intensity of chocolate but without the distraction of cream. Their Caramel Ice Cream is excellent, but I think the Caramel-Buerre-Salé doesn't measure up to it. The fruit sorbets are excellent and the one made with tiny wild strawberries, fraises des bois, is worth the supplement.
Berthillon is served at many cafés in Paris, and other locations near the original also scoop it up, which is helpful when they're closed. Beware of other storefronts nearby which some people confusing think serve glace Berthillon as well. (They'll always display a Berthillon logo if they do.)
Berthillon 31, rue Saint-Louis-en-l'Ile (4th) Tél: 01 43 54 31 61 Métro: Pont Marie or Sully-Morland (Closed Mondays and Tuesdays, the second half of July and all of August.)
Amorino
Popular with tourists and locals, Amorino does quite the business, making delicate 'flowers' of gelato on cones. Interesting flavors include Bacio, the Italian-style 'kiss' of hazelnuts and chocolate and Amarena, candied sour cherries embedded in vanilla custard. Those of you who are lactose-intolerant can find digestive comfort in Amoriso which they say is made with rice and rice milk. Twelve boutiques in Paris.
Amorino 31, rue Vieille du Temple (4th) Tél: 01 42 78 07 75 Métro: St. Paul or Hôtel de Ville
Pozzetto
More often than not, you'll find me at Pozzetto, waiting from my scoop of sticky gelato in a cone being handed through the window to me.
While folks line-up a couple of blocks away at Amorino, for my money, Pozzetto is where it's happening…it's simply the best gelato in Paris. The pistachio gelato is made from bright green Sicilian Bronte pistachios and the gianduja has the smoky-nuttiness of roasted Torinese hazelnuts. You can also get a real Italian espresso here too.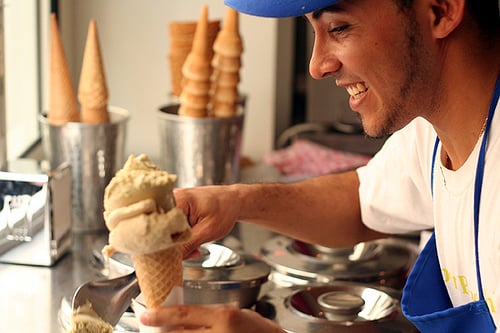 Pozzetto 39, rue de Roi de Sicile (4th) M: St. Paul or Hôtel de Ville and 21, rue de Lévis (17th) Métro: Villiers
Raimo
Readers of The Perfect Scoop are familiar with my fondness for Raimo (page 133.) I used to go for the décor, which was retro-modern before an unfortunate remodel. But most come here for the just-churned glaces here, especially the fruit-based ice creams of summer, flavored with peaches, nectarines and melon. My favorite is fleur de lait, an icy-cold boule of light frozen cream. Worth making the journey to this neighborhood a little trip from the center of Paris, although there is now a shop in the Marais.
Raimo 59-61, Boulevard de Reuilly Tél: 01 43 43 70 17 Métro: Daumesnil (Closed Monday)
and
17, rue des Archives
Le Bac à Glaces
Tucked away behind Le Bon Marché is Le Bac à Glaces, an unassuming glacier that boasts all-natural ice creams. You'll never know what flavors you'll find: I've seen avocado, mango, fig and blackberry. In many you'll find little bits of fruit.
Le Bac à Glaces 109, rue de Bac Tél: 01 45 48 87 65 Métro: Sèvres-Babylon (Closed Sunday)
A few other places:
Grom 81, rue de Seine (6th) (Map)
If you don't know Grom, from Italy, you should. Read about my Grom visit.
Mister Glace 6, rue Descombes (17th) Tél: 01 42 67 76 24
La Marquisette 31, avenue de Saint-Ouen (17th) Tél: 01 45 22 91 65 Métro: La Fourche
Martine Lambert 39, rue Cler (7th) Tél: 01 45 51 25 30 Métro: La Tour Maubourg or Ecole Militaire
Une Glace à Paris 15, rue Sainte-Croix-de la Bretonnerie (3rd) Tél: 01 49 96 98 33
Can't Make It To Paris?…Churn it up at home!
-Heidi finds my Vanilla Frozen Yogurt rivals Pinkberry's
-The best Salted Butter Caramel Ice Cream, better than Berthillon!
-Tangy Strawberry Frozen Yogurt
-Roquefort and Honey Ice Cream
-Gale Gand's simple White Chocolate Sorbet
-White Chocolate and Fresh Ginger Ice Cream goes great with summer fruits
-Icy & easy Strawberry Granita
-Wondering which ice cream machine to buy?…Meet Your Maker here, and more about The Perfect Scoop.