Here are the best information about Thai tea ice cream public topics compiled and compiled by our team
Imagine this: soft and creamy ice cream bars that you didn't need to whip or churn. All you have to do is cook the ice cream base, pour it into a mold, then cut it into pieces. And it's so soft your teeth will glide right through it as you take a bite, and it's wonderfully chewy. Yes, chewy.
It's not a hack or a new science trick, but old school wisdom at its best. This is how ice cream used to be made in Thailand before ice cream churning machines were widely used. It's a brilliant technique that I think deserves a comeback.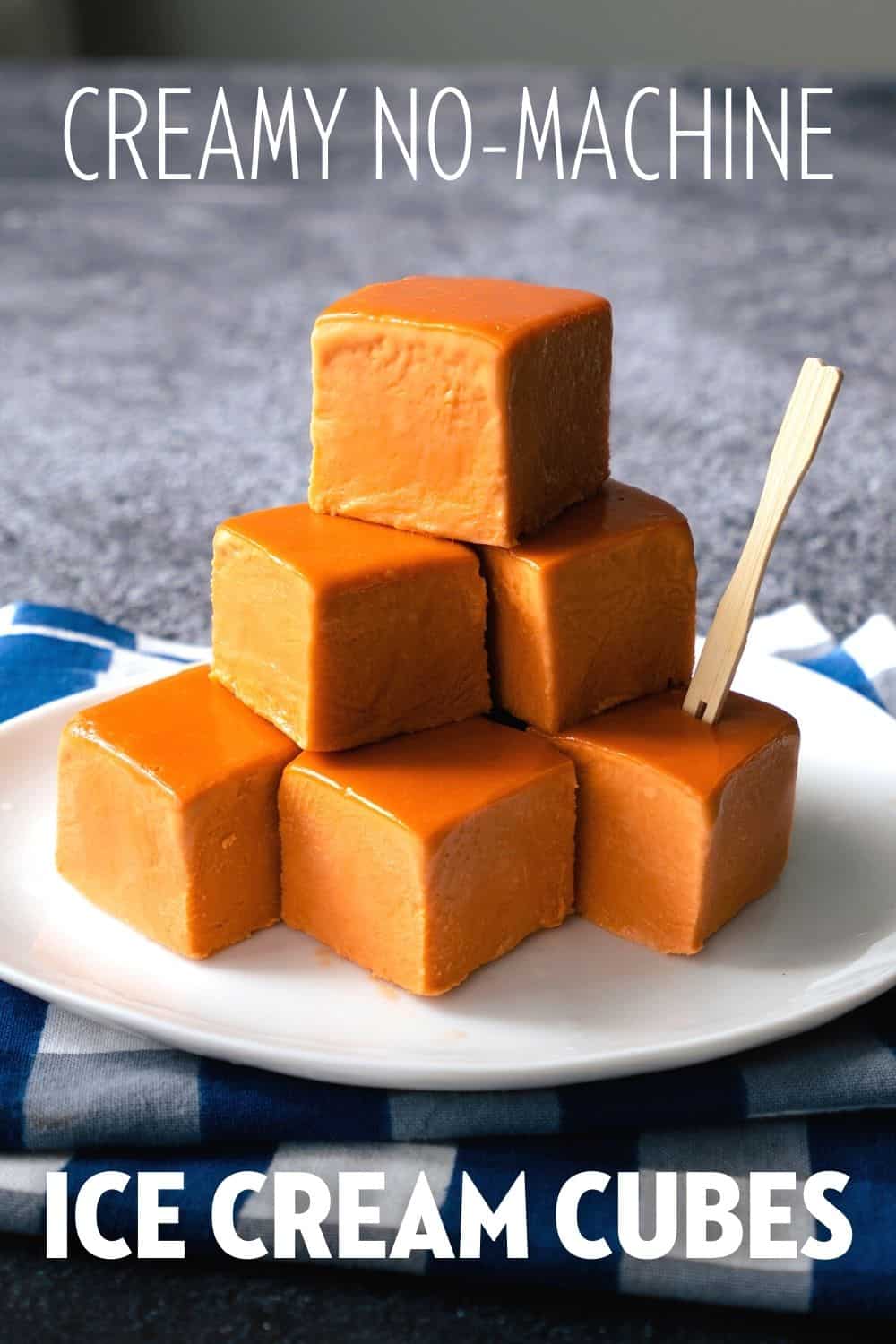 Traditional Thai "cut" ice cream
A while ago I came across an image of these rectangular ice cream bars in Thailand, with skinny wooden skewers as the "stick". It reminded me of my childhood, yet I don't have a memory of eating them … it's definitely something I've seen though. It's so rare these days that I have a hard time trying to remember where I last saw them.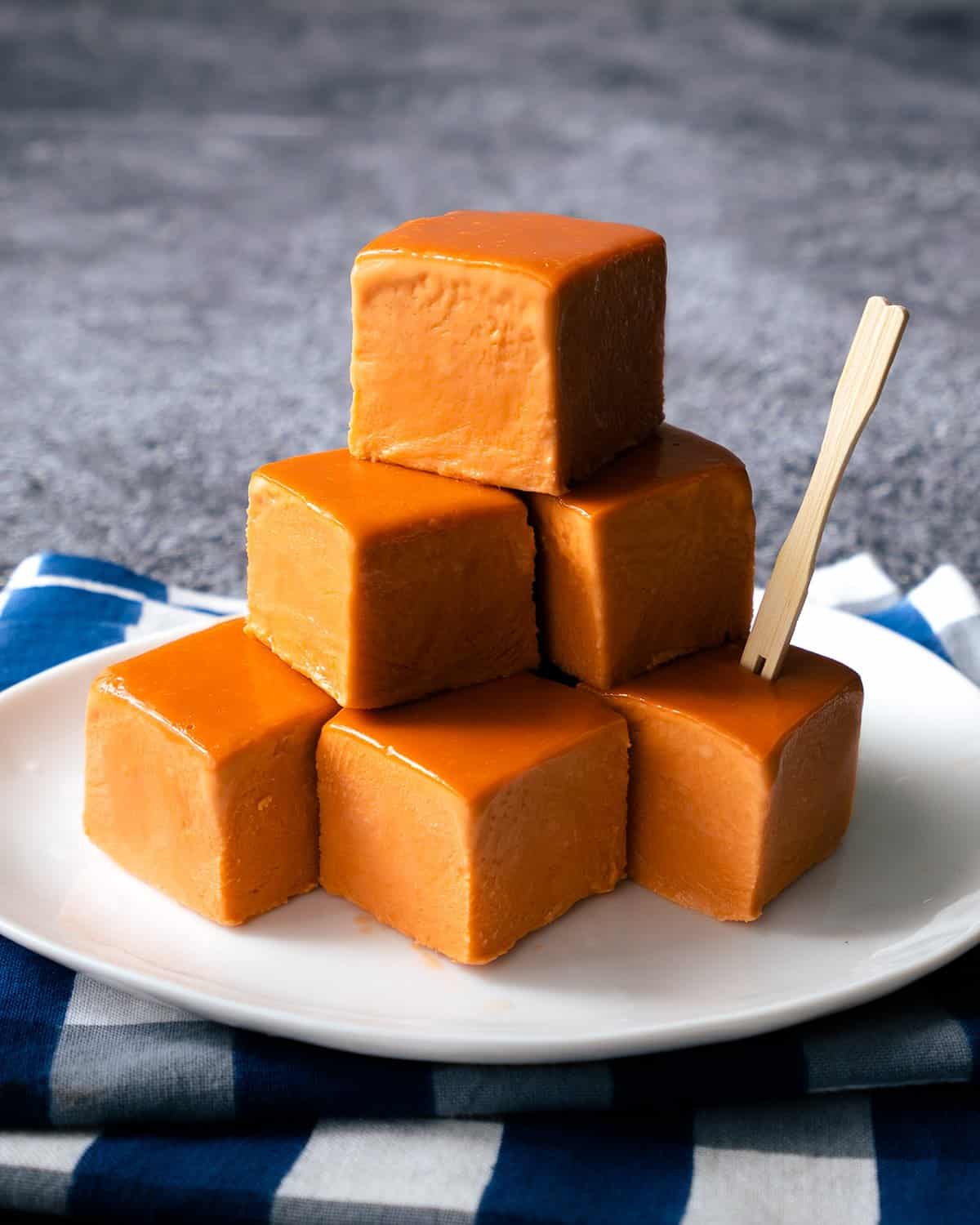 These are not popsicles. They are not icy refreshing treats, but a soft and creamy sweet that eats almost like churned ice cream, but denser and totally satisfying. Upon further investigation I was fascinated by how simply they are made, and I was intrigued by the use of starch.
So here's how the ice cream is made, and then read on to find out the fascinating science of how it all works.
Ingredients You'll Need
Here are all the ingredients you'll need. I'm making Thai tea flavour here, but the basic concept can be applied to other flavours. More on that below.
Evaporated milk
Sweetened condensed milk
Whipping cream or heavy cream
Tapioca starch (sponsored by Pine Brand)
Salt
Thai tea leaves
Water for brewing tea (not pictured)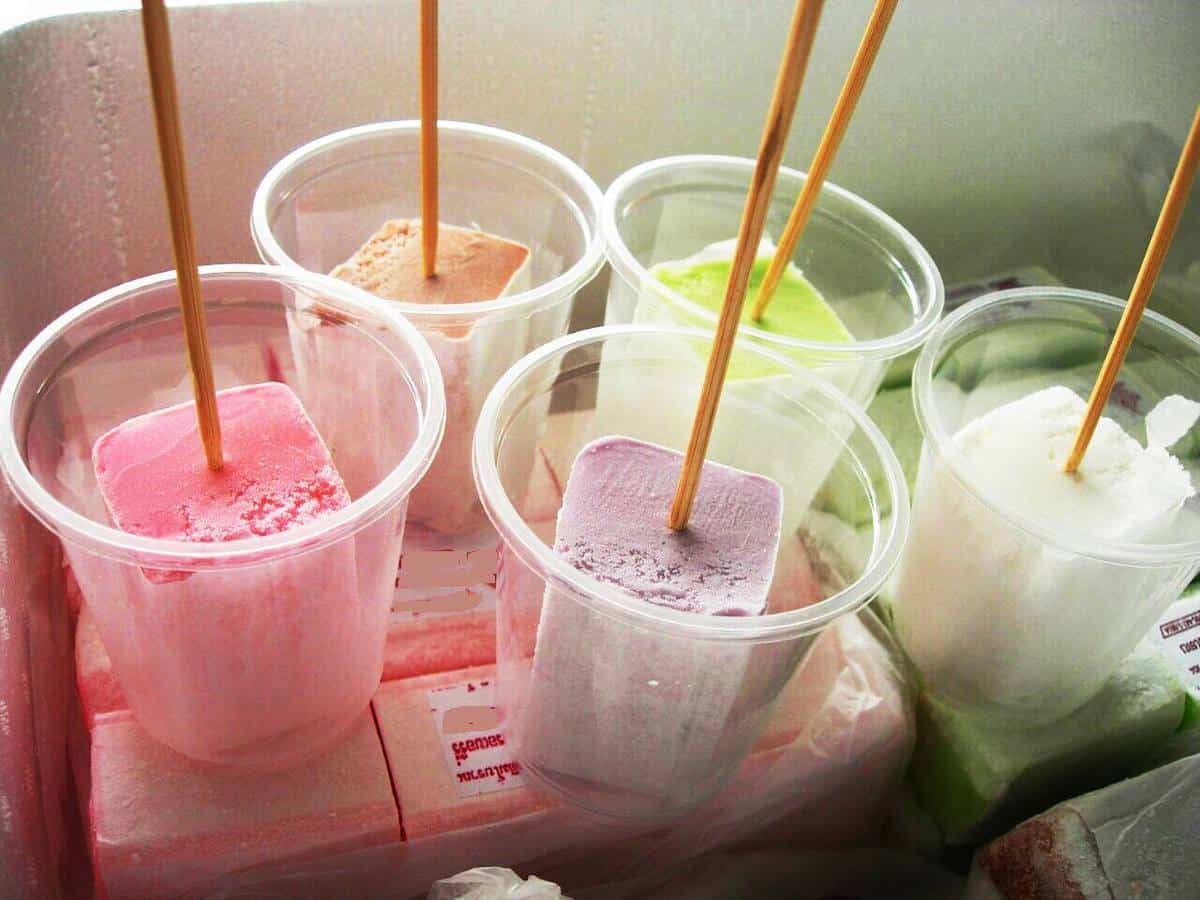 Step-By-Step:
Here's a bird's eye view of the process, but also be sure to check out the full video tutorial in the recipe card below to ensure success!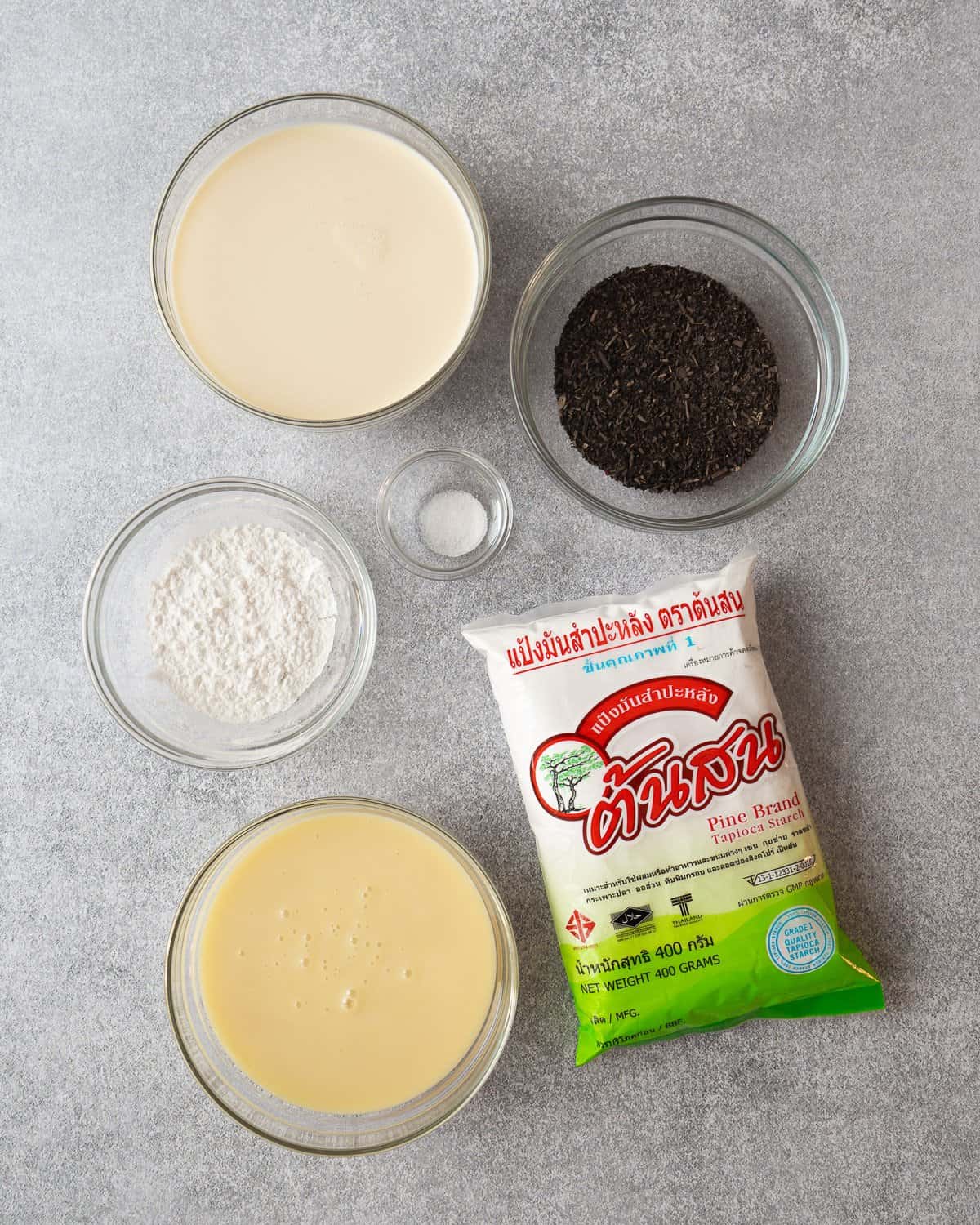 Steep Thai tea leaves in hot water for 5 minutes and strain.
Dissolve tapioca starch in a little bit of evaporated milk.
Pour the starch slurry into a pot.
Add condensed milk, evaporated milk, whipping cream and salt.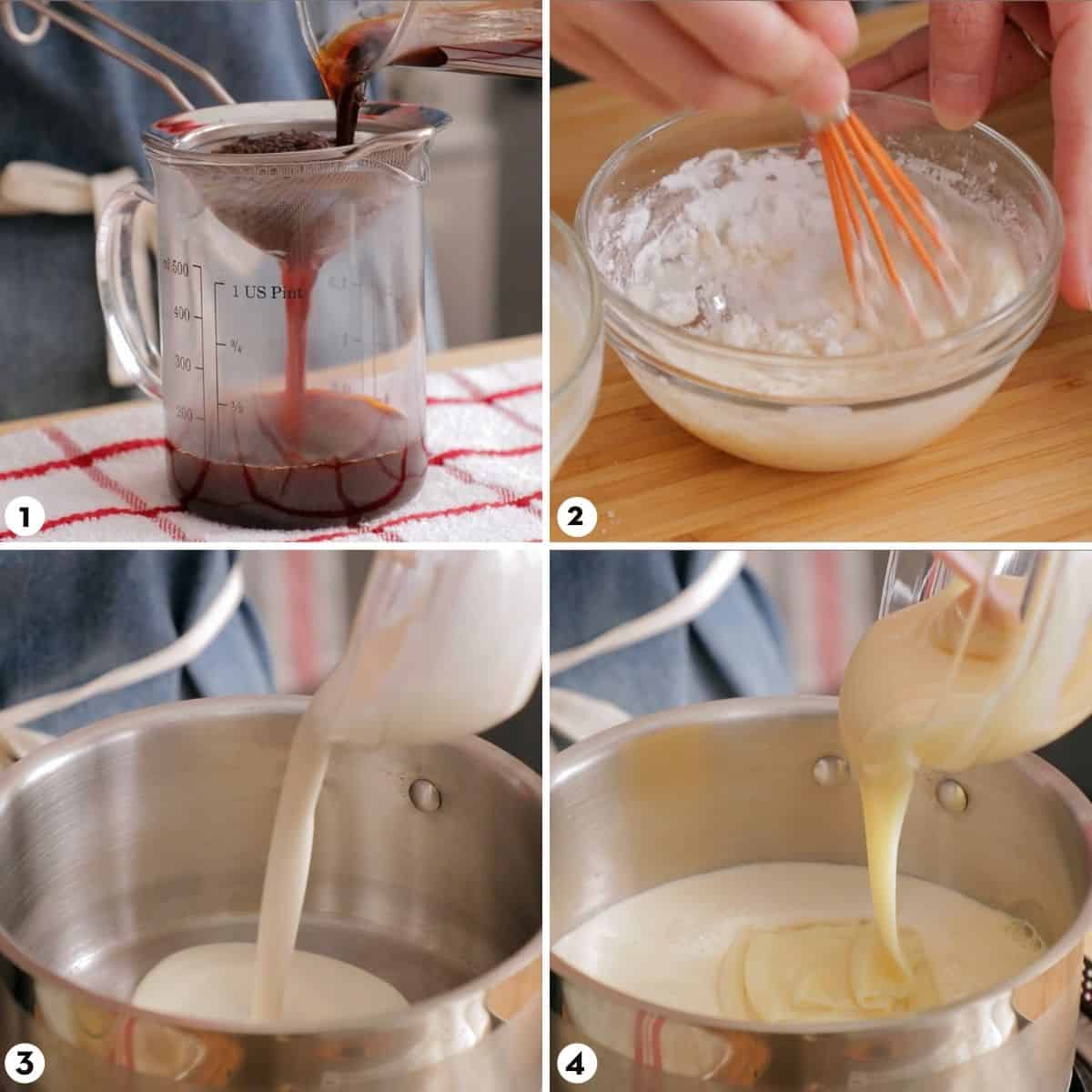 Add the Thai tea, holding back the last little bit where the tea dust has settled.
Cook until the mixture is fully thickened and bubbling.
Pour into a mold lined with parchment paper for traditional cut ice cream bars.
Or pour into a popsicle mold. Let cool to room temp before freezing.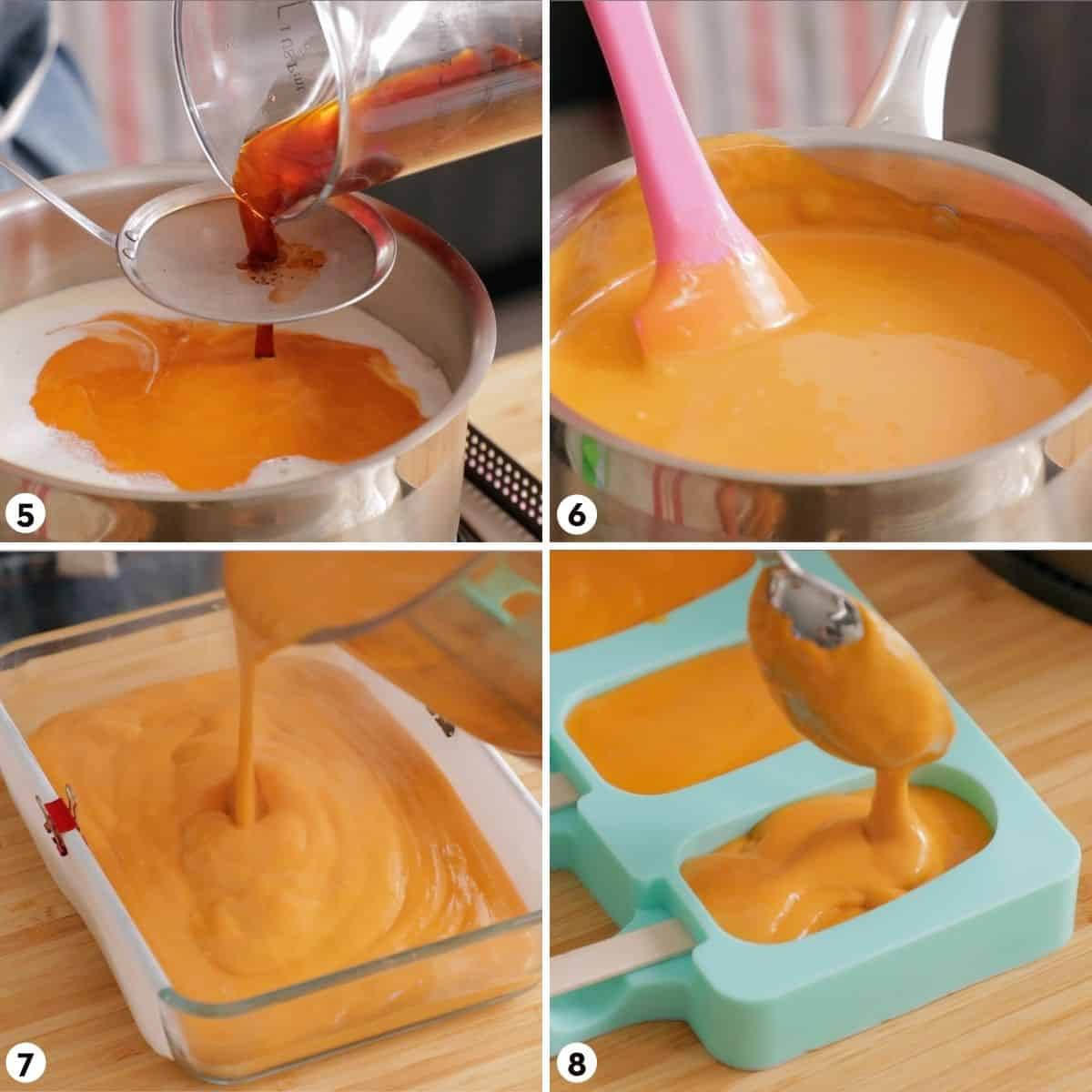 Remove from the mold, trim off the edges and cut into bars.
Insert wooden skewers or sticks.
Peel it off the paper; and that's the old-style ice cream!
Alternatively, you can cut into cubes for smaller snack size ice cream.
Pro Tip: Customizing Creaminess
In this recipe I use whipping cream which has the highest fat percentage for that maximum creaminess. If you prefer something lighter, you can use whole milk or "half and half". But without the fat the result will be a noticeably "icier" ice cream (though still soft and sliceable because of the starch), which isn't necessarily a bad thing if you want something more refreshing!
What does starch do to ice cream?
So how does the ice cream base not freeze into a hard icy block? In a word, the starch. If you didn't add the starch, it would indeed freeze into an icy block that you couldn't bite through easily.
How it works is that the starch essentially absorbs some of the water in the ice cream base, and as it gels up while cooking, this water is prevented from becoming frozen into big, hard ice crystals. So in a way, the ice cream is only partially frozen.
Adding starch also has the added benefit of slowing down the melting. Because of the starch, the ice cream base starts out as a very thick liquid. So when it melts, it doesn't just liquefy and drip as quickly as normal ice cream. It softens, but can still hold its shape much longer. Great for kids if you ask me!
What else keeps the ice cream soft and creamy?
But it's not just the starch that does the work. The fat and the sugar also work to prevent the ice cream from freezing solid. Sugar suppresses the freezing point of water, and the fat in the cream lowers the total amount of freezable water present and creates a creamy mouthfeel.
So if you were to substitute the cream in this recipe and use milk, your ice cream would be noticeably icier. Again not necessarily a bad thing if you're looking for something more refreshing as opposed to creamy.
Use tapioca starch for "chewy" ice cream
Tapioca starch is actually not the only starch you can use. Cornstarch will work as well. But what I like about tapioca is that it adds chewiness. If you think about tapioca balls in boba and how chewy they are, that's the idea. Here, it makes an ice cream that you can bite through and then chew – which is an oddly satisfying experience that I love about this treat!
No Churning = Denser = More Flavour
Typical churned ice cream will have air incorporated into it. The more air is whipped into it, the lighter the ice cream. Sounds good, right? But actually, it also means there is less ice cream in every mouthful, and it's in fact less flavourful. This is how cheap ice cream gets away with being cheap; they're selling you a ton of air in a pint.
This is another reason gelato is more expensive than ice cream. Gelato is less airy, so a scoop of gelato has actually more "stuff" in it than a scoop of ice cream.
So these ice cream bars are not churned at all. They have essentially no air incorporated into them, which makes each bite dense and full of flavour. You get hit with a lot of Thai tea flavour in every bite. And it also adds to the chewiness we talked about.
Starch in ice creams in other cultures
Though I have not come across another culture that cuts their ice creams into bars like we do, the use of starch to help improve ice cream textures isn't unique to Thailand.
In Italy, specifically in Sicily, cornstarch is used in their gelato. And in the Middle East, a starch called salep (also spelled sahlep or sahlap) is added for similar effect.
Starch is also added to commercial ice creams, because you better believe the ice cream industry knows all about the magic of starch. In Thailand, mung bean starch is added to some commercial sorbet to increase softness for a better bite and added stability so that it won't melt as quickly.
But wait, what exactly is Thai tea?
You can make this ice cream whatever flavour you like (more on that in the FAQ) but Thai tea is one of my favourites.
If you've never had Thai iced tea, well, you're missing out and you really need to check it out! It's popular both inside and outside of the country, and you could call it our "national drink". If you prefer non-milky teas, you might try Thai lime tea, which is really my preferred version because it's much more refreshing.
Thai tea leaves are made from assam tea, and the iconic orange colour is made from…drum roll….food colouring! Surprise! (Sorry, probably not the mysterious ingredient you were hoping for.) But wait, it also has an added flavour. And that flavour is…drum roll again….vanilla! (Sorry again.)
The unique flavour that you recognize as Thai tea is but the combination of assam tea and vanilla, plus the creamy condensed milk and evaporated milk added later.
Frequently Asked Questions
Before you start, be sure to watch the video tutorial to ensure success! I always include little tips and tricks not mentioned in the blog post. The video is in the recipe card below, but you can also watch it on YouTube!
Like this recipe? You'd also love these!