Hot summer days call for a nice cold scoop of No Churn Oreo Ice Cream! This no churn ice cream takes only 10 minutes to prepare before ready to freeze and is LOADED with Oreo crumbs, Oreo chunks, and mini chocolate chips! Homemade cookies and cream ice cream without the ice cream maker has never been so easy!
I think it's fair to say I'm a big fan of Oreo Dessert Recipes! And the frozen Oreo treats are a particular favorite! Oreo ice cream cake, Oreo Milkshake, and cookies and cream popsicles are both great summer desserts that are easy to make and super yummy!
Why This Recipe Works
Smooth no churn ice cream. I've got a lot of ice cream recipes on my blog and many of them call for an ice cream maker. I've made lots of ice cream recipes in an ice cream maker, so I was skeptical about a no churn ice cream recipe. However, this cookies and cream ice cream recipe without ice cream maker is smooth and delicious! I think the sweetened condensed milk is a big winner here! It provides a thick texture and sweetness without the grainy texture of granulated sugar that you have to melt on the stove.
No ice cream maker needed. That's right! You don't need an ice cream maker or any special equipment to make delicious and smooth ice cream! This homemade Oreo ice cream recipe is so amazing, thick and creamy and the best part is you only have to whip the cream, add the sweetened condensed milk, the mix-ins and freeze!
No cook ice cream recipe. Needless to say I'm making things easy on you! Not only do you not need an ice cream machine, but you also don't have to worry about cooking anything on the stove! This no-churn Oreo ice cream recipe doesn't have eggs you have to temper, sugar you have to dissolve, etc. It's as easy as whipping cream, adding a few more ingredients and freezing!
Packed with Oreos. A favorite ice cream flavor of mine is Cookies and Cream ice cream. This Oreo ice cream recipe is packed with Oreo crumbs as well as chunks of Oreos. Doing this means the Oreo flavor permeates the entire mixture and yet you get those deliciously big chunks of Oreos in each bite!
Ingredient Notes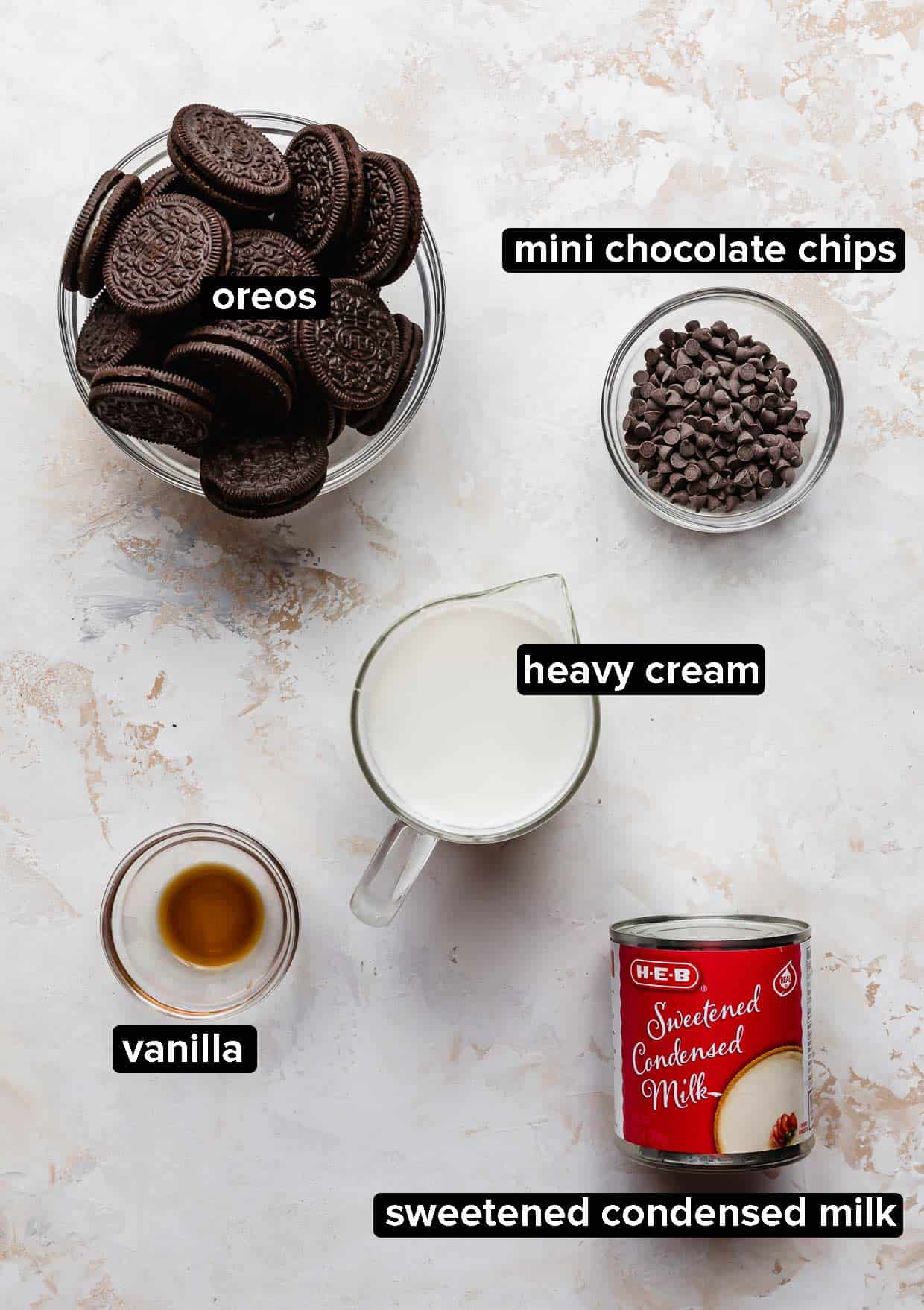 Oreos: You can use double stuffed Oreos or regular Oreos, whichever you prefer. If you use double stuffed, jut note there will be more of the cream filling from the Oreos. We'll crush some of the Oreos into fine pieces and the rest leave in larger pieces.
Heavy Whipping Cream: You want heavy cream to help make the ice cream. This recipe won't work with half and half. I haven't made this recipe with Cool whip, so I recommend using heavy whipping cream and making your own whipped cream for the Oreo ice cream.
Sweetened Condensed Milk: The sweetened condensed milk provides the sweetness for the Oreo ice cream recipe. It's better than using regular granulated sugar so you don't have the grainy texture from the sugar. The sweetened condensed milk will also help keep the texture of the no churn Oreo ice cream smooth.
Vanilla Extract: The vanilla extract creates the vanilla ice cream base.
Mini Chocolate Chips: This is optional, but I highly recommend it! It adds the perfect crunch and texture to the no churn Oreo ice cream!
Step-by-Step Instructions
Crush the Oreos. Add 10 Oreo cookies to a food processor (or to a ziplock bag and use a rolling pin to crush). Pulse until fine. Remove and place in a bowl. Add 15 cookies to the food processor (or coarsely chop). Pulse until in coarse chunks.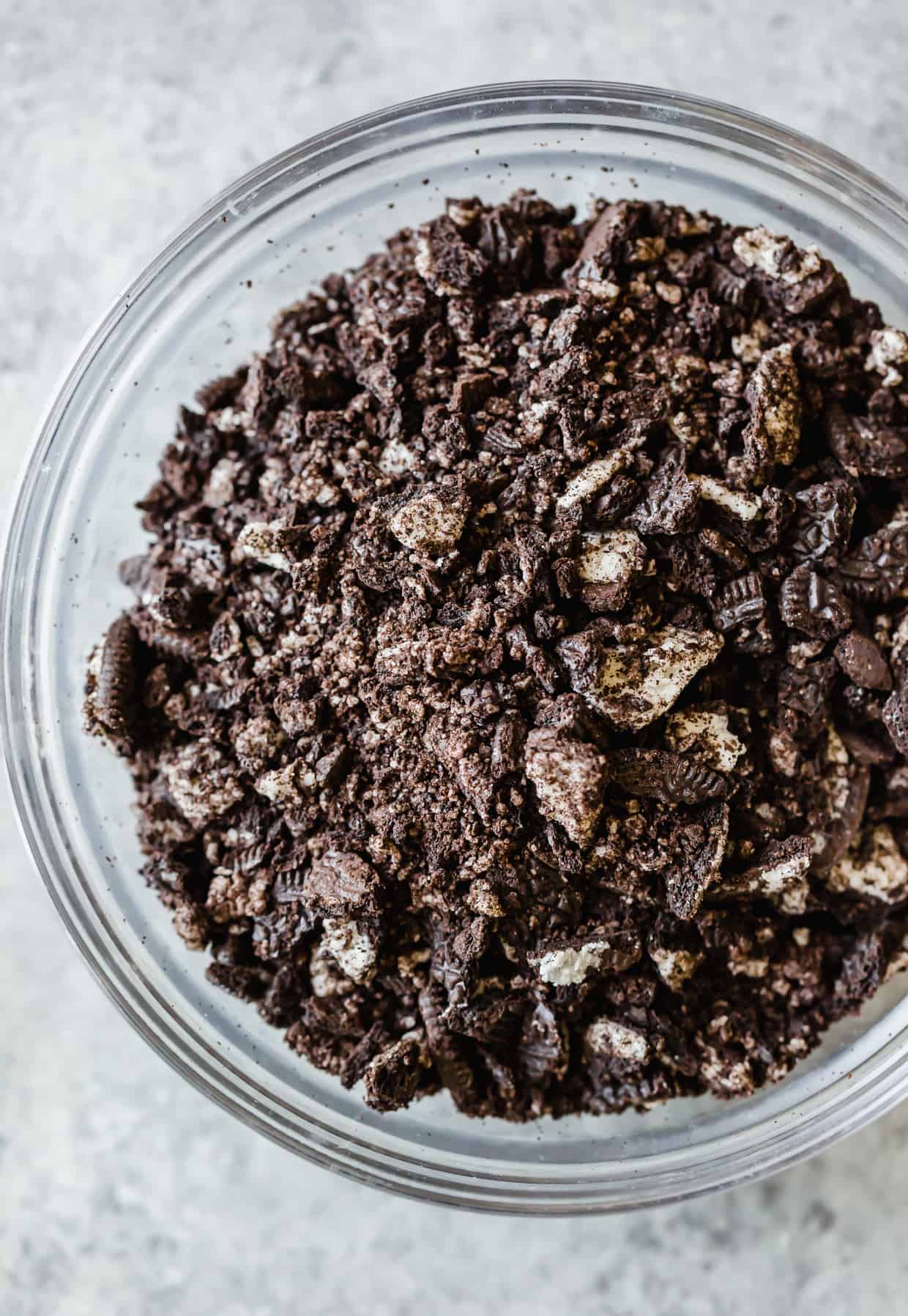 Whip the cream. Add the heavy cream and vanilla to a large bowl or stand mixer and beat on medium high speed until stiff peaks form (about 2-3 minutes).
Add the sweetened condensed milk. Fold in the sweetened condensed milk.
Add the mix-ins. Add the coarse Oreo chunks, crushed cookies, and mini chocolate chips to the mixture. Stir until combined.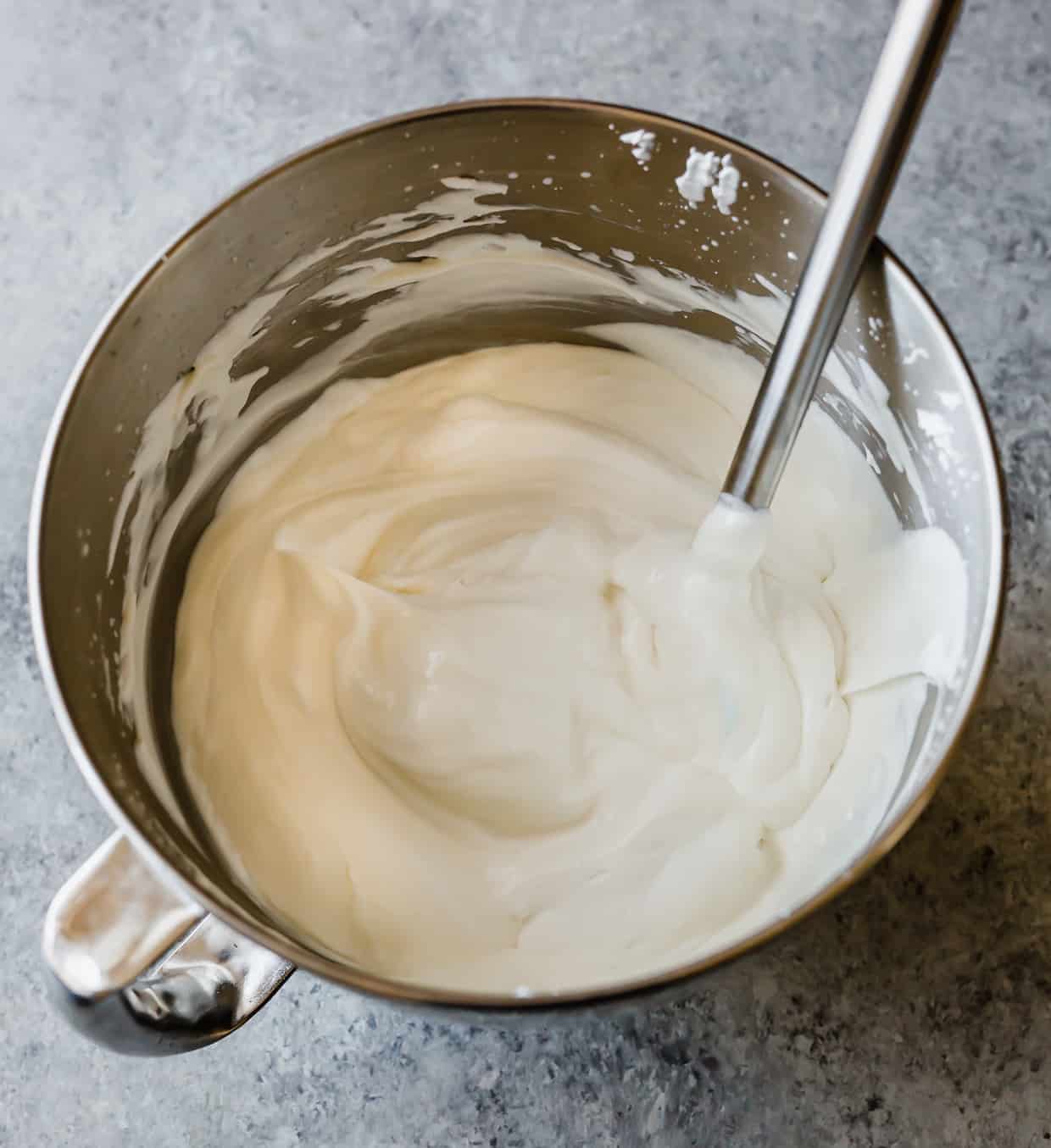 Freeze. Pour the no churn Oreo ice cream mixture into a freezer safe container or pan (I use a bread pan). Add additional mini chocolate chips and Oreo chunks to the top of the ice cream if desired. Freeze covered for 4-6 hours or overnight.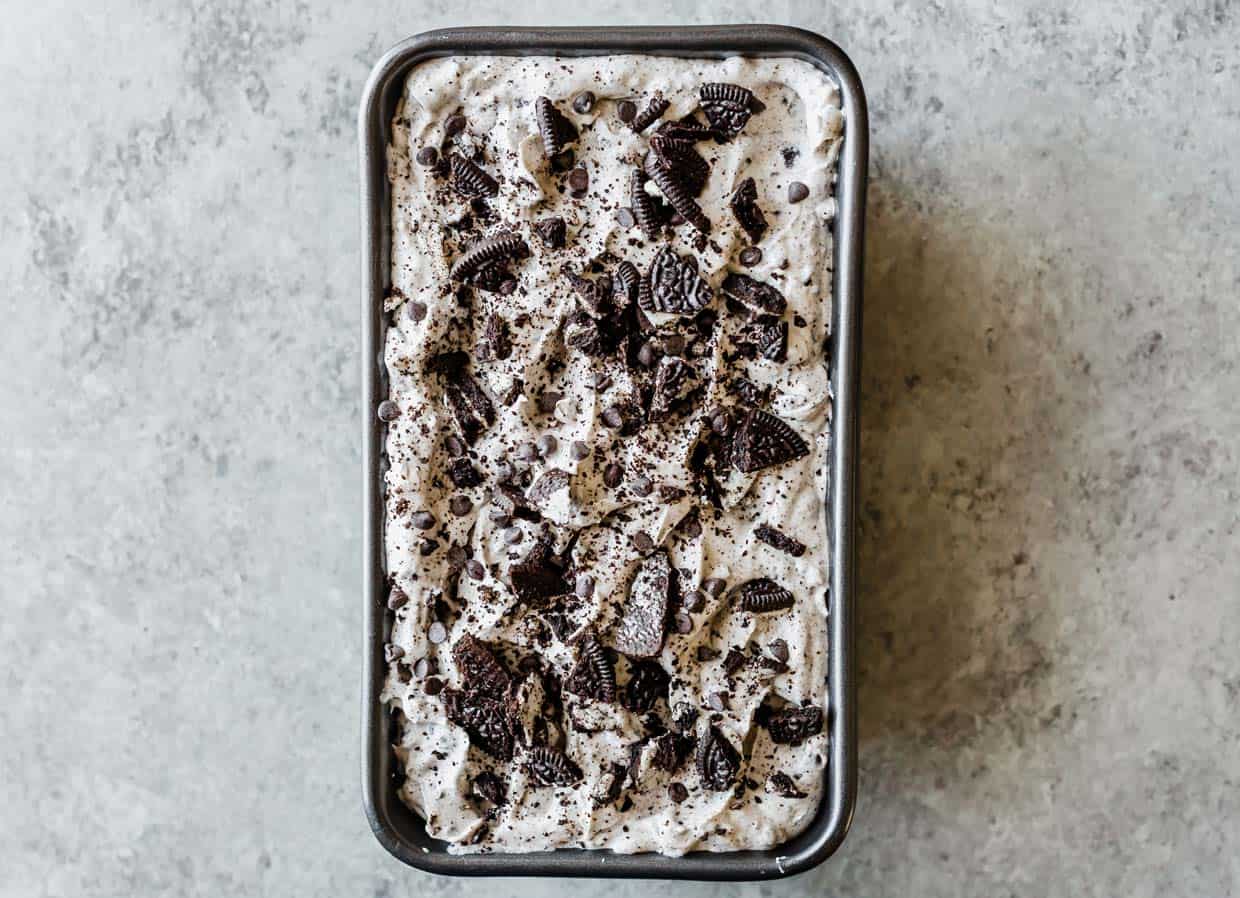 Recipe Tips
I also suggest you try making homemade vanilla ice cream, I have an amazing recipe! Readers have been going crazy for it. Or if you want chocolate ice cream, I have that too.
My Greek Yogurt Whipped Cream Fruit Bites recipe shares lots of tips for whipping heavy cream at home.
You'll want to whip the cream into stiff peaks — not soft peaks — in order to get the right texture of cream to freeze well.
Swirl in a bit of peanut butter for a delicious peanut butter Oreo flavor!
Make Ahead, Storing, and Freezing
This is a make ahead recipe! Homemade cookies and cream ice cream without ice cream maker will take longer than if using an ice cream machine because you have to let it freeze longer. However, the prep time for this recipe is just 10 minutes!
Store this no churn cookies and cream ice cream in a freezer safe container in the freezer for up to 2 months. Be sure to keep it covered as well as possible or in an airtight container to reduce the risk of freezer burn.
Do not store the ice cream in the fridge 🙂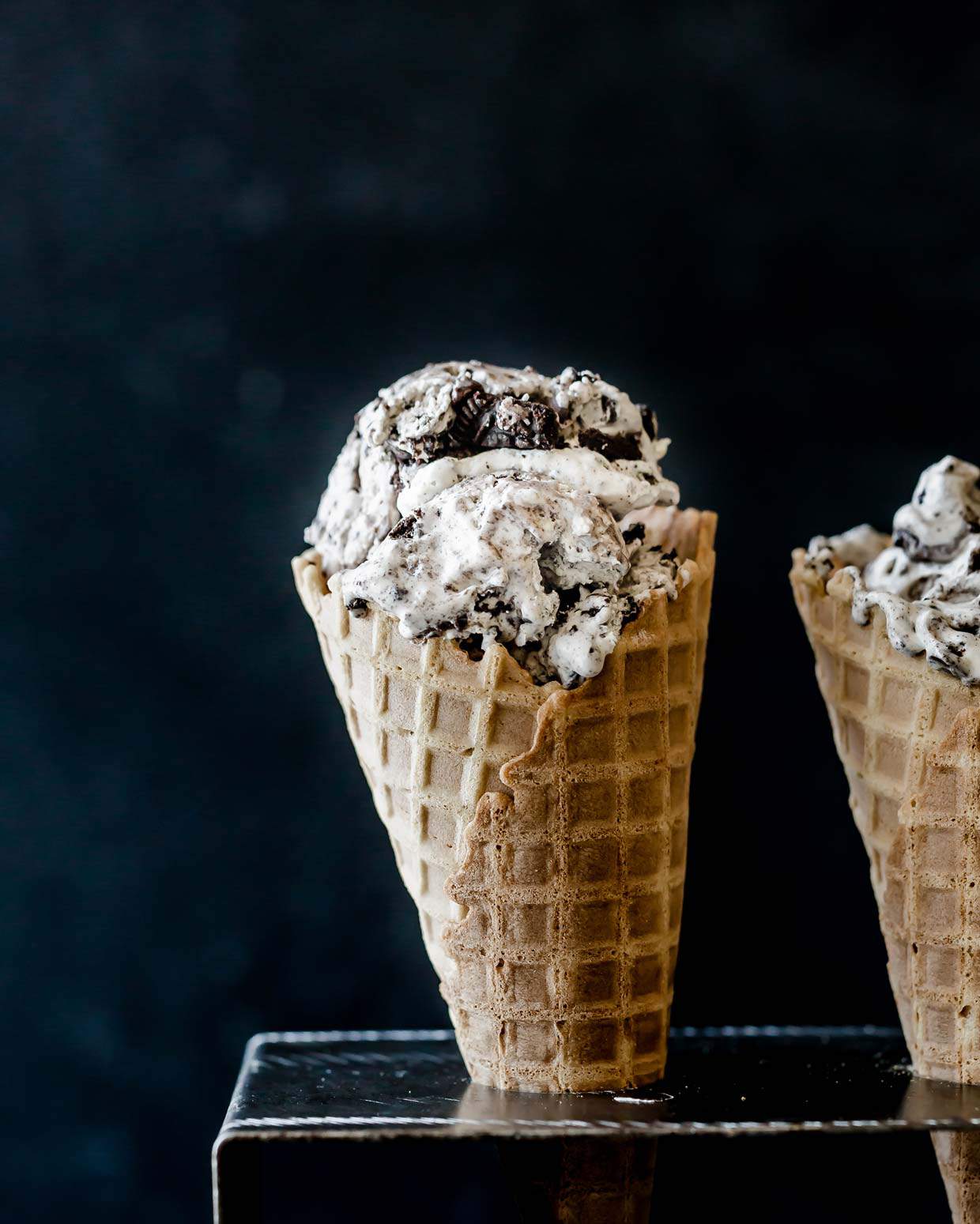 Recipe FAQs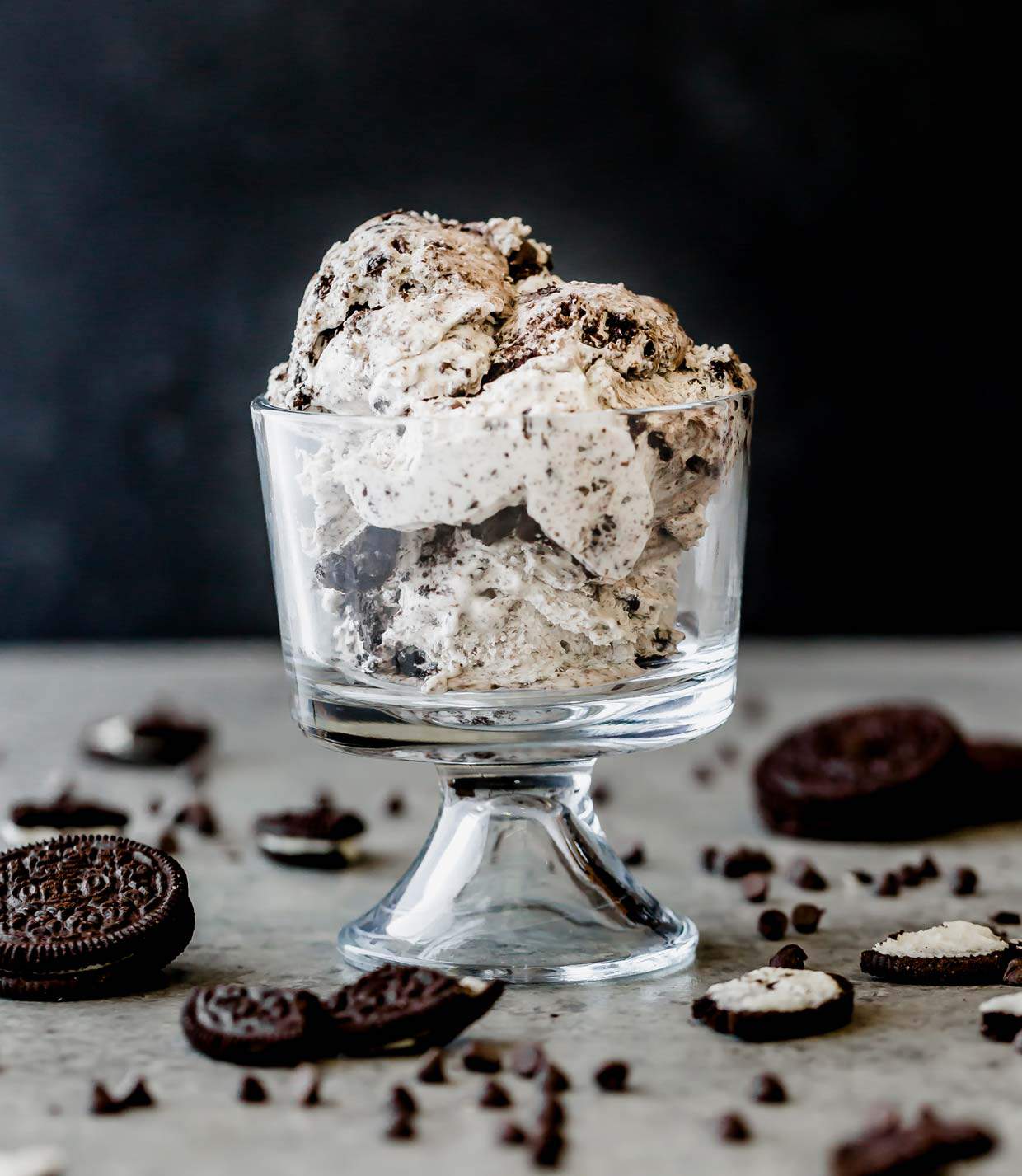 More Oreo Recipes
No Bake Oreo Dessert
(Crumbl Copycat) Chocolate Oreo Cookies
Oreo Donuts
Homemade Oreo Cookies
Oreo Red Velvet Cake
For more information, please see more information about Ice cream with oreos