Fresh in-season strawberries are perfectly sweet in this simple 4 ingredient no-churn strawberry sherbet recipe. Perfect for dessert on a hot day, as an afternoon snack, or when that sweet tooth craving kicks in. What makes it even better is that no ice cream machine is needed. Make a batch and keep stored in the freezer until it is needed.
vegan. dairy-free. gluten-free. naturally sweetened.
Ingredients For Sugar -Free Strawberry Sherbet
Jump to:
Ingredients For Sugar -Free Strawberry Sherbet
How To Make Without An ice Cream Maker
Storing Strawberry Banana Sherbet
Tips, Tricks and Substitutions
Serving Suggestions
Need More Strawberry Treats?
Frequently Asked Questions
Recipe
Simple wholesome ingredients make this a frozen treat that can be whipped up any time that sweet craving kicks in.
For this easy recipe you are going to need:
ripe strawberries: the more ripe a strawberry is, the sweeter it becomes. Pick strawberries in the peak of strawberry season for the best results;
frozen bananas: instead of whipping up that loaf of banana bread next time you have a bunch of bananas ripening too quickly on the bench, cut them into chunks and freeze them for a batch of this sherbet, or to throw into smoothies etc
maple syrup: look for pure maple syrup, not maple-flavored syrup. You can also sub with another liquid sweetener of choice, such as agave syrup, or raw honey if prefered;
almond milk: why not make your own using this recipe: thick and creamy homemade nut milk, or sub in another plant-based, or dairy-based whole milk of choice.
Optional extras to switch things up in this easy dessert include vanilla extract, crushed freeze-dried strawberries for an extra pop of flavor, chopped white chocolate chips, a splash of pineapple juice, fresh lime juice, fresh lemon juice, chopped lemon, or any other add-in to suit your fancy.
I use a small amount of maple syrup as I find there is enough of a sweet flavor from the fruit, but feel free to add more if you like it sweeter.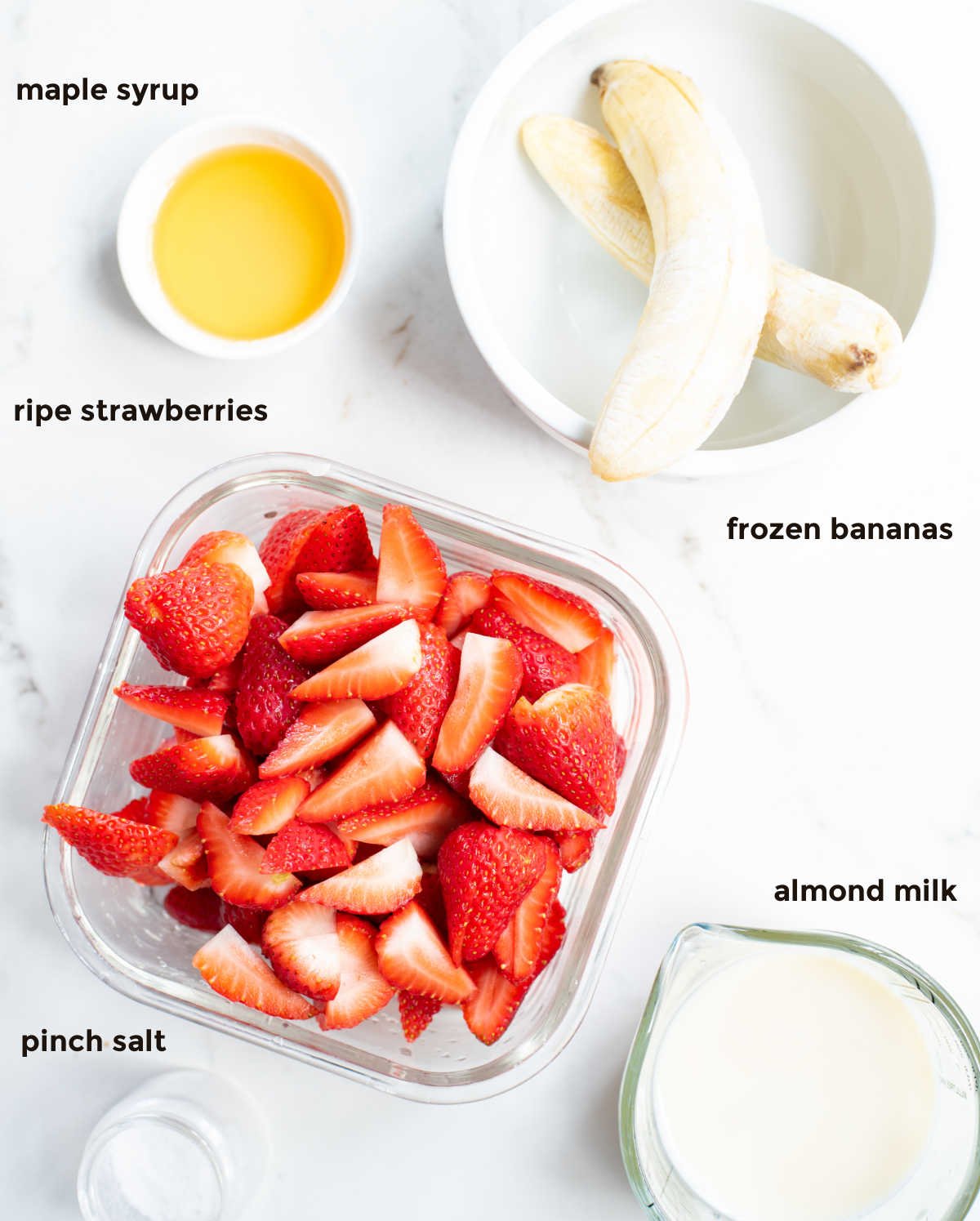 How To Make Without An ice Cream Maker
The thing I love most about this easy strawberry sherbet is the fact that no ice cream maker is needed.
You are going to need a food processor, and a freezer-safe container for storage and that's it.
Also read: Easy Ice Cream Maker Strawberry Sorbet – Searching for Spice
Too easy.
Simply add all of the ingredients to the jug of a food processor and process until completely smooth, with no chunks or bits of fruit.
Transfer to an appropriate container and store in the freezer for a couple of hours to firm everything up.
Serve and enjoy.
Remove the sherbet mixture from the freezer about 5 minutes before serving for easier scooping.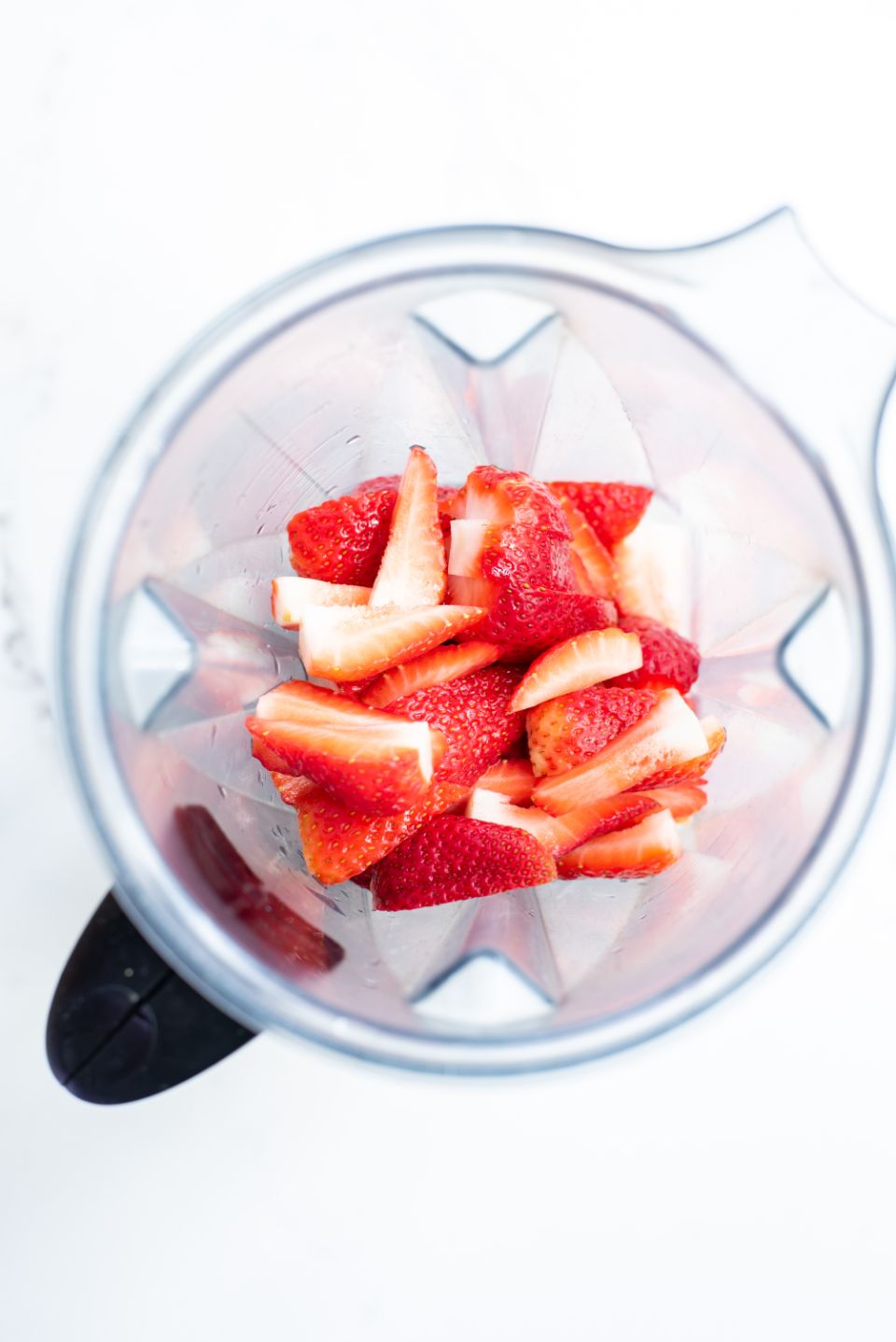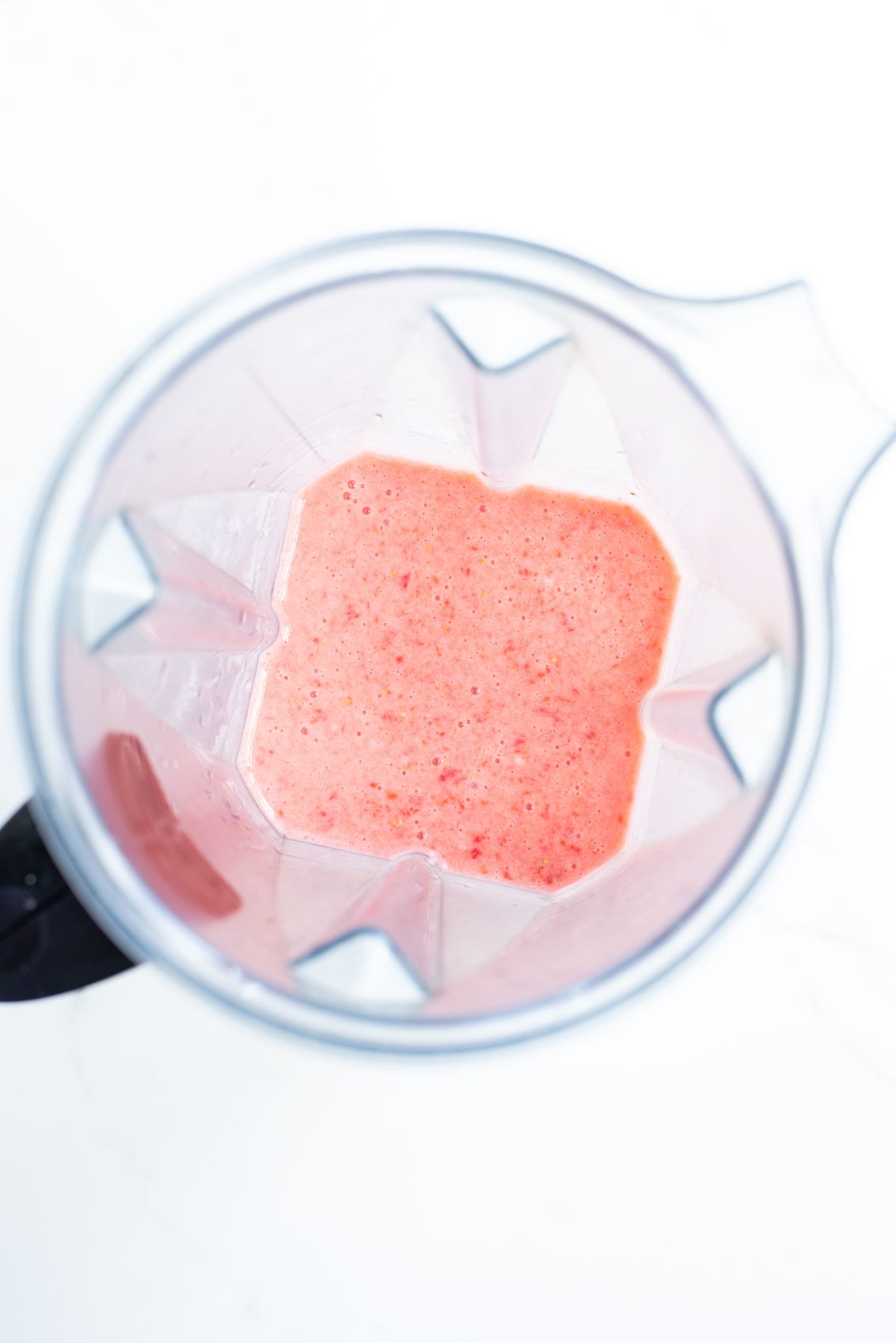 Storing Strawberry Banana Sherbet
Keep the sorbet mixture stored in the freezer in a proper freezer container until needed.
Be sure to remove from the freezer at least 5 minutes before serving to make the sherbet easier to scoop.
Leftover sherbet should keep in the freezer for about one month.
Also read: Homemade Strawberry Sherbet – 5 Simple Ingredients!
After this time the consistency of the sherbet may change and become too icy and unappealing.
Tip: Be sure to store in an airtight container in the freezer so that the ice cream does not take on other smells from items stored in there.
Tips, Tricks and Substitutions
Strawberries
Hull the strawberries by using a reusable straw to push through the strawberry from the bottom.
If you do not have a reusable straw you can simply use a knife to hull the strawberries and use the off-cuts to make some strawberry flavored water.
To send this recipe over the edge, instead of using the fresh fruit, why not use easy-baked strawberries to add an intense sweetness.
You could also use a fruit puree if strawberries are not in season.
Adding a little lemon juice really brings out the strawberry flavor, and also helps to preserve the color of the banana, so think about adding a little squeeze.
Almond Milk
If you do not need this recipe to be vegan you could substitute some heavy cream in place of the milk to give it a more luxurious and creamy texture.
Serving Suggestions
Also read: Easy Strawberry Sorbet Recipe (without an ice cream maker)
Serve homemade sherbet any way you would serve any other ice cream or sorbet.
Why not try out some of these fun suggestions:
use a scoop in this strawberry milkshake recipe with real strawberries in place of the vanilla ice cream
scoop sherbet into a waffle cone or sugar cone
serve in a bowl topped with some fresh berries
serve up with a scoop of no churn homemade peach ice cream for a fun color and flavor combination.
Sprinkles are always a good idea too.
Need More Strawberry Treats?
We love using fresh in-season strawberries in our baking and sweets.
Try some of these recipes next:
Dark Chocolate Covered Strawberry Cheesecake Bites
Baked Strawberry Crumble in Mini Mason Jars
Naturally Sweetened Strawberry Rhubarb Compote
Frequently Asked Questions
If you loved this delicious dessert or have a question then be sure to leave a 5-star rating on the recipe card or leave a comment below.
Happy Eating.
xx
Recipe
The information shown is an estimate provided by an online nutrition calculator. It should not be considered a substitute for a professional nutritionist's advice.
For more information, please see more information about Strawberry sherbet ice cream