If you're a fan of mint desserts, you'll absolutely love this homemade mint cookies and cream ice cream recipe. It's a go-to family favorite that can be whipped up in just a few minutes. The best part? No cooking required! With this recipe, you won't need any eggs or hand mixers. It's a hassle-free way to create a creamy delight that rivals even the famous Ben & Jerry's ice cream.
Are you a fan of no-bake recipes? Check out these 50 No Bake Recipes for more inspiration.
Ingredients
For the full list of ingredients and step-by-step instructions, refer to the recipe card below.
Milk: This recipe calls for whole milk and heavy whipping cream. It's recommended to stick with these ingredients to achieve the desired consistency.
Sugar: Granulated white sugar works best for this recipe.
Vanilla Extract: Don't skip the vanilla extract, as it adds a crucial flavor to the ice cream.
Peppermint Extract: This extract provides the mint flavor, but remember to measure it carefully. A little goes a long way, as adding too much could result in an overpowering toothpaste-like taste.
Salt: A pinch of salt enhances the overall flavor, but feel free to omit it if you're watching your sodium intake.
Food Coloring: Green food coloring is optional and purely for aesthetic purposes.
Oreos: Regular Oreos are recommended for this recipe, although you can also use gluten-free or mint Oreos if you prefer. Double-stuffed Oreos are not recommended.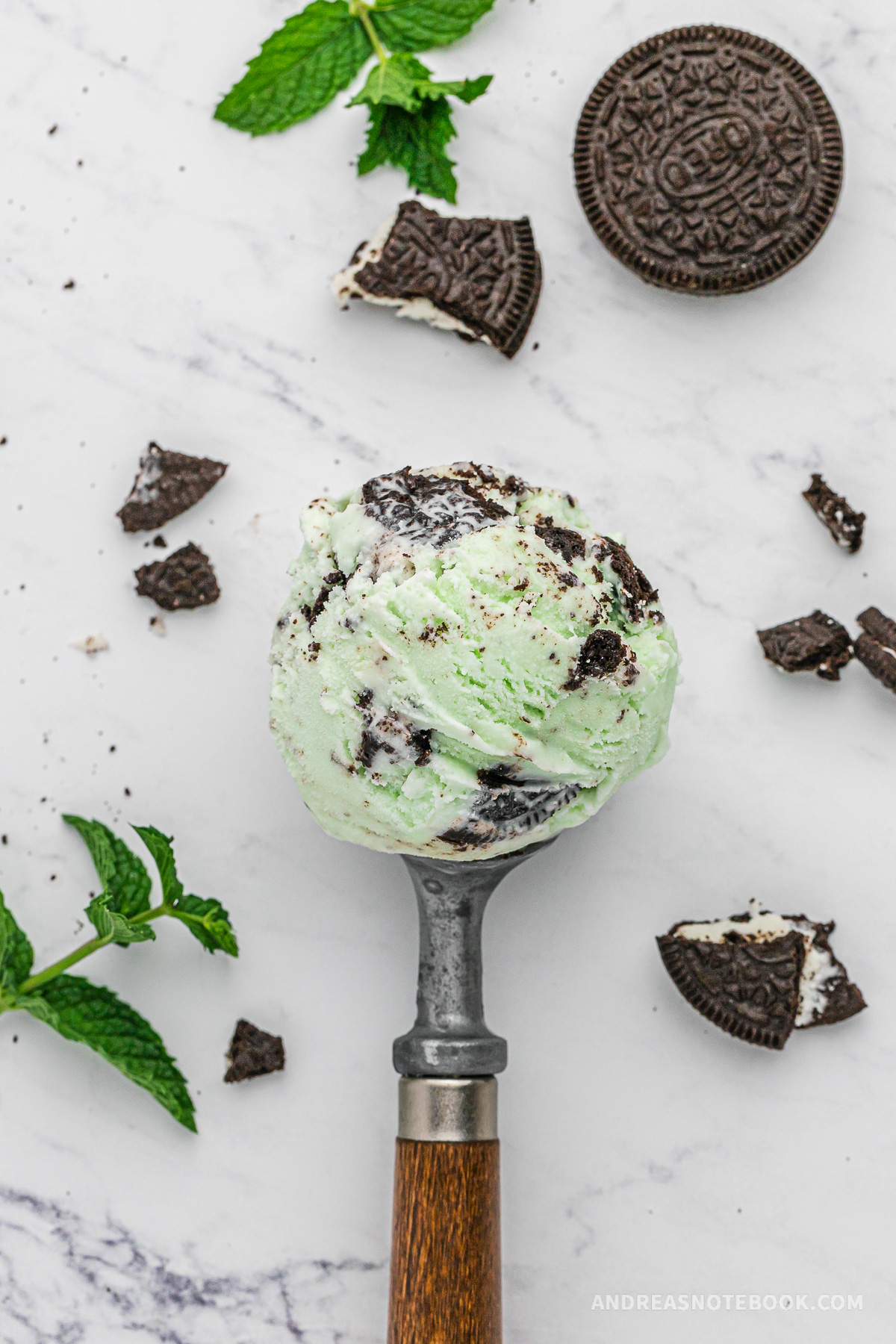 Instructions
For the detailed step-by-step instructions, please consult the recipe card below. You can easily print or save it for later reference.
Preparation: Gather all the necessary ingredients. Remember, green food coloring is entirely optional! Just make sure not to forget the mint extract. Since this recipe doesn't require eggs, there's no need to cook anything before churning.
Mixing: Combine all the ingredients, except for the Oreos, in a medium-sized bowl. Whisk thoroughly to ensure they are well combined. Pour the ice cream mixture into your ice cream maker and follow the manufacturer's instructions for churning.
Freezing: Add the crumbled Oreos to the ice cream in a large bowl, ensuring they remain in generously sized pieces. Freeze the mixture for at least 4 hours. To prevent freezer burn, use a freezer-safe container with an airtight lid or cover it tightly with plastic wrap.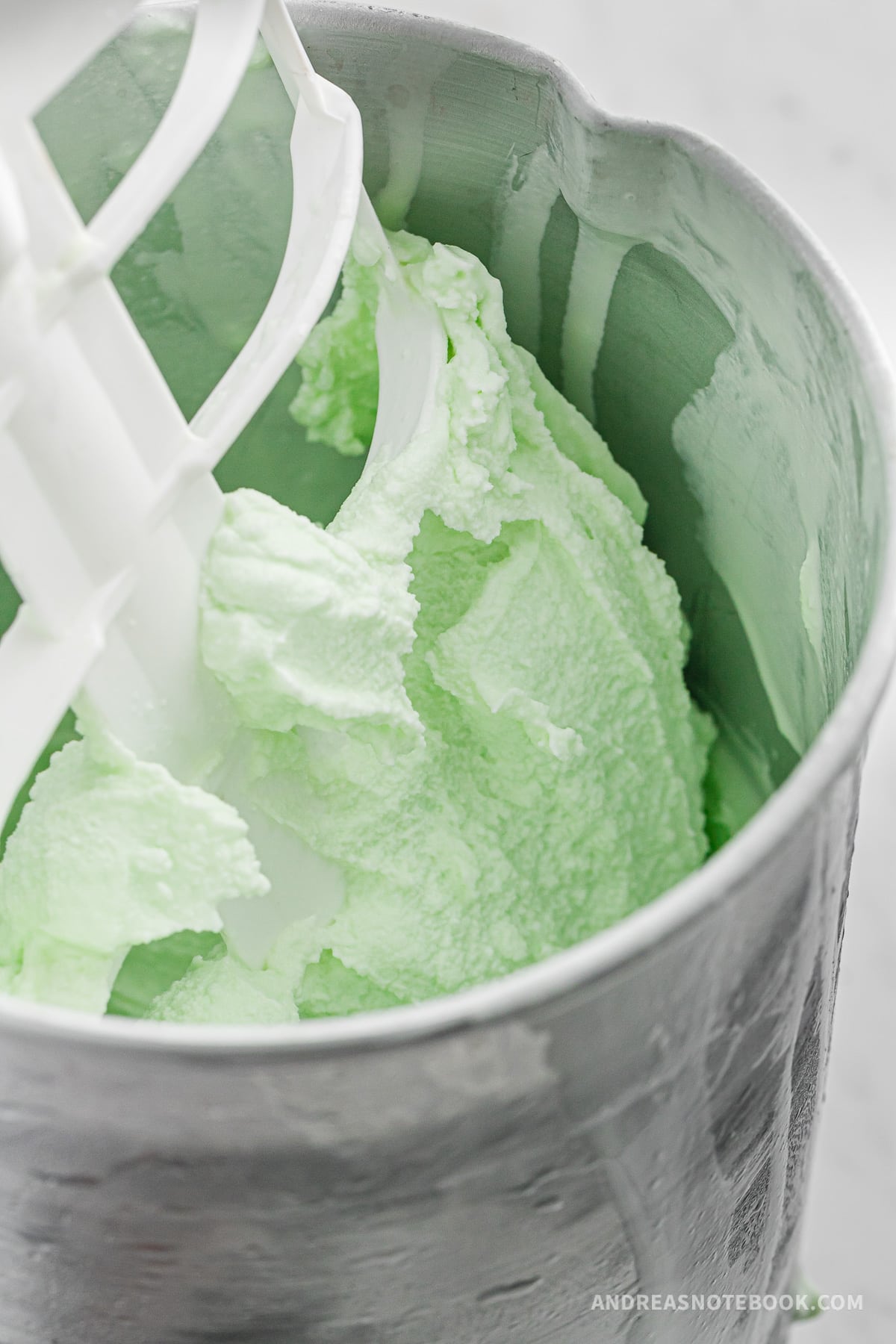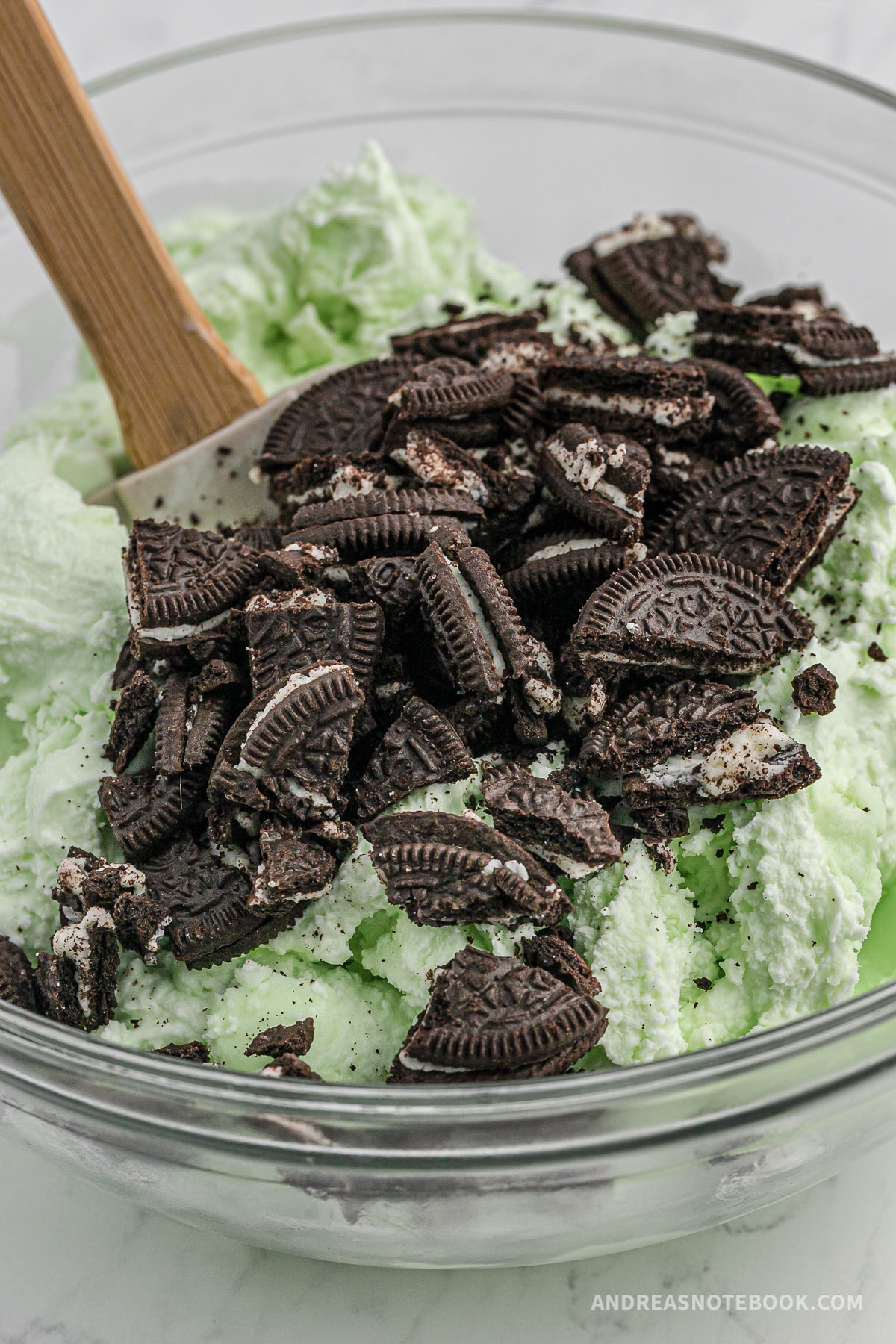 Tips for the Best Mint Cookie Ice Cream
To ensure the tastiest ice cream experience, follow these tips:
Stick to the type of milk specified in the recipe. Avoid substituting with alternative milks, as this recipe has not been tested with coconut milk or soy milk.
Measure the mint extract carefully. While we may be more lenient with vanilla extract, it's crucial to measure the mint extract accurately. Remember, a little mint goes a long way!
Whisk the ice cream mixture thoroughly to ensure all the ingredients are fully combined before pouring it into the ice cream maker.
Chop the Oreos into generously sized pieces. Discovering a big chunk of cookie is part of the fun of eating mint cookies and cream ice cream. When mixing the Oreos into the ice cream, ensure they are well incorporated throughout.
Freeze the ice cream for a minimum of 4 hours, or longer if possible. The ice cream will continue to firm up the longer it freezes.
Serving
Enjoy your mint cookies and cream ice cream in a bowl, on an ice cream cone, or even transform it into an ice cream cake. Alternatively, you can savor it straight from the container with a spoon!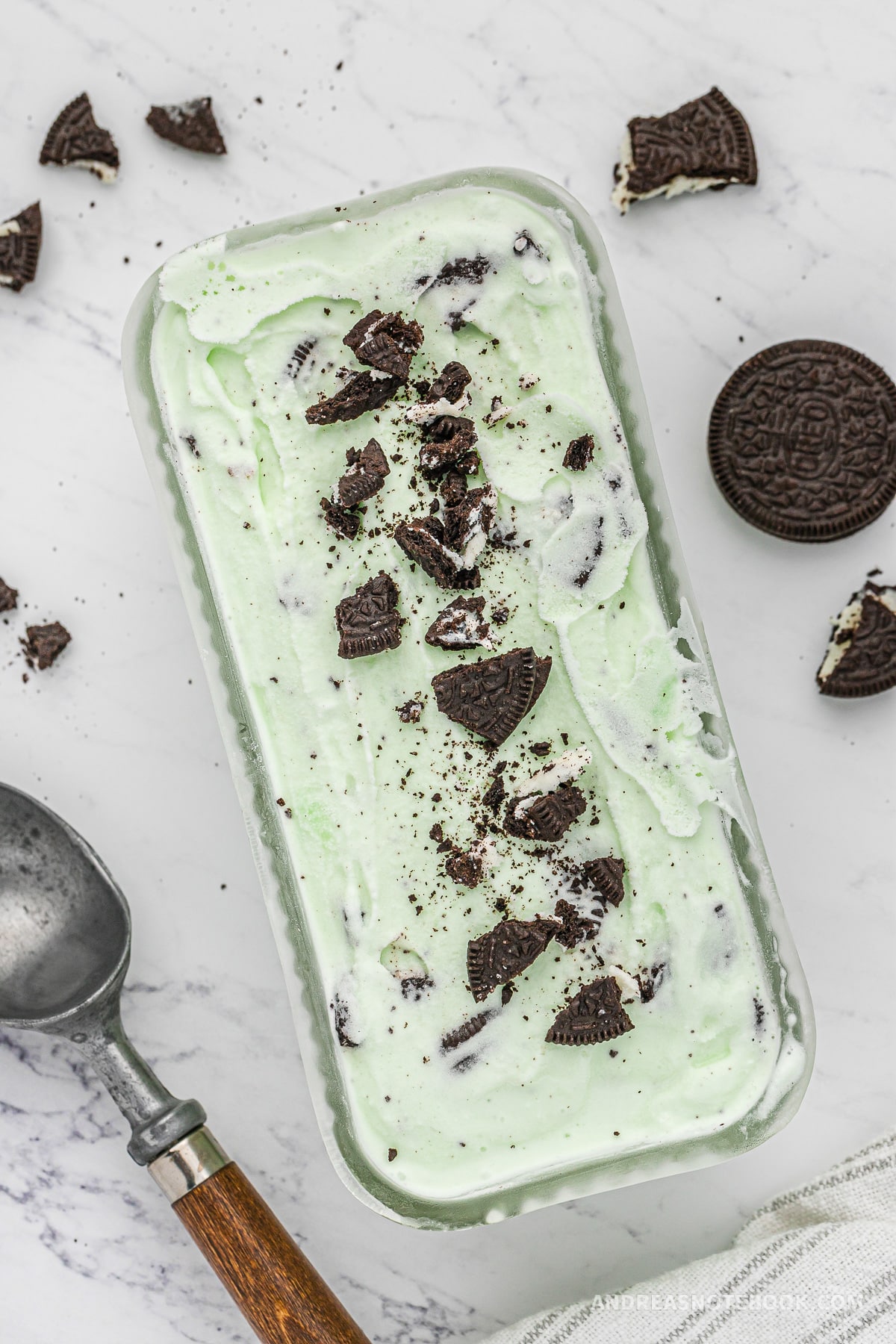 Don't miss our new Apple Pie Ice Cream recipe, which offers both churn and no-churn instructions.
Storing
To store your mint cookies and cream ice cream, use a freezer-safe dish with a lid or a loaf pan covered in plastic wrap. Ensure there is minimal air above the ice cream to avoid freezer burn. If the ice cream doesn't reach the top of the container, you can place a layer of freezer paper or another sheet of plastic wrap on top to prevent freezer burn, especially for long-term storage. This ice cream can be stored for up to 3 months.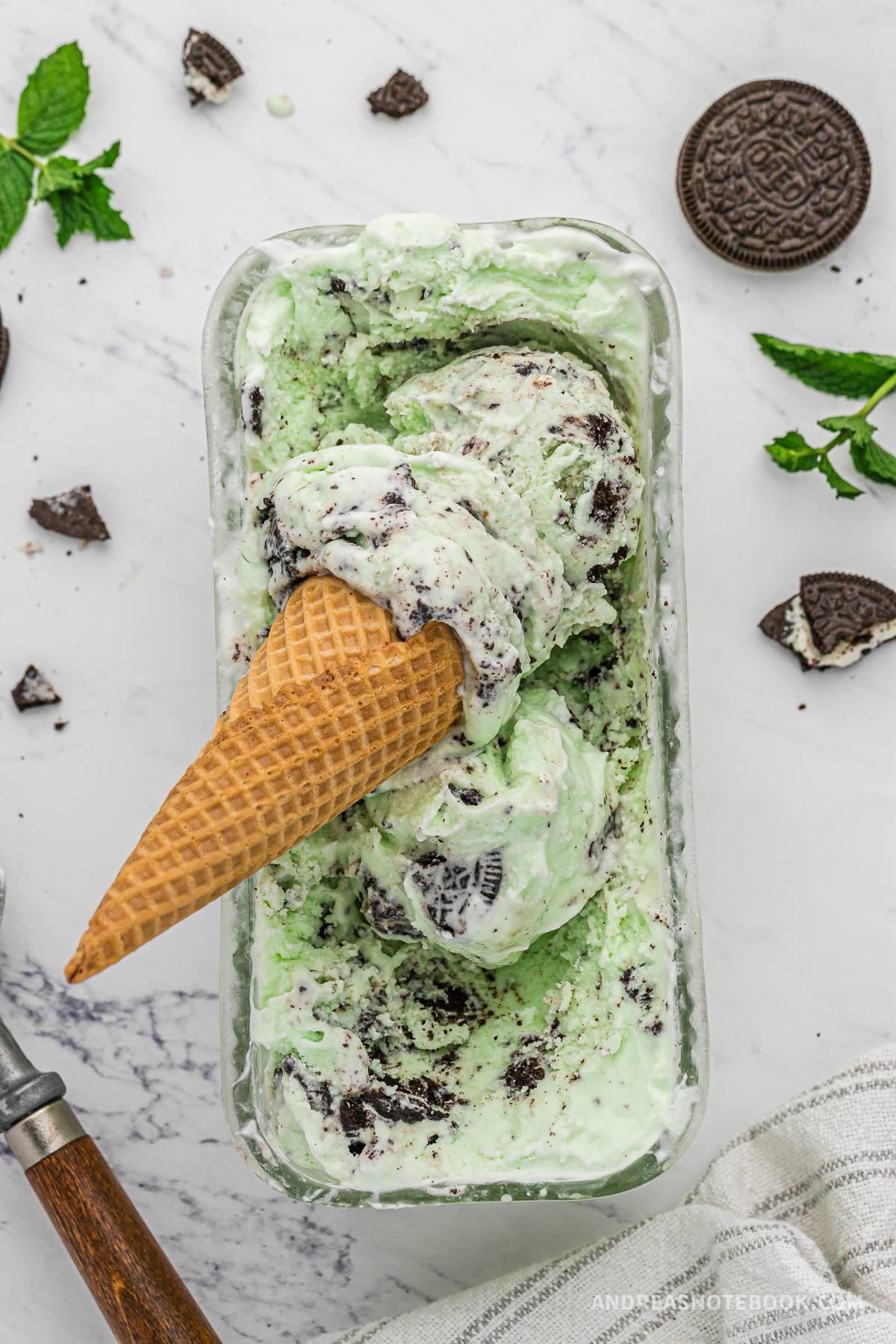 Common Questions
More Mint Recipes You'll Love
The World's Best Peppermint Bark
Peppermint Patties
Mint Chocolate Fudge
Chocolate Mint Truffles