Updated for 2022
The weather is amazing in Los Angeles all year long, which means any season is the right one for ice cream! Ice cream in Los Angeles is an art form, so we've done our best to gather what we think are some of the best ice cream shops in LA — and don't forget about popsicles. Just because there's only one National Ice Cream Day does not mean you can't have it any time you want. Go for it!
Ice cream is a treat we can totally get behind. Whether you're looking for vegan ice cream, dairy ice cream, popsicles, paletas, in a cup, or in a cone — these terrific scoop shops in SoCal have what you're looking for.
The Best Ice Cream Scoop Shops in Los Angeles
Van LeeuwenMultiple locations around SoCal, including:The Point at El Segundo, 850 S. PCH, Store #1-F, El Segundo, CA 90245Silver Lake, 2925 W. Sunset Blvd., Los Angeles CA 90026
This company started as a food truck in New York City in 2008. Since then, it has grown and now has locations spread all across the country. Van Leeuwen's dairy ice cream uses extra egg yolks for extra goodness, which means it needs to be called, "French Ice Cream," according to some authorities. But we think it's fine for you to call it anything you want.
Van Leeuwen is known for changing its flavors from season to season, so be on the lookout often for new products to try!
Afters Ice CreamMultiple locations around SoCal
Afters Ice Cream is known as the home of the Milky Bun — a singular creation involving ice cream and a glazed bun (something like a donut but without the hole) that's apparently not to be missed. The brand is also super popular on Instagram, and they've got a ton of very creative flavors.
Carmela Ice Cream2495 East Washington Blvd., Pasadena, CA 91104
Also read: The 10 Most Insane Ice Cream Shops You Must Visit In Los Angeles
Established in 2007, Carmela offers artisan ice cream and sorbets with seasonally inspired flavors such as basil and lavender honey from locally grown and organic herbs, spices, and flowers. Everyday flavors include Brown Sugar Vanilla Bean, Lemon Basil Sorbet, and Strawberry Buttermilk, while seasonal flavors can include Brown Butter Sage and Pear Champagne Sorbet.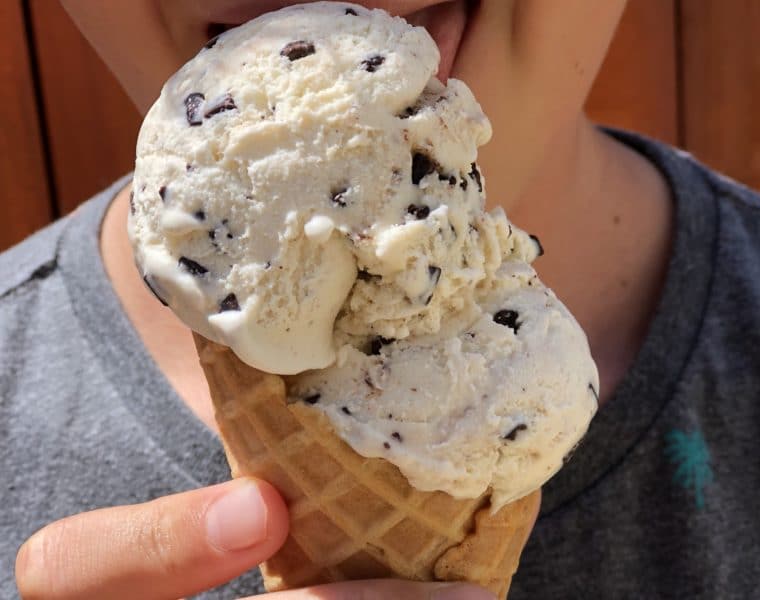 Coolhaus8588 Washington Blvd., Culver City, CA 90232
Coolhaus began as a food truck and became so popular, so quickly that they opened shops in Culver City and Pasadena (the Pasadena site has since been closed). Their ice cream parlors are known for selling gourmet, handmade, and unique flavors such as Guinness Chip, Chicken and Waffles, and Lucky Charms.
Creamistry6150 Laurel Canyon Rd., Ste. 135, North Hollywood, CA 91606
Creamistry serves made-to-order Liquid Nitrogen Ice Cream, which means it's about as fresh as possible! Choose your base, flavors, and toppings — it's all customizable there! They have multiple locations around SoCal.
Fosselman's1824 West Main Street, Alhambra, CA 91801(626) 282-6533
A family-owned and operated business, Fosselman's has been scooping the most delicious ice cream to customers for over 100 years. Completely family-friendly, the kids will love the candy selection and you'll love the 48 ice cream flavors to choose from.
Related: The Best Birthday Cakes in Los Angeles
Ginger's Divine Ice Cream and PopsTwo locations including:12550 W. Washington Blvd., Los Angeles, CA 900668430 W. 3rd St., Los Angeles, CA 90048
Ginger is the person behind Ginger's Divine Ice Cream and Pops. She shops at local farmers' markets for fresh ingredients and makes all of the ice cream, cookies, and brownies the stores sell. The company is known for its amazing flavor combinations, Vegan ice cream, and seasonal flavors.
Handel's Homemade Ice CreamMultiple locations around SoCal including: 8850 Corbin Ave., Los Angeles, CA 91324
Launched in 1945 in Youngstown, Ohio, by Alice Handel, Handel's has grown and now includes locations all across the U.S. All of the ice cream flavors are made fresh daily in each location. Look for more stores opening in SoCal soon.
HONEYMEE3377 Wilshire Blvd., Ste. 116, Los Angeles, CA 90010
Also read: Beat the Heat: Best Ice Cream Shops Near The Pearl
HONEYMEE has a select menu offering, but don't let the small menu fool you: It offers sweet, smooth, all-natural ice cream. The subtle floral honey and not-at-all-icy soft serve is sure to be the subject of your summer food fantasies.
Jeni's Splendid Ice CreamMultiple locations in Los Angeles including:4751 Commons Way, Ste. A, Calabasas, CA 91302540 Rose Ave., Venice, CA 90291
Jeni's makes ice cream with a uniquely smooth texture and buttercream body, with flavors like Gooey Butter Cake, Caramel Pecan Sticky Buns, and Brambleberry Crisp, among many others. Jeni's is also a Certified B Corporation, which means they meet rigorous standards of social and environmental performance, accountability, and transparency.
McConnell's Fine Ice CreamGrand Central Market, 317 South Broadway, Los Angeles, CA 90013
For almost 70 years, McConnell's has been making their impeccable ice cream the same way — from scratch, in small batches. Ingredients include Central Coast grass-grazed milk and cream, pasteurized at their creamery at The Old Dairy, and the finest local, sustainable, and organic raw ingredients sourced from partner farms, artisans, and purveyors.
Dear Bella Creamery1253 Vine St. #12, Los Angeles, CA 90038
What if you crave ice cream but are staying away from dairy products? Head over to Dear Bella to get a couple of scoops of vegan ice cream right away! They've got flavors like Taiwanese Pineapple Cake, Mango Chamoy, Rocky Road, Birthday Cake, and so many more. They also have treats to go with their ice cream, like cakes, cookies, and even gluten-free waffle cones. It all looks so good!
Related: Get lunch at one of the best sandwich shops in Los Angeles
Magpie's SoftserveThree locations:Silver Lake — 2660 Griffith Park Blvd., Los Angeles, CA 90039Tarzana — 18971 Ventura Blvd., Tarzana, CA 91356Highland Park — 5049 York Blvd., Los Angeles, CA 90042
We were reluctant to add soft serve to a list of scoop shops, but this is not ordinary soft serve ice cream. Made from scratch by avowed ice cream lovers, Magpie's boasts flavors like Malted Milk Chocolate, Corn Almond, Hazelnut Coffee, Fresh Banana, and more. Vegan options and daily flavors are listed on their website.
Also read: 10 of the Best Ice Cream Places In Los Angeles – Local Anchor
Bonus: Soft Serve Pies.
Mateo's Ice Cream & Fruit BarsFour locations including:1250 S. Vermont Ave., Los Angeles, CA 90006
Mateo's opened in 1982 and now has more than 25 different flavors of ice cream and 26 different kinds of ice pops. They also have paletas made with 100 percent real fruit. Everyone in the family will find something they love at Mateo's.
Related: Find the Best Shaved Ice in Los Angeles
Rori's Artisinal Ice CreamMultiple locations including:910 Montana Ave., Santa Monica, CA 90403
Rori's Artisinal Ice Cream is made in small batches using local California Central Coast milk products and local herbs and ingredients. Rori Trovato makes all of the delicious ice cream and cookie recipes for locations from Santa Monica to Carpenteria. Flavors include Malted Milk Ball, Lemon Curd, and Cinnamon Toast Cereal Crunch.
Salt & StrawMultiple locations including:240 N. Larchmont Blvd., Los Angeles, CA 90004
Cousins Kim and Tyler Malek's Portland based creamery, Salt & Straw, has gained fast popularity with their handmade fresh small-batch seasonal scoops here in Los Angeles. When they launched in LA, they crafted a new flavor just for us: a Meyer Lemon Buttermilk Custard with ribbons of blueberry jam served alongside some of their classics like Sea Salt with Caramel Ribbon and Cinnamon Snickerdoodle.
Sweet Rose Creamery225 26th St. #51, Santa Monica, CA 90402
Sweet Rose is a small-batch ice cream shop that focuses on local, organic ingredients and farmer's market fruits and produce — mainly from the Santa Monica Farmers Market. Sweet Rose pasteurizes on-site and makes all ice cream, sorbets, and dairy-free ice creams and cones on premises from scratch. They feature at least 5 classic flavors daily and 10+ seasonal flavors daily.
MomsLA is your source for Things to do with Kids in Los Angeles.
MomsLA is your source for Things to do with Kids in Los Angeles.
Disclaimer: MomsLA has made every effort to confirm the information in this article; however, things can often change. Therefore, MomsLA makes no representations or warranties about the accuracy of the information published here. MomsLA strongly urges you to confirm any event details, like date, time, location, and admission, with the third party hosting the event. You assume the sole risk of relying on any of the information in our list. MomsLA is in no way responsible for any injuries or damages you sustain while attending any third-party event posted on our website. Please read our Terms of Use which you have agreed to based on your continued use of this website. Some events have paid to be listed on MomsLA.
Through this article, we hope to help you understand Best ice cream los angeles