Here are the top best Butterscotch ice cream recipe public topics compiled and compiled by our team
No-churn Butterscotch Ice Cream is so easy to make with few ingredients and doesn't require an ice cream machine. Flavored with Indian butterscotch essence, this ice cream has chunks of praline and is so good on a hot summer day! You can make the ice cream base in less than 30 minutes!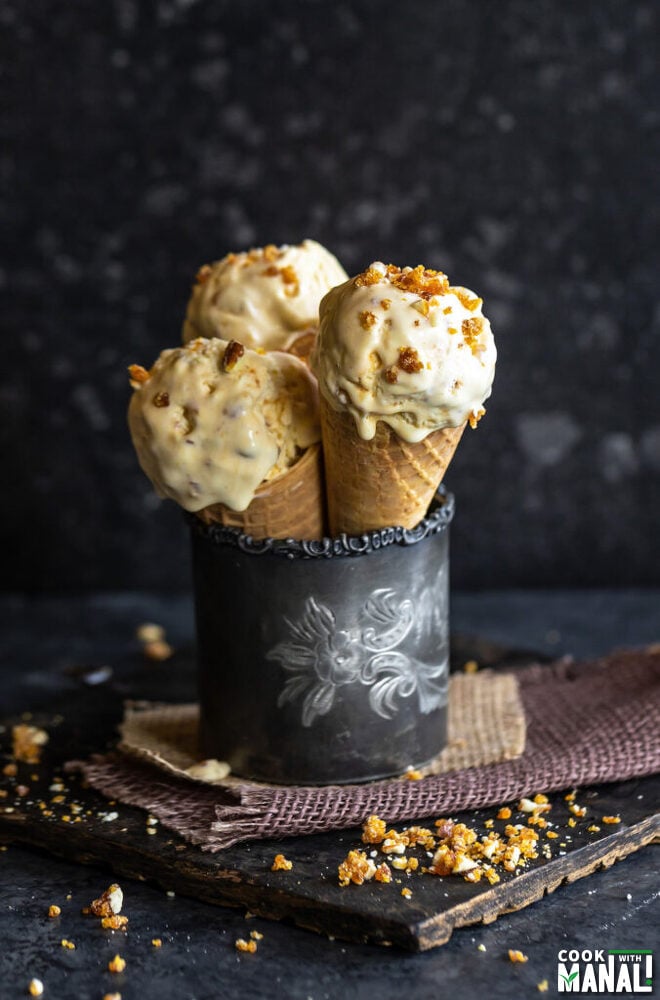 Butterscotch Ice Cream is very popular in India however we do not get it here in the US except at Indian ice cream stores. The butterscotch flavor in India is different from the butterscotch flavor in US. When I first moved to US, I remember getting very excited to find butterscotch chips and essence in grocery stores but when I tasted them I knew this was not what I was looking for.
Now, I do find Indian butterscotch essence in Indian grocery stories sometimes but back then, I would never find them anywhere. I remember buying bottles of the essence when I went back to India and bringing them with me. I have been making this butterscotch ice cream for many years now. I remember the first time I made it, Sarvesh was super happy about it. This is one of his favorite ice creams and he used to miss it badly here, well not anymore!
I am a huge fan of no-churn ice creams like this Kesar Elaichi Ice Cream. Granted they aren't as creamy as the ones made with a custard base and using a machine. But look at how easy they are! You can't beat the convenience part of it, you can literally make the base in 10 minutes and the possibilities and endless.
Why We Love Indian Butterscotch Ice Cream!
The Indian butterscotch ice cream is a creamy ice cream flavored with butterscotch essence and what makes it special is that swirled praline.
The praline is made with sugar and nuts where sugar is caramelized and then nuts are added to it and once it solidifies it's broken into small pieces and then added to the ice cream. Think creamy ice creamy with that toffee kind of flavor and when you bite into it, you get these chunks of praline. It's the perfect treat for a hot summer day or any day when you feel like having a ice cream.
We love this recipe because it's so easy! Just few ingredients, no ice cream machine needed and you can make this in less than 30 minutes (not counting the freezing time of course).
Ingredients
This is a no-churn ice cream and needs only few ingredients!
Heavy cream: the base for this no-churn ice cream is made with heavy cream. Look for anything which has a fat percentage of more than 35%. In US, you can easily find heavy cream at all grocery stores. Even in India, now heavy cream is more readily available compared to how it was before. The "Amul" cream that we commonly get it India is not heavy cream as it has lesser fat percentage.
Condensed milk: the sweetness in the ice cream is from the sweetened condensed milk. Usually, you would find 14 oz cans of condensed milk at stores, I used 3/4 of the 14 oz can of the condensed milk. If you prefer sweeter ice cream, you may use the entire can.
Indian butterscotch essence: you absolutely do need Indian butterscotch essence to make this ice cream. I am adding "Indian" here because we do get butterscotch essence in US as well but it's not the same. I have used "viola" brand butterscotch essence.
Milk powder: I like adding little milk powder to my ice cream base but if you don't have it, no big deal. You can skip it and it will still taste good.
Sugar & nuts: to make the praline, we need sugar and nuts. I use a mix of almonds and cashews but you may use cashews only here.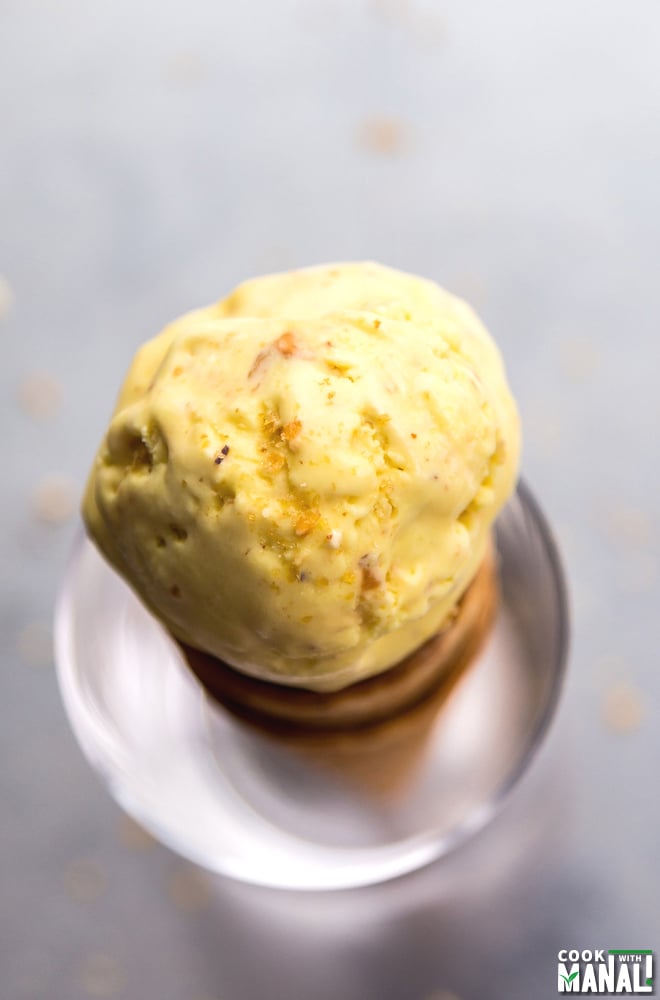 Step by Step Instructions
Before you start, chop the cashews and almonds and keep them ready to go.
1- Add sugar to a wide pan on medium-low heat. Don't stir it, at first the sugar will get clumpy.
2- But eventually it will melt completely and become smooth.
3- As soon as sugar melts and caramelizes (light golden in color), add the nuts to it. Stir to combine the nuts. Be very careful here, the caramelized sugar is very hot. Also sugar can burn very quickly once it's melted so as soon as it caramelizes, stir in the nuts and remove from heat.
4- Transfer the sugar nut mixture onto a parchment paper and let it cool down. You can also use a any bowl/plate here but make sure to grease it well before pouring the sugar mix into it. Let it cool and solidify completely.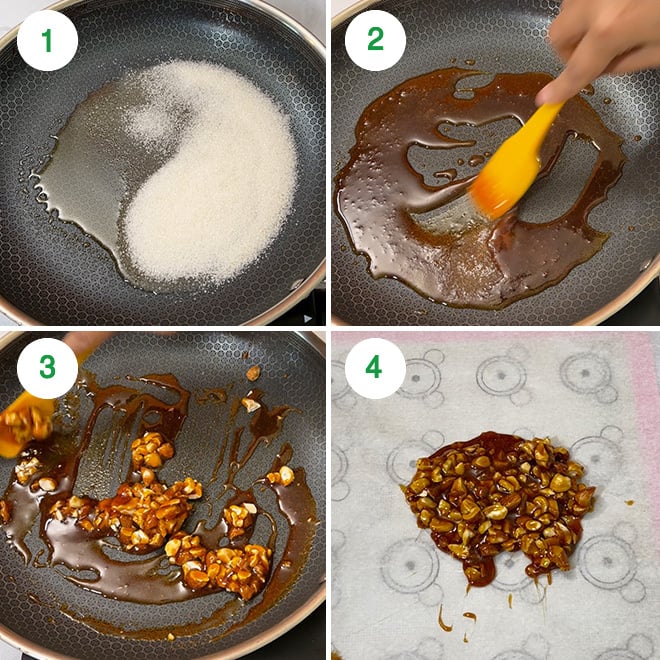 5- Once the sugar-nut mixture is completely set and hard, break it into few pieces and transfer it to a food processor. Pulse few times until you get a powder with some coarse pieces. Don't turn this into a fine powder, you want some big chunks of praline for texture. Set the praline aside.
6- Now take the mixing bowl of your stand mixer (or any bowl in which you are going to beat the cream) and keep it in the refrigerator along with the whisk attachment for 20 to 30 minutes. Then take out and add heavy cream to it. Using the wire whisk attachment of your stand mixer or using your hand mixer, beat the cream until it forms soft peaks. Set aside.
7- To a large bowl, add 3/4 of a 14 oz. can of condensed milk, milk powder and Indian butterscotch essence. Mix until everything is well combined. You can also add a drop of yellow food color here if you want.
8- Now add some of the whipped cream into the condensed milk mixture and fold it slowly using a spatula.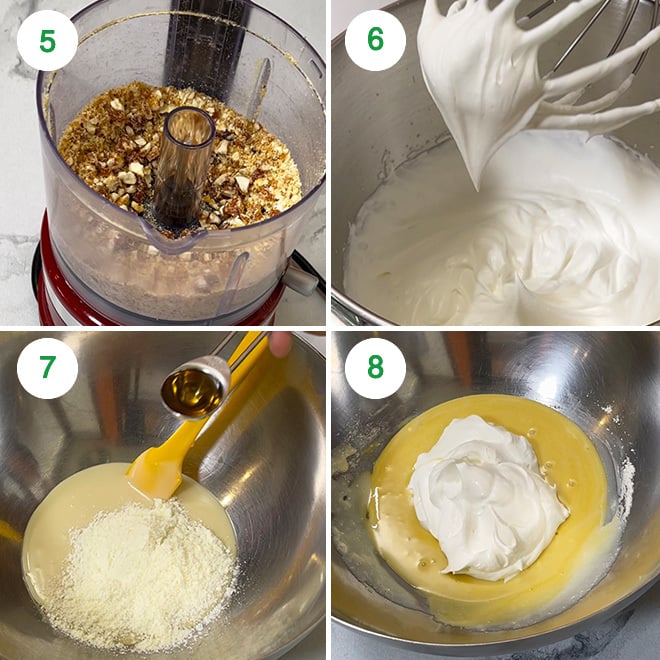 9- Add all the whipped cream into the condensed milk mixture in parts – mixing slowly after each addition. Don't mix very vigorously here.
10- Once the whipped cream and condensed milk mixture is well combined- add the prepared praline to it. You can reserve some to sprinkle on top while serving.
11- Mix using a spatula until all the praline is well mixed with the ice cream base.
12- Transfer the ice cream to an ice cream container or any container you want you freeze your ice cream in. Freeze for 6-8 hour or preferably overnight.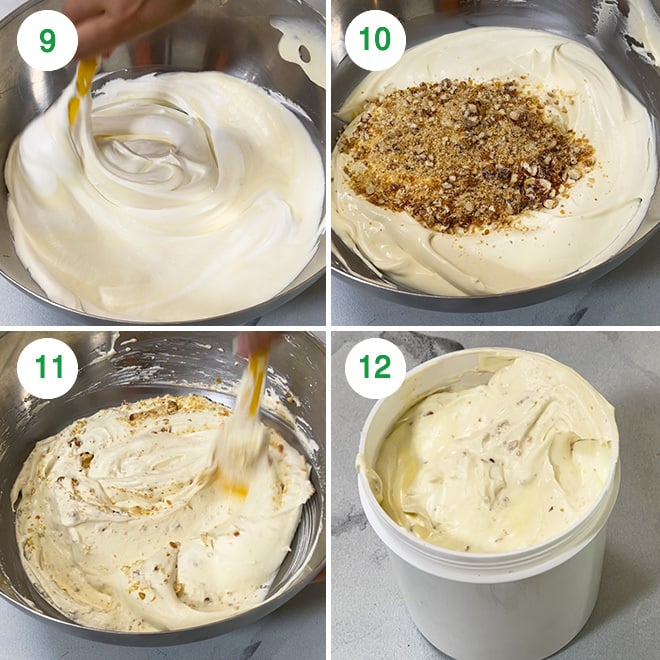 Serve butterscotch ice cream in cone or cup, you can sprinkle some of the reserved praline on top for extra crunch!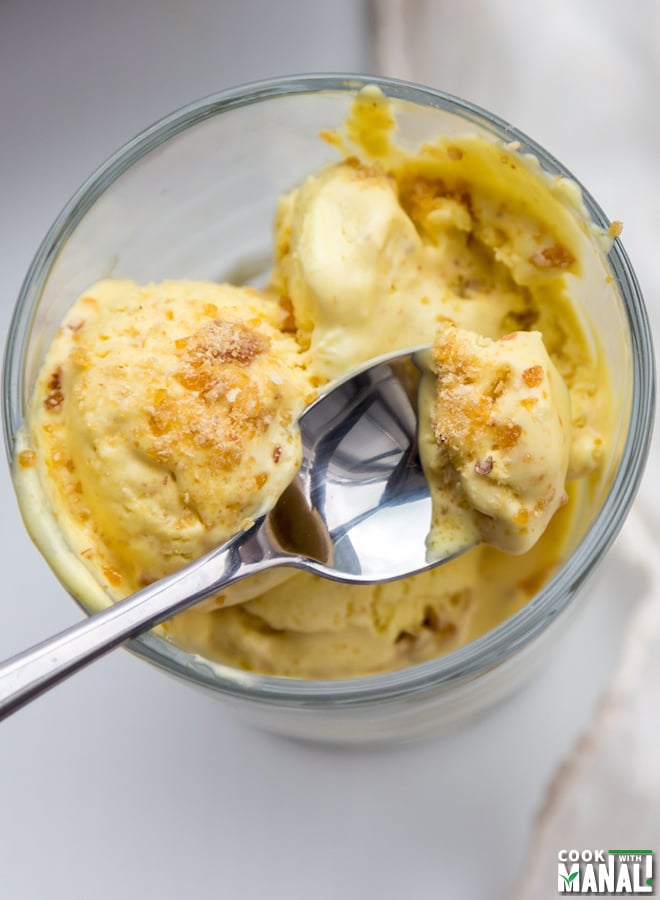 Tips & Notes
The butterscotch ice cream that we get it India is light yellow in color and that's why I added little food color in here. It's completely optional, the ice cream tastes awesome with or without the color!
I used only 75% condensed milk here (3/4 of the 14 oz condensed milk). You can very well add the entire can. Because we also add praline to this, I thought of not adding the entire can or it would make the ice cream too sweet for my taste.
For the praline, you may use only cashews if you want. But don't skip the cashews here.
Frequently Asked Questions
If you've tried this Recipe then don't forget to rate the recipe! You can also follow me on Facebook, Instagram to see what's latest in my kitchen and on YouTube to watch my latest videos.
This post has been updated from the recipe archives, first published in November 2014