This is not just your ordinary ice cream recipe. It's a delightful twist on the classic Spumoni dessert. By layering store-bought cherry, chocolate (or vanilla), and pistachio ice creams, you'll create a vibrant and flavorful treat that's sure to impress your guests or bring smiles to your family's faces.
What Is Spumoni?
Spumoni is an Italian dessert that hails from Naples. Traditionally, it consists of layers of ice cream with flavors like pistachio, cherry, and chocolate or vanilla. Candied fruits and nuts are also added to each layer for extra texture and taste. Unlike regular ice cream, Spumoni is typically sliced and served in bars, making it a unique and visually appealing dessert.
The BEST Easy Dessert!
Imagine a dessert that combines the flavors of cherry, pistachio, and chocolate or vanilla ice cream. Sounds heavenly, right? That's exactly what Spumoni offers. It's a medley of flavors that will leave your taste buds begging for more.
I first discovered Spumoni at a local Italian restaurant, and it was love at first bite. Now, I'm excited to share my own simplified recipe with you. The best part? It's incredibly easy to make. Forget about preparing different ice cream mixtures from scratch. Just pick up your favorite cherry, pistachio, and chocolate ice creams from the store, and you're ready to start. It's that simple!
How Is Spumoni Different from Ice Cream?
You might be wondering how Spumoni differs from regular ice cream. Well, Spumoni stands out due to its layered nature, unique flavor combination, and the addition of candied fruits and nuts. While regular ice cream is typically enjoyed in scoops with one or two flavors, Spumoni takes it to the next level with multiple layers of different flavors and textures.
Additionally, Spumoni can be made with either gelato or ice cream, but traditionally it's made with gelato. Gelato is churned at a slower speed than ice cream, resulting in a denser and smoother texture. It's also served at a slightly warmer temperature, enhancing the richness of the flavors.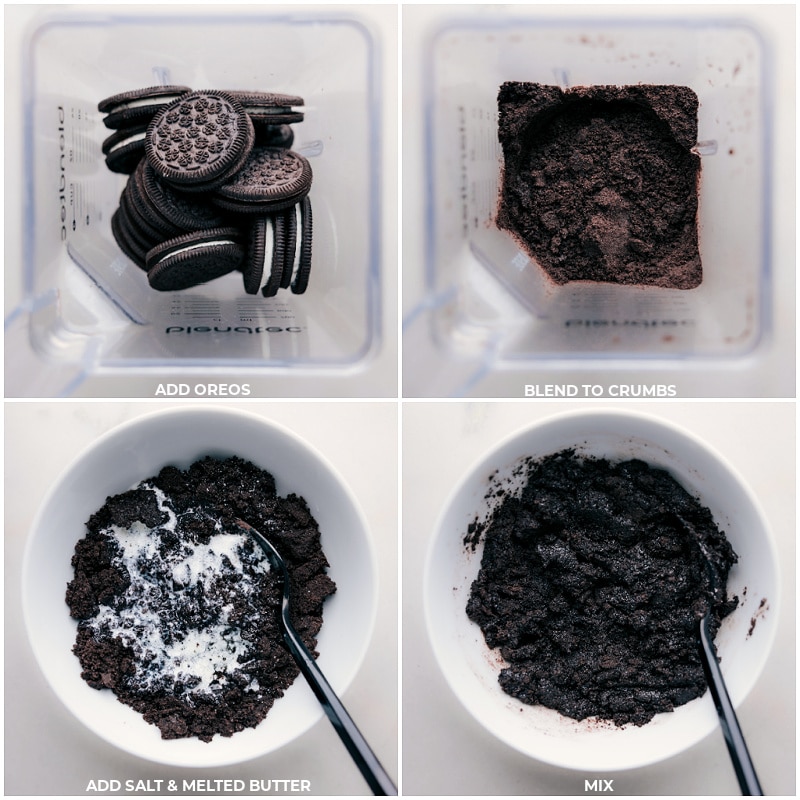 A Fun Addition: Oreo Cookie Crust
If you're looking to take your Spumoni to the next level, consider adding an optional Oreo cookie crust. The crust adds a delightful texture and flavor to the dessert, but it's entirely up to you whether you want to include it. Even without the crust, Spumoni remains a delicious treat. However, if you're aiming to add some extra pizzazz, the Oreo crust is a simple and tasty option. All you need is crushed Oreos and melted butter.
Here are a few tips:
Choose regular Oreos for the crust, avoiding Double Stuf or flavored variations.
Crush the Oreos finely to ensure the crust holds together well.
Firmly press the mixture into the pan to create a solid and even crust.
You can either bake the crust for a toasted flavor and firmer texture or chill it for a softer crust. The choice is yours!
Allow the crust to cool completely before filling it to prevent the ice cream from melting.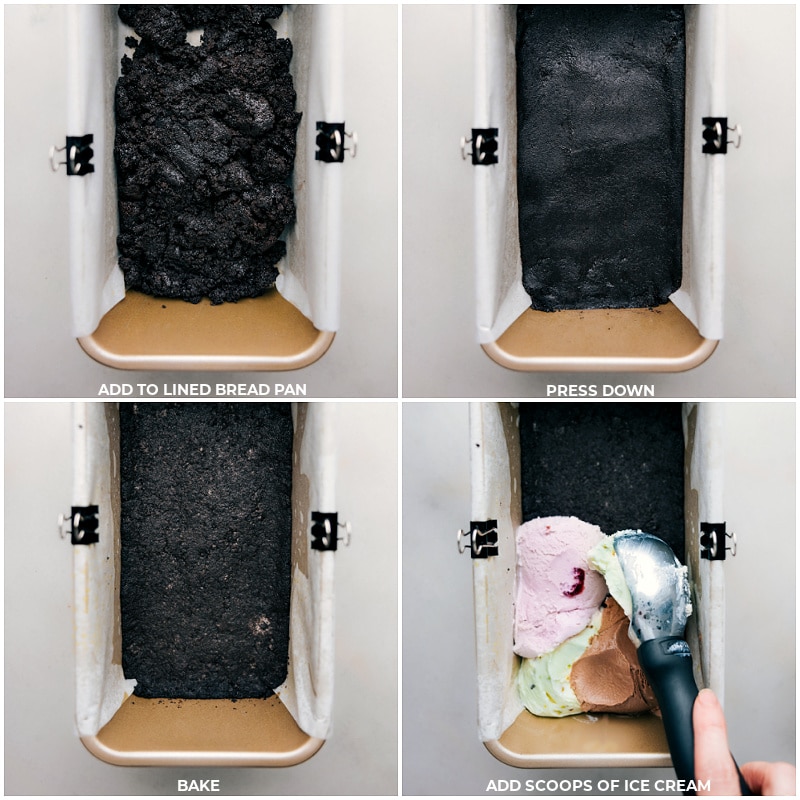 How To Make Spumoni (Tips)
To create the best Spumoni experience, here are some tips to keep in mind:
Use high-quality ice cream to elevate the flavor and texture of your dessert. Premium ice cream with better ingredients results in a richer flavor and creamier texture.
Press each ice cream layer firmly into the loaf pan to remove any air pockets. This will ensure a solid and even slice when serving.
Line your loaf pan with parchment paper for easy removal and cleanup.
Allow the Spumoni to freeze completely before serving. This will make it easier to cut neat slices and maintain its shape.
Run a warm knife under hot water and dry it quickly before each slice. This will help you cut through the frozen dessert more easily and achieve cleaner slices.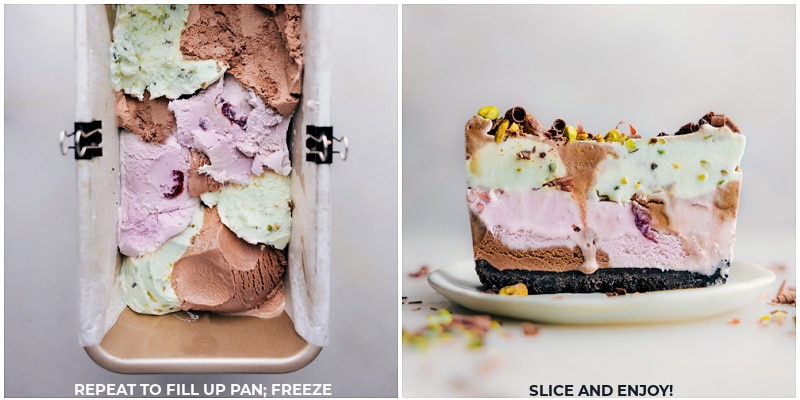 Optional: Spumoni Toppings
If you want to take your Spumoni to the next level, consider adding some delicious toppings. Chopped pistachios or chocolate curls not only make the dessert more visually appealing but also provide a contrasting texture.
For those who enjoy dessert sauces, a tart cherry sauce is a perfect choice to accompany Spumoni. Here's a quick recipe you can try:
Ingredients:
1-1/2 cups pitted tart cherries (thawed if frozen)
6 tablespoons white sugar
1 teaspoon cornstarch mixed with 1 teaspoon water
Instructions:
In a medium-sized saucepan, combine the tart cherries and sugar. Simmer over medium heat for 10 minutes, stirring occasionally.
In a separate small bowl, whisk the cornstarch and water until smooth.
Stir the cornstarch mixture into the sauce and cook for an additional 2 minutes, or until it thickens.
Strain the sauce through a fine-mesh sieve into a bowl, pressing it through with the back of a wooden spoon.
Chill the sauce in the refrigerator until fully cooled.
Drizzle the cooled sauce over the Spumoni bars for an extra burst of flavor.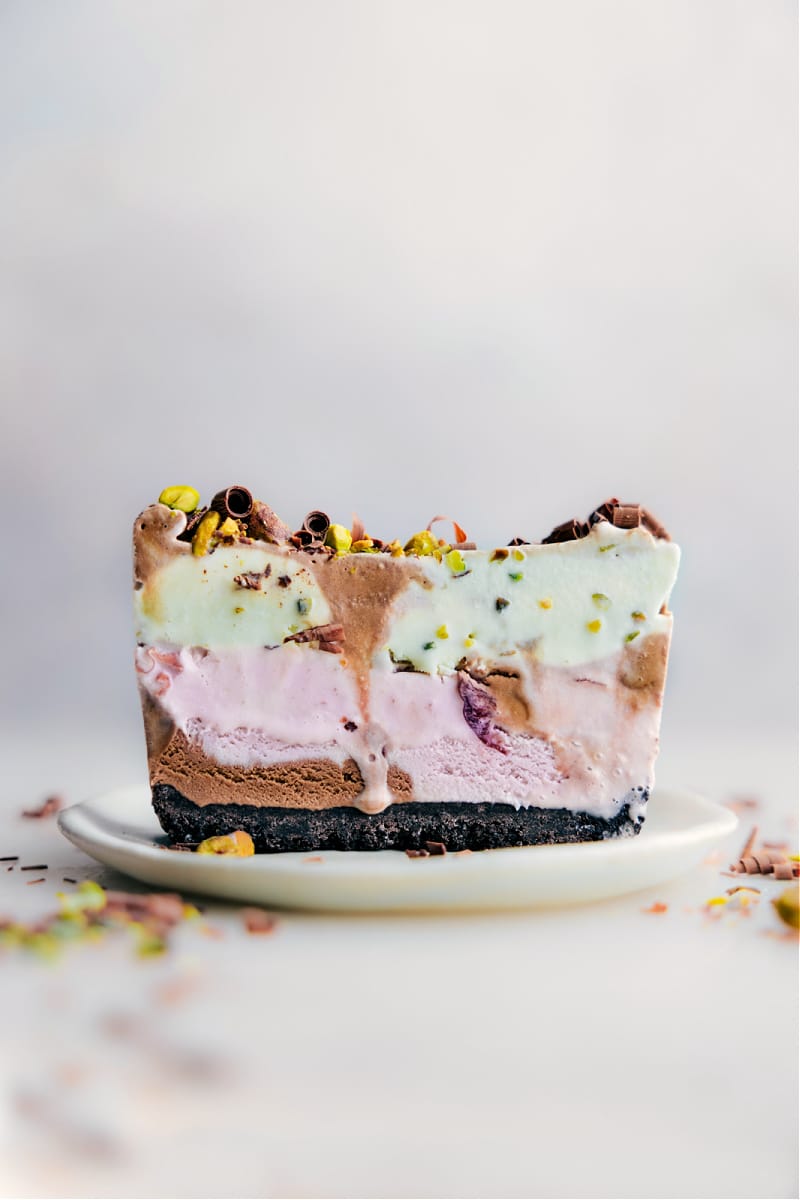 More Ice Cream Treats:
If you're a fan of ice cream desserts, here are a few more delicious treats to try:
Strawberry Cheesecake Ice Cream Cake with a graham cracker crust
Ice Cream Pie with only three ingredients!
Brownie Oreo Ice Cream Bars with hot fudge sauce
Mississippi Mud Pie with coffee ice cream
Ice Cream Sandwich Cake using ice cream sandwiches
Remember, ice cream is a versatile dessert that can be customized to suit your taste. So go ahead and experiment with flavors, textures, and toppings to create your own frozen masterpiece.
Now that you know the secrets of Spumoni, it's time to bring this delightful dessert into your home. Don't wait! Get your favorite ice cream flavors and start layering them for a flavorful and impressive treat. Enjoy!
Check out Ice Cream Directory for more tasty ice cream ideas!