Here are the best information about Ice cream themed cake public topics compiled and compiled by our team
This post may contain affiliate links. As an Amazon Associate I earn from qualifying purchases. Please see my disclosure policy for more information.
Quick! Name the summeriest thing you can think of. Sand-crusted weekends at the beach? Long, sticky days at the pool working on your skin cancer tan? Frosty drinks beneath a palm tree? Hearing that horrible Iggy Azalea song one too many times and throwing your radio across the room in disgust? All good answers, but ***EEEEHHHHNNNN!*** (That was me making an obnoxious buzzer noise.) The correct answer is actually this: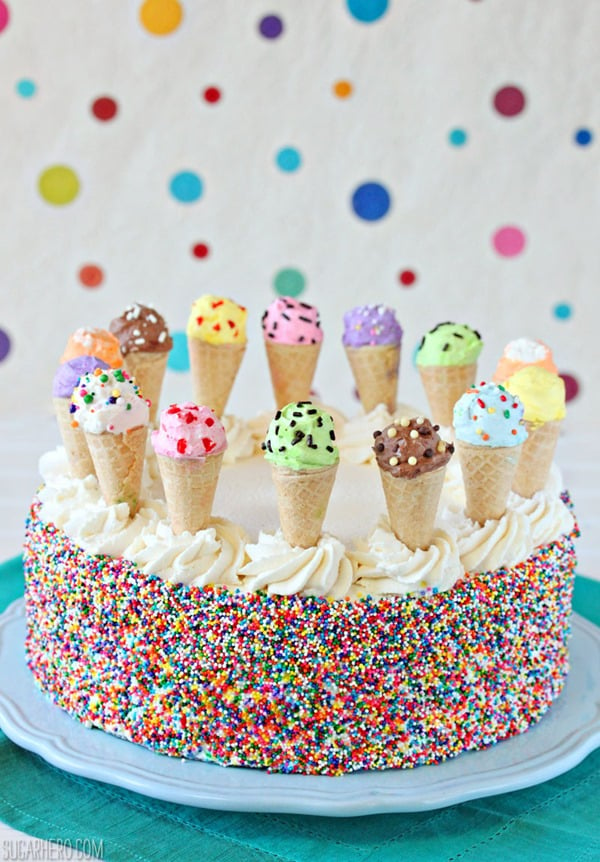 This sundae-flavored ice cream cake, topped with miniature ice cream cones, is in fact the is the summeriest summer thing that ever summered. Ice cream! Filled with cherries and peanuts and waffle cone pieces! Topped with sprinkles and whipped cream and wee little ice cream cones! Take THAT, Iggy Azalea. Who's fancy now?
This cake is a love letter to six-year-old me, who would have gone out of her MIND at the sight of this.
I mean, the ice cream center is one thing. A rich, creamy vanilla ice cream, studded with cherry pieces, peanuts (I used honey-roasted), and bits of waffle cone, is exciting enough. But when you combine that with a fudgy brownie, plenty of vanilla whipped cream, and a boatload of sprinkles? Pretty sure Young Liz would have passed out with excitement.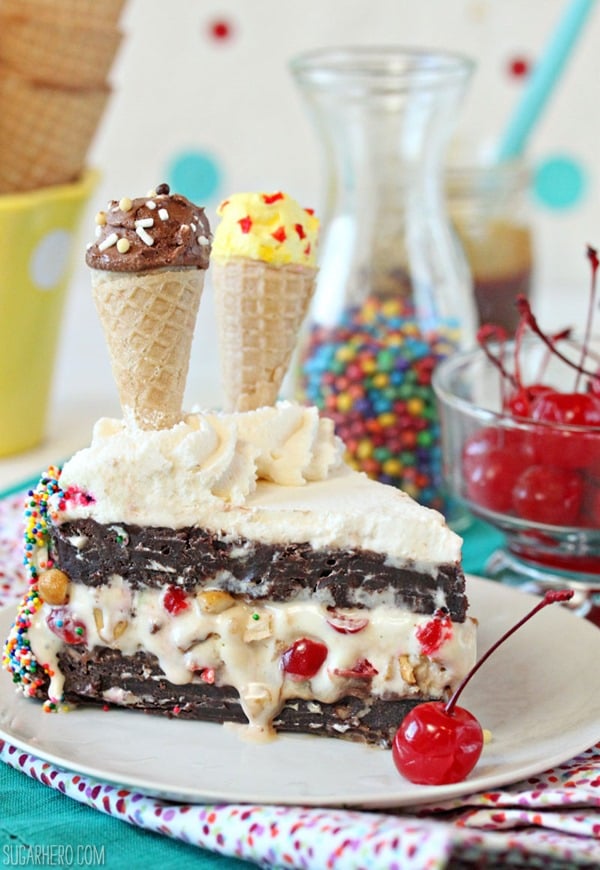 Oh, and the Lilliputian-sized ice cream cone decorations? That's for Adult Liz, who never met a cake she didn't want to garnish with other teensy desserts. I first found these tiny cones at a cake supply store, and my hands, independent of my mind, shoved them in my cart faster than I could think about it. I didn't know what I was going to do with them, but I knew they needed to be mine. My heart beats fast for miniature desserts—if it's a sickness, I don't want to know the cure.
The cones are actually filled with colored buttercream. I may be crazy, but I'm not crazy enough to buy eight different types of ice cream to use a few tablespoons of each! I colored the frosting different colors and used a small candy scoop to plop scoops of it on top of the cones. A quick pinch of various sprinkles, a chill in the fridge, and they were ready to garnish my ice cream cake. I didn't go so far as to flavor them to match their colors (see above re: low-level crazy pants) but you totally could if you want to go the extra mile!
One word of caution: although I made this with two layers of brownies, I would recommend actually only using one, on the bottom. The top brownie made it very hard to cut neat slices when the cake was completely frozen, and letting it defrost slightly led to messy slices and crying food bloggers. (Exaggerating…only slightly.) Plus, it's just too much brownie and not enough ice cream! So do as I say, not as I do, and content yourself with one lovely brownie on the bottom, and lots of ice cream and whipped cream on top. You (and your biceps) will thank me. Happy summering!
This post contains Amazon affiliate links. For more information, see my Affiliate and Advertising Policy.