Here are the best information about Ice cream cupcake cones voted by readers and compiled and edited by our team, let's find out
Welcome to the August Recipe of the Month: Ice Cream Cone Cupcakes!
These ice cream cone cupcakes are an old favorite that I've been making since I was a kid. Today we're using a homemade vanilla cupcake recipe (and stirring in some colorful sprinkles) and topping everything off with a vanilla and chocolate swirl of cream cheese frosting.
Today's recipe includes tips for substituting your favorite cake flavor and for using different types of frosting, as well as an alternate recipe of the month option.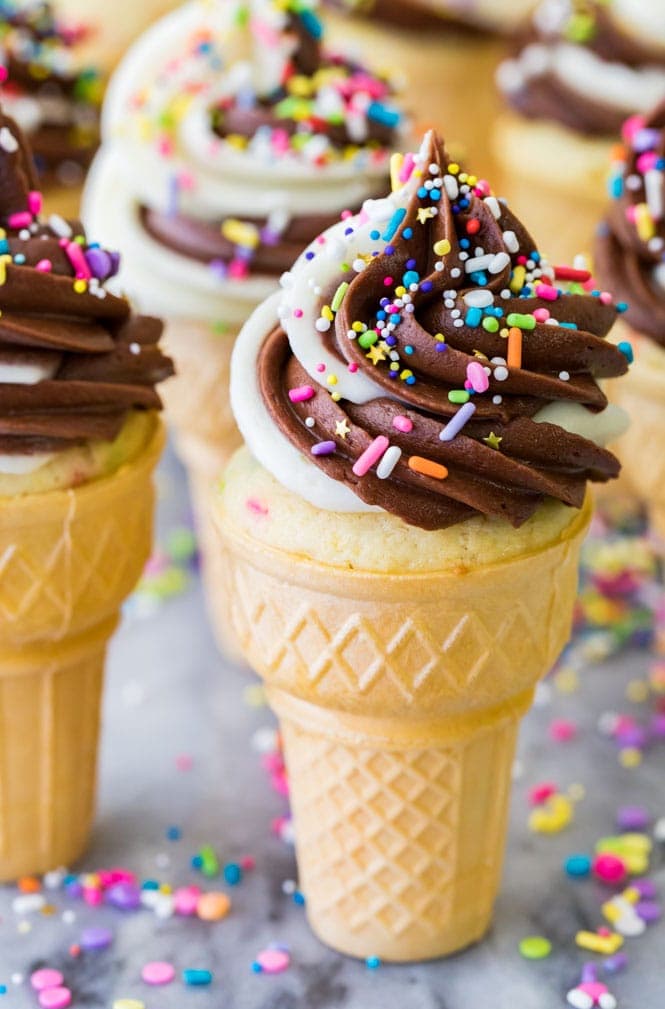 Welcome to our fourth Recipe of the Month: Ice Cream Cone Cupcakes!
In case you missed it, each month I'm selecting a different recipe that I'd love for each and every one of you to bake along with me! And, if you participate, you will be entered to win prizes like a $50 Amazon Gift Card, so make sure to check out all of the details that I shared yesterday on how to participate.
For the month of August (and August only, so you'll have to submit any entries before the end of the month), we are doing these cute Ice Cream Cone Cupcakes.
I wish I could take credit for such a cute, original idea as baking cupcakes inside of ice cream cones, but these were first introduced to me via a printed recipe on the side of a Pillsbury box (I think) over a decade ago. I decided to bring these creations back to life, only with a homemade cupcake recipe and frosting styled to be suggestive of soft serve ice cream.
I have always used a cupcake tin to make my ice cream cone cupcakes and have never had a problem with them toppling over. Simply place one cone in each cupcake cavity and use a steady hand (preferably two steady hands) when filling your cones and when transferring them to and from the oven.
However, if you're worried about your cones toppling, you can snuggly secure each one by wrapping a piece of crumpled foil around the base of each cone (as I show here with the bottom right cone).
Make sure to let your ice cream cone cupcakes cool completely before covering with frosting.
Giving your ice cream cone cupcakes a soft-serve-style swirl is completely optional (we always just smeared frosting on top of our cupcakes as kids), but I think it adds something special and cute to each cupcake.
When making the frosting flavors, I tried to keep things simple by making one batch of frosting and then flavoring half of it with cocoa powder, rather than making one flavor and starting over to make the second. To achieve the swirl in today's cupcakes, just fill one piping bag with your vanilla flavor and another with chocolate, snip the ends off the piping bags, and place those piping bags in a third (preferably larger) piping bag that's been fitted with a Wilton 2D tip.
One thing to keep in mind is that a little frosting goes a long way, and while the swirl is cute, the taller your cupcakes are the harder they will be to store.
To keep these cupcakes fresh you'll want to store them in an airtight container (I usually keep mine at room temperature unless it's particularly warm, in which case they go in the fridge). To store mine I turn a tall, flat-topped cake carrier upside-down and use the bottom as the lid, so keep storage in mind as you're decorating them!
A few more notes for the Recipe of the Month Challenge:
I used my vanilla cake batter for today's recipe, but you can use my funfetti cupcake recipe or a half batch of my favorite chocolate cupcake recipe instead. Substitute the batter but otherwise follow the instructions listed in the recipe below for bake time/temp etc.
I used cream cheese frosting and chocolate cream cheese frosting for these cupcakes because it's my favorite, but you can use my vanilla frosting instead. Make the frosting as suggested, divide it approximately in half, and then beat 3-4 Tablespoons of cocoa powder into one half so that you have chocolate and vanilla.
Swirling the cupcake frosting is not mandatory for the challenge! You can do just one flavor and you can even just spread the frosting on top of the cupcakes with a knife!
If you just aren't feeling these Ice Cream Cone cupcakes for the Recipe of the Month Contest, you can make my Pinata Cupcakes instead and enter them!
Enjoy!
This recipe was originally published 08/24/2015