Oreo studded Ice Cream Sandwich Cake is cool, creamy, and refreshingly delicious. It is the perfect treat for hot summer days! If you're looking for a fun twist on a classic summer dessert, this ice cream sandwich cake is just what you need. It's incredibly easy to make, and your kids can join in on the fun too. With a combination of hot fudge, pudding, ice cream sandwiches, whipped cream, and Oreos, this cake is a crowd pleaser that will disappear in no time.
Easy Summer Treat
Ah, summer! The season for cool desserts that make our taste buds dance with joy. This ice cream sandwich cake is no exception. It's a breeze to whip up, and the whole family can get involved in creating this delectable treat.
Take a moment to look at the ingredients – hot fudge, pudding, ice cream sandwiches, whipped cream, and Oreos. Could it get any better than that? The combination of hot fudge, pudding, and whipped cream helps the ice cream sandwiches stick together, forming a delightful cake. And let's not forget the finishing touch – a generous layer of whipped cream topped with crushed Oreos. Trust me, there won't be any leftovers when you make this crowd-pleasing dessert!
How to Make Ice Cream Sandwich Cake
Let's dive into the process of creating this ice cream sandwich cake. It's simpler than you might think!
PUDDING MIX: Start by preparing the fudge pudding mix. In a large bowl, whisk together the fudge topping (here is a link to our tasty homemade hot fudge sauce) and 1-2 cups of whipped cream until well combined. Add the dry chocolate pudding mix and stir for a couple of minutes. Then, mix in one cup of chopped Oreos and set the mixture aside.
ICE CREAM SANDWICHES: You'll need 12 ice cream sandwiches for this recipe. Unwrap them all and place 4 of them side by side on a foil-lined baking sheet.
WHIPPED CREAM: Spread half of the whipped cream pudding mixture on top of the first layer of ice cream sandwiches. Repeat the layering process with the remaining ice cream sandwiches and whipped cream.
TOPPING: Don't forget the finishing touch! Sprinkle the remaining chopped cookies on top of the cake or all around the sides. Place the cake in the freezer for 1 hour. After an hour, lightly wrap the cake with tin foil and keep it in the freezer for an additional 2-3 hours before serving.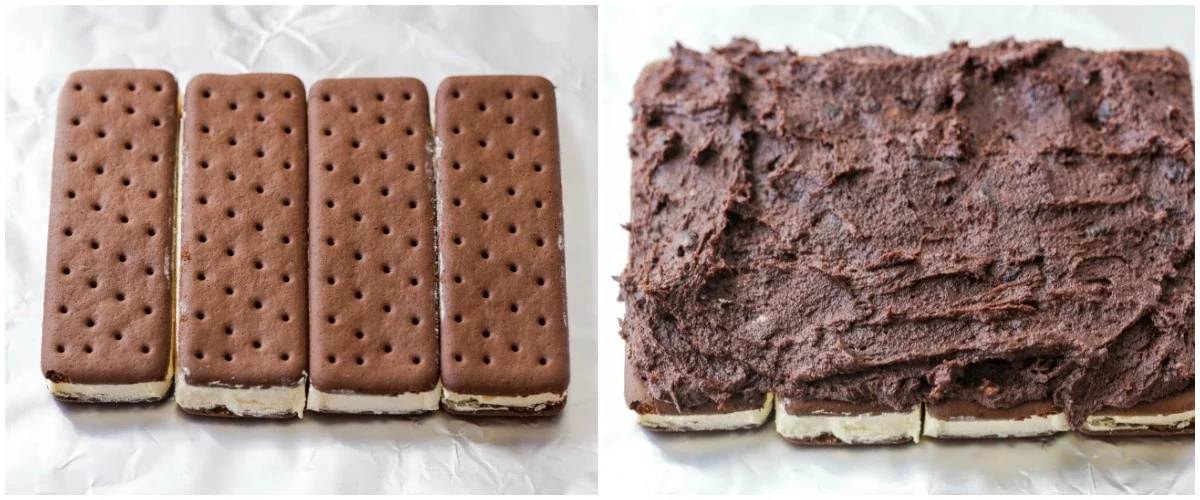 Variations
If you're in the mood to venture beyond the classic version, try out some of these exciting variations:
Add cool whip, chocolate sauce, or caramel sauce in the middle layer of ice cream sandwiches.
Instead of whipped topping, encase the cake with a magic shell. There are plenty of flavors to choose from, like caramel, Reese's, chocolate, and even "Unicorn."
Experiment with different flavors of Oreo Cookies.
Sprinkle chopped candy bars on top.
Add M&M's, Reese's Pieces, chocolate chips, or festive sprinkles.
Enhance the cake with sliced almonds, chopped peanuts, pecans, or walnuts.
Drizzle strawberry, caramel, or chocolate syrup over it.
Top it off with maraschino cherries.
With endless possibilities, you can truly customize this summer dessert to your taste!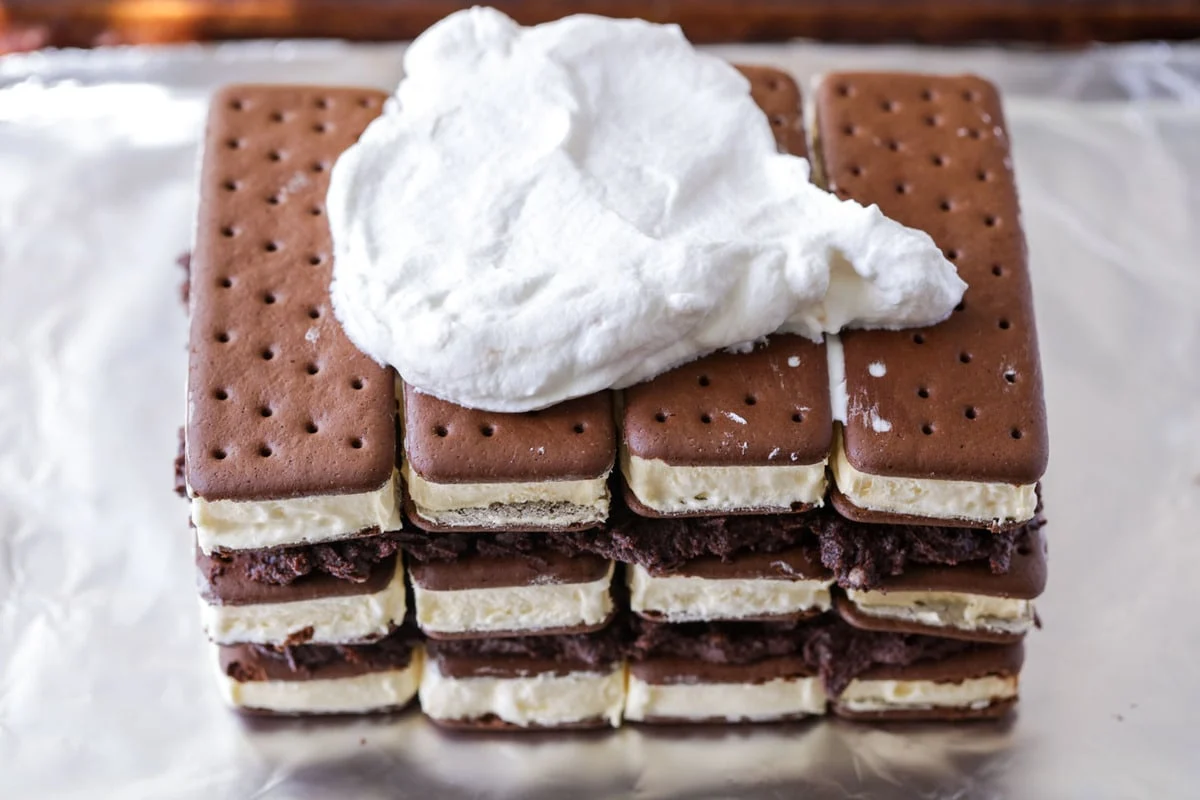 Recipe Tips + Storing
Now, let's address some tips to ensure that your ice cream sandwich cake turns out perfectly.
Best way to Cut: Cutting even, clean slices can be a challenge. But fear not, I have the solution. Here's how you can successfully cut the ice cream cake:
Allow the cake to soften for a few minutes on the counter.
Fill a large bowl with hot water.
Dip a large kitchen knife into the hot water and then wipe it dry with a dish towel.
Make the first slice.
After each slice, dip the blade in the hot water to heat it back up.
Storing: Keep your ice cream sandwich cake lightly wrapped in foil in the freezer. It's a fantastic make-ahead dessert, perfect for those summer parties. The cake can remain in your freezer for up to a month, ready to be served whenever you desire a sweet, cool treat.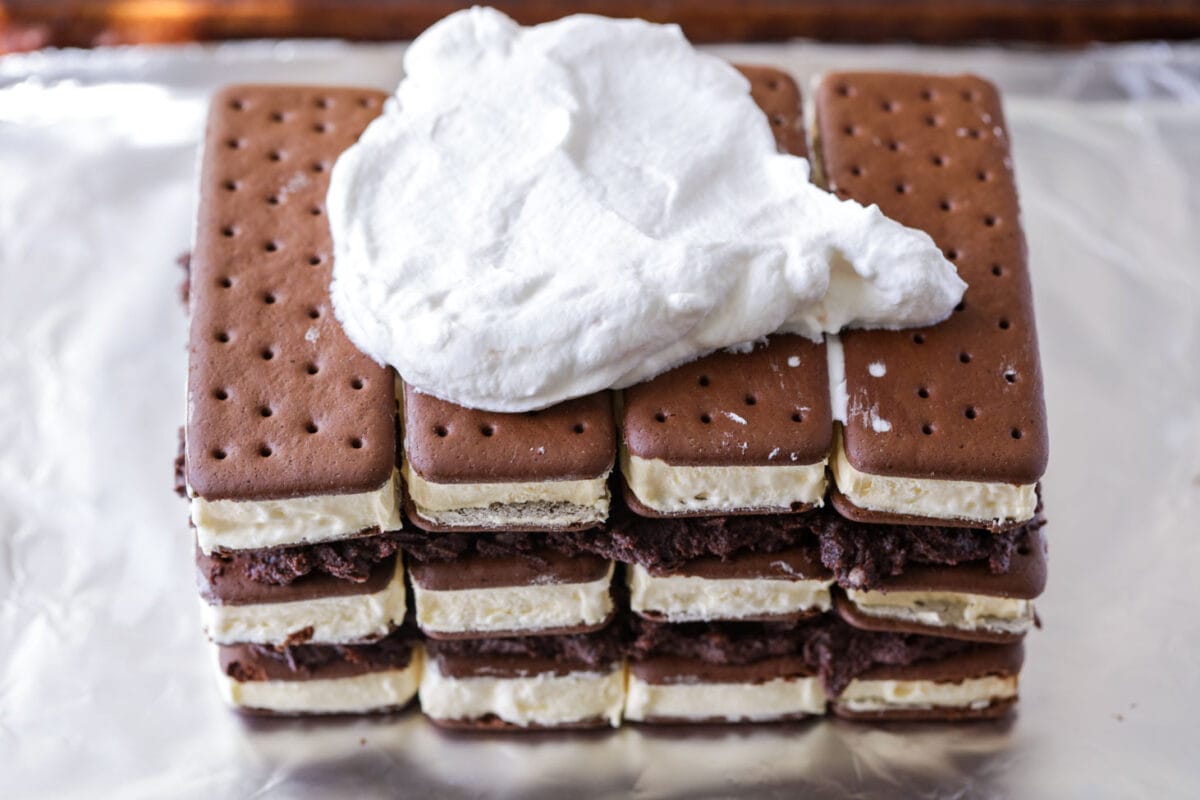 There's nothing quite as satisfying as indulging in a delightful, cool treat on a scorching summer day. With its simplicity and scrumptiousness, this ice cream sandwich cake is bound to become your go-to dessert all season long.
For more chilly delights, check out these recipes:
Frozen Peanut Butter Pie
Oreo Ice Cream Cake
Fried Ice Cream
Root Beer Float Ice Cream Cake
And if you're craving inspiration for all things ice cream, don't forget to visit Ice Cream.