Learn the art of concocting a classic strawberry milkshake without the need for ice cream. With this simple recipe, you'll be sipping on a deliciously creamy treat in no time!
Crafting a Refreshing Milkshake
When it comes to summer delights, few things can beat a homemade strawberry milkshake. The velvety texture and rich flavors make it a perfect treat to beat the heat. But what if you find yourself without any ice cream? No worries! You can still indulge in a luscious strawberry milkshake using just a handful of ingredients.
In this post, I'll share a foolproof method that will help you create your own homemade strawberry milkshake without relying on ice cream. In just five minutes, you'll unlock the secret to achieving a creamy consistency. Additionally, I'll provide some ideas for enhancing the flavor and sweetness of your milkshake.
So, let's start blending, shall we?
Here's a quick video tutorial to guide you. You'll also find a written tutorial and printable recipe below!
Ingredients for Milkshake Magic:
Alright, let's go over the essential ingredients necessary for this delightful milkshake:
Frozen Strawberries: To achieve the desired thickness without ice cream, frozen strawberries are the key. You can choose to buy them pre-frozen or freeze your own during the strawberry season. Fresh strawberries, unfortunately, tend to water down the shake when combined with ice cubes.
Heavy Cream: This ingredient adds the crucial creaminess that ice cream usually provides. Without it, your milkshake will need an extra touch of richness.
Milk: Pure cream alone can make the shake excessively rich, so we strike a balance by using half milk. Whole milk is my preferred choice, but low-fat milk should work just as well. If you prefer non-dairy alternatives, feel free to experiment with oat milk, almond milk, coconut milk, or any other milk substitute. Keep in mind that the type of milk you use will affect the final flavor and texture.
Salt: It may sound peculiar, but a tiny pinch of salt enhances all the flavors in your strawberry milkshake. Remember, just a tiny pinch!
Vanilla Extract: Vanilla is a classic flavor used in ice cream. Adding a touch of pure vanilla extract helps replicate those familiar tastes. Please opt for pure vanilla extract, rather than imitation vanilla flavoring.
Sweetener (Optional): While strawberries already possess natural sweetness, you can amplify their flavor by adding a tablespoon or two of strawberry jam or homemade strawberry syrup. This secret ingredient takes your milkshake to a whole new level. If you don't have those on hand, you can always substitute with maple syrup, cane sugar, simple syrup, or your preferred sweetener.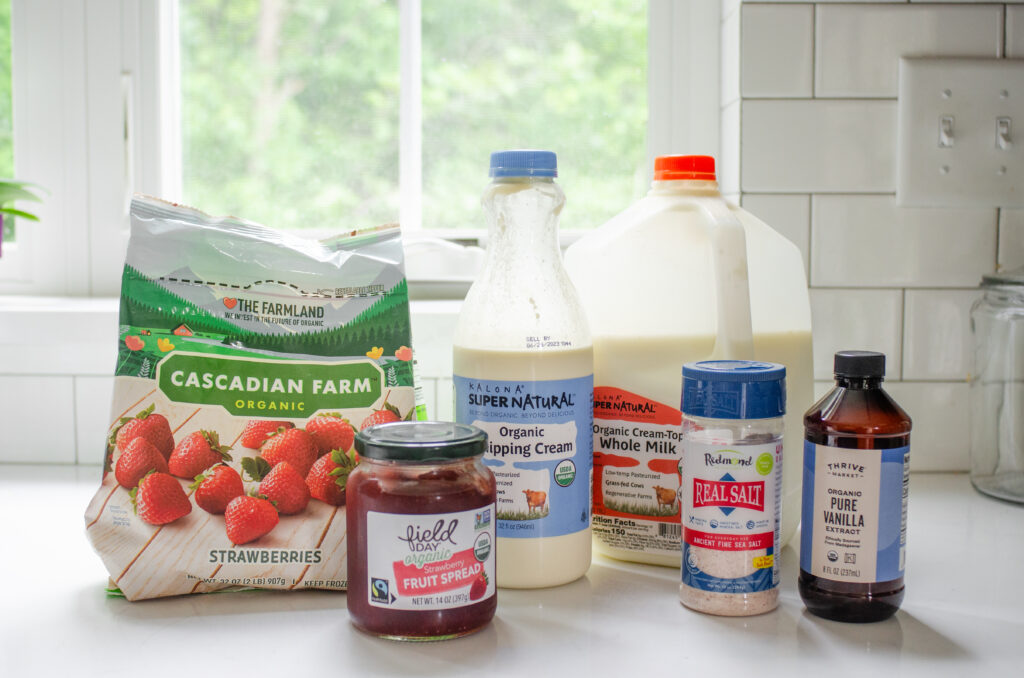 Crafting the Perfect Milkshake:
Now, let's walk through the super simple steps required to make your milkshake:
Place all the ingredients into a blender pitcher.
Blend on the lowest setting until achieving a completely smooth consistency.
Since this milkshake is quite thick, you may need to pause the blender occasionally and give it a stir to ensure everything blends properly. Powerful blenders generally don't encounter this issue, but weaker ones may develop air bubbles that require stirring.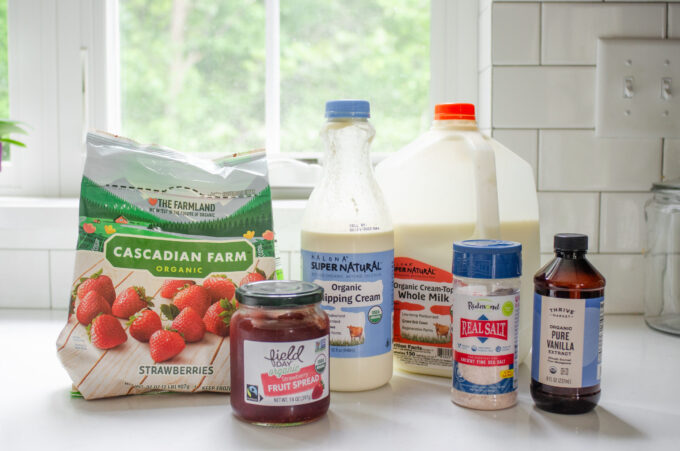 Serving Suggestions:
If you've opted to sweeten your milkshake with strawberry syrup, consider spooning it into your serving glass to create an exquisite presentation. Though entirely optional, it adds an extra touch of charm!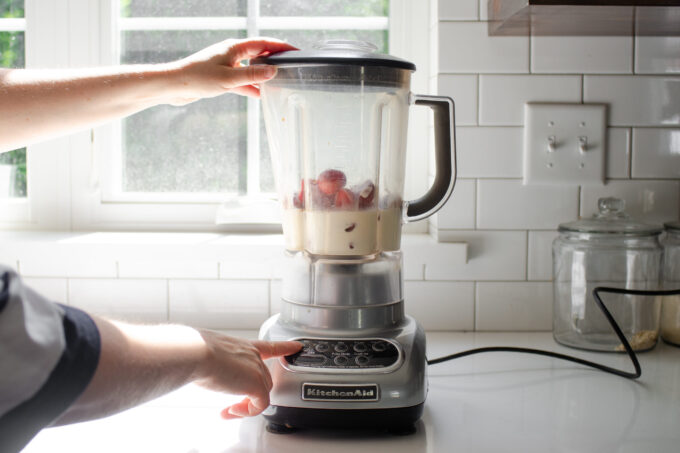 Pour the strawberry milkshake into the glass.
Look at that thickness! And the best part is, you didn't need to add a scoop of ice cream!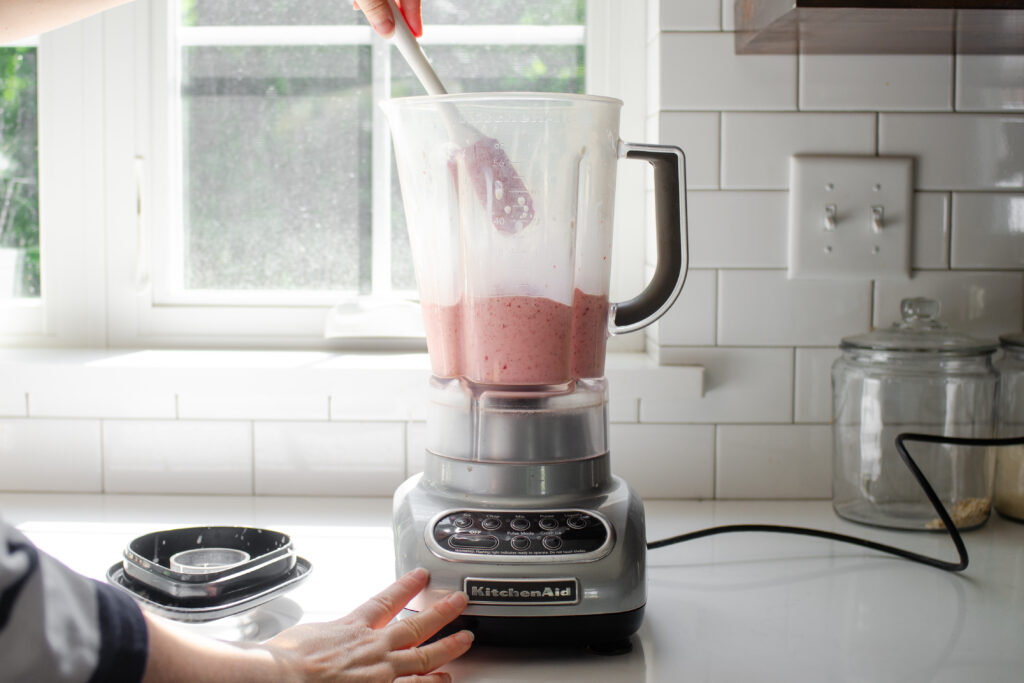 A dollop of homemade whipped cream is a must for the perfect milkshake. If you prefer, canned whipped cream works just as well for a quick and easy option.
This cold, refreshing milkshake is ideal for scorching summer days. However, you can indulge in its delightful flavors year-round, thanks to the recipe's reliance on frozen berries!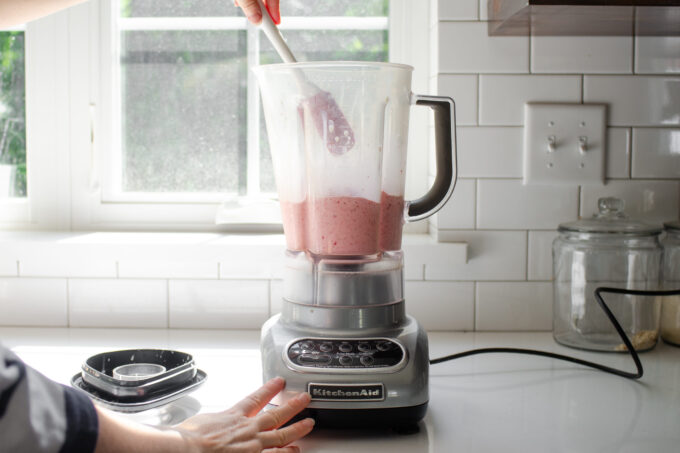 Variations to Delight Your Taste Buds:
Now that you have the basic strawberry milkshake recipe down, here are some ideas to explore different flavors:
Drizzle a bit of chocolate syrup in the glass or on top of the whipped cream (or both!) for a decadent touch.
Sprinkle chocolate shavings on top to infuse your milkshake with an added chocolatey element.
For a "peanut butter and jelly" vibe, layer peanut butter or almond butter throughout the milkshake.
Experiment with a strawberry banana milkshake by substituting half a cup of strawberries with an equal amount of frozen bananas. Bonus: Ripe bananas may provide enough natural sweetness, eliminating the need for extra sweeteners!
For a bit of crunch, sprinkle chia seeds or toasted coconut on top.
Add a couple of scoops of malted milk powder to transform your milkshake into a delightful strawberry malt!
More Frozen Drink Recipes:
If you're in the mood for more icy treats, here are a few other frozen drink recipes to explore:
More Strawberry Recipes:
If you adore strawberries and want to experience their fantastic flavors in other culinary delights, check out these additional strawberry recipes:
Enjoy making and savoring your homemade milkshake!