Have you ever wondered how to make rolled ice cream at home? Look no further! We have the perfect recipe for you. Our 4-ingredient vanilla rolled ice cream is not only easy to make, but it also serves as a fantastic base for a variety of mouthwatering toppings. Whether you prefer juicy fruits or delectable candies, this recipe will satisfy your cravings in the most delightful way.
Why this recipe is a winner
Making homemade rolled ice cream doesn't have to be complicated. With just a few tips and some basic equipment that you probably already have in your kitchen, you can create the best rolled ice cream ever. Our recipe has been tested and perfected, ensuring a creamy and delicious treat that will leave you wanting more.
Rolled ice cream is similar to no-churn ice cream, which means there's no need for added sugar. The sweetness comes from the sweetened condensed milk. Although it's softer than traditional ice cream, it's incredibly creamy and offers a unique way to enjoy your favorite frozen dessert. Plus, the fun toppings and additions take it to a whole new level of deliciousness.
What you'll need
To create these delightful ice cream rolls, gather the following ingredients:
Sweetened condensed milk
Heavy cream
Vanilla extract
Toppings of your choice
For precise measurements and detailed instructions, refer to the printable version of this recipe at the end of the article.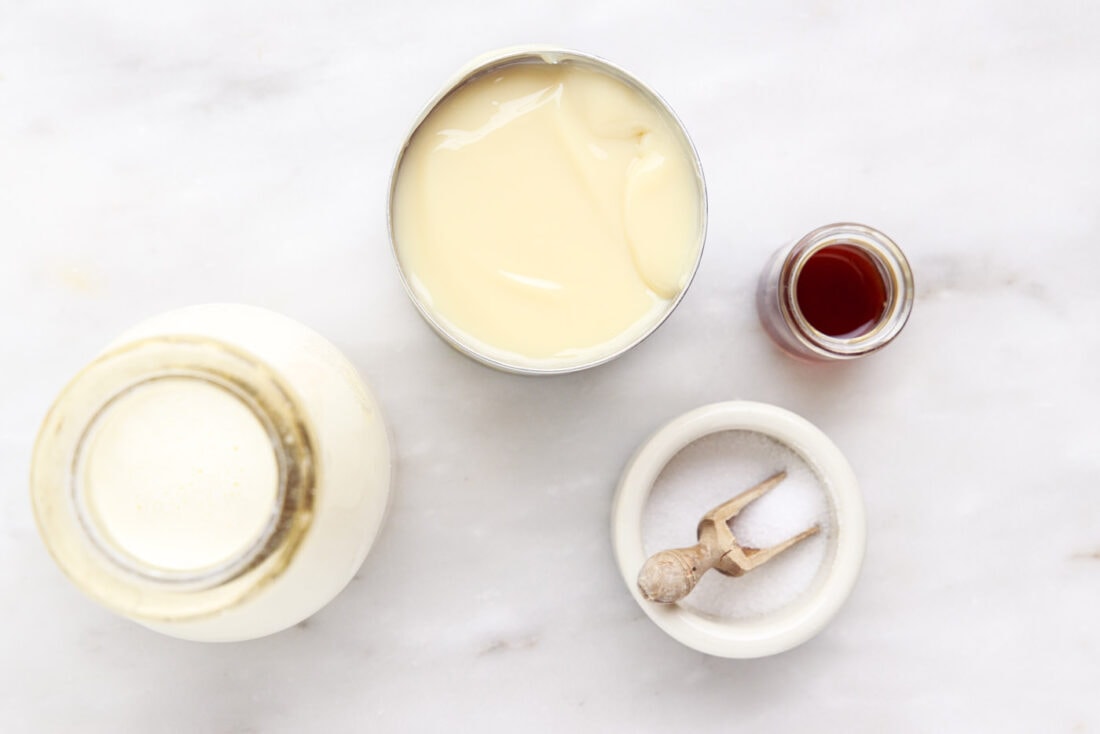 Ingredient Info and Suggestions
The ratio of sweetened condensed milk to heavy cream plays a crucial role in achieving the perfect consistency of your vanilla ice cream. If you find that the ice cream is too soft and won't roll properly, consider adding more heavy cream or reducing the amount of sweetened condensed milk. On the other hand, if the ice cream turns out brittle and breaks instead of rolling, you need to increase the proportion of sweetened condensed milk. Additionally, keep in mind that different brands of sweetened condensed milk might yield slightly different results. You can find more information in the recipe card at the end of this article.
How to Make Rolled Ice Cream
Follow these step-by-step instructions to visualize the process of making this incredible dessert:
Before you begin, place a full-size sheet pan with rimmed edges in the freezer, ensuring there is enough space for it to set level. Let it chill for at least 15 minutes or even longer.

In a large bowl, whisk together all the ingredients until well combined.

Pour the mixture into the prepped pan, using a large icing spatula to spread it evenly across the entire bottom. Make sure the layer is thin, around 1/8″ thick or even thinner if possible.




Freeze the pan for at least 2-3 hours, until the ice cream becomes solid.

Working quickly, gently lift the edge of the ice cream with a 3″ wide straight spatula, and then glide the spatula across the sheet pan to create rolls of ice cream. Transfer the rolls into a paper cup or bowl for serving.
Frequently Asked Questions & Expert Tips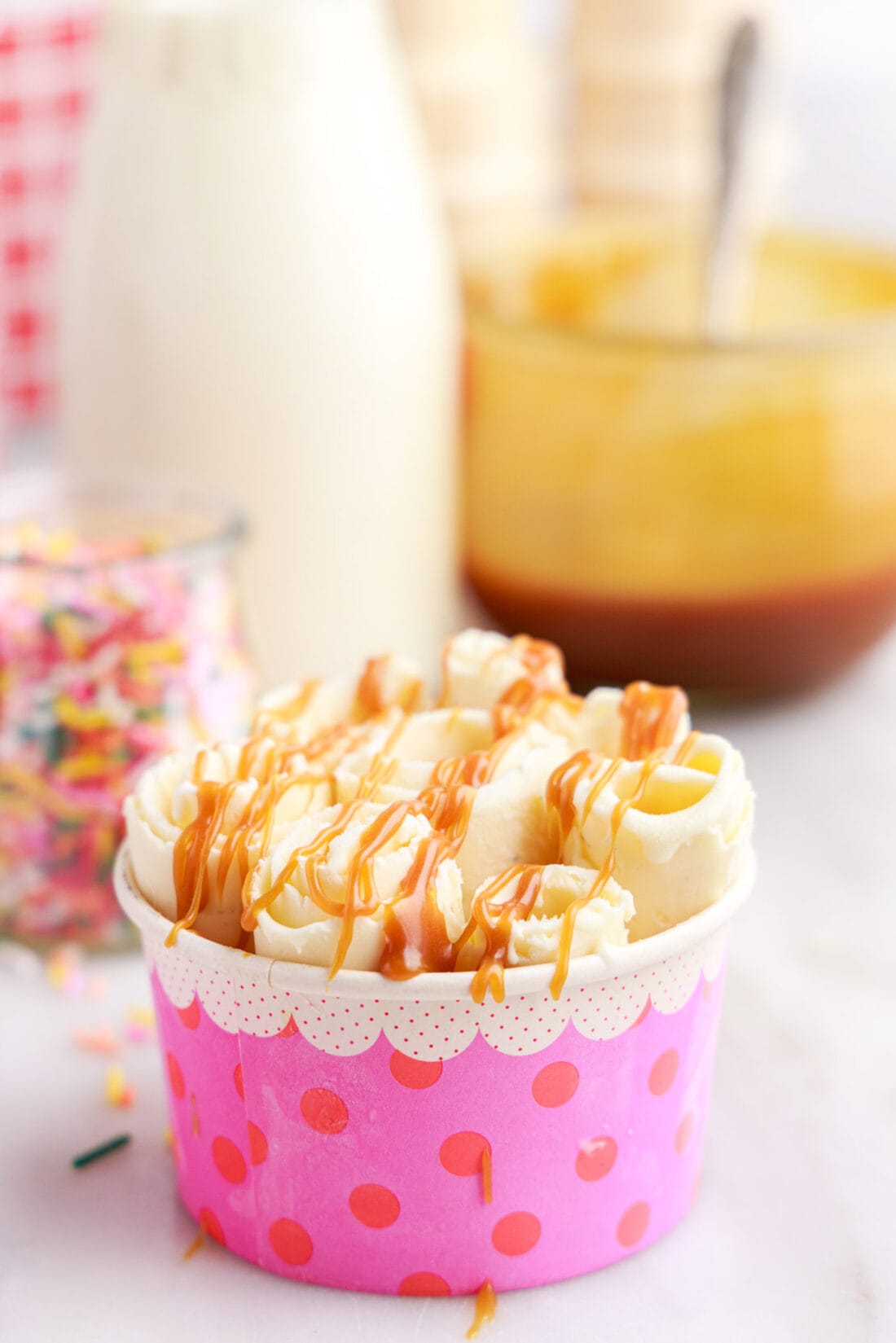 Serving Suggestions
Now comes the fun part! Load up your vanilla rolled ice cream with an array of tantalizing toppings. You can choose from fresh berries, cereals, pretzels, chocolate chips, mini marshmallows, whipped cream, chopped candy, or drizzles of chocolate, caramel, raspberry, strawberry, or other flavored syrups. The possibilities are endless, and the decision is all yours!
Keep in mind that rolled ice cream melts quickly, so you'll want to work fast while making and decorating it. If you're in an overly hot or humid climate, or if your indoor temperature isn't cool enough, you may find it a bit challenging. To prevent melting or excessive softening, store the ice cream in the freezer when not actively working with it.
More Ice Cream Recipes
If you're an ice cream enthusiast like us, be sure to check out these other fantastic recipes:
No Churn Ice Cream
Chocolate Ice Cream
Rocky Road Ice Cream
Peanut Butter Chocolate Chip Ice Cream
Homemade Mint Chocolate Chip Ice Cream
Finally, don't forget to subscribe to our convenient newsletter to receive your free daily recipes. We love sharing our kitchen experiences with you!
Remember to stay cool and enjoy the sweet pleasures of homemade ice cream rolls. Get creative with your toppings and relish in the delightful flavors and textures. For more amazing ice cream recipes, visit Ice Cream Directory. Happy rolling!