Here are the top best How to make an ice cream milkshake voted by users and compiled by us, invite you to learn together
Making a milkshake is super simple, you really only need two ingredients but do you know the perfect ratio? It can be a little disappointing to drink a milkshake that is closer to the consistency of a juice or a milkshake that's so thick you can't get it through the straw.
So today I'm sharing how to make the perfect milkshake and you can use it as a guide to customize whatever flavor you'd like to make. Not a fan of milkshakes when it's cool out? Try my Hot Chocolate Bombs or my classic Hot Chocolate instead!
WHAT YOU NEED TO MAKE THIS RECIPE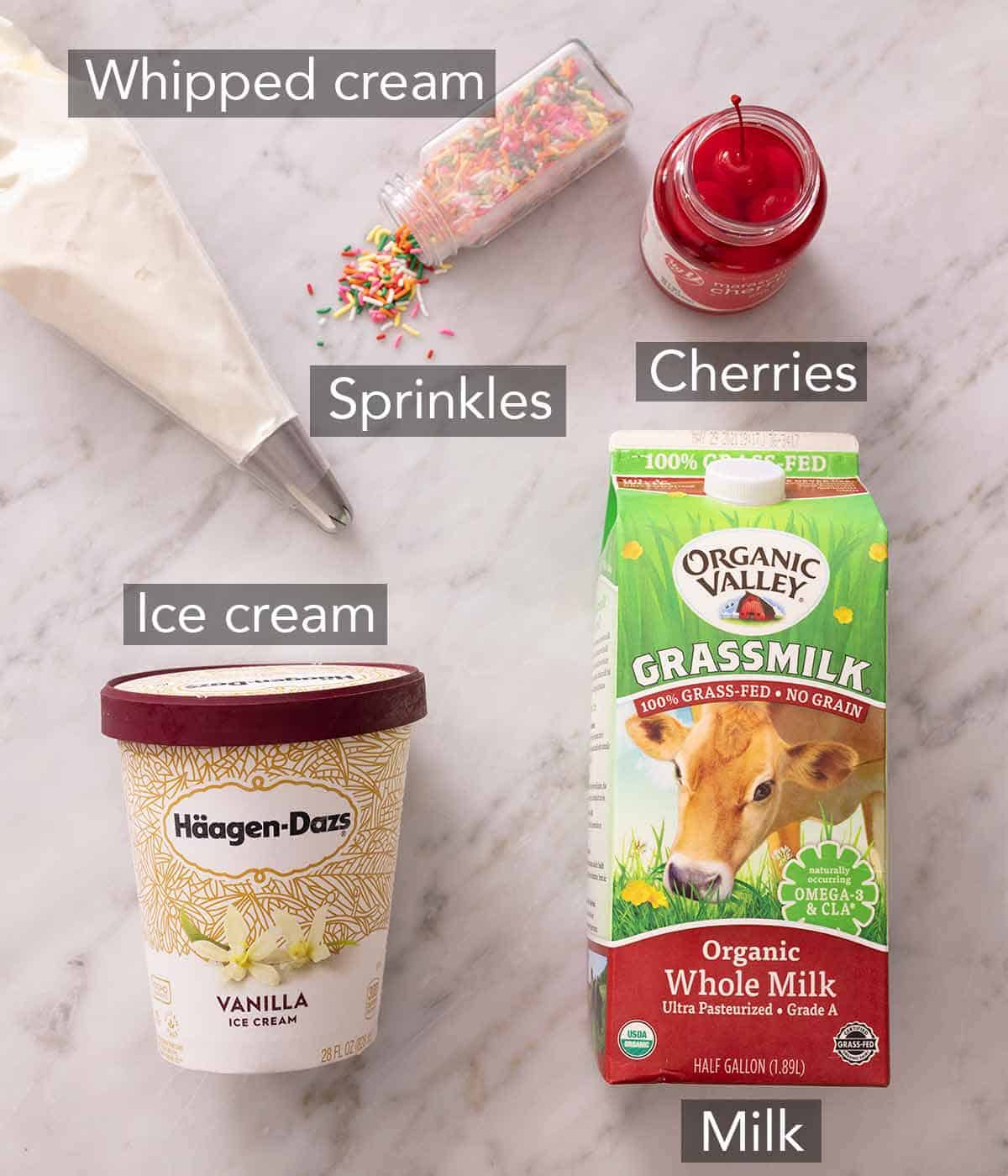 Ice cream – full-fat ice cream will yield the creamiest and smoothest milkshake. Low-fat ice cream just isn't the same! Choose the highest quality ice cream you're able to find in stores.
Milk – use whatever milk you have at home. Just keep in mind that the higher the fat percentage of your milk, the creamier your milkshake will be. I use whole milk.
Toppings – take your pick on your toppings. I love adding whipped cream, sprinkles, and a cherry.
HOW TO MAKE A MILKSHAKE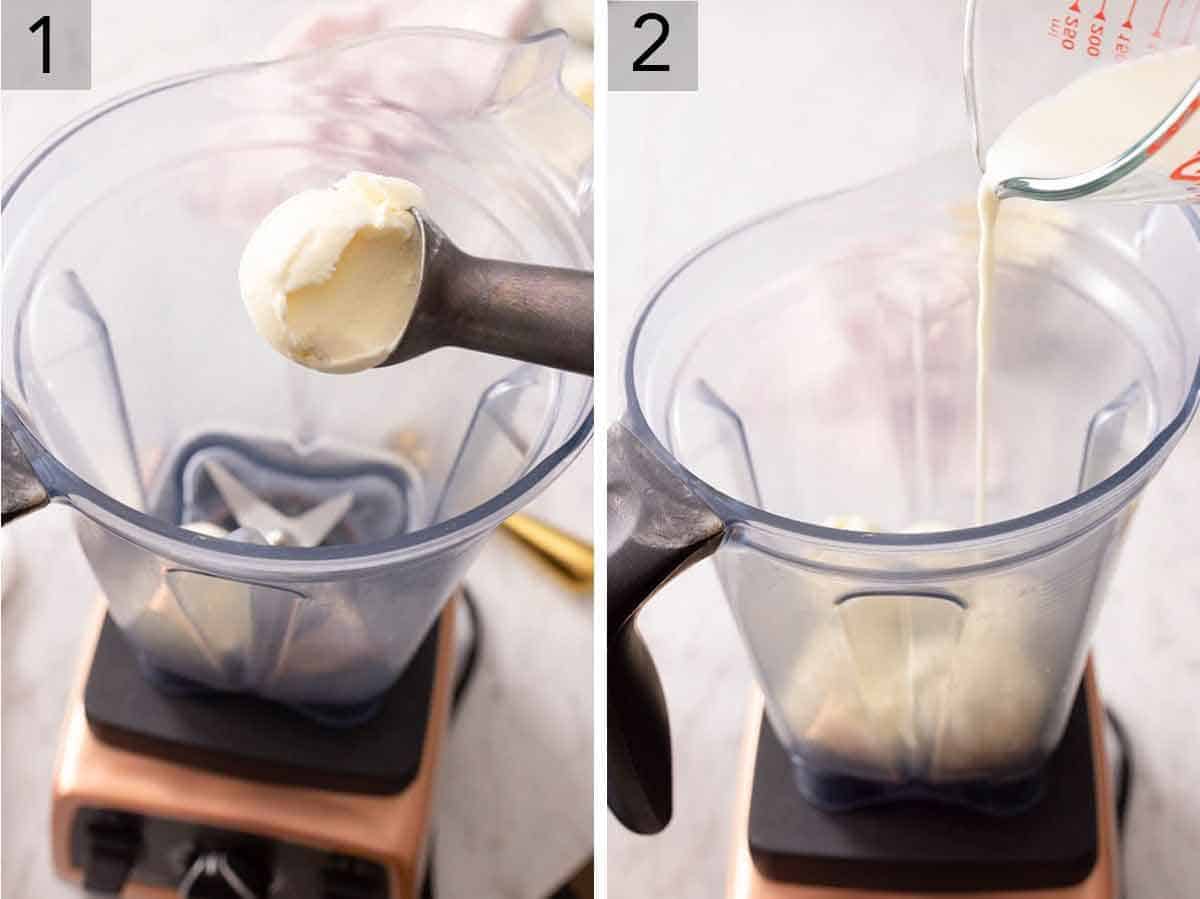 1. Add the ice cream to the blender.
2. Add the milk to the blender.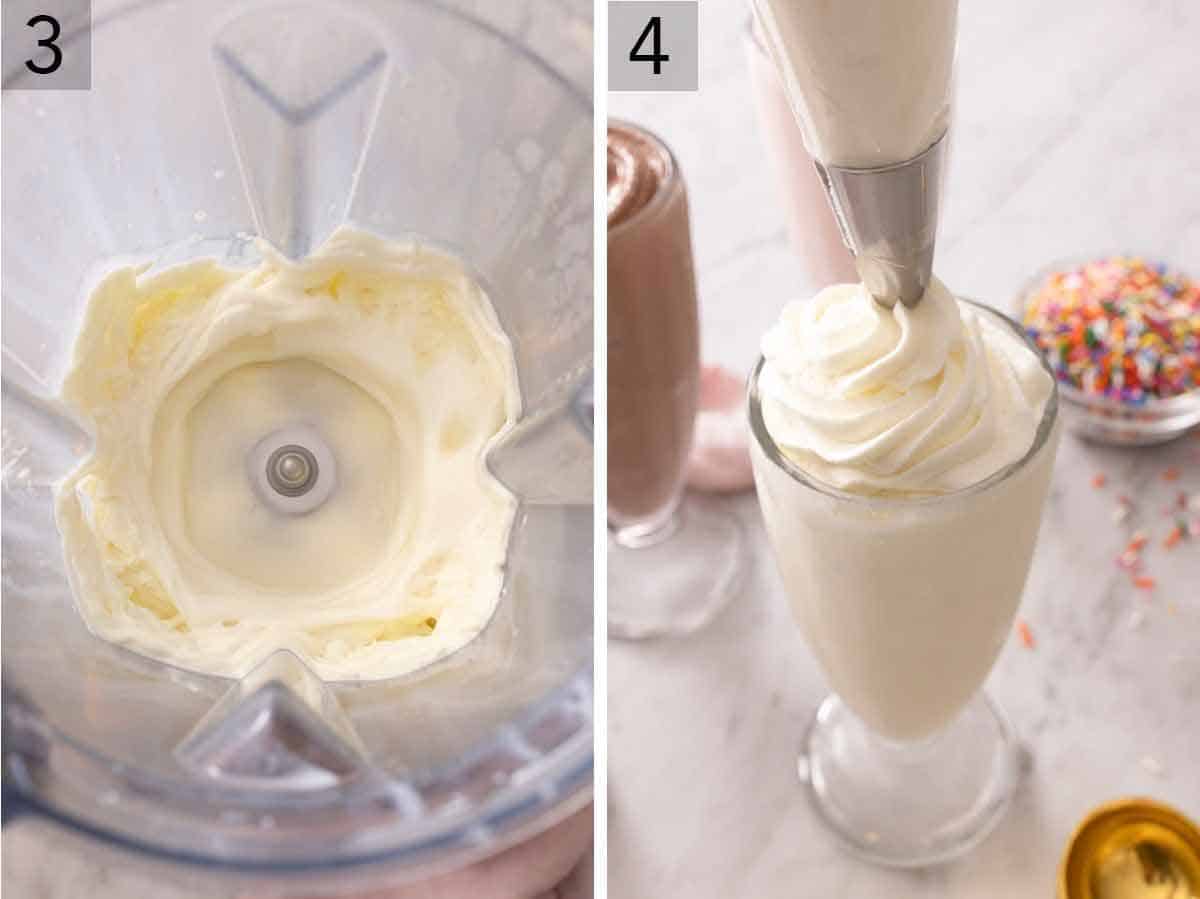 3. Blend on low until smooth.
4. Pour into a cup and garnish with whipped cream.
5. Add some sprinkles.
6. And add a cherry if desired.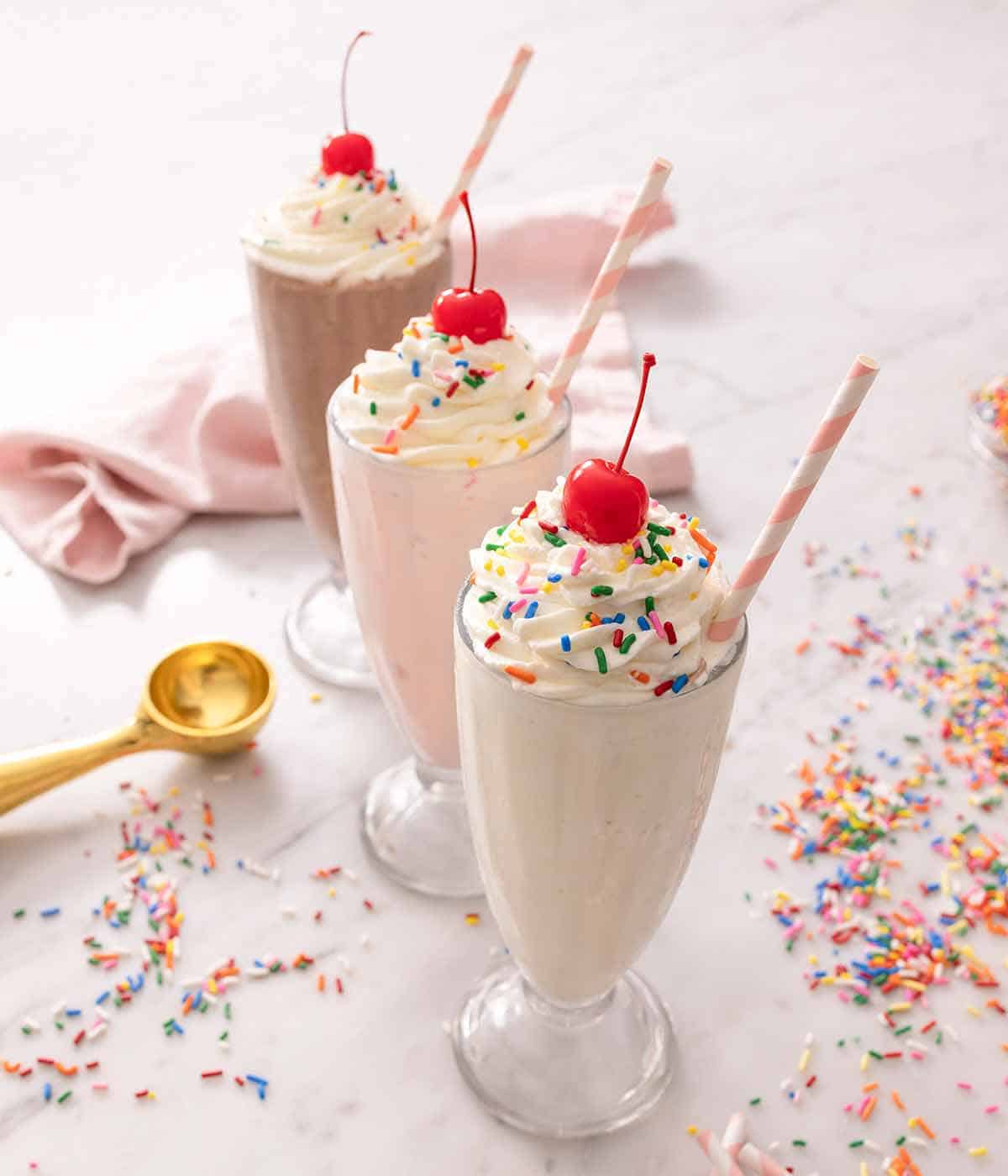 PRO TIPS FOR MAKING THIS RECIPE
To make this milkshake even creamier, you can try using heavy cream in place of milk.
When purchasing ice cream, make sure you buy real 100% dairy ice cream. There are ice creams that are labeled as "frozen desserts" as they're made with vegetable oils.
To easily scoop your ice cream, let your ice cream sit at room temperature for around 5 minutes so it can soften enough to scoop.
If you find the milkshake a little too thick for your liking, add in additional milk a couple of splashes at a time.
To help your drink stay cold longer, you can place your glasses in the freezer beforehand.
Don't have a can of whipped cream on hand? Try making your own homemade whipped cream.
Don't add ice to this. Ice will water down your drink.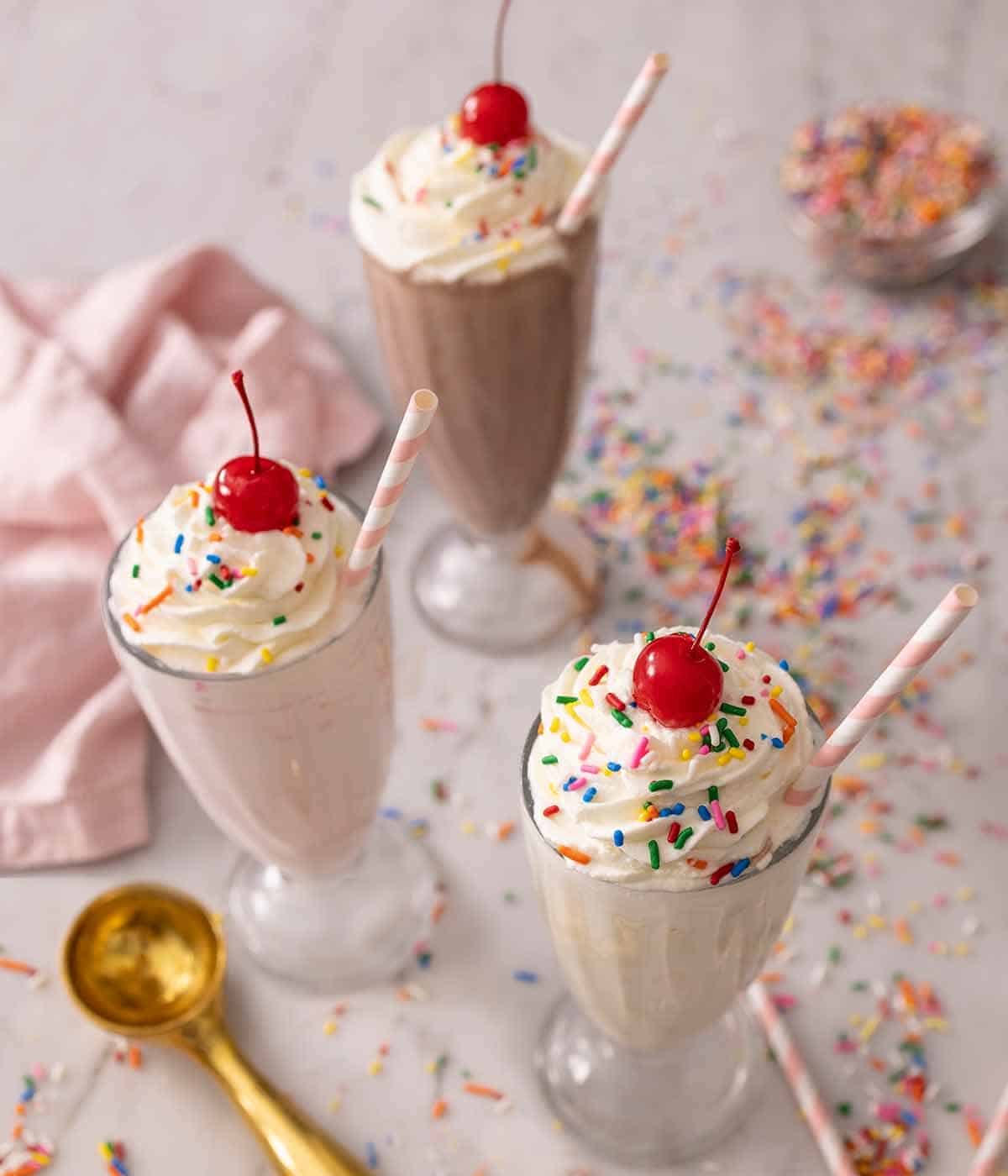 FREQUENTLY ASKED QUESTIONS
HOW DO I MAKE DIFFERENT FLAVORS?
You can easily change the flavor with a few simple swaps. For example, you can use different ice cream flavors such as strawberry, chocolate, mint chocolate chip, chocolate peanut butter, matcha green tea, and more! The options are endless. You can also change the milk as well for chocolate milk, strawberry milk, banana milk, or whatever flavored milk you have at your local grocery store.
WHAT ELSE CAN I USE AS A TOPPING
Some ideas for topping your milkshakes include chocolate syrup, strawberry syrup, caramel sauce, crushed cookies, sliced nuts, fresh fruit, and candy. If you're feeling especially indulgent, you can try my Freakshake. If you've got extra time, you can try to make my homemade marshmallows to top your drink with.
WHAT IF I DON'T HAVE A BLENDER?
If you don't have a blender, you can use a food processor. If you don't have a food processor, then you can use a stand mixer to beat the ingredients together.
CAN I MAKE THIS AHEAD OF TIME?
I highly recommend you enjoy your milkshake immediately after you make it.
If you've tried this Milkshake recipe then don't forget to rate the recipe and let me know how you got on in the comments below, I love hearing from you!