Who doesn't love a thick, sweet, and utterly delicious ice cream cake? And when it's topped with Oreo cookies, it takes it to a whole new level. Get ready to treat yourself to a heavenly dessert that is sure to delight your taste buds.
The Easiest Ice Cream Cake You'll Ever Make
Ice cream cakes are a staple in our dessert repertoire. From brownie crusts to Samoa Cookies, we've tried it all. But there's something special about this Oreo ice cream cake. It's a family favorite that never fails to impress. With just five simple ingredients, it's a breeze to put together.
Ingredients that Make Magic Happen
Let's take a look at what goes into this delectable Oreo ice cream cake:
Oreos: These iconic cookies form the base of the cake and add a delightful crunch.
Butter: Mixed with crushed cookies, it creates a delicious crust that holds everything together.
Cookies and cream ice cream: Choose your favorite brand for the ultimate flavor. We recommend Tillamook® or TurkeyHill®.
Hot fudge sauce: A generous layer of hot fudge sauce adds a gooey, chocolatey goodness.
Cool whip: Finish it off with a dollop of Cool Whip®, or substitute with TruWhip® for a healthier alternative.
Indulge in Homemade "Cool Whip"
If you prefer a homemade touch, here's a simple recipe for "Cool Whip":
1 cup heavy cream
1/2 cup powdered sugar
1/2 teaspoon vanilla extract
In a mixing bowl attached to a stand mixer with a whisk attachment, combine the heavy cream, powdered sugar, and vanilla extract. Whip until firm peaks form, about 2-4 minutes. Spread the whipped cream over the ice cream until smooth.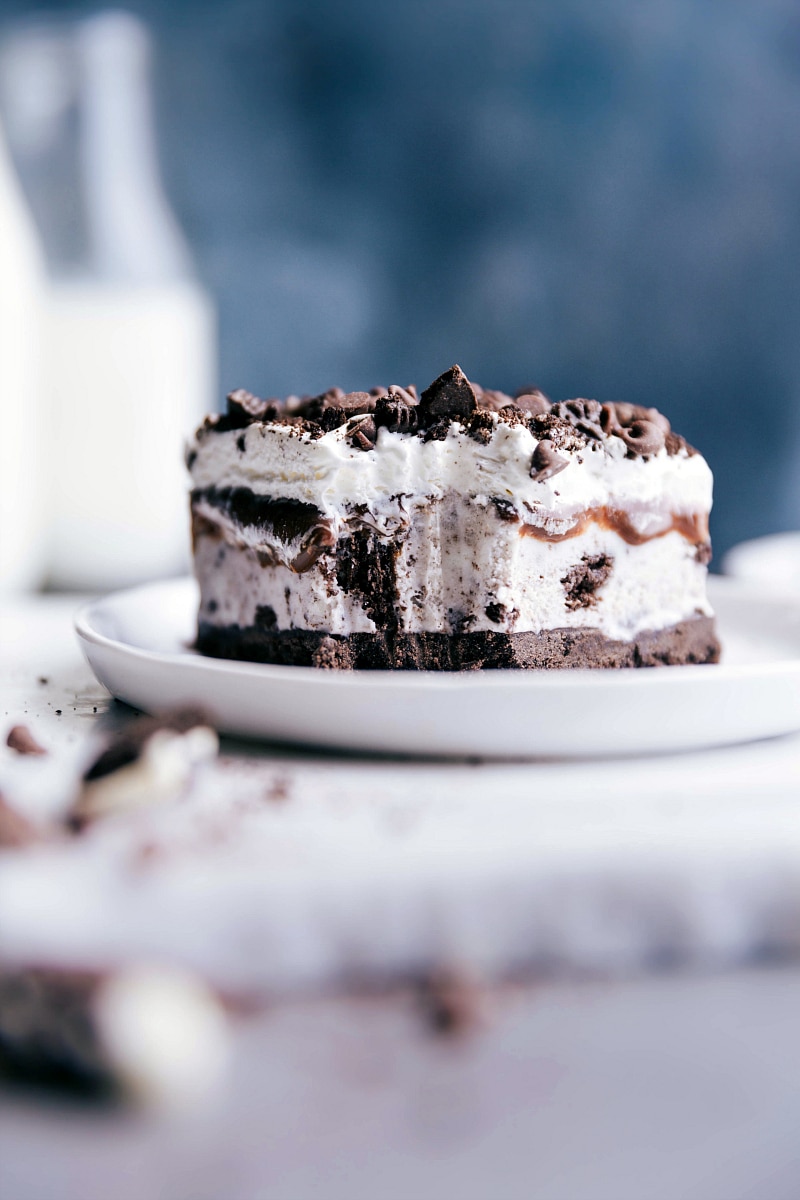 Tips for the Perfect Oreo Ice Cream Cake
To ensure your Oreo ice cream cake turns out flawless, keep these tips in mind:
Let the butter cool: Don't mix hot butter with crushed cookies to prevent greasy bars. Let it cool slightly before combining.
Crush Oreos thoroughly: For perfectly cut bars, make sure to crush the Oreos into fine pieces. Use a blender or food processor for best results.
Experiment with flavors: Don't limit yourself to classic Oreos. Try different flavors like mint or chocolate for exciting variations.
Line the pan with parchment paper: Avoid a sticky situation by lining the pan with parchment paper, leaving an overhang for easy removal.
Let it stand before serving: Allow the cake to sit for 5 minutes at room temperature before cutting. Use a hot knife for clean slices.
More Ice Cream Delights
If you can't get enough of ice cream treats, here are some more recipes to satisfy your sweet tooth:
Cookie Dough Ice Cream Bars: Indulge in a food-safe cookie dough crust filled with creamy cookie dough ice cream.
Churro Ice Cream Sandwiches: Experience the perfect combination of vanilla ice cream sandwiched between two warm churros.
Gelato: Transport yourself to Italy with authentic recipes for chocolate and Stracciatella (chocolate chip) gelato.
Mint Ice Cream Bars: Sink your teeth into a brownie base topped with refreshing mint ice cream and a decadent chocolate ganache.
The BEST Healthy Chocolate Ice Cream (no bananas): Enjoy guilt-free indulgence with a delicious and healthy chocolate ice cream recipe.
Get ready to savor the creamy bliss of homemade Oreo ice cream cake. With its irresistible combination of flavors and textures, this dessert is bound to be a crowd-pleaser. Treat yourself, your family, and your friends to a slice of heaven. So go ahead and indulge, you deserve it!