Below are the best information about Oreo ice cream cake voted by readers and compiled and edited by our team, let's find out
This post may contain affiliate sales links. Please see my full disclosure policy for details
This easy Oreo Ice Cream Cake has a layer of homemade chocolate cake with a layer of no-churn Oreo ice cream on top. Ice cream cakes are perfect for any occasion, but especially for birthdays. Plus it's simple to customize this with your own favorite flavors.
Looking for more Oreo cakes? Check out this Oreo Chocolate cake or this Oreo Cookie and Cream Cake.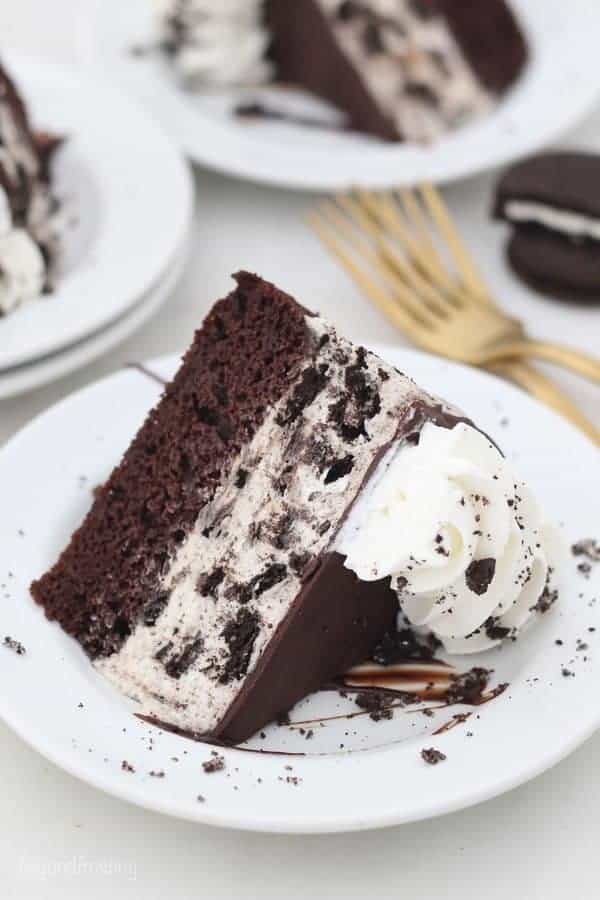 Homemade Oreo Ice Cream Cake
When we were growing up, ice cream cakes were a staple birthday cake in our house.
They're awesome because you could choose whatever kind of cake you wanted and your favorite flavor of ice cream. Cake and ice cream are such a great combo!
Chocolate cake with Cookies and Cream Oreo ice cream was definitely a favorite and made an appearance for more birthdays than I can remember. My dad still makes an ice cream cake for his own birthday every year.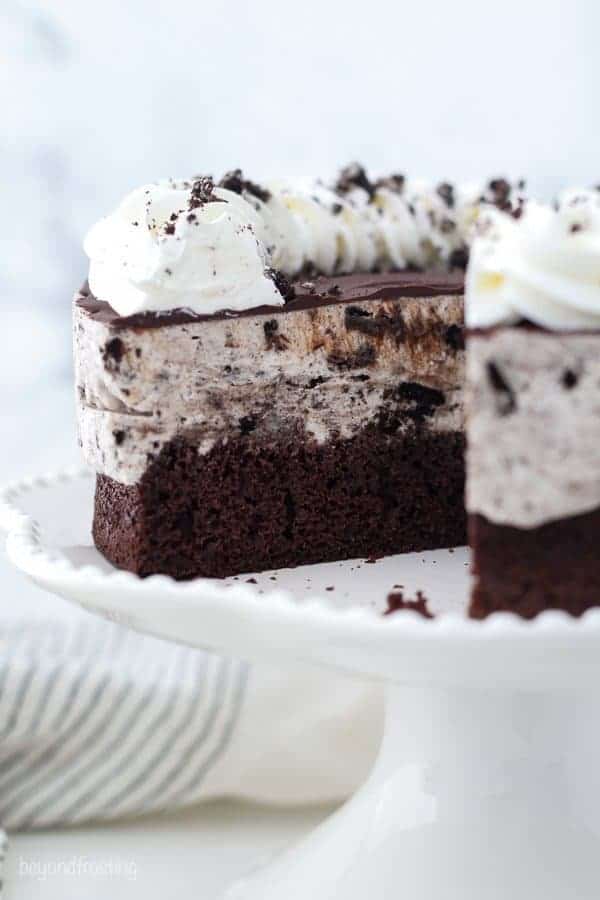 We always made our ice cream cakes with store brought ice cream and cake mix. Usually we frosted it with Cool Whip and finished it off with some sprinkles.
However, today I'm serving you up an easy no-churn Oreo ice cream on top of a layer of my favorite homemade chocolate cake.
You can decorate this cake anyway you'd like but I've covered it with simple chocolate ganache and whipped cream.
I'm going to show you exactly how to make a homemade ice cream cake, it's really not that hard at all – you don't even need an ice cream maker!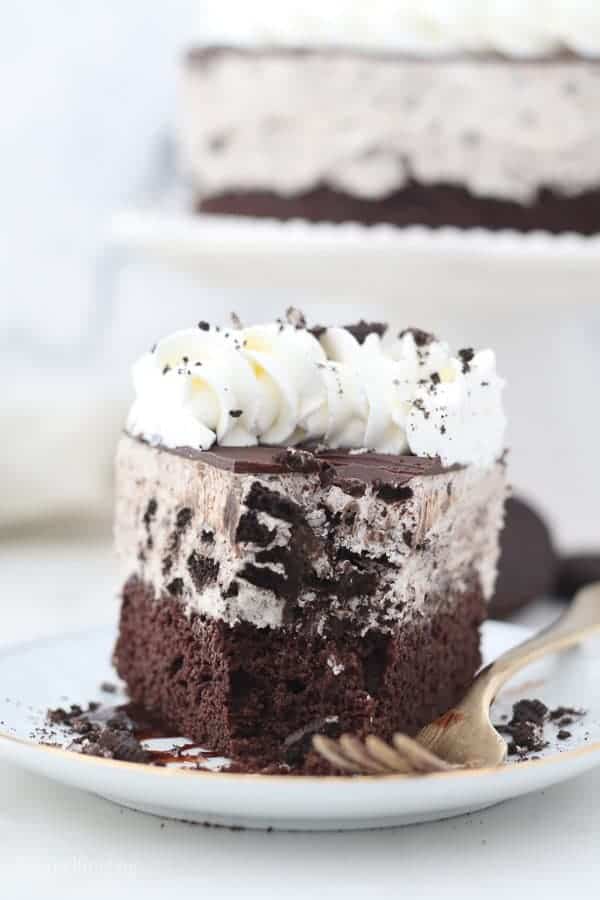 How to Make an Oreo Ice Cream Cake
There are only 4 simple steps to make a home ice cream cake. Here's a quick glance at what they are:
First make the chocolate cake
Then prepare the no-churn Oreo ice cream
Assemble your ice cream cake & freeze
Add the toppings
1. Make the Chocolate Cake
This is a single layer 8-inch cake, but you can also make this in a 9-inch round without adjusting the recipe. You'll just need to adjust the baking time accordingly.
Mix wet ingredients: In a large mixing bowl, combine the sugar, vegetable oil, eggs and vanilla extract and beat until combine, then add the sour cream and continue mixing until well combined.
Add dry ingredients: In a separate bowl, sift together the dry ingredients. Then add half the dry ingredients followed by half of the coffee and mix just until the flour starts to incorporate. Then add the remaining dry ingredients and coffee and mix until combined.
Bake at 350°F for 28-30 minutes. Test the cake for doneness by inserting a toothpick into the center of the cake. If the toothpick comes out clean, the cake is done. Cool Completely.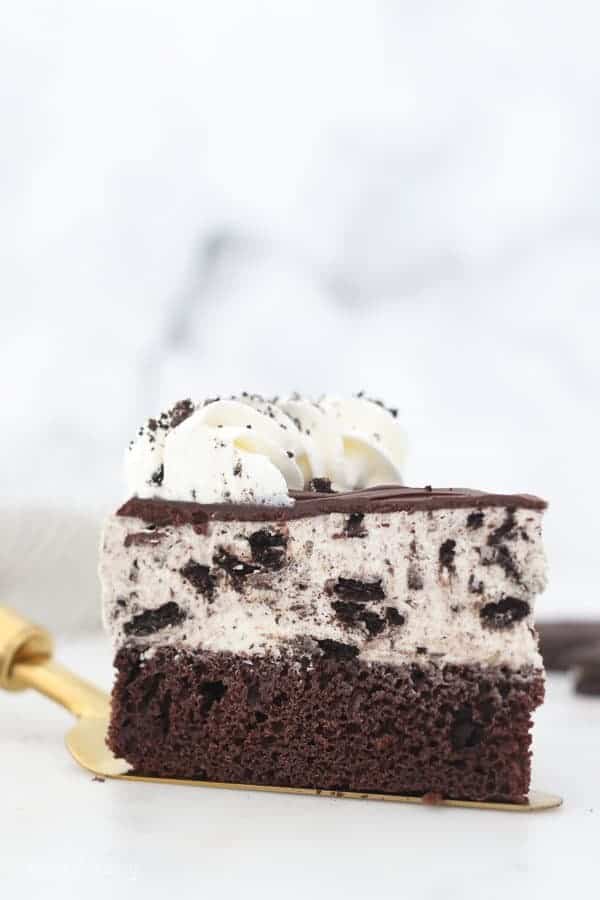 2. Make the Oreo Ice Cream
This is an easy no-churn Oreo ice cream. If you want to simplify the process even further, you can use store-brought ice cream, let it soften and spread it over the cake.
First prepare the whipped cream. Be sure to check out all my tips for making whipped cream if you've never done it. (Time saving tip: You can also skip the homemade whipped cream and use an 8-ounce container of Cool Whip. ) Chill the bowl in the freezer for 5-10 minutes. Pour the heavy whipping cream into the chilled bowl. Use an electric mixer to beat the heavy cream on medium-high speed until soft peaks form.
Add sugar and beat. Slowly add the powdered sugar and continue beating on high speed until stiff peaks form. Set it aside.
Soften the cream cheese in the microwave for 15-20 seconds. It should not be melting at all.
Beat the softened cream cheese until it's completely smooth and free of lumps. Next add the granulated sugar and vanilla extract and continue beating until well mixed.
Add whipped cream: Then fold in the whipped cream until it's fully incorporated.
Add Oreos: Finally, add the crushed Oreo cookies and stir until well mixed.
You can use this base ice cream recipe for just about any flavor. So, if you don't like Oreos, add your favorite cookie.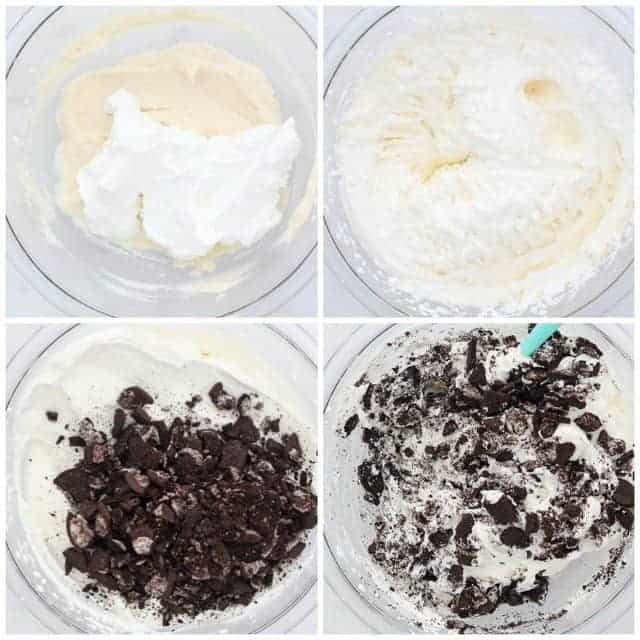 3. Assemble the Oreo Ice Cream Cake & Freeze
This is only a single layer of cake, but if you'd like to stack this cake, you can cut the layer of cake in half and alternate the layers of cake and ice cream.
Transfer the cake layer to an 8-inch springform pan. If you don't have springform pan, you can line your cake pan with plastic wrap along the bottom and up the sides. This will make it easy for you to remove the cake from the pan to slice it. You may notice that your cake has shrunk or doesn't touch the edges of the pan. That's okay because the whole cake is going in the freezer.
Flatten cake: Cut the dome off the top of the cake, so it's nice and flat on top. Place the cake in the bottom of the pan.
Add ice cream: Pour the prepared ice cream base over the chocolate cake, spread evenly.
Freeze: Place in the freezer and freeze until the filling is set, 2-4 hours.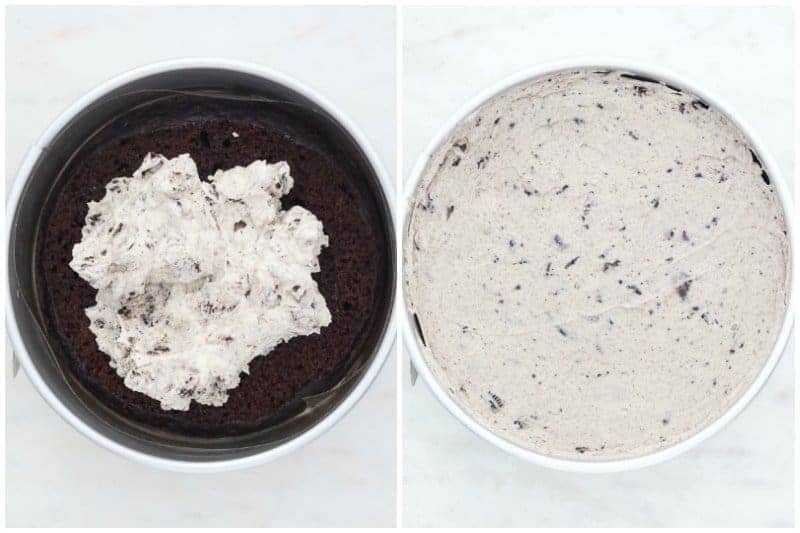 4. Add Toppings
The last step in making your ice cream cake is adding toppings! I've added a layer of simple chocolate ganache and whipped cream. But you can decorate this anyway you'd like. You can add fresh fruit, sprinkles, hot fudge or caramel sauce.
Chocolate ganache: The chocolate ganache is very simple. I combine heavy cream with chopped chocolate and microwave at 50% power until it's melted and stirred smoothly. Microwaving at the reduced power lowers the temperature so that it doesn't burn or overheat. It's best to allow the chocolate to cool prior to spreading it over the ice cream so that it doesn't melt the ice cream.
How to Make Oreo Ice Cream Cake Ahead
To make this ahead of time, you can prepare the cake and ice cream layer and keep in the freezer. Then keep it tightly wrapped in plastic wrap. I recommend adding the toppings prior to serving if possible, but both the chocolate ganache and whipped cream will freeze just fine.
Once the toppings have been added, return this to the freezer and store in an airtight container or cake carrier.
Pro Tip for Serving Ice Cream Cake
When serving an ice cream cake, it's best to let it sit on the counter for 15-20 minutes before slicing so that's it's easier to slice through. I also like to run my knife under hot water and I clean the knife in between cuts, this will help ensure clean slices.
Follow Beyond Frosting
Facebook | Twitter | Pinterest | Instagram
Print