A homemade vanilla bean ice cream is a delightful treat that you can easily make at home with a few fresh ingredients. This French vanilla recipe uses a rich egg-yolk custard as the base, resulting in a creamy and decadent ice cream. The best part? It's all-natural, gluten-free, and nut-free. Let's dive into the world of homemade ice cream and discover the magic of vanilla!
Why You're Going to Love this Vanilla Bean Ice Cream Recipe
Those little black vanilla specks
There's something extra special about a bowl of vanilla ice cream with visible vanilla seeds. The sight of those tiny black specks promises a spectacular taste experience!
Just 7 Ingredients
Less is more when it comes to making vanilla ice cream. This recipe uses only seven ingredients, each serving a purpose. The combination of these ingredients results in the best vanilla bean ice cream you've ever tasted.
Easy Instructions
Even if you've never made homemade ice cream before, don't worry. This recipe provides step-by-step instructions accompanied by photos, making it a breeze to create, store, and enjoy this delightful ice cream. You'll be a homemade ice cream pro in no time!
Ingredients in Homemade Vanilla Bean Ice Cream
To create this heavenly dessert, you'll need the following quality ingredients:
Egg Yolks: These form the base of the ice cream custard. If you prefer, you can opt for pasteurized eggs.
Sugar: Plain, white, granulated sugar adds sweetness and contributes to the creamy texture.
Vanilla Bean: The star of the show! The entire vanilla bean is used, with both the seeds and the pod, to infuse the ice cream with rich flavor. If you can't find a whole vanilla bean, vanilla paste is a suitable alternative.
Whole Milk: The milk is combined with the egg yolks and sugar to create a custard base.
Salt: A pinch of salt balances the sweetness and enhances the overall flavor.
Heavy Cream: Combining heavy cream with whole milk ensures a supremely creamy texture.
Vanilla Extract: Vanilla extract elevates the flavors of the milk, sugar, and cream, taking the vanilla bean flavor to the next level!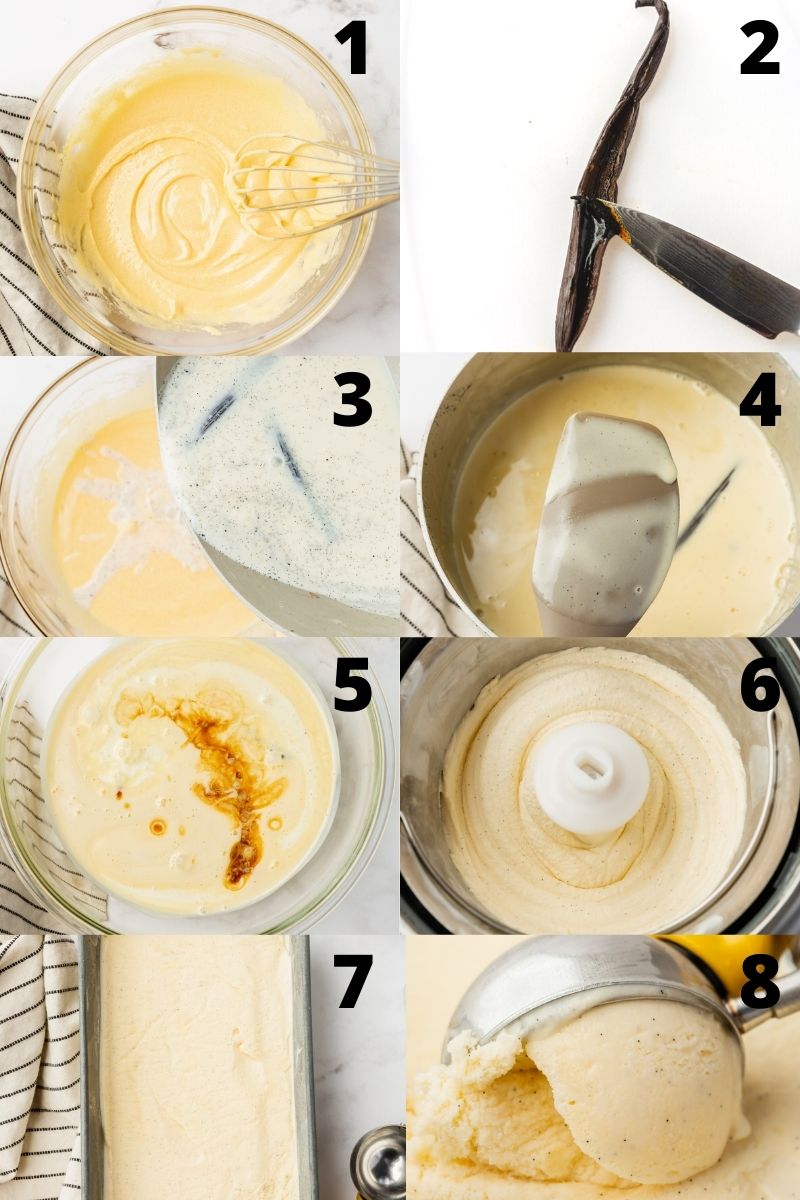 How to Make Vanilla Bean Ice Cream from Scratch
Before we dive into the instructions, ensure that your ice cream maker's bowl has been frozen solid for at least 24 hours.
Whisk together the egg yolks and granulated sugar until smooth and pale yellow.
Split the vanilla bean in half and scrape out the seeds. Use both the seeds and the pod.
In a saucepan over medium heat, combine the milk, salt, vanilla bean seeds, and vanilla bean pod. Simmer the mixture, being careful not to let it boil.
Add about ½ cup of the hot milk mixture to the egg and sugar mixture, whisking constantly until combined.
Pour the tempered egg mixture back into the saucepan with the remaining hot milk. Heat the mixture on low, stirring constantly until it thickens enough to coat the back of a spoon.
Strain the mixture into a bowl to remove any cooked egg pieces. Add the vanilla bean pod, heavy cream, and vanilla extract, stirring to combine. Cover the bowl with plastic wrap, ensuring the wrap touches the surface of the ice cream base to prevent a skin from forming. Refrigerate for at least 3 hours.
Discard the vanilla bean pod. Churn the ice cream mixture in your ice cream machine according to the manufacturer's instructions. The consistency should resemble soft-serve ice cream.
Transfer the ice cream to a shallow container or loaf pan, pressing plastic wrap or wax paper onto the surface. Freeze until solid, preferably for at least 4 hours. Remove from the freezer and let it sit at room temperature for about 5 minutes before serving.
Please refer to the recipe below for the complete list of ingredients and detailed instructions.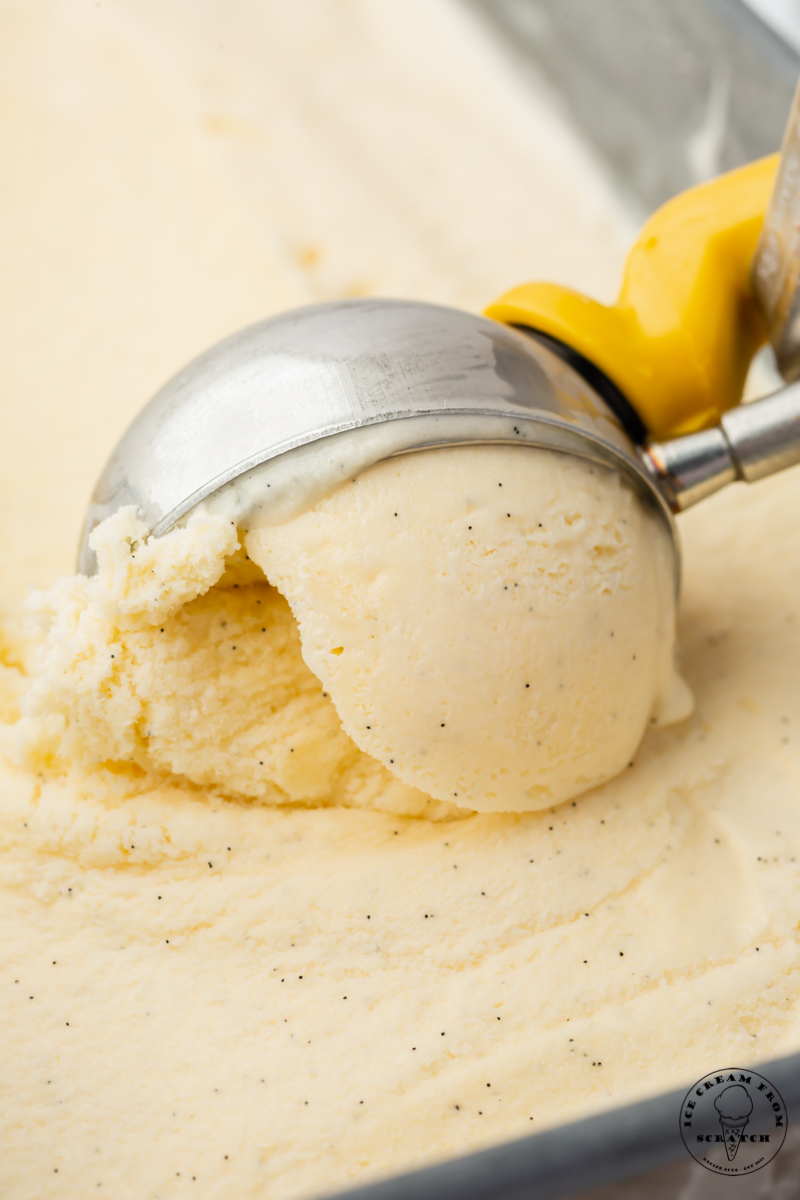 How to Store Vanilla Ice Cream
To store your homemade Vanilla Bean Ice Cream, place it in an airtight container in the freezer with a piece of parchment or wax paper pressed on top. It will stay fresh for up to one month, ready to be enjoyed whenever a craving strikes!
Vanilla Bean Ice Cream Recipe Tips
Use quality ingredients for the best outcome. The flavor and texture of homemade ice cream are greatly influenced by the ingredients you use.
Include the vanilla bean pod during the cooking and chilling process to extract maximum flavor. Remove it just before churning the ice cream.
Begin with chilled ingredients whenever possible, especially for no-churn ice cream recipes and those made using an ice cream maker.
Opt for high-fat milk and cream to ensure the creamiest texture. Low-fat options can result in icier ice creams and inconsistent texture.
When adding additional ingredients, such as chocolate chips or nuts, chop them into small pieces to ensure even distribution.
Sugar is not only for sweetness but also contributes to the creamy texture of the ice cream. Don't skimp on it!
What is the Difference Between Vanilla Bean and Vanilla Ice Cream?
Both vanilla bean and vanilla ice cream taste like vanilla, but the main difference lies in the flavor intensity. Vanilla bean ice cream is made using the entire vanilla bean, providing a stronger vanilla flavor compared to ice cream made solely with vanilla extract.
Is Vanilla Bean Ice Cream the Same as French Vanilla Ice Cream?
Generally, no. Vanilla bean ice cream gets its name from the use of vanilla beans, while French vanilla refers to the French custard method used to make the ice cream. Regardless of the vanilla flavor source, this vanilla bean ice cream recipe combines the best of both worlds.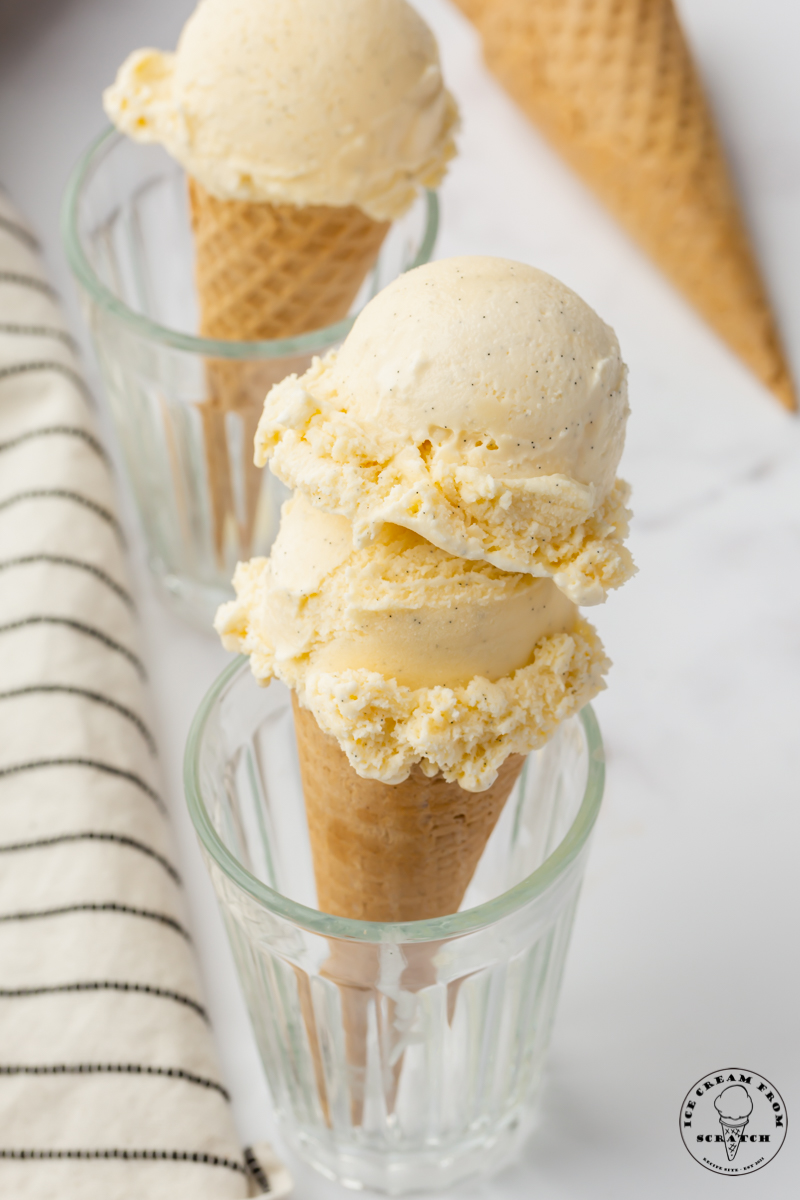 No Churn Vanilla Bean Ice Cream Directions
If you don't have an ice cream maker, don't worry! You can still enjoy homemade vanilla bean ice cream with these steps:
Chill a shallow container or a loaf pan in the freezer.
Mix the ice cream ingredients and pour the mixture into the prepared pan.
Freeze for 3-4 hours, stirring every 30 minutes for the first 2 hours to incorporate air and achieve a creamy texture.
Alternatively, you can try my No Churn Vanilla Ice Cream Recipe, which is egg-free and wonderfully simple to make.
Vanilla Bean Ice Cream Add-Ins
Vanilla ice cream serves as the perfect canvas for a variety of add-ins. Let your imagination run wild and experiment with different combinations to create your own unique flavors. Here are some ideas to get you started:
Miniature chocolate chips or chopped chocolate bars
Chopped candy bars
Sprinkles or jimmies
Shredded coconut or chopped nuts
A swirl of fudge, caramel, or strawberry sauce
Use this homemade ice cream to make ice cream sandwiches or fried ice cream.
You can even make hokey pokey ice cream!
When to Add Extra Ingredients to the Ice Cream Maker
When using an ice cream maker, add any additional ingredients approximately two minutes before the churning process is complete. This allows the ingredients to mix in fully without being overworked, resulting in a perfectly balanced ice cream base.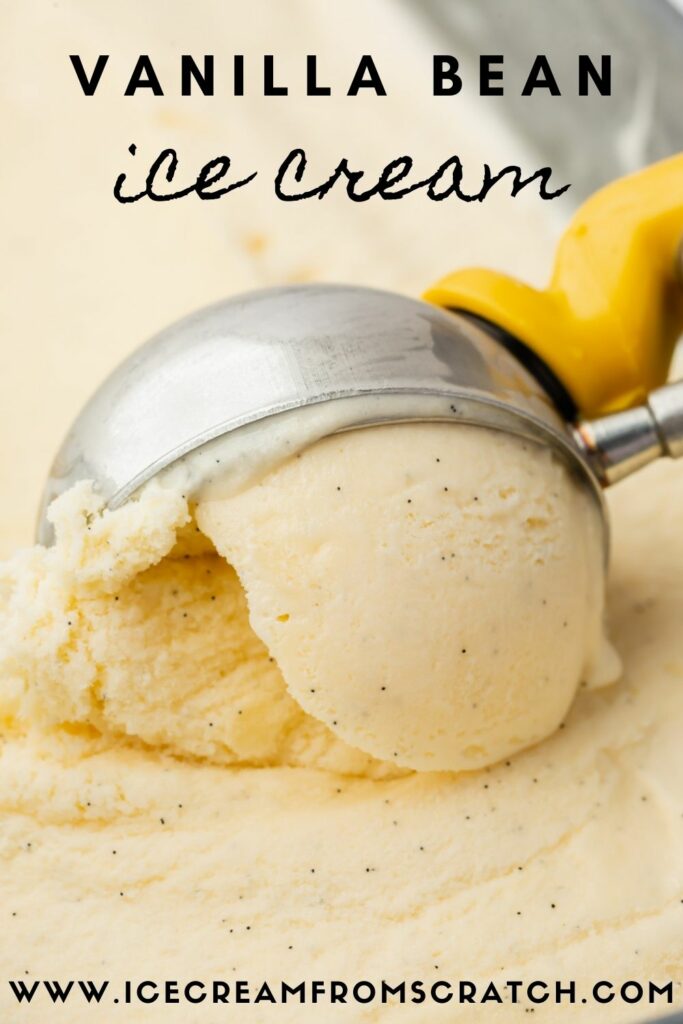 More Homemade Ice Cream Recipes
If you're craving more ice cream adventures, give these simple and delicious flavors a try:
Sweet Cream Ice Cream
Blueberry Ice Cream
Avocado Ice Cream
Chocolate Ice Cream
Strawberry Ice Cream
Looking for an ice cream recipe that's a little more exciting? How about Cookie Monster Ice Cream or Turtle Ice Cream? The possibilities are truly endless!
Our Favorite Ice Cream Making Tools
For a smooth ice cream-making experience, here are some of our favorite tools:
Cuisinart 2QT Ice Cream Maker: Works perfectly for ice cream, sorbets, and frozen yogurt.
Loaf Pan: Any 9 x 13 loaf pan or shallow pan will do, but this one is highly recommended.
Ice Cream Scoop: A good ice cream scoop is essential. Here's one of our favorites.
Ice Cream Containers: Keep a couple of ice cream containers on hand for storing your homemade creations.
Note: The provided links will take you to the exact products on Amazon. As an Amazon associate, I earn from qualifying purchases.
Let's Get Social
If you enjoyed this homemade vanilla bean ice cream recipe, feel free to follow us on Pinterest or leave a comment below if you have any questions. We'd love to connect with you!
Did you give this Homemade Vanilla Bean Ice Cream Recipe a try? Leave a comment below and let us know your thoughts and any additional add-ins you experimented with. Enjoy!