Introduction
Add a delightful twist to your camping desserts with this recipe for Ice Cream in a Bag! With just a few basic ingredients, you can savor freshly made ice cream during your next camping adventure.
I have fond memories of making ice cream at summer camp. The excitement, anticipation, and magic of creating homemade ice cream at a campsite are still vivid in my mind. This activity, which is part dessert and part science project, always brought immense joy to both kids and camp counselors.
Unfortunately, when you go camping, it's nearly impossible to keep store-bought ice cream frozen. Even the best coolers fail to maintain freezing temperatures, causing the ice cream to melt within hours. Trust me, I've experienced it firsthand! So, if you want to enjoy ice cream while camping, you have to make it yourself. Luckily, this recipe is incredibly simple and doesn't require a fancy ice cream maker or freezer. All you need to do is combine rock salt with ice to create a chemical reaction that melts the ice below 32 degrees.
This particular ice cream in a bag recipe has a slight twist that makes it more suitable for camping. Instead of placing a smaller bag inside a larger bag, as many home recipes suggest, the recipe I used at camp involves placing a small bag inside a coffee can. This method is much more durable and prevents any unfortunate mishaps at the campsite.
It's a fun and easy dessert to make, and I highly encourage you to try it this summer!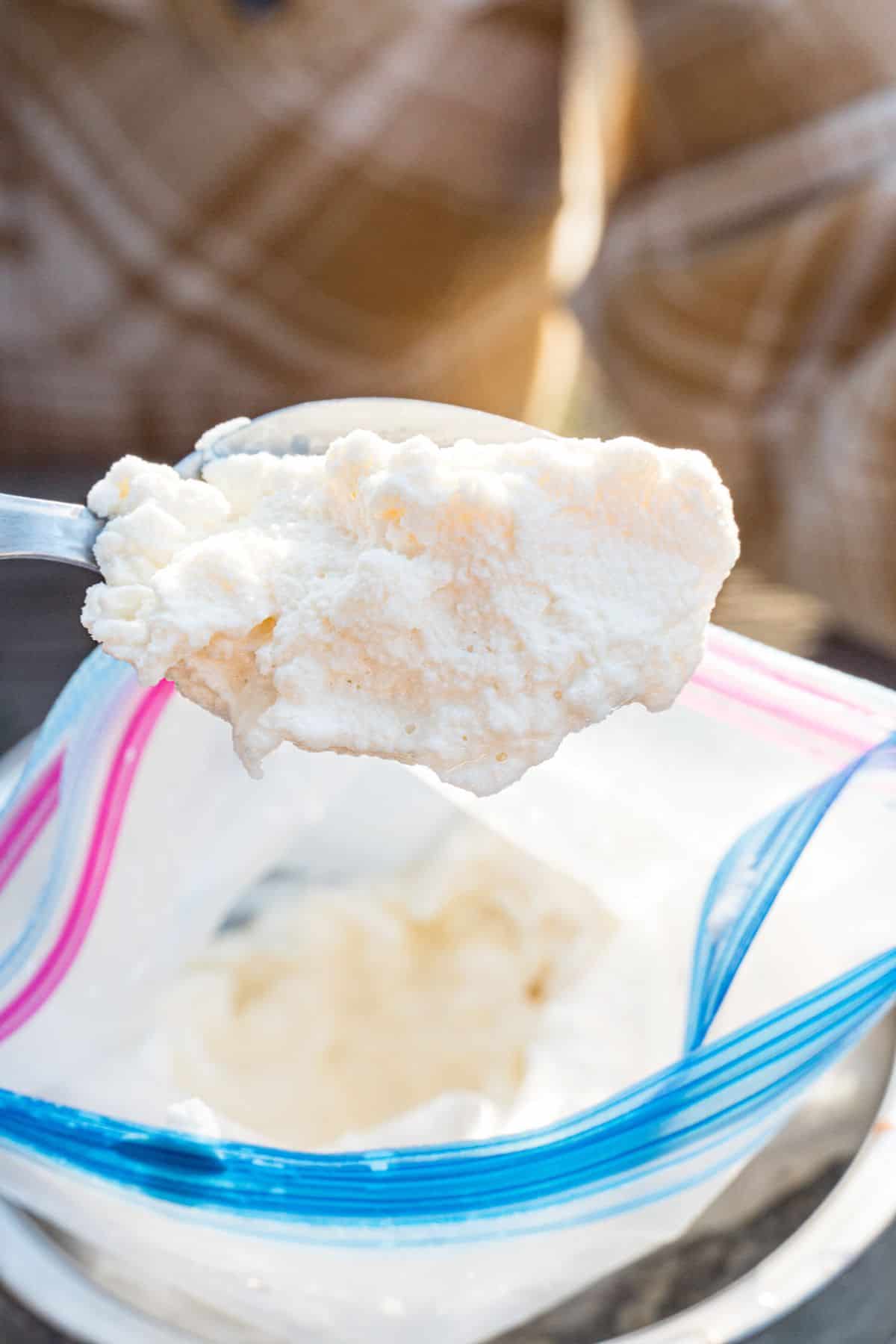 Equipment Needed
Coffee Can
For this recipe, you'll need a coffee can. We tested steel, plastic, and foil-lined cardboard coffee cans, and all of them work well. Steel cans are more durable, but they become very cold to the touch once you add the ice. You may want to use gloves. Foil-lined cardboard cans don't get as cold on the outside, but they require a bit more careful handling.
Plastic Bags with a Sealable Top
We experimented with various containers for holding the ice cream mixture and found that classic seal-top quart-sized sandwich bags produce the best results. The thin plastic allows the ice to churn the half & half in a way that rigid-sided containers don't.
Ice
Regular old ice cubes from your cooler are perfect for this recipe.
Rock Salt
Also known as Ice Cream salt, rock salt can usually be found in the baking section of your grocery store. Unlike table salt, rock salt crystals are large and coarse, making them ideal for lowering the melting point of ice.
The combination of ice and rock salt allows you to achieve temperatures below 31 degrees Fahrenheit.
Ice Cream in a Bag Ingredients
To make this ice cream, you'll need the following ingredients:
Half and Half
We've seen variations of this recipe that call for a 1:1 ratio of heavy cream and whole milk, which is essentially half and half. Instead of buying two separate containers, simply pick up one carton of half and half. If you're in a pinch, you can use whole milk, but the resulting texture won't be as creamy.
If you prefer a vegan version, you can use a plant-based coffee creamer. We tested it with Trader Joe's coconut milk creamer, and it turned out quite well! Soy, oat, and almond milk creamers are also suitable options.
Sugar
White granulated sugar works best for making homemade ice cream.
Vanilla Extract
For vanilla ice cream, add a small amount of vanilla extract.
If plain vanilla ice cream isn't your thing, feel free to customize it by adding chocolate chips, sprinkles, or a drizzle of chocolate syrup.
How to Make Ice Cream in a Bag – Step by Step
The first step is to combine the half and half, sugar, and vanilla inside a resealable plastic bag. Seal the bag, ensuring there are no leaks, and mix it around until the sugar is fully dissolved. You may want to double-bag it for added security.
Place a few cups of ice and 1/2 cup of rock salt in the bottom of the coffee can. Next, insert the double zip-top bag into the can. Fill the remaining space on top with more ice and rock salt. Securely place the lid back on the coffee can, and now, it's time to shake things up!
Motion plays a crucial role in making ice cream, and there are numerous creative ways to achieve it. You can play "hot potato" by tossing the can back and forth, roll it on the picnic table, or gently dribble it like a soccer ball.
As the ice melts, you may need to add more ice and rock salt. You can start checking the consistency around 10-15 minutes.
Once the ice cream has hardened, remove the ziplock bag from the coffee can and serve immediately!
Serve it with…
Of course, you can enjoy this ice cream on its own! However, it's also perfect for scooping onto Dutch oven peach cobbler (or apple cobbler), campfire baked apples, or alongside banana boats.
So, gather your ingredients, shake up a batch of ice cream in a bag, and indulge in the deliciousness of homemade ice cream during your camping escapades. Don't forget to visit Ice Cream for more frozen delights!