Who doesn't love a scoop of rich and creamy vanilla ice cream? And what if I told you that you can make it at home without using any eggs? This homemade no egg vanilla ice cream recipe is a game-changer. With the help of a Cuisinart ice cream maker, you can whip up a batch of this irresistible treat in no time. The best part? You don't even need to cook the base!
Why You'll Love This Recipe
Creamy and Rich: This no egg ice cream recipe yields a smooth and velvety texture that will melt in your mouth.
Intense Vanilla Flavor: The combination of vanilla extract and vanilla bean caviar gives this ice cream a robust and aromatic taste.
Simple Ingredients: With just 6 ingredients, including salt, you can create a decadent dessert without the need for condensed milk.
No-Cook Custard: Since there are no eggs involved, you can skip the custard cooking step, making this recipe even more convenient.
Endless Options: Whether you enjoy it on its own, add your favorite toppings, or use it to complement a warm dessert, this classic vanilla ice cream is incredibly versatile.
Fun Activity: Making homemade ice cream is a fantastic way to bond with your kids and create lasting memories.
Ingredients & Substitutions
Vanilla Bean: If you can get your hands on a vanilla bean, the flavor will be extraordinary. However, if it's not readily available, you can substitute it with an additional 2 teaspoons of vanilla extract.
Heavy Cream: For an even richer ice cream, you can use 2 cups of cream and 1 cup of milk.
Whole Milk: Opt for whole milk to achieve the smoothest texture. Skim, 1%, or 2% milk won't yield the same results.
Complete list of ingredients and amounts is located on the recipe card below.
How to Make Vanilla Ice Cream without Eggs
Quick Overview
Make the cream mixture.
Chill in the fridge.
Churn and serve!
Step by Step Instructions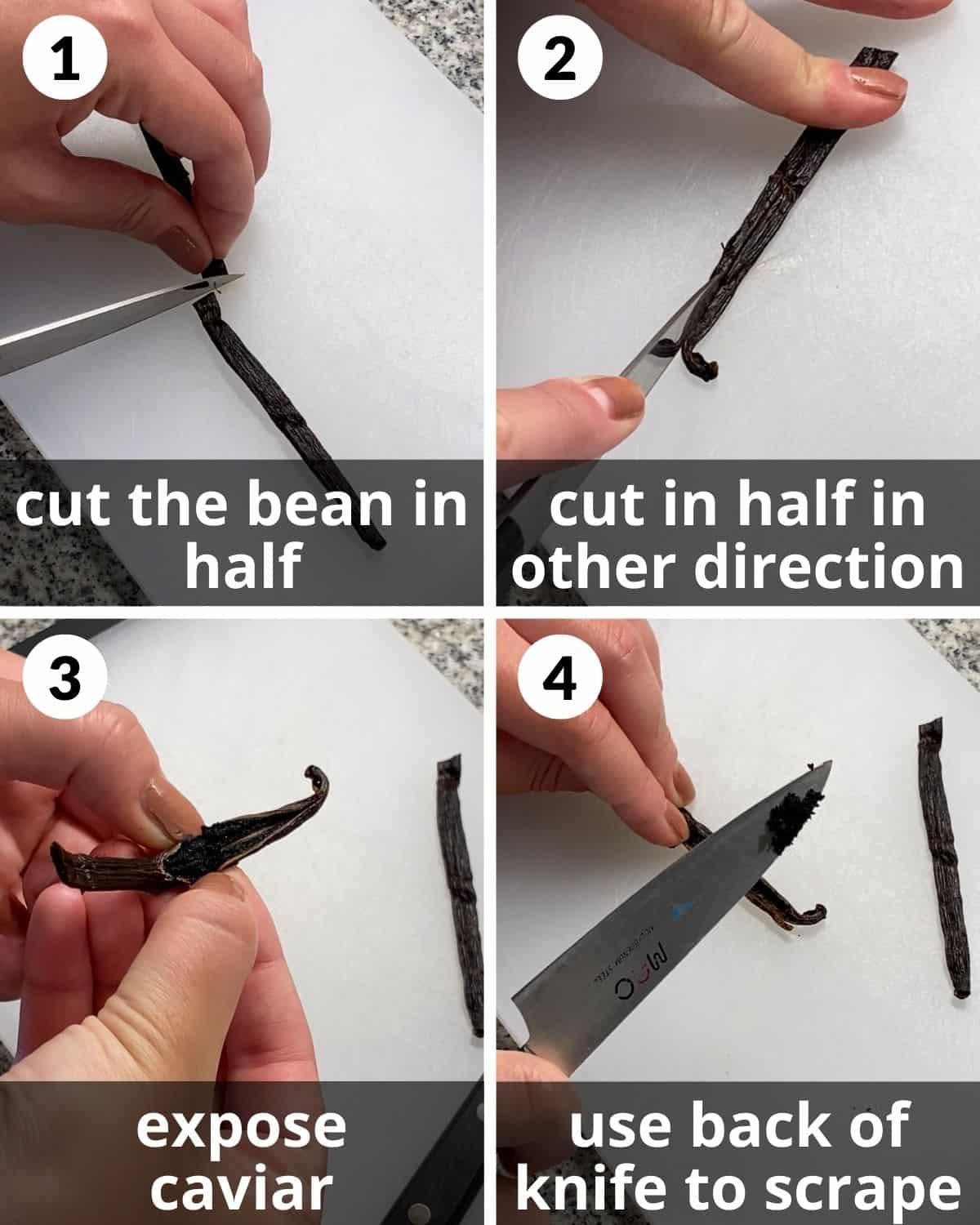 Cut the vanilla bean: Start by cutting the vanilla bean in half crosswise, then lengthwise. Use your fingers to open it up and reveal the precious vanilla bean caviar. Scrape out all of the caviar using the back of a knife.

Whisk the cream mixture: In a bowl, whisk together the vanilla bean caviar, cream, milk, sugar, vanilla extract, and salt until the sugar dissolves completely.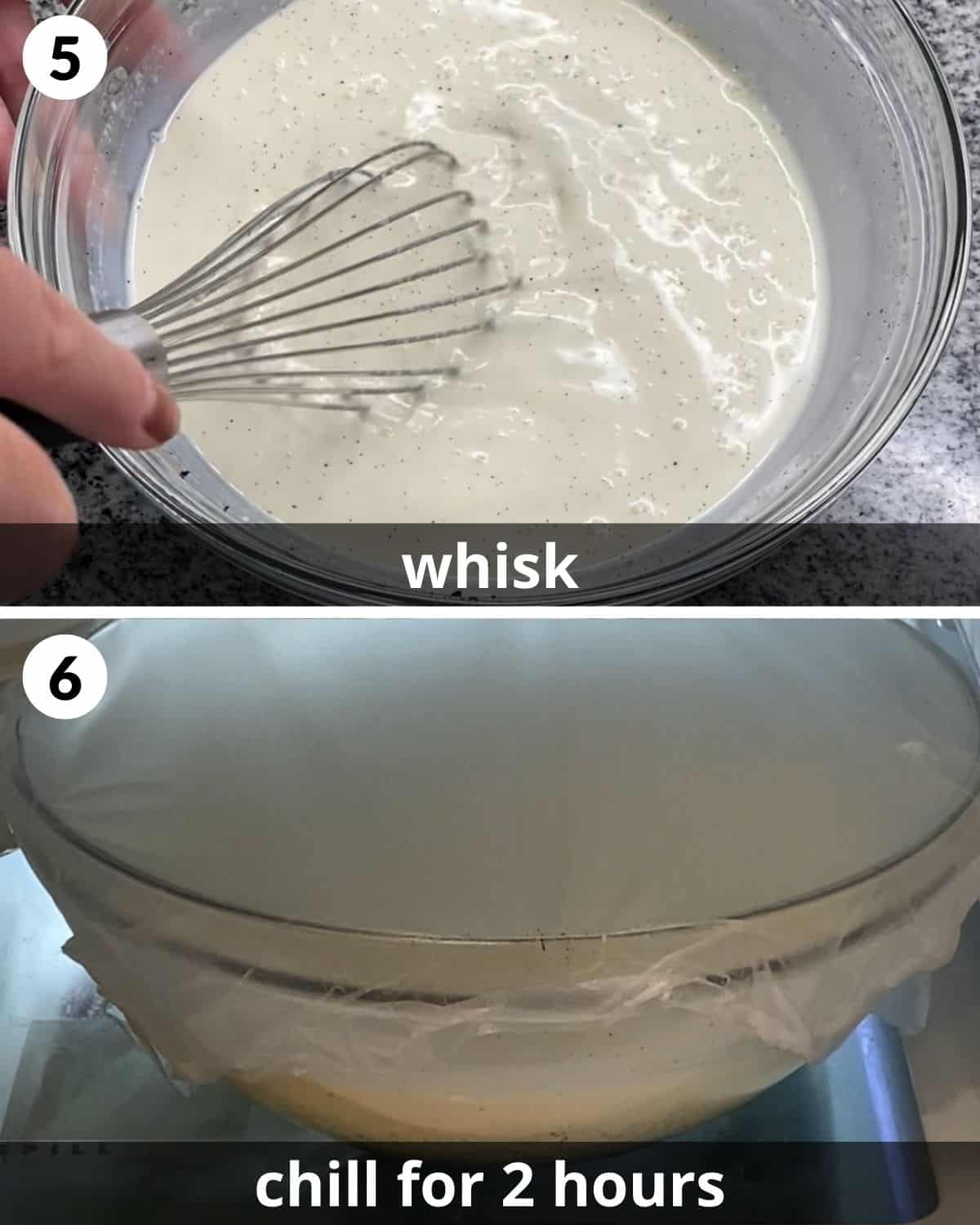 Chill the mixture: Cover the bowl and let the mixture chill in the fridge for at least 2 hours or overnight. This step allows the flavors to meld together.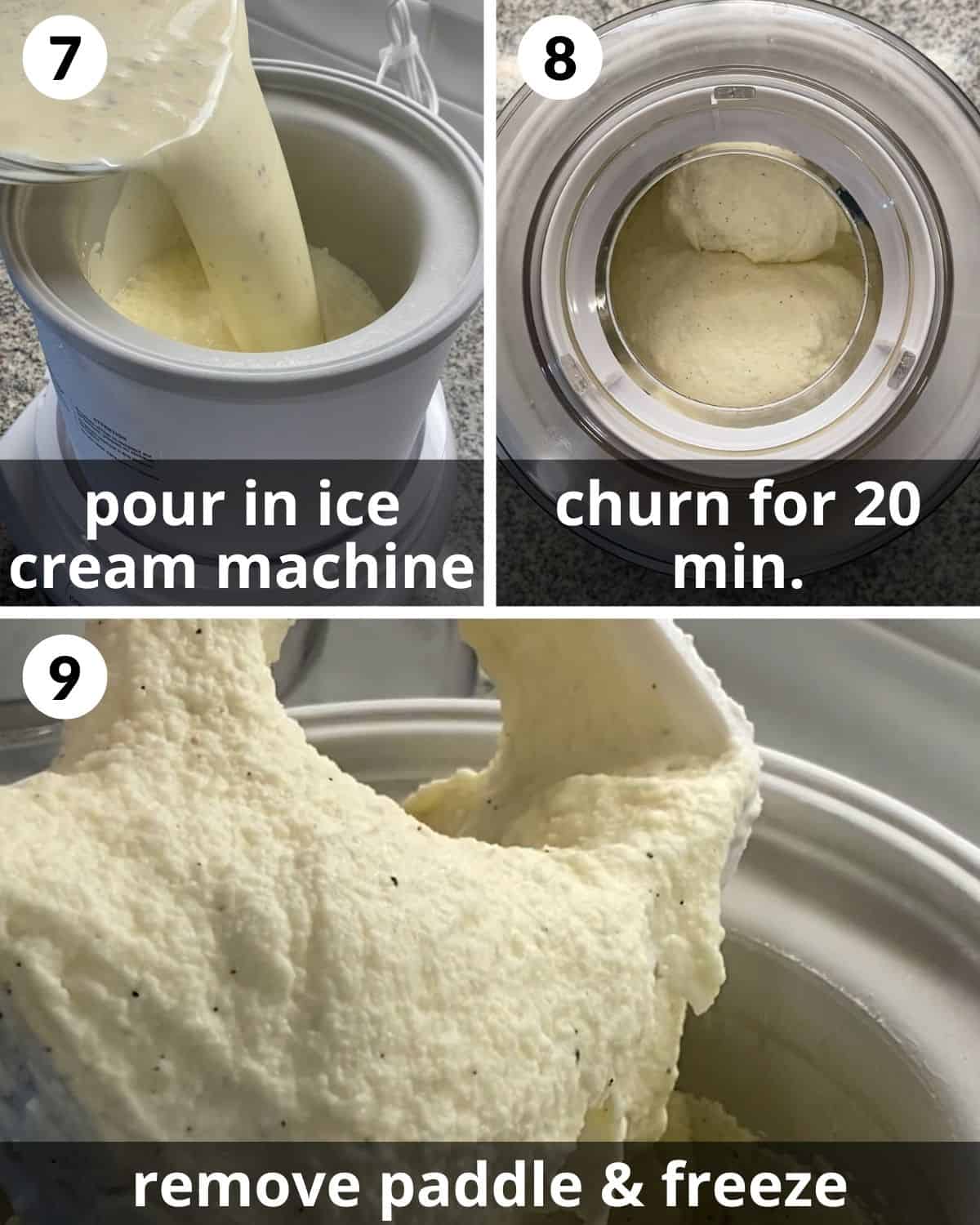 Churn the ice cream: Pour the chilled mixture into your ice cream maker and churn it for about 20 minutes or until it thickens to your liking.

Serve and store: Once the ice cream reaches your desired consistency, you can enjoy it immediately for a soft serve experience. Alternatively, transfer it to an airtight container and freeze for 3-4 hours to firm it up.
Expert Tips & Variations
Make it in an ice cream maker: While I haven't tested this recipe without an ice cream maker, I highly recommend using one. It helps reduce the formation of ice crystals, resulting in a smoother texture. The Cuisinart 1.5 Quart Frozen Yogurt Ice Cream Maker is my top choice.
Use whole milk and cream: Since this recipe doesn't contain eggs, the fat from the dairy products is crucial for achieving a creamy consistency.
Go for a vanilla bean: Although they can be pricier and harder to find, using a vanilla bean will elevate the flavor of your ice cream significantly.
Whisk until combined: Before chilling the mixture, make sure the sugar has completely dissolved in the cream mixture.
Get creative with toppings: Feel free to add 1-2 cups of your favorite toppings, such as crushed Oreos, chocolate chips, edible cookie dough, fruit, or toffee chips.
Storage tip: While this homemade ice cream is best enjoyed fresh, you can store it in an airtight container in the freezer for 1-2 weeks. Keep in mind that the absence of preservatives and stabilizers may result in the formation of ice crystals over time.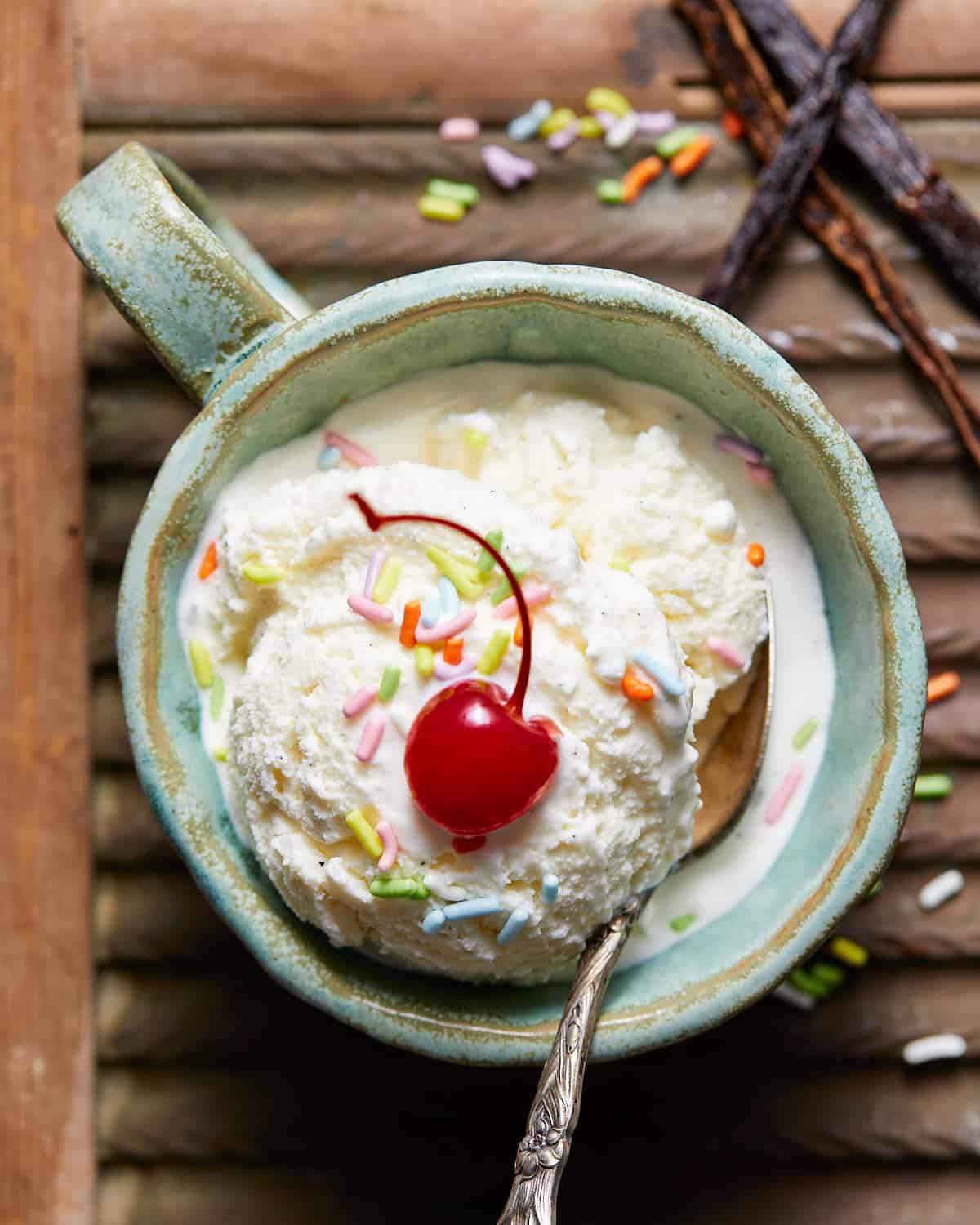 More Dessert Recipes
Looking for more delightful dessert recipes? Check out these mouthwatering treats:
With this no egg vanilla ice cream recipe, you can indulge in a homemade frozen treat that's bursting with flavor. Get your ice cream maker ready and start creating memories with every creamy scoop. Enjoy!