This no-churn Cookie Monster Ice Cream is blue and full of cookies, just like its namesake! Crunchy bits of Oreo and Chips Ahoy are folded into a blue vanilla base for an irresistible frozen treat.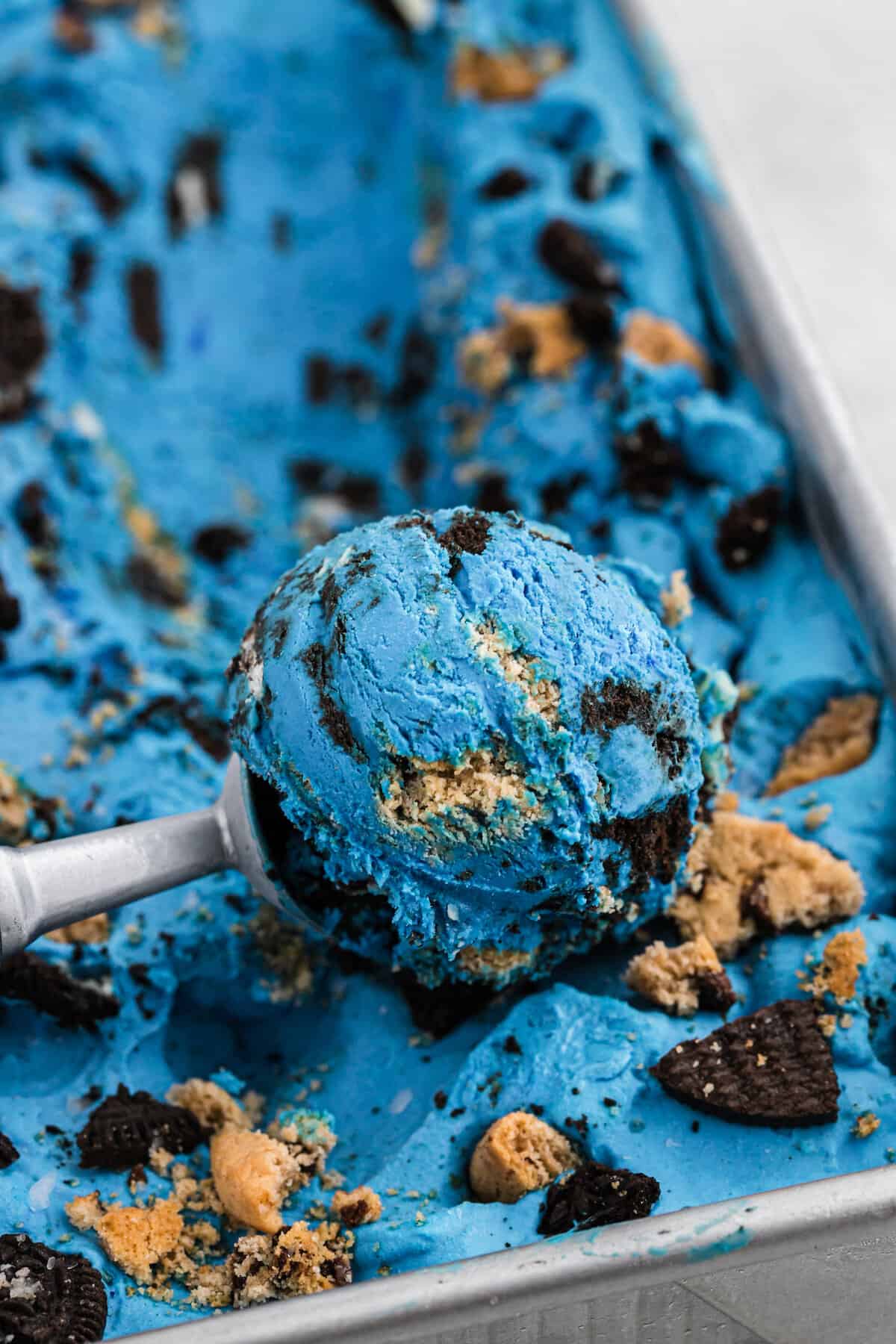 Easy No-Cook, No-Churn Ice Cream Recipe
Whether you're making this recipe for a birthday party or just because, Cookie Monster Ice Cream is guaranteed to delight any Sesame Street fan—and anyone who loves cookies. It's loaded with Oreos and chocolate chip cookies, and by using gel food coloring, you can even get the perfect Cookie Monster blue for the base! In terms of flavor, Cookie Monster Ice Cream is a little bit like the classic combination of cookies and milk, but in the form of rich, creamy ice cream.
You don't even need an ice cream maker for this recipe, which is good news for anyone who doesn't want to fuss with making a custard, churning the base, or remembering to freeze the machine drum!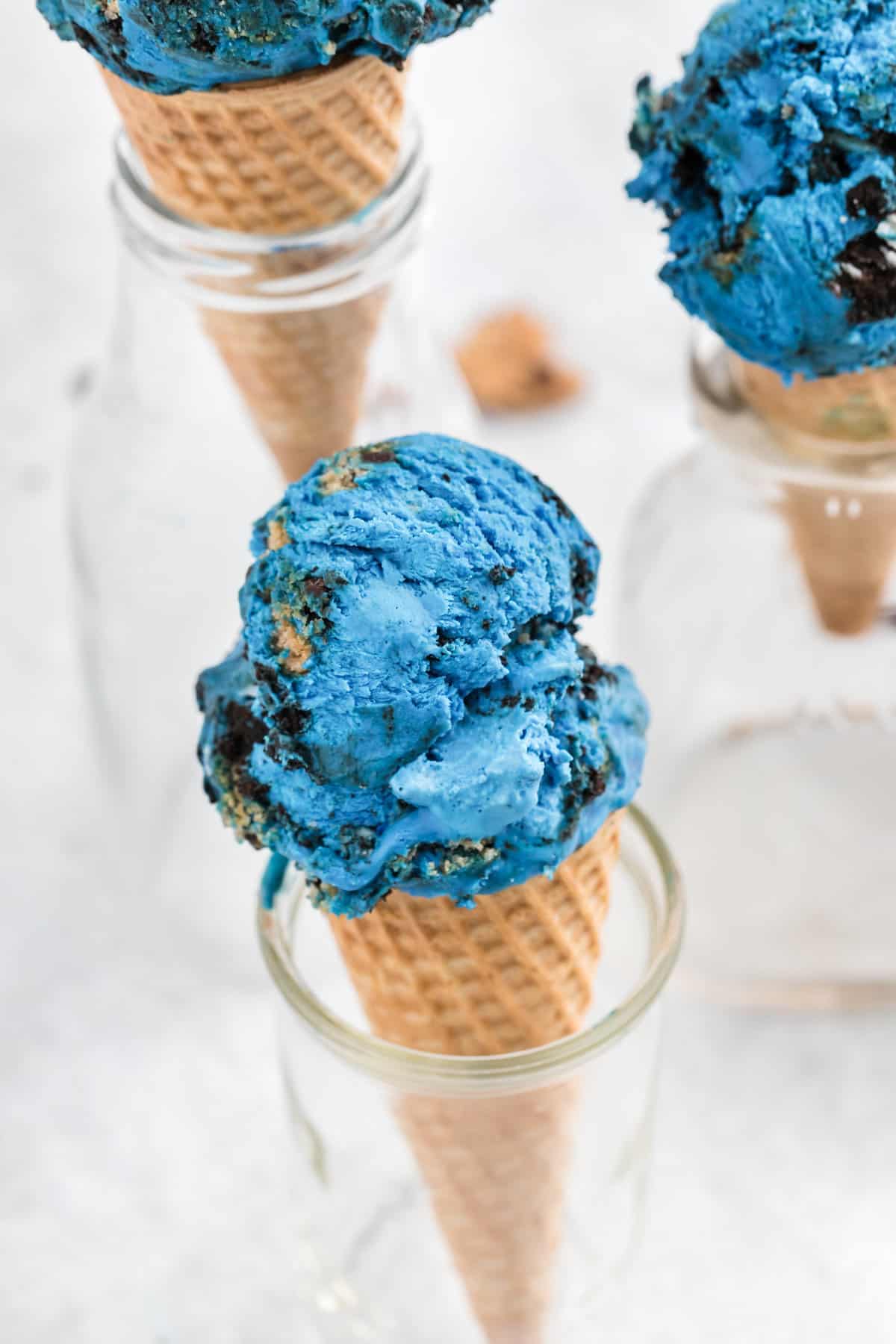 No Ice Cream Maker Needed
Also read: Cookie Monster Ice Cream (No-Churn Recipe) – Princess Pinky Girl
There are several ways to make ice cream without an ice cream machine, but the method I use in this recipe replaces the usual milk-based custard with heavy whipping cream. This allows the ice cream to be frozen in a loaf pan instead of using an ice cream maker to churn it.
Whipping the heavy cream suspends its water content in a scaffolding of fat. When the whipped cream is combined with the rest of the ingredients, the scaffolding remains and the water droplets it holds are distributed evenly throughout the ice cream mixture.
While this all sounds very technical, what it means is that the ice cream freezes smooth, scoopable, and creamy, without requiring an ice cream maker for churning.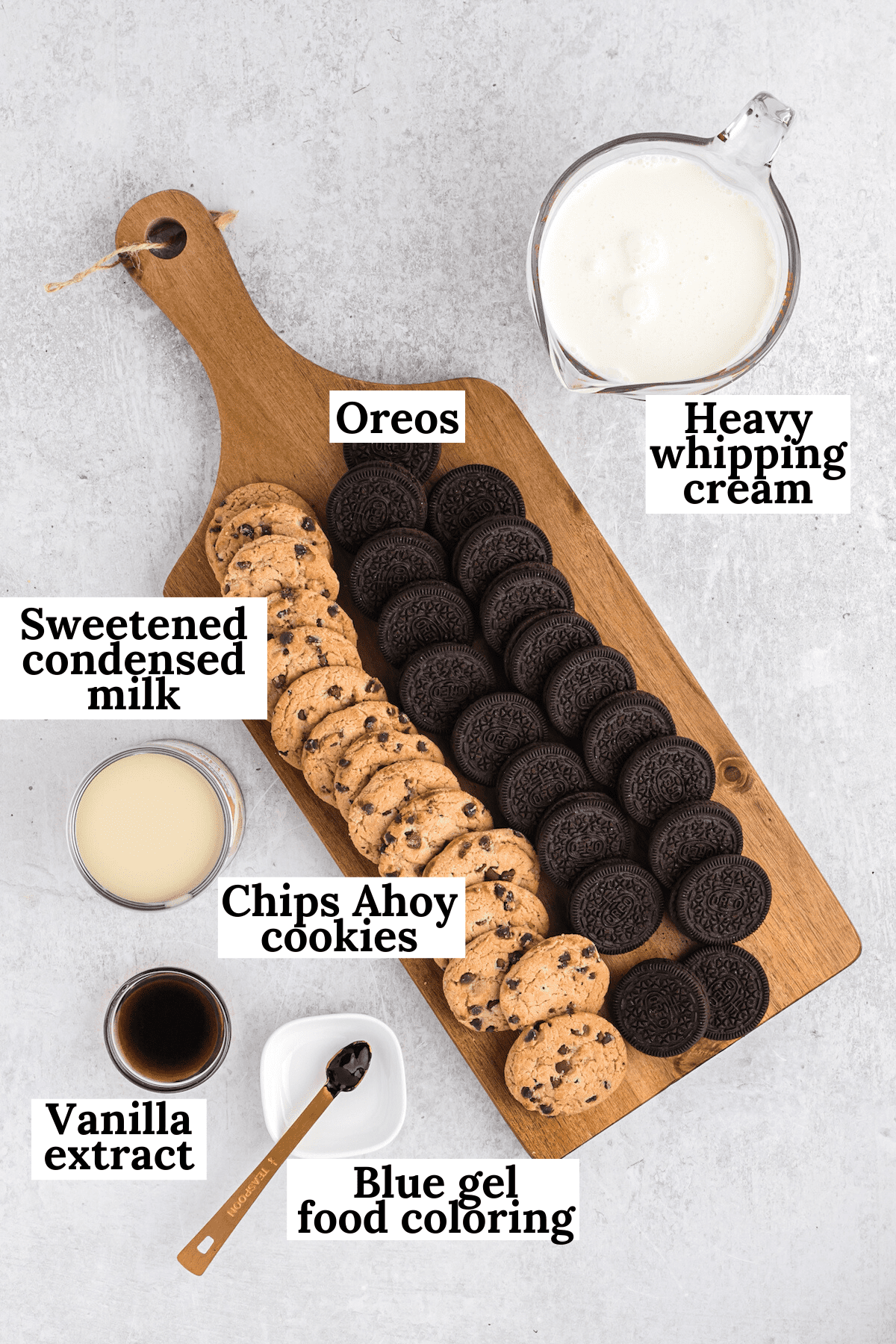 What You'll Need
Also read: Cookie Monster Ice Cream – Spaceships and Laser Beams
Scroll down to the recipe card below this post for ingredient quantities and full instructions.
Heavy whipping cream – Don't substitute half-and-half or whole milk! You need whipping cream to get the right texture for this recipe.
Vanilla extract
Blue gel food coloring – I used AmeriColor brand.
Sweetened condensed milk
Oreos
Chips Ahoy cookies – If you happen to have homemade chocolate chip cookies on hand, you can use those instead.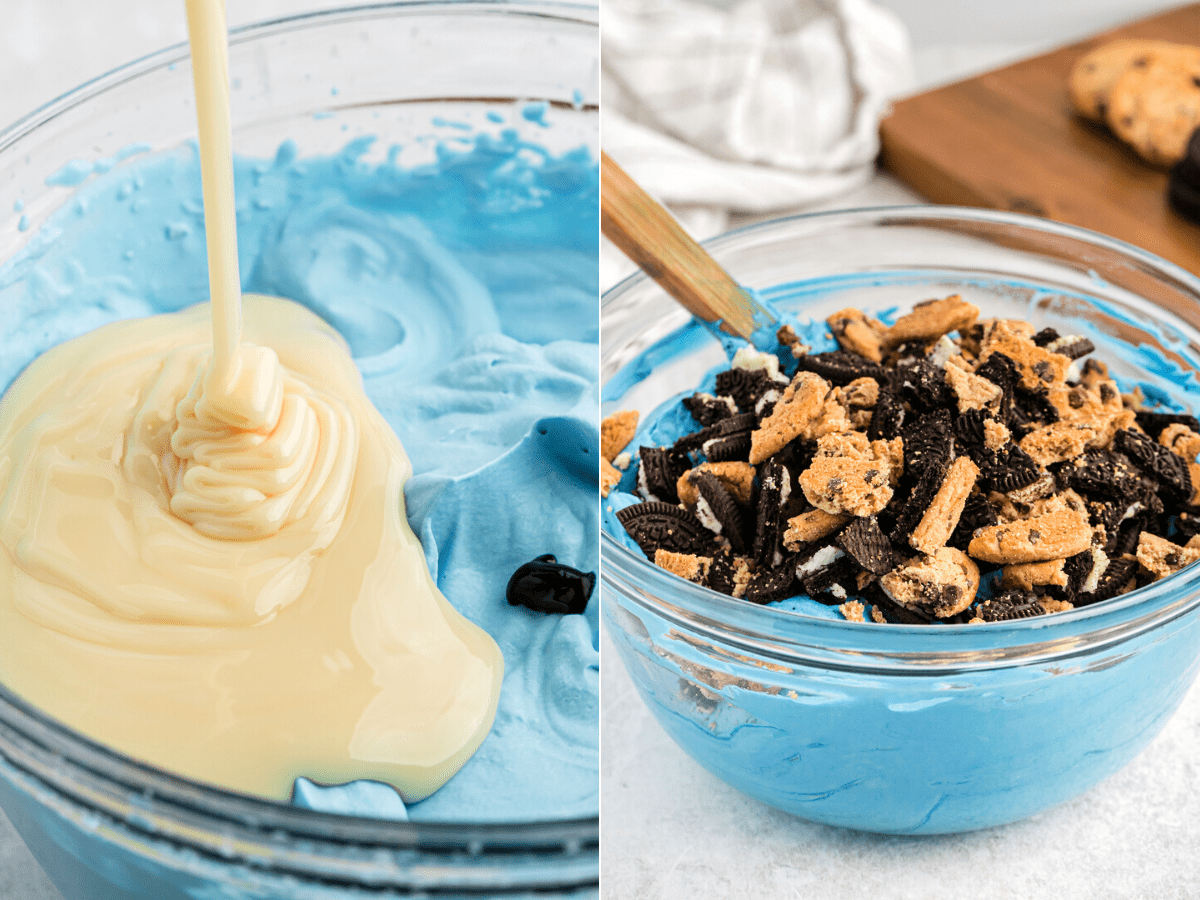 How to Make Cookie Monster Ice Cream
The best thing about using whipping cream to make ice cream is that it's such a low effort method. Not only is there no churning, but there's also no need to go to the freezer every 30 minutes to stir the ice cream like you have to with other no-churn recipes. Here's what you'll need to do:
Whip the cream. Place the heavy whipping cream, vanilla extract, and blue gel food coloring in a mixing bowl or the bowl of a stand mixer. Beat the mixture until stiff peaks form.
Also read: Cookie Monster Ice Cream
Add the remaining ingredients. Pour the condensed milk into the bowl and beat on low until combined. If needed, add more food coloring, then fold in the chopped cookies.
Freeze. Pour the ice cream mixture into a loaf pan, 8-inch cake pan, or a similar container. Scatter additional cookie pieces over the top, then cover the pan with plastic wrap or a lid. Freeze for at least 6 hours, or overnight for best results.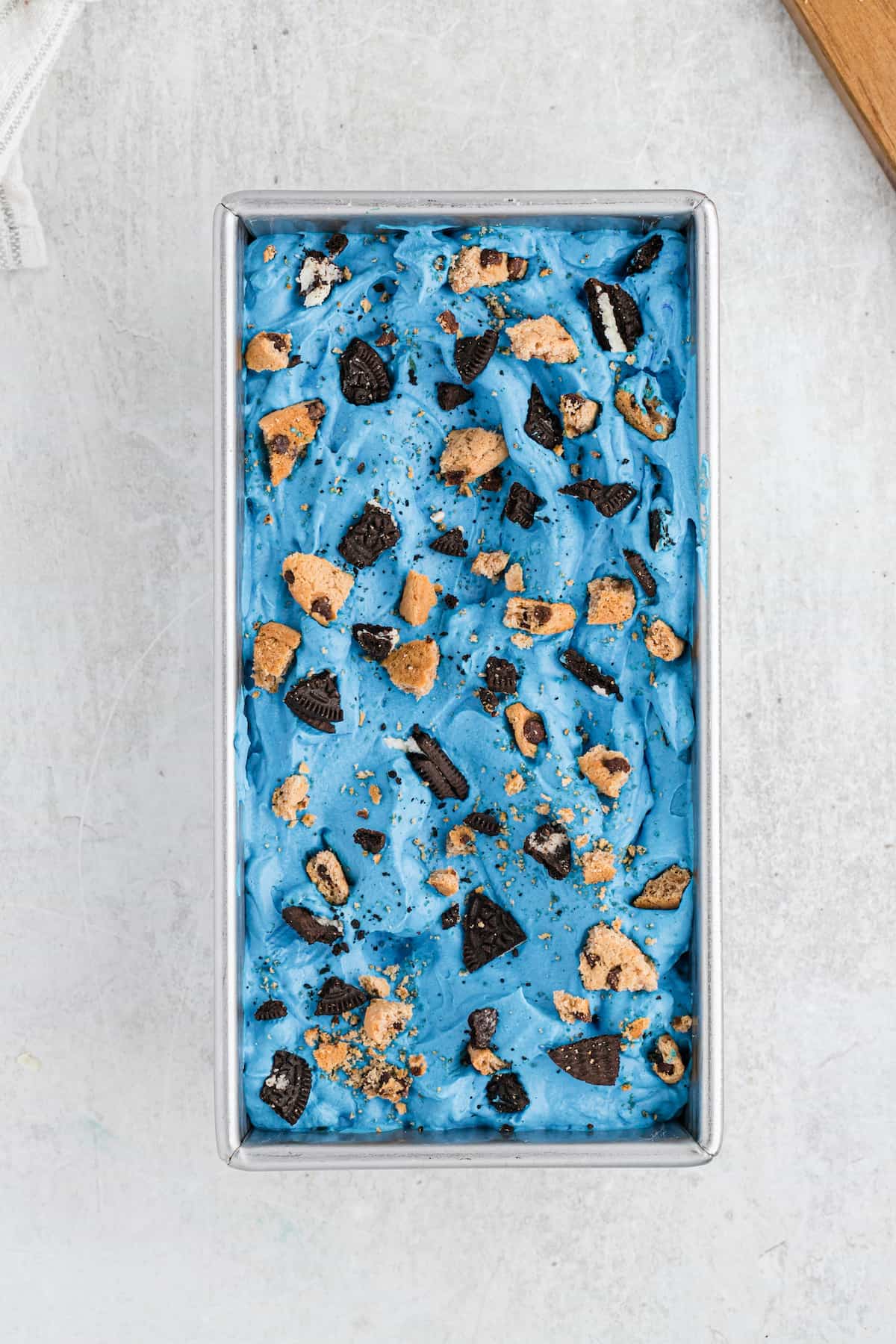 Tips for Success
This homemade Cookie Monster Ice Cream is easy as can be, but these tips will help make sure it turns out perfect.
Knowing when you have stiff peaks. Remember when we talked about how the fat in the whipped cream forms scaffolding? This happens when stiff peaks form. You'll know you have stiff peaks when the peaks stand straight up when you lift the beater, without the tips curling down.
Nailing the perfect mix-in size. If your Oreos and chocolate chip cookie pieces are too large, you won't get them in every bite, but if they're too small, they'll disappear into the ice cream base. You don't have to be precise, but pieces that are about 1/2-inch in size are the perfect happy medium.
Changing things up. Feel free to use all Oreos, all Chips Ahoy, or another type of cookie if you'd like, but don't swap out ingredients in the base. Changing the proportions will change how the recipe turns out!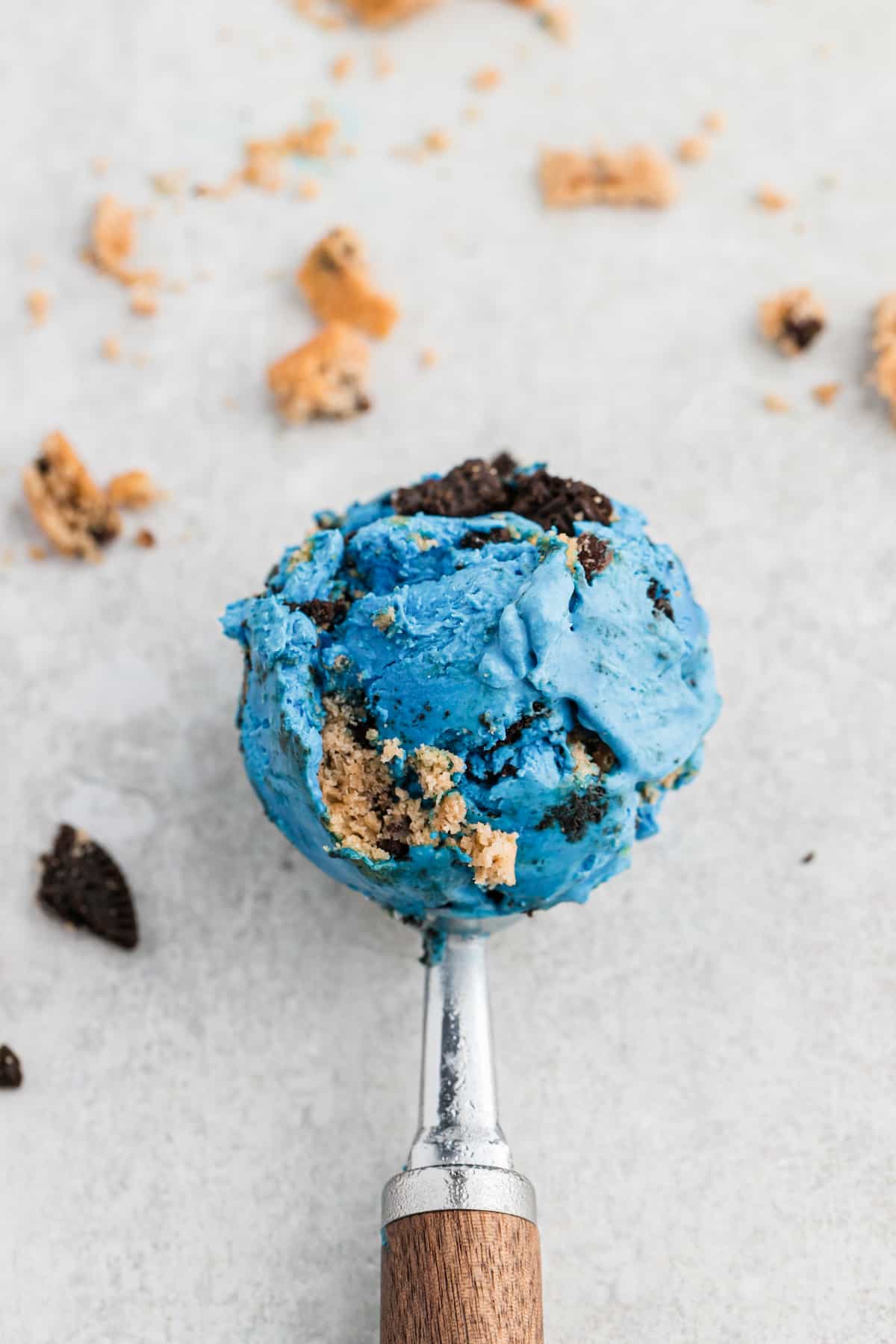 Serving Suggestions
Cookie Monster Ice Cream is perfect for a Sesame Street themed first birthday party, delicious scooped into a cone, and you'll also love it:
Sandwiched between two chocolate chip cookies for a homemade ice cream sandwich.
In a bowl with a whole cookie, Chocolate Whipped Cream, and a maraschino cherry for garnish.
Served alongside Oreo Cake, Chocolate Chip Cookie Bars, or Funfetti Cupcakes for a party.
More Ice Cream Recipes
Oreo Ice Cream
Mocha Almond Fudge Ice Cream
Bananas Foster Ice Cream Pie
Snickers Bar Ice Cream Cake
For more information please see the list of Cookie monster ice cream