Here are the best information about Halo halo ice cream public topics compiled and compiled by our team
This ultimate Filipino summer treat, Halo-halo is a sure and delicious way to cool down. With the combination of shaved ice and many different layers of sweet beans, fruits and other treats then drizzled with milk. Let us not forget the toppings, leche flan, ube halaya or even ube ice cream!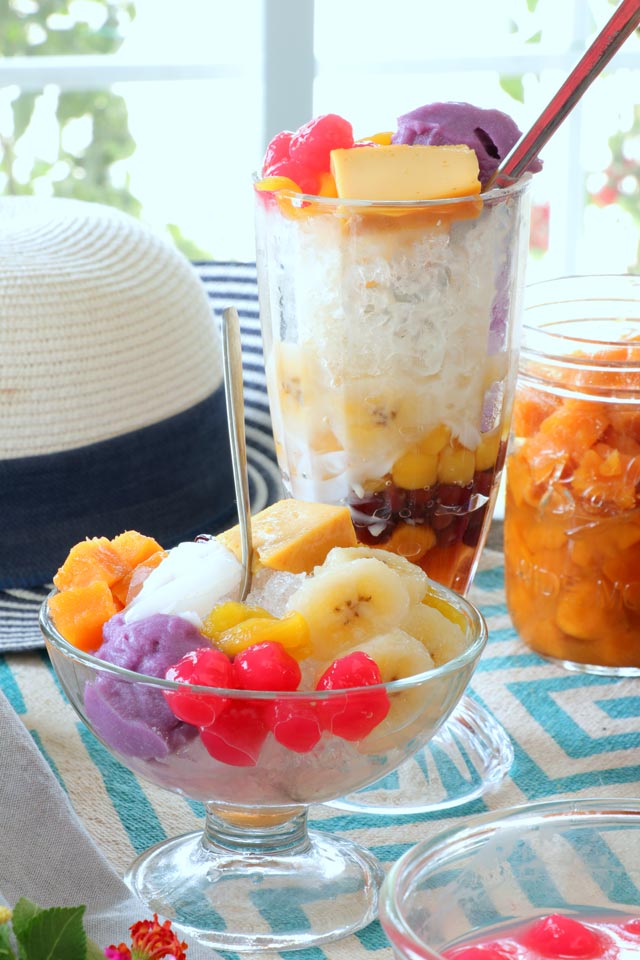 'Halo-halo' is a Tagalog word that means mixed, as that is what this is basically. A concoction of various sweet treats that are put together to culminate into one great cold treat. A colorful medley that is sure to cheer you up even on the hottest and most humid of days.
Eating Halo-halo brings me back to the happiest memories of hot summer days well spent with my siblings and cousins. We grew up spending the entire school summer vacations at my grandparents' house. This is also where I grew up before we moved to the city when I was 7. Most of our cousins lived in Manila, then.
I believe it was our lolo Itay's wish that his children and grandchildren stay with them once school is out and it became a family tradition. One that I am very much happy and grateful for as it created a special bond between us, cousins, that stayed even now.
It would be like more than 20 kids in one house at a time! Can you imagine all the kinds of trouble that could create? But funny enough, I do not remember anyone having a fight. We would tag-team against other kids, sure, but never against each other.
We would do everything together. Depending on your age bracket, you will be assigned a task. The older girls are the ones who prepare the meals. Others would be in charge of cleanup. The younger kids have different parts of the house to clean. We would all play together or go for long strolls, discovering parts unknown of the barrio.
Halo-halo of my childhood
We come home in the afternoon all sweaty and sticky just in time for 'merienda' (afternoon snack). Our favorite, of course, is Halo-halo from the makeshift stand of Ka Munda, our neighbor across us. It is really just a table with a bank or two, shadowed by a tree that she put up every summer.
Her halo-halo has really just the basic of ingredients. Aside from the usual crushed ice and milk, sweet potato, plantain bananas, sago pearls, pinipig and shredded coconut meat is the usual components. You are lucky if there is ube jam available but if you come a bit late or she has not gone to the market to restock, you'd be happy to have even just two of these things in your halo-halo. But we were content even then, especially since it was only Php5.00 a glass at that time.
When Armin came to the Philippines, I was eager for him to try Filipino food. Obviously, I chose the best ones that I thought he would like and halo-halo was on my list. When he tried (Chowking's) halo-halo for the first time, he was very much hooked. We even bought our very own ice crusher so we can make it at home whenever we want.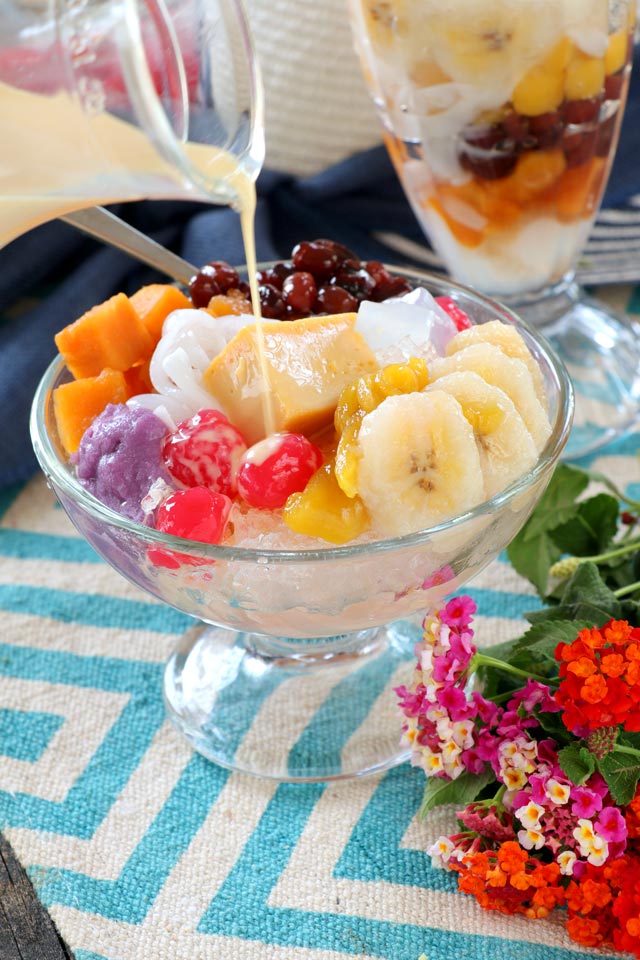 Halo-Halo Ingredients
There is really no written rule as to what ingredients you can put in halo-halo or how many. It usually varies from region to region. Usually, whatever fruits or root crops that are endemic to a location is a good candidate.
Here are some of the most common halo-halo ingredients that are used:
crushed or shaved ice
milk (fresh or evaporated)
sugar, if needed
sweetened saba or plantain bananas
sweetened sweet potatoes
fresh or sweetened langka (jack fruit)
sweetened garbanzos or beans
coconut strips or sweetened macapuno
sweetened red munggo
nata de coco (coconut gel)
sago or tapioca pearls or jelly cut into cubes
pinipig
leche flan (topping)
ube jam or ube ice cream (topping)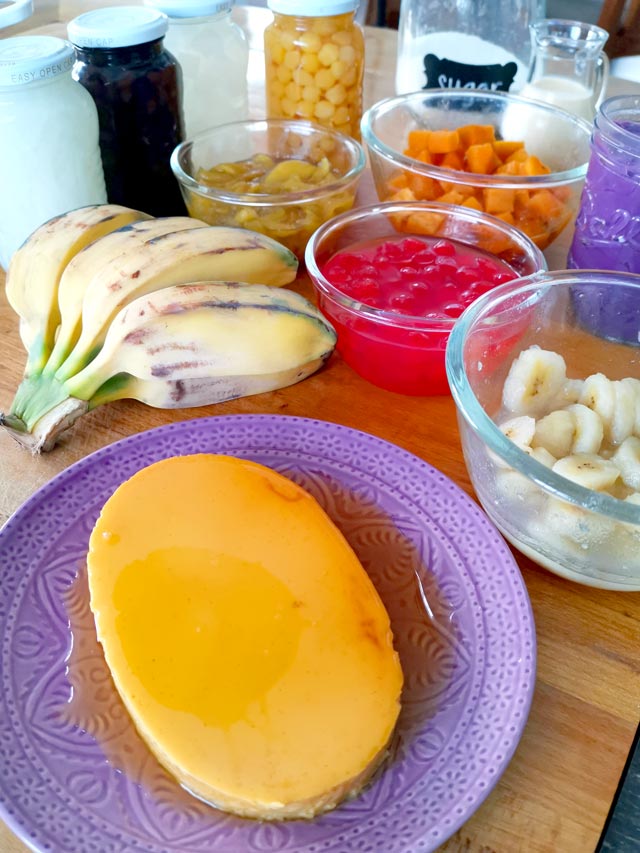 How to make halo-Halo?
You can either make everything from scratch or you can buy the ingredients that are usually sold in jars. Sweetened banana and sweet potato, however, have to be homemade.
You will also need an ice crusher or shaver.
In a tall glass, add a teaspoon of each of your selected ingredients.
Add sugar if you like.
Fill the glass with shaved ice up to the brim.
Drizzle with milk
Add the toppings of choice.
Serve with a long spoon to mix ('halo') and enjoy.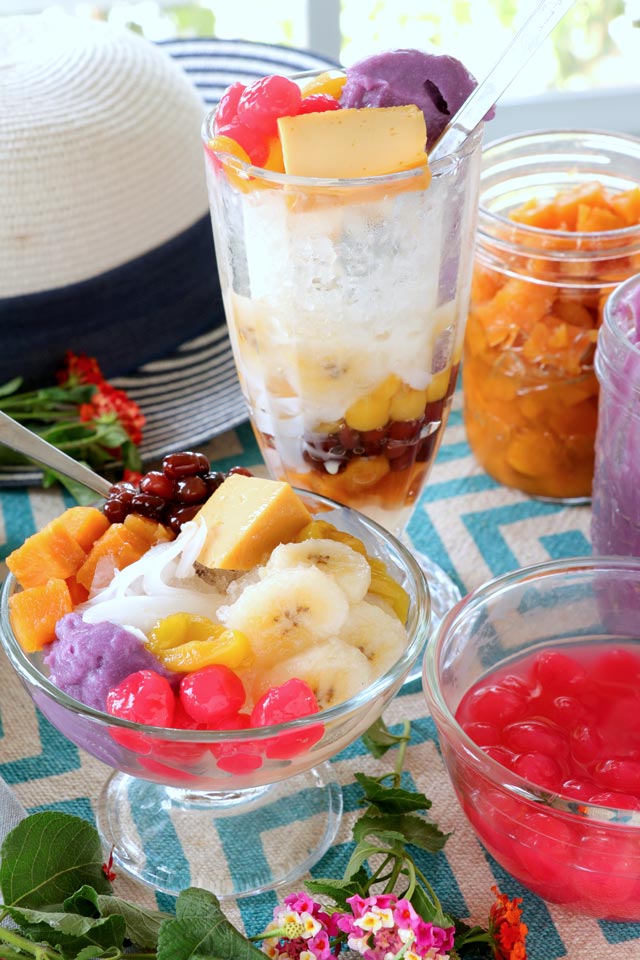 If you plan to make the ingredients all homemade, here are some of my recipes:
Ube jam made from raw purple yam, but powdered ube can also be used.
Leche Flan (the recipe is for 3 llanera but can be divided to 3 to make only 1 llanera)
Tapioca pearls. I made these for milk tea and dyed in black but you can replace the food color to red or just use uncolored ones.
Sweetened Sweet Potatoes:
2 cups water
½ cup sugar
2 cups sweet potato cut into ½-inch cubes
In a saucepan over medium heat, bring water to a boil. Add sugar and stir until dissolved. Add sweet potatoes and cook for a few minutes until cooked through.
Sweetened Saba or plantain banana:
2 cups water
½ cup sugar
2 cups plantain banana/saba cut into ½-inch slices
In a saucepan over medium heat, bring water to a boil. Add sugar and stir until dissolved. Add saba banana slices and cook for a few minutes until cooked through.
Sweetened Jackfruit: (last longer than fresh one)
1 cup water
¼ cup sugar
1 cup ripe jack fruit shredded into thick strips
In a saucepan over medium heat, bring water to a boil. Add sugar and stir until dissolved. Add jack fruit strips and cook for a few minutes until tender.
The above plus some additional jarred ingredients should be enough to make at least 16 tall glasses of Halo-Halo. Transfer them into jars or containers and you can store them in the fridge for some days or longer.