Below are the best information about Halo halo ice cream voted by users and compiled by us, invite you to learn together
Halo-halo is a Filipino-style shaved ice made with sweetened beans, fruits, and jellies and topped with milk, Leche flan, purple yam jam, and ice cream. It's a cold and refreshing treat you'll want year-round!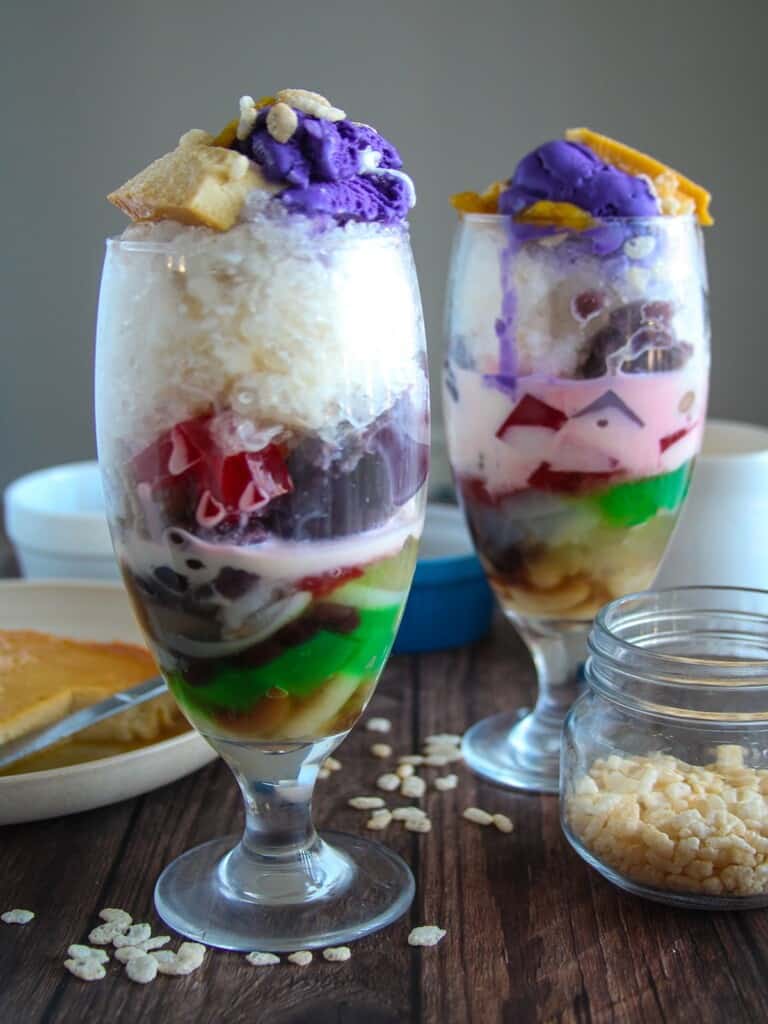 Pin this recipe for later!
We're in the midst of summer here in Texas, and if there's one thing about Texas in summer, it's hot. Like, really HOT. Like, some days it's 95 F, and you're grateful it's only 95 F.
I'm never more as appreciative as I am from June to September that I work from home and seldom leave the house. The girl gotta eat, though, and I occasionally have to brave the oppressive temperature for a food run. Boy, the blistering heat and humidity feel like you're walking in a bowl of soup!
But as much as I whine about the hot weather, there is no other place we'd rather live. Four months of Summer is not that bad when we have a beautiful fall and mild winter to look forward to. Besides, a scorching hot day is more reason to enjoy a tall glass of halo-halo!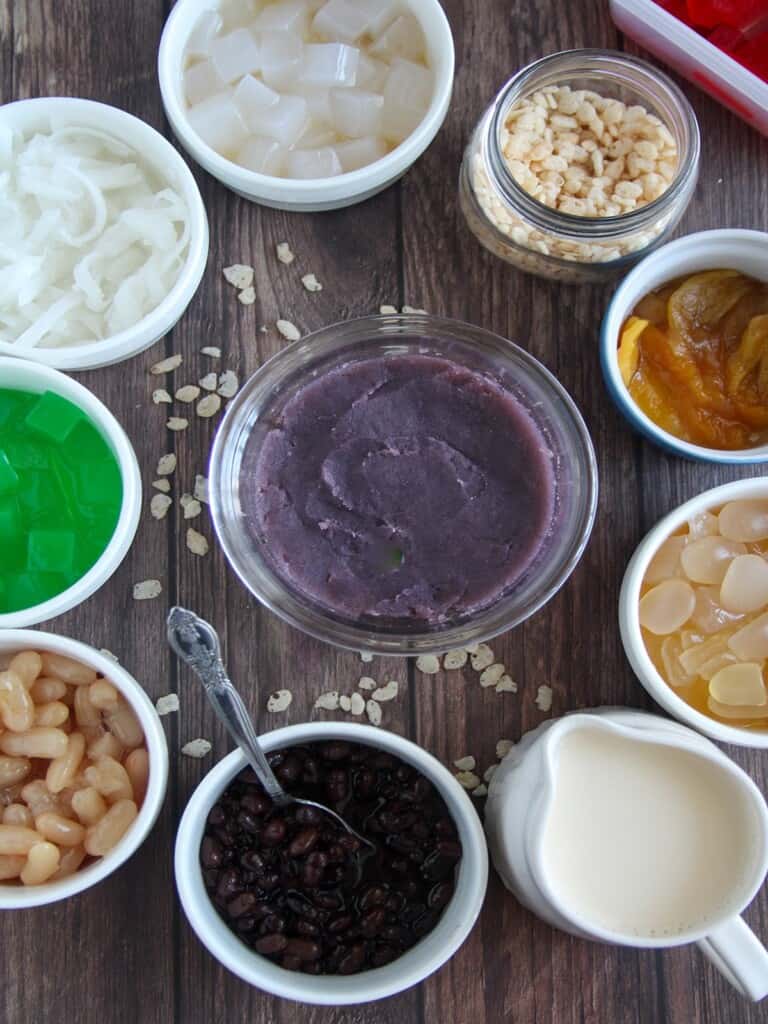 What is Halo-halo
Halo-halo, which translates to "mix-mix," is said to have originated from the Japanese shaved ice, kakigori, and was brought to our shores by Japanese migrants who settled near the ice manufacturing plant in Quinta, Manila.
This Filipino cold dessert is made with sweetened beans, fruits, and root crops such as monggo, bananas, jackfruit, sweet potatoes, ube, nata de coco, and young coconut.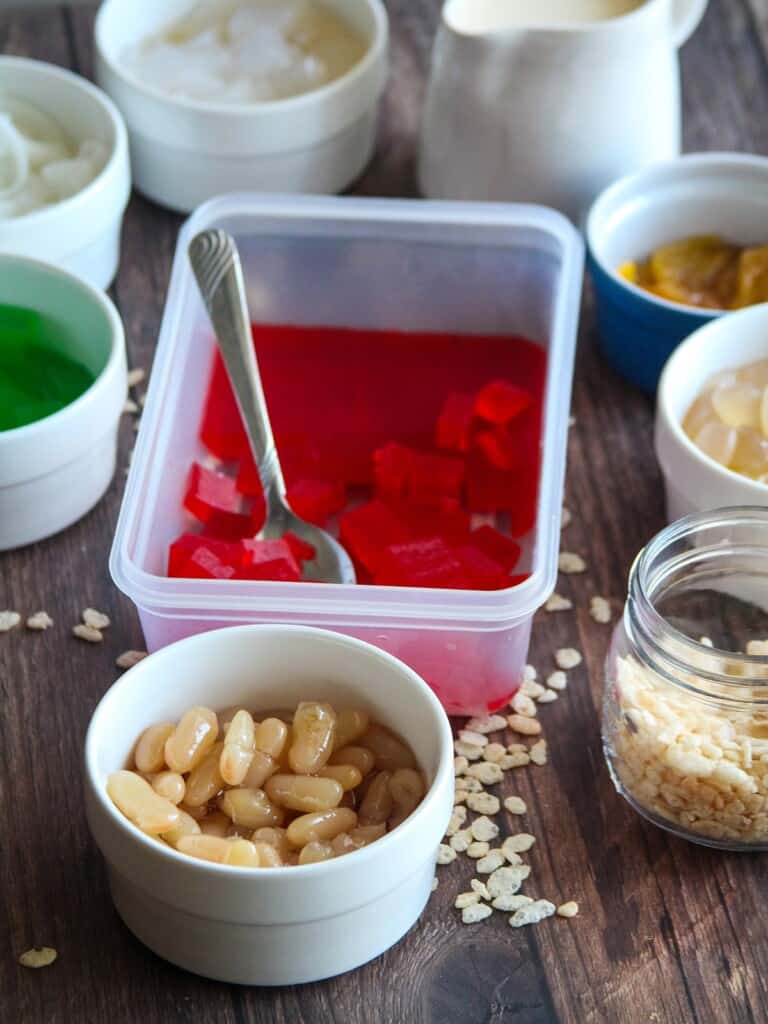 The delicious assortment is topped with shaved ice, milk, Leche flan, and ice cream. It's also common to finish it off with a generous sprinkling of crispy pinipig or pounded rice for extra crunch.
As its name suggests, the colorful add-ins are mixed into a creamy and refreshing treat. Each component marries into an exciting medley of creamy, soft, chewy tastes and textures that's like a party in your mouth!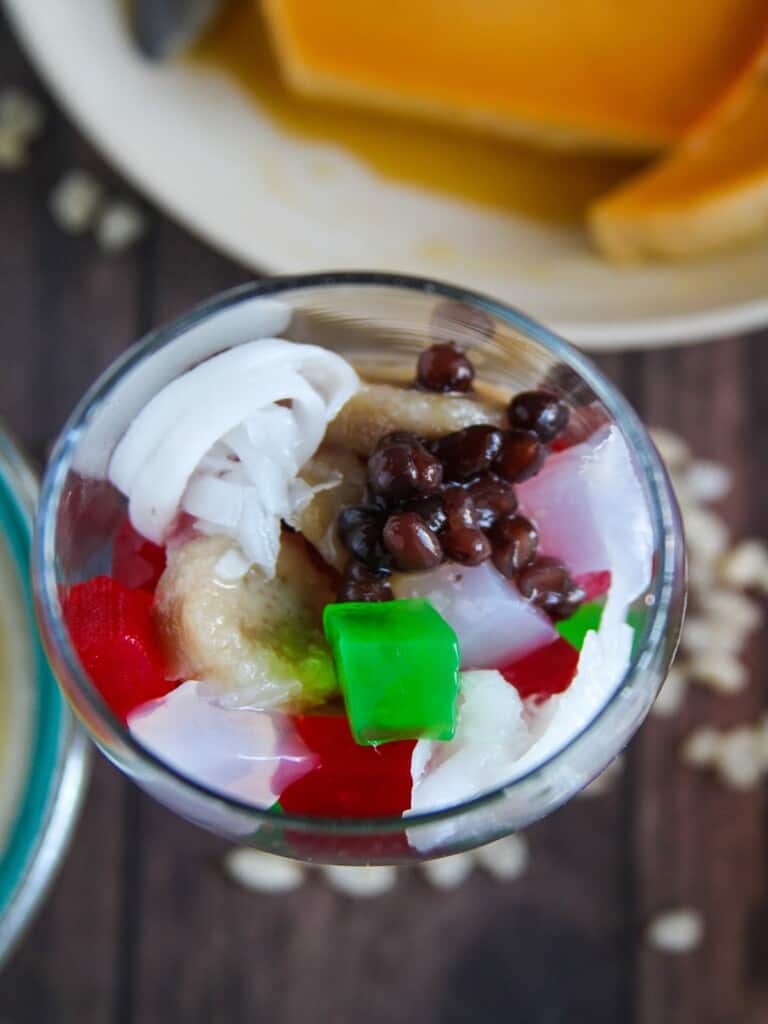 Choice of Mix-ins
Don't let the long list below intimidate you! This Filipino shaved ice is very customizable, and you can have as many or as few items as you like. You can make all the components from scratch or use storebought.
Coconut Gel (nata de coco)
Sugar Palms (kaong)
Sweetened jackfruit (langka)
Sweetened saba bananas
Ripe Manila mango slices
Sweetened sweet potatoes (kamote)
Sweetened beans such as garbanzos, red beans, or white beans
Sweet corn kernels
Gulaman made from agar-agar bars or powdered jelly mix (reduce water required in the recipe to yield a firmer texture)
Tapioca or sago pearls
Young coconut (buko) or sweetened coconut sport (macapuno)
Evaporated or fresh milk
Pinipig or rice crispies
Purple yam jam (ube halaya)
Leche Flan
Ice cream (mango, ube, or vanilla flavor)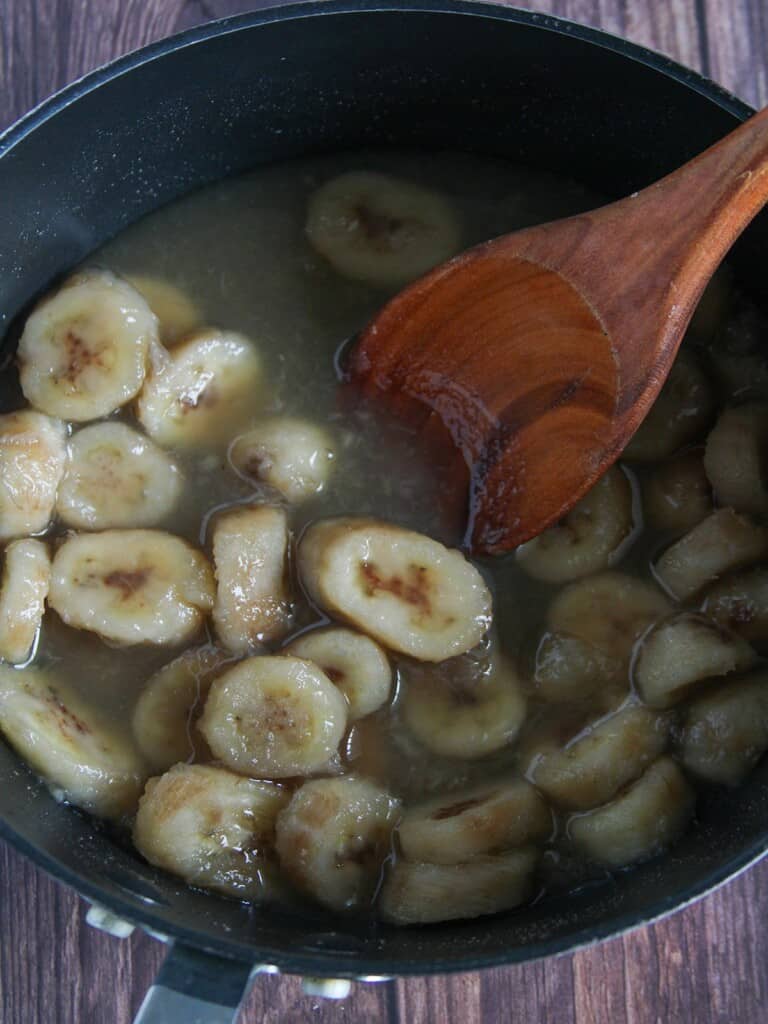 Recipes for homemade ingredients
Minatamis na Saging (sweetened bananas)
3-4 large Saba Bananas
1 and 3/4 cup water
3/4 cup sugar
1 tsp vanilla extract
Peel the bananas and slice them to 1/2-inch thickness.
In a saucepan, bring the water to a boil.
Lower the heat, then add the sugar. Cook until dissolved.
Add the bananas and cook until the bananas are soft and the liquid is reduced and thickened
Turn off heat. Stir in vanilla extract.
Sweetened Red Mung Beans
1 cup red mung beans
water
1/2 cup sugar
Rinse the beans, then soak in water overnight. Drain the beans well.
In a medium saucepan, add beans, enough water to cover the beans, and sugar.
Stir, then bring to a boil.
Lower heat, cover, simmer until beans are tender and liquid is thick and syrupy.
Sweetened White Beans
1 cup white beans
1 cup sugar
water
1/2 tsp vanilla extract
Rinse the beans and drain well.
Place in a saucepan with enough water to cover. Bring to a boil.
Lower heat, cover, and simmer until beans are tender.
Add sugar and continue to cook until the liquid is thick and mostly absorbed.
Turn off heat and stir in vanilla extract.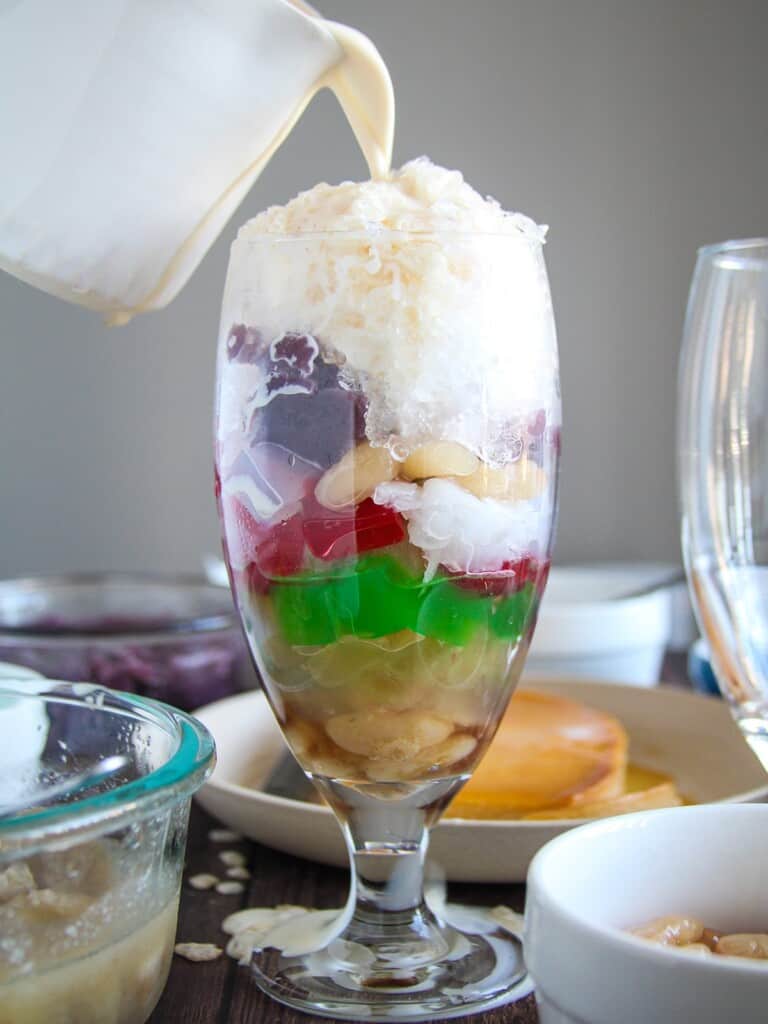 How to serve
In a tall glass, add about a teaspoon each of desired add-ins to about 1/3 full.
Pack the glass with shaved ice.
Drizzle evaporated milk over the ice.
Top the ice with scoops of ice cream, leche flan, and/or ube halaya.
Garnish with strips of macapuno and sprinkle with pinipig, if desired.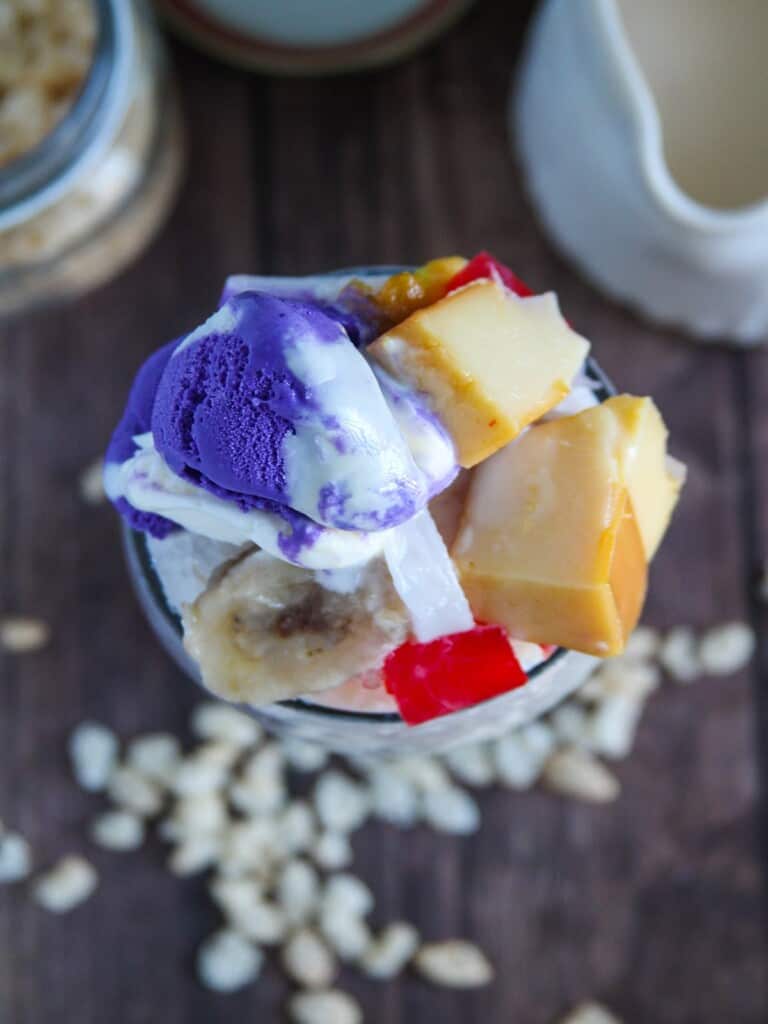 How to store
Being a type of cold dessert with ice, halo-halo is best enjoyed freshly made. To prep ahead, store the add-ins in individual containers and assemble the dessert when ready to serve.