Below are the best information about Goat cheese ice cream public topics compiled and compiled by our team
If you know me, you know how much I love ice cream! But this Goat Cheese Ice Cream with swirled-in Sweet Cherries is quite possibly my new favorite! Tangy goat cheese is the perfect foil to the sweet cherries, and a bit of almond flavor provides a nutty note to the whole experience!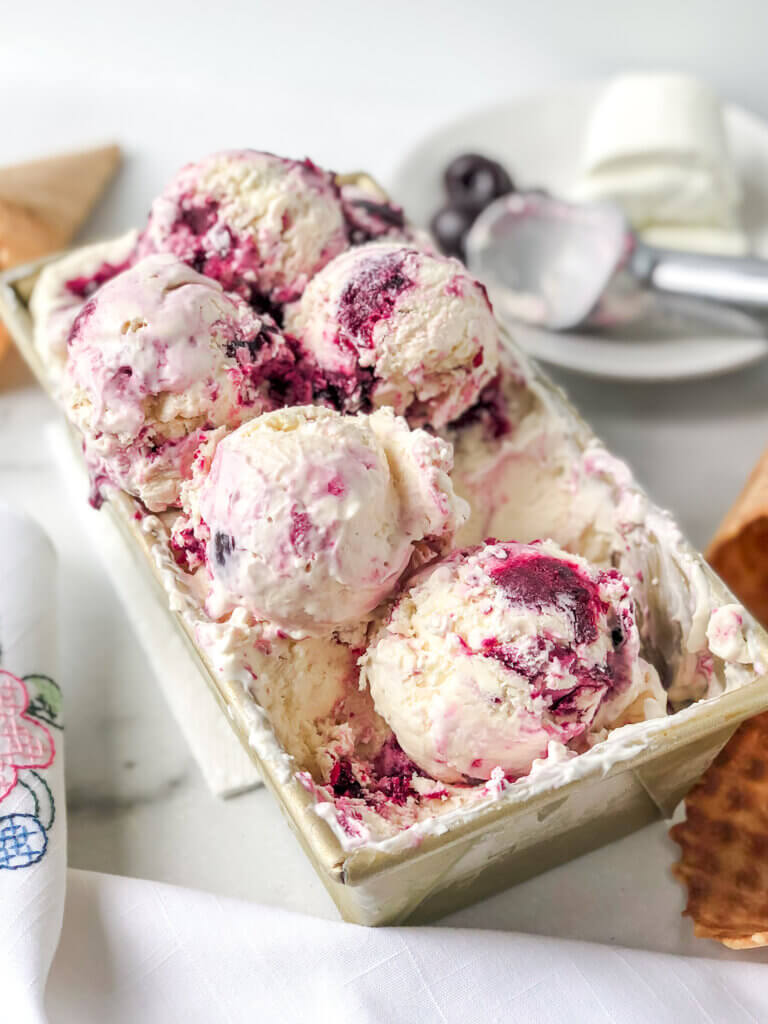 Do you know anyone who doesn't love ice cream? (If so, are you still friends with them?) Because, what's not to love? Creamy, cold, melt-in-your-mouth sweetness. So so many flavors! Remember when we thought 31 was a lot of flavors? And, that store didn't even make Goat Cheese Ice Cream! Who knew an earthy, tangy, tart cheese could add so much to ice cream?
There used to be a commercial with the tagline, "There's always room for Jell-o." Umm… Excuse me? No! You can have your jello, because, truth is – There's always room for ICE CREAM! And, as soon as you try this Goat Cheese Ice Cream with Sweet Cherries, you'll wonder why you never tried Goat Cheese in an ice cream before. In this recipe, it provides the positively brilliant earthy, tangy flavor you never knew you needed to the creamy, cold, ice cream base. This flavor note conveys a nice counterpoint to the luscious, sweet cherry swirl. Add a touch of almond flavor, a good companion to both of those delights, and every bite is heavenly!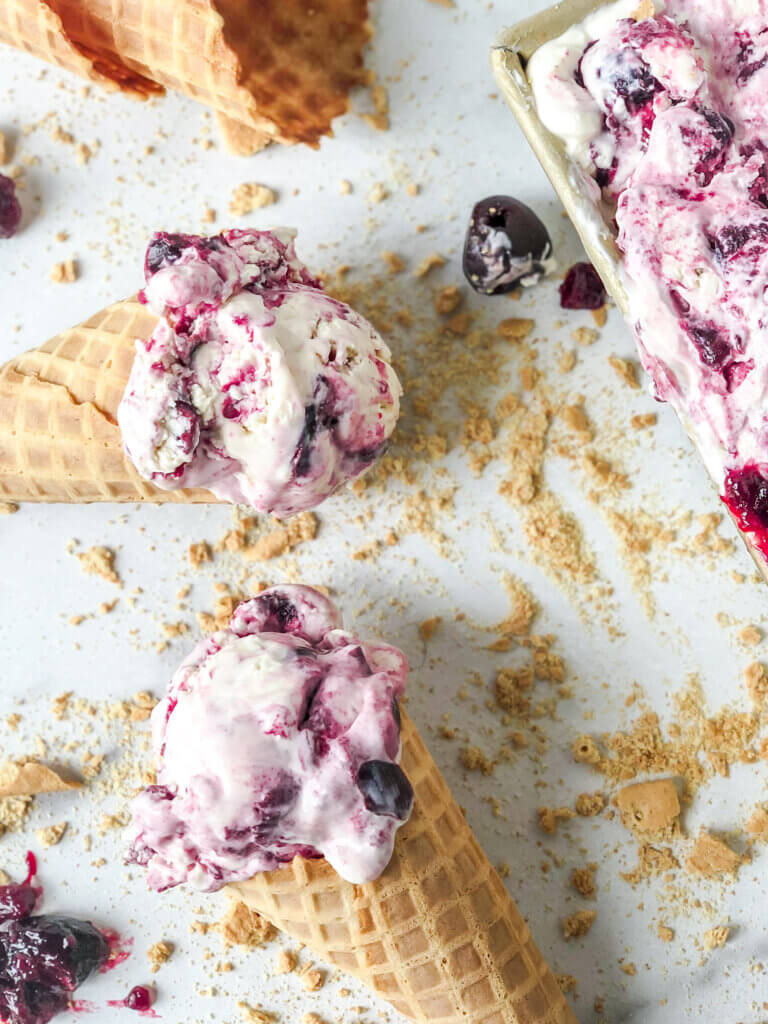 Now, how do you know which goat cheese (a.k.a. Chevre) to choose for this recipe? Well, you'll want the fresh, white, goat cheese that usually comes in the shape of a log, and does not have a rind. It's probably the one that you'll find near the cream cheese, or the most well-stocked goat cheese or chevre your grocery carries. Basically, there are 3 types (or categories) of goat cheese, all of them known as "chevre", which means goat cheese. The first, Fresh Chevre, is the one I just described. That's the one you want for Goat Cheese Cherry Ice Cream!
The second is called "Valencay", is a bit more aged (3 weeks) than the Fresh Chevre, but is sold in the shape of a flat-topped pyramid. It usually has a bluish-gray rind, and is dusted with charcoal. The third, known as "Bucheron" is a semi-aged cheese (5-10 weeks), and is covered with a bloomy rind. It is sometimes sold in a log shape, but it will be labeled "Bucheron" and/or "semi-aged" and its surface will have a rind. These two cheeses are delicious, but you'll want the "fresh" white log of goat cheese for this recipe.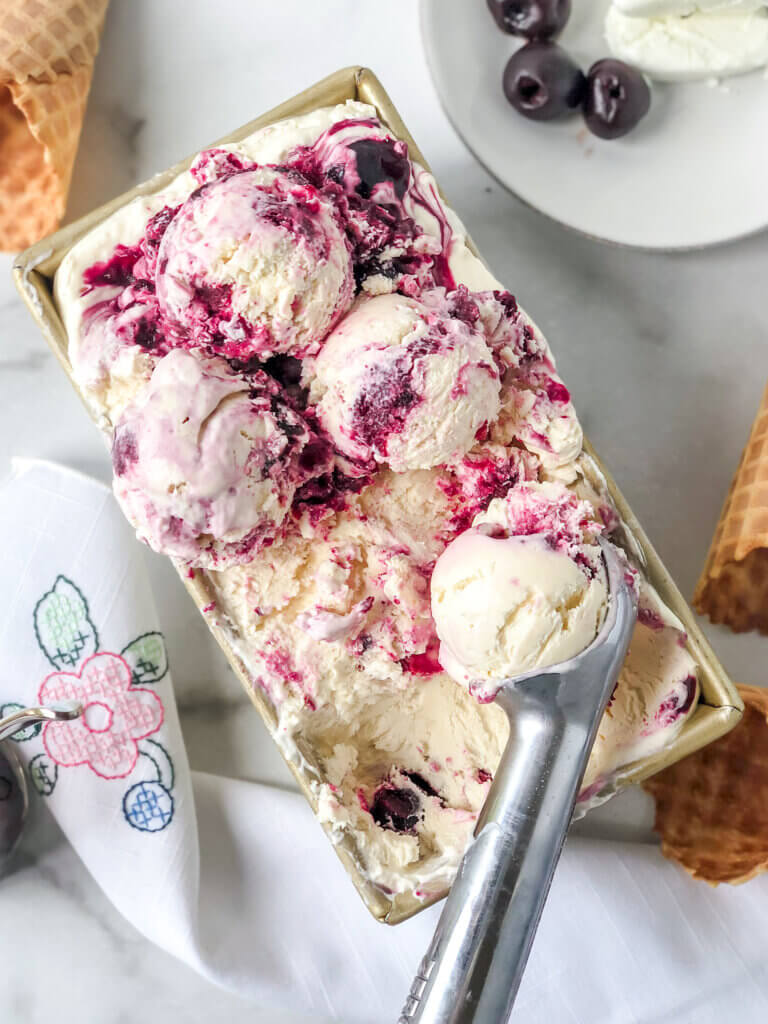 And, the best part (besides the FLAVOR!!?) You don't need an ice cream churn! It's a NO Churn delight! A few ingredients, a few steps, a few minutes. Then freeze! Out comes your new favorite Ice Cream!
Now really, are you with me that there's always room for Ice Cream? Especially if it has Goat Cheese and a Sweet Cherry Swirl?
Enjoy!
Looking for other No churn Ice Creams? I have so many delicious ones you need to try:
No Churn Salty Peanut Butter Ice Cream
Key Lime Cheesecake No Churn Ice Cream
No Churn Chocolatey S'Mores Ice Cream
No Churn Salted Caramel Ice Cream
No Churn Chocolate Pretzel and Popcorn Ice Cream
Peanut Butter Cheesecake Ice Cream Sandwiches
Love No-Churn Goat Cheese Ice Cream? Pin it!
Step-by-Step Recipe Instructions
I am an Amazon Affiliate, so please know any purchases you make through links provided on my page allow me to make a small commission, to maintain this site, but at no additional cost to you.
Some things you might need to make No-Churn Goat Cheese Cherry Ice Cream:
stand mixer or hand mixer
Masher
The best ice cream scoop ever! This Zeroll Scoop is awesome, makes a nice scoop even with firm ice cream!
Small Saucepan
Loaf Pan – I use one from Williams Sonoma (#notanaffiliate), but also love a good USAPan!
How to make No Churn Goat Cheese Cherry Ice Cream
This Goat Cheese Sweet Cherry Ice Cream is so simple to make. You'll need a loaf pan (9x5x3 prefered, but 8 1/2×4 1/2 x 3 will work as well), or another pan that holds 5-6 cups of ice cream. Just 3 easy steps:
Mix the cherry swirl. If your pitted cherries are large, you'll want to cut them in halves or quarters. Alternatively, you can use a potato masher and mash them in the pan while you're making the cherry swirl sauce. To make that sauce, you 'll just toss all of the swirl ingredients into the pan. Heat over Medium heat until the sauce it thick and glossy. This will take around 5 minutes. Then, remove the sauce to a separate dish and place in the fridge until it's room temperature or cooler – about 45 minutes.
Mix the sweetened condensed milk with the chevre (goat cheese), flavorings and salt. I just put all of those ingredients into the bowl of my stand mixer. Using the whisk attachment, I mixed until they were combined. The mixture did not become smooth – there were still very small bits of goat cheese. This is fine, it will still make a smooth ice cream. At this point, I removed the mixture to a separate bowl.
Whip the cream. You can use the same bowl as you did for the condensed milk mixture. No need to clean it out if you've removed that mixture to another bowl. Just whip the cream, using the whisk tool of your mixer, until it is billowy and soft. Then, with the mixer still on, slowly pour in the sweetened condensed milk mixture until the ice cream base is thick and much firmer. Then you'll just layer it in your loaf pan or bowl. Spoon half the whipped cream mixture into the pan. Top with half the cherry swirl sauce. Using a knife, spoon, or chopstick, swirl the cherry mixture into the ice cream mixture. Repeat with another layer of each, swirling the cherry mixture into the cream mixture. Place your layered ice cream into the freezer for at least 4 hours before serving, preferably 6 hours. Remove and let stand at room temperature about 10 minutes before scooping.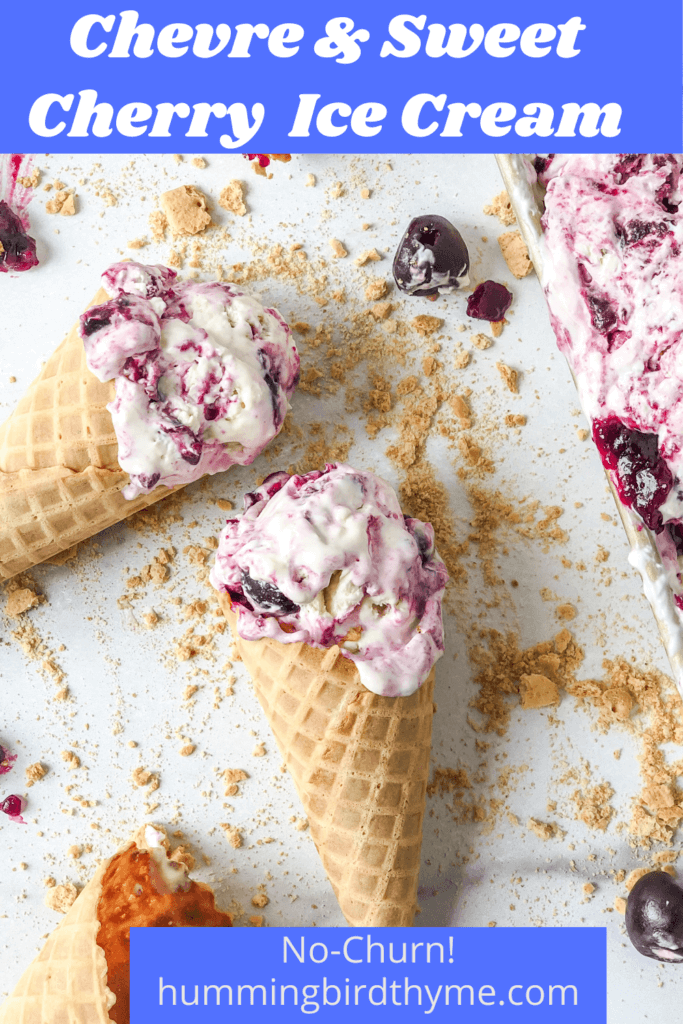 Questions you may have:
Can I use tart cherries? I have not made this recipe with tart cherries. If you do, I would add more than the 1/3 cup of sugar to the cherry mixture, perhaps 2/3 – 3/4 cup. But you could keep everything else the same. Because they are generally smaller, you may not need to slice or mash them when you make the cherry swirl. I used Frozen Bing Cherries, sometimes labeled "Sweet Cherries."
My Sweetened Condensed Milk – Goat Cheese mixture is lumpy. Is that ok? Yes, it is perfectly fine, as long as it is mostly smooth. Once it's frozen, you won't notice the tiny lumps. Even beating the mixture with the whisk tool did not take out the little bits of chevre cheese in my mixture. If you want to mix it for a longer period, that may work, but truly, the frozen ice cream is quite smooth and creamy.
After freezing, my ice cream is rock hard and difficult to scoop. The absolute best time to serve Goat Cheese Cherry ice cream is about 4-6 hours after placing it into the freezer. At this point, it's still soft enough to scoop nicely. If you wait longer, or overnight, you'll want to set it out 15 minutes prior to serving, as it will likely be too firm to scoop. After a bit of time, it should get to a nice creamy texture, easy to scoop but not too melty.
How long does the ice cream keep? When it's frozen and covered in the freezer, it will keep up to a month, maybe longer.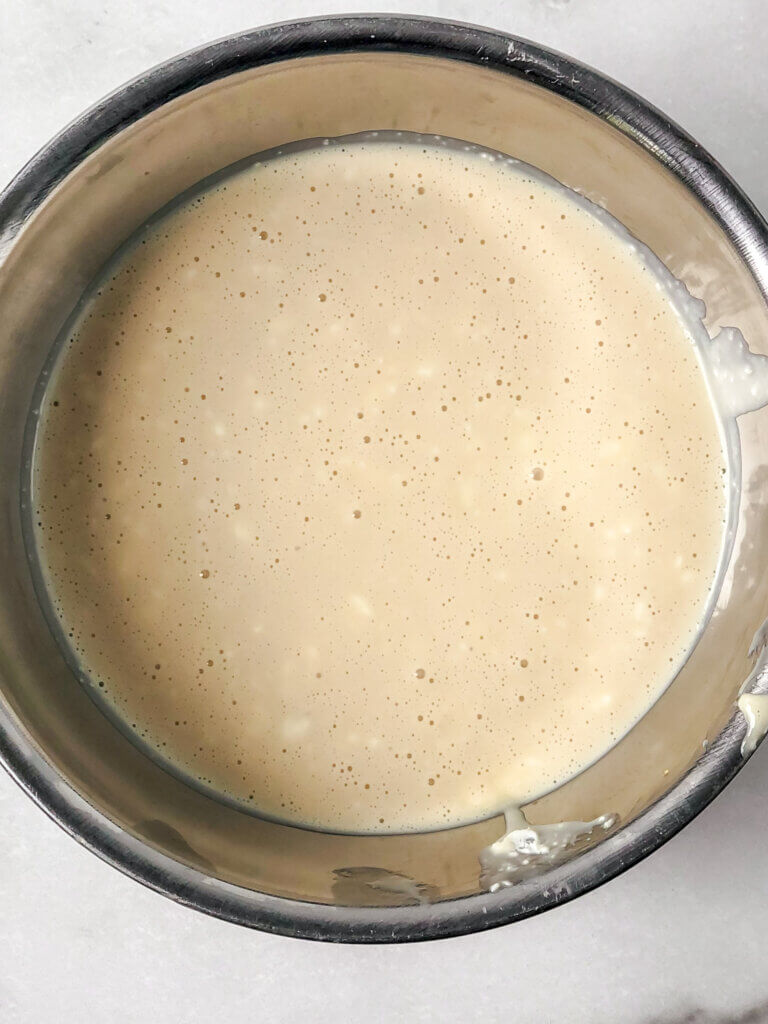 Print