Here are the top best Ice cream disney springs voted by readers and compiled and edited by our team, let's find out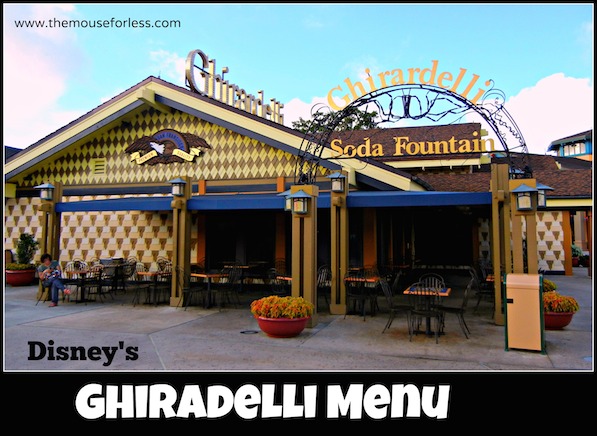 Indulge in some of the most sumptuous and delectable treats this side of San Francisco — especially the world-famous hot fudge sundae. Other favorites at Ghirardelli Soda Fountain include shakes, floats, and malts.
Ghirardelli Soda Fountain is located in Disney Springs. Find more Walt Disney World dining locations on our Walt Disney World menus page.
Restaurant Info: American, Snack A la carte, $ – $14.99 and under per adult
Ghirardelli Soda Fountain Menu
Menu Date: 12/2021
Specialty Sundaes
World Famous Hot Fudge Sundae Vanilla Ice Cream and handmade Hot Fudge topped with Whipped Cream, Diced Almonds and a Cherry – $14.75
Magical Sundae Vanilla Ice Cream and handmade Hot Fudge topped with Whipped Cream, Sprinkles and dipped Waffle Ears – $15.25
Caramel Sundae – Gold Rush Vanilla Ice Cream, Sea Salt, Diced Almonds, Caramel Sauce and Whipped Cream topped with a White Chocolate Caramel Square – $14.75
Cookie Bits Sundae -Crissy Field Vanilla and Cookies 'n Cream Ice Cream, handmade Hot Fudge, Whipped Cream, Chocolate Chip Cookie Crumbles and two Milk Chocolate Caramel minis – $15.50
Sea Salt Carmel Sundae – Ocean Beach Vanilla Ice Cream, Caramel Sauce, handmade milk or dark chocolate Hot Fudge topped with Whipped Cream, Sea Salt and a Milk or Dark Sea Salt Caramel Square – $14.75
Salted Caramel Brownie Sundae – Lands End Vanilla Ice Cream, a full-size Brownie, Caramel Sauce, Sea Salt and handmade Hot Fudge topped with Whipped Cream, Caramel Sauce, Chocolate Sauce and a Cherry – $17.25
Banana Split – Golden Gate Vanilla, Strawberry and Chocolate Ice Cream topped with crushed Pineapple, sweetened Strawberries and handmade Hot Fudge served with a Banana, Whipped Cream, Diced Almonds and a Cherry – $15.50
Warm Brownie Sundae – Treasure Island Vanilla Ice Cream, a warm Brownie half and handmade Hot Fudge topped with Whipped Cream, Diced Almonds and a Cherry – $15.25
Strawberry Hot Fudge Sundae – Presidio Passion Vanilla Ice Cream, sweetened Strawberries and handmade Hot Fudge topped with Whipped Cream and a dipped Strawberry – $14.75
Marshmallow Hot Fudge Sundae – Twin Peaks Vanilla and Chocolate Ice Cream, handmade Hot Fudge and Marshmallow Crème topped with Whipped Cream, Diced Almonds and a Cherry – $14.75
Chocolate Mint Sundae – Mint Bliss Sundae Mint Chocolate Chip and Chocolate Ice Cream layered with handmade Dark Chocolate Hot Fudge and topped with Whipped Cream and a Dark Chocolate Mint Square – $14.75
Dark Chocolate Sundae – Midnight Reverie Chocolate Ice Cream layered with handmade Dark Chocolate Hot Fudge and Mini Chocolate Chips topped with Whipped Cream and a 72% Dark Chocolate Square – $14.75
Black Cherry Vanilla Sundae – Muir Woods Black Cherry Vanilla Ice Cream and handmade Hot Fudge topped with Whipped Cream, Mini Chocolate Chips and a Cherry – $14.75
Raspberry Sorbet Sundae – Marina Raspberry Sorbet and handmade Dark Chocolate Hot Fudge topped with Whipped Cream and a Dark Raspberry Square – $14.75
Shakes and More
Create Your Own Quake Shake™ A Vanilla milkshake blended with your choice of three chocolate SQUARES and topped with Whipped Cream and Ghirardelli® Mini Dark Chocolate Chips. Select your favorite flavors from our Pick & Mix table and deliver to the fountain. – $9.95
Nob Hill Chill Vanilla Ice Cream blended with Milk, Ice, handmade Hot Fudge and topped with Mini Chocolate Chips – $9.95
Frozen Hot Cocoa Hot Cocoa mix blended with Ice and Milk, topped with Whipped Cream and Mini Chocolate Chips – $9.95
Chocolate Lover's Shake – Small Thick, cold, and creamy. Our exclusive Ghirardelli chocolate Ice Cream is blended together with rich Chocolate Sauce and topped with Whipped Cream and Mini Chocolate Chips. – $9.95
Chocolate Lover's Shake – Medium Thick, cold, and creamy. Our exclusive Ghirardelli chocolate Ice Cream is blended together with rich Chocolate Sauce and topped with Whipped Cream and Mini Chocolate Chips. – $10.95
Chocolate Lover's Shake – Large Thick, cold, and creamy. Our exclusive Ghirardelli chocolate Ice Cream is blended together with rich Chocolate Sauce and topped with Whipped Cream and Mini Chocolate Chips. – $11.95
Sea Salt Caramel Banana Shake a Vanilla Milkshake blended with Dark Chocolate Sea Salt Caramel Squares and Banana, topped with Whipped Cream, Sea Salt and Caramel Sauce – $9.95
Thick Shake – Small Made with your choice of Ice Cream, blended with Vanilla Syrup and topped with Whipped Cream and a Cherry – $9.95
Thick Shake – Medium Made with your choice of Ice Cream, blended with Vanilla Syrup and topped with Whipped Cream and a Cherry – $10.95
Thick Shake – Large Made with your choice of Ice Cream, blended with Vanilla Syrup and topped with Whipped Cream and a Cherry – $11.95
Berry Chill a blend of Raspberry Sorbet, Ice, Water, and sweetened Strawberries – $9.95
Ice Cream Float with Coca-Cola® or Root Beer – $10.95
Hot Cocoa
Classic Ghirardelli® Hot Cocoa – Small A luxuriously deep Chocolate flavor comes through in our Hot Cocoa. Topped with Whipped Cream and dusted with Cocoa Powder – $5.25
Classic Hot Cocoa A luxuriously deep Chocolate flavor comes through in our Hot Cocoa. Topped with Whipped Cream and dusted with Cocoa Powder – $5.75
Classic Ghirardelli® Hot Cocoa – Large A luxuriously deep Chocolate flavor comes through in our Hot Cocoa. Topped with Whipped Cream and dusted with Cocoa Powder – $6.25
Sea Salt Caramel Hot Cocoa – Small Our classic Hot Cocoa but with the added creaminess of Caramel. Topped with Whipped Cream, Sea Salt and Caramel Sauce. – $5.50
Sea Salt Caramel Hot Cocoa – Medium Our classic Hot Cocoa but with the added creaminess of Caramel. Topped with Whipped Cream, Sea Salt and Caramel Sauce. – $6.25
Sea Salt Caramel Hot Cocoa – Large Our classic Hot Cocoa but with the added creaminess of Caramel. Topped with Whipped Cream, Sea Salt and Caramel Sauce. – $6.95
Decadent Drinking Chocolate Smooth and rich, we melt dark chocolate chips with steamed milk for a true chocolate lover's experience – $5.95
Create Your Own
Single Scoop Choice of Cup, Cake Cone or Sugar Cone. Chocolate-Dipped Waffle Bowl | Chocolate-Dipped Waffle Cone | Chocolate-Dipped Waffle Cone with Sprinkles | Chocolate-Dipped Waffle Cone with Almonds 9.50 – $7.75
Double Scoop Choice of Cup, Cake Cone or Sugar Cone. Chocolate-Dipped Waffle Bowl | Chocolate-Dipped Waffle Cone | Chocolate-Dipped Waffle Cone with Sprinkles | Chocolate-Dipped Waffle Cone with Almonds 11.50 – $9.75
Triple Scoop Choice of Cup, Cake Cone or Sugar Cone. Chocolate-Dipped Waffle Bowl | Chocolate-Dipped Waffle Cone | Chocolate-Dipped Waffle Cone with Sprinkles | Chocolate-Dipped Waffle Cone with Almonds 13.25 – $11.50
Ice Cream Flavors
Ghirardelli® Chocolate
Black Cherry Vanilla
Butter Pecan
Cookie Dough
Cookies 'n Cream
Espresso Chip
Mint Chocolate Chip
Raspberry Sorbet
Rocky Road
Strawberry
Vanilla
Vanilla Coconut (Non-Dairy)
Toppings
Ghirardelli® Milk Hot Fudge – $1.50
Ghirardelli® Dark Hot Fudge – $1.50
Ghirardelli® Caramel – $1.50
Ghirardelli® Chocolate Sauce – $1.50
Ghirardelli® Whipped Cream – $1.50
Butterscotch Sauce – $1.50
Crushed Pineapple – $1.50
Marshmallow Crème – $1.50
Strawberry Topping – $1.50
Ghirardelli® Mini Semisweet Chocolate Chips – $.50
Diced Almonds – $.50
Maraschino Cherry – Complimentary – $.50
Sea Salt Sugar – Complimentary – $.50
Sprinkles – $.50
Sweet Treats
Ghirardelli® Chocolate Brownie – $4.95
Ghirardelli® Chocolate Chip Cookie – $3.95
Dipped Strawberry – $4.95
Coffee and More
Frozen Mocha – Medium Ghirardelli® Chocolate Frappe Mix, Chocolate Sauce, Espresso shot, and Milk blended with Ice, topped with Whipped Cream and Mini Dark Chocolate Chips – $8.50
Frozen Mocha – Large Ghirardelli® Chocolate Frappe Mix, Chocolate Sauce, Espresso shot, and Milk blended with Ice, topped with Whipped Cream and Mini Dark Chocolate Chips – $9.50
Frozen White Mocha – Medium Ghirardelli® White Chocolate Frappe Mix, White Chocolate Sauce, Espresso shot, and Milk blended with Ice, topped with Whipped Cream – $8.50
Frozen White Mocha – Large Ghirardelli® White Chocolate Frappe Mix, White Chocolate Sauce, Espresso shot, and Milk blended with Ice, topped with Whipped Cream – $9.50
Ultimate Latte Chill – Medium Ghirardelli® Vanilla Frappe Mix, Caramel Sauce, Espresso shot, and Milk blended with Ice, topped with Whipped Cream and Caramel – $8.50
Ultimate Latte Chill – Large Ghirardelli® Vanilla Frappe Mix, Caramel Sauce, Espresso shot, and Milk blended with Ice, topped with Whipped Cream and Caramel – $9.50
Mocha – Small Available Hot or Iced – $5.50
Mocha – Medium Available Hot or Iced – $5.95
White Mocha – Small Available Hot or Iced – $5.50
White Mocha – Medium Available Hot or Iced – $5.95
Latte – Small Flavor options Caramel or Vanilla. Available Hot or Iced. – $5.50
Latte – Medium Flavor options Caramel or Vanilla. Available Hot or Iced. – $5.95
Coffee – Small – $3.25
Coffee – Medium – $3.75
Coffee – Large – $3.95
Tea – Small Breakfast Blend or Chamomile Lemon – $3.25
Tea – Medium Breakfast Blend or Chamomile Lemon – $3.75
Tea – Large Breakfast Blend or Chamomile Lemon – $3.95
Espresso Shot – Small – $2.75
Espresso Shot – Medium – $3.75
Assorted Fountain Beverages – Small – $3.25
Assorted Fountain Beverages – Medium – $4.25
Assorted Fountain Beverages – Large – $4.50
Ghirardelli® Chocolate Milk – Small – $3.25
Bottled Water – $3.50
Sparkling Bottled Water – $3.95
** Ghirardelli Soda Fountain Menu and Prices are Subject to Change Without Notice **