Have you ever wanted to learn how to make frozen yogurt? It's simpler than you might think! With just three ingredients, you can start making your own delicious frozen yogurt at home, leaving behind those froyo shops for good!
The Finest Frozen Yogurt
I absolutely adore frozen yogurt. It's a much healthier alternative to ice cream and can be customized to suit your preferences. This homemade frozen yogurt recipe is no exception. It uses simple ingredients and eliminates all the unnecessary additives commonly found in store-bought frozen yogurts.
Frozen yogurt is a fantastic dessert option that contains probiotics and active cultures, which are beneficial for your digestive system. Additionally, dairy products are high in protein and calcium. By adding a touch of raw honey for sweetness, you'll be saying goodbye to store-bought froyo and local menchies in favor of this delectable frozen yogurt recipe.
Ingredients for Frozen Yogurt
Greek yogurt: Full fat or low fat, it doesn't matter. Greek yogurt adds a creamy texture to your frozen yogurt. Opt for plain yogurt, so you can personalize it with your favorite flavorings. However, feel free to experiment with different flavors!
Raw honey: This natural sweetener is the perfect addition to your dessert. If you've tried using maple syrup or agave, please let me know your thoughts in the comments below!
Vanilla extract: Enhance the flavor of your frozen yogurt with a touch of vanilla. You can also try different flavor combinations.
What's the Best Yogurt for Frozen Yogurt?
Technically, any yogurt can be used to make homemade frozen yogurt. However, I highly recommend using Greek yogurt as it results in an incredibly thick and creamy frozen treat.
I also suggest using plain whole milk yogurt, allowing you to add your preferred sweetener and flavors. Nevertheless, if you're looking for a shortcut, you can use vanilla or your favorite flavored yogurt.
Optional Variations and Toppings
The possibilities are endless when it comes to mix-ins and toppings! Personally, I love adding fresh fruit, frozen berries, or cocoa powder for a chocolaty twist. Get creative and explore various flavor and texture combinations!
What Type of Machine Should You Use?
To make this recipe, you'll need an ice cream machine. While we love our Kitchen-Aid Stand Mixer Attachment, any ice cream maker will do just fine.
Here are a few other options to consider:
Ninja Ice Cream Maker
Cuisinart Ice Cream Maker
Hamilton Beach Ice Cream Maker
How to Make Frozen Yogurt
STEP 1: Combine Ingredients
Mix all the ingredients, including any optional mix-ins, in a large mixing bowl or directly in your yogurt container.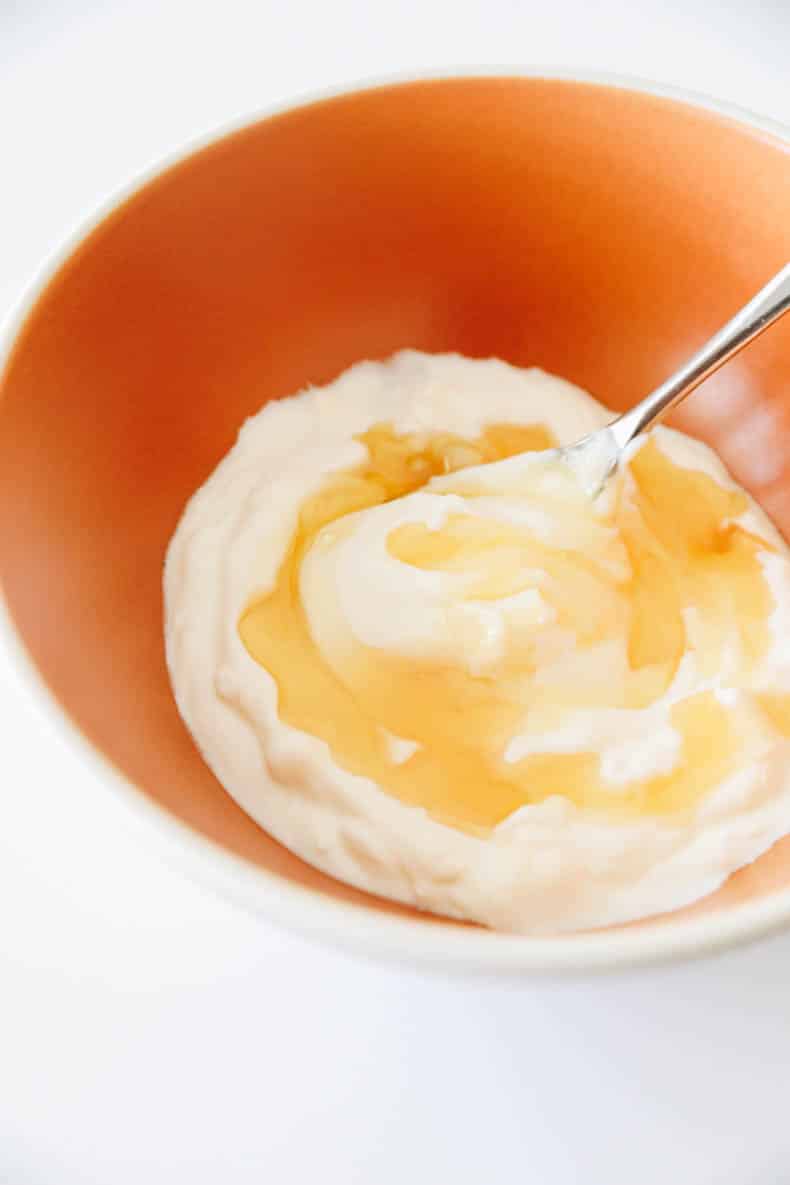 STEP 2: Add to Ice Cream Maker
Pour the yogurt mixture into your ice cream maker. Churn for 35-40 minutes or until you achieve a creamy texture and consistency, similar to soft serve ice cream. Don't rush this step; it takes some time to get the perfect texture.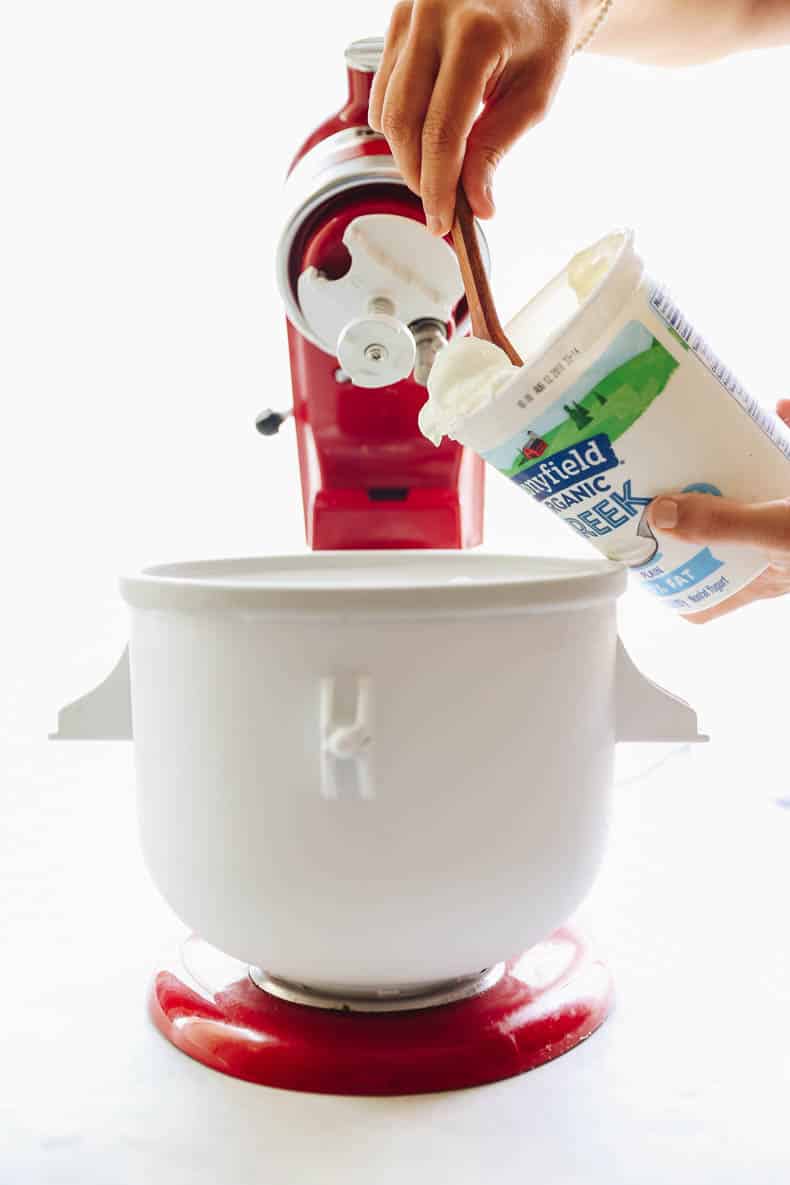 STEP 3: Freeze
Transfer the mixture into a container with a tight-fitting lid and freeze for approximately 2 hours.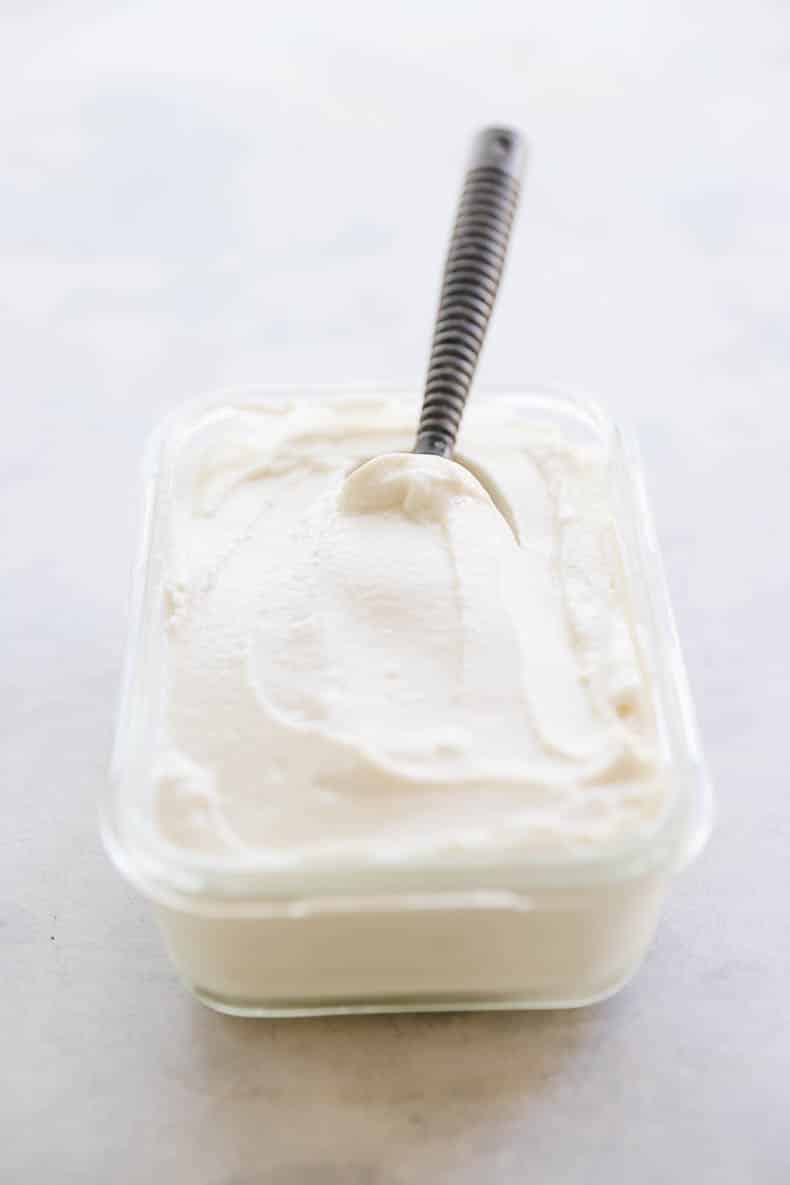 How to Store Frozen Yogurt
Any leftover frozen yogurt can be stored in an airtight container in the freezer for 1-3 months. Keep in mind that the yogurt will freeze solid if stored for an extended period, so I recommend allowing it to thaw for a few minutes before serving.
Note: This frozen yogurt recipe does not contain stabilizers, so it's normal for ice crystals to form.
Print