It has been an entire decade since my cookbook, Cookies & Cream: Hundreds of Ways to Make the Perfect Ice Cream Sandwich, was released. Can you believe it? It still blows my mind. That book required an immense amount of effort, and I ended up making enough ice cream recipes to last a lifetime. After submitting my manuscript, I took a break from making ice cream for months. I was honestly a little burnt out.
Within the book, there are 50 incredible ice cream recipes – each one meticulously tested multiple times. I wrote endlessly about this subject. It was an overwhelming amount of ice cream. In fact, I even had to purchase an extra freezer at the time!
However, my love for ice cream has resurfaced once again! Today, I want to share with you a foolproof recipe that allows you to create ice cream in any flavor you desire. Just follow the step-by-step instructions below and be sure to read the additional sweet tips in the pink box for everything you need to know about making heavenly homemade ice cream.
By using the base homemade vanilla ice cream recipe provided, you can make various flavor variations such as cherry, chocolate, or peanut butter. The possibilities are endless!
Making ice cream doesn't have to be complicated. By following these instructions, you'll greatly increase your chances of achieving the perfect consistency – no soupy or rock-hard ice cream. Just pure, creamy bliss!
Now, let's dive into the step-by-step process of making French Custard Vanilla Ice Cream.
Step-By-Step Guide: How to Make French Custard Vanilla Ice Cream
1. Prepare an Ice Bath
Begin by filling a large bowl with ice cubes and a cup or two of water. Then, place a medium bowl fitted with a fine strainer inside the ice bath. Set this aside for later use.
2. Start the Custard Base
In a medium saucepan, combine the milk, cream, 1/2 cup of sugar, salt, vanilla seeds, and the vanilla pod. Set the saucepan over medium heat and stir occasionally until the mixture is warm and begins to steam (approximately 5 minutes).
3. How to Temper Eggs for Ice Cream
This crucial step ensures that the egg yolks are gently heated, preventing them from turning into scrambled eggs and resulting in chunky ice cream.
In a medium bowl, whisk together the egg yolks and the remaining 1/4 cup of sugar until well combined and lightened in color.
Carefully and slowly ladle half of the warm milk mixture into the egg yolks while whisking constantly, until the egg mixture is gently warmed.
Slowly whisk the egg-milk mixture back into the saucepan.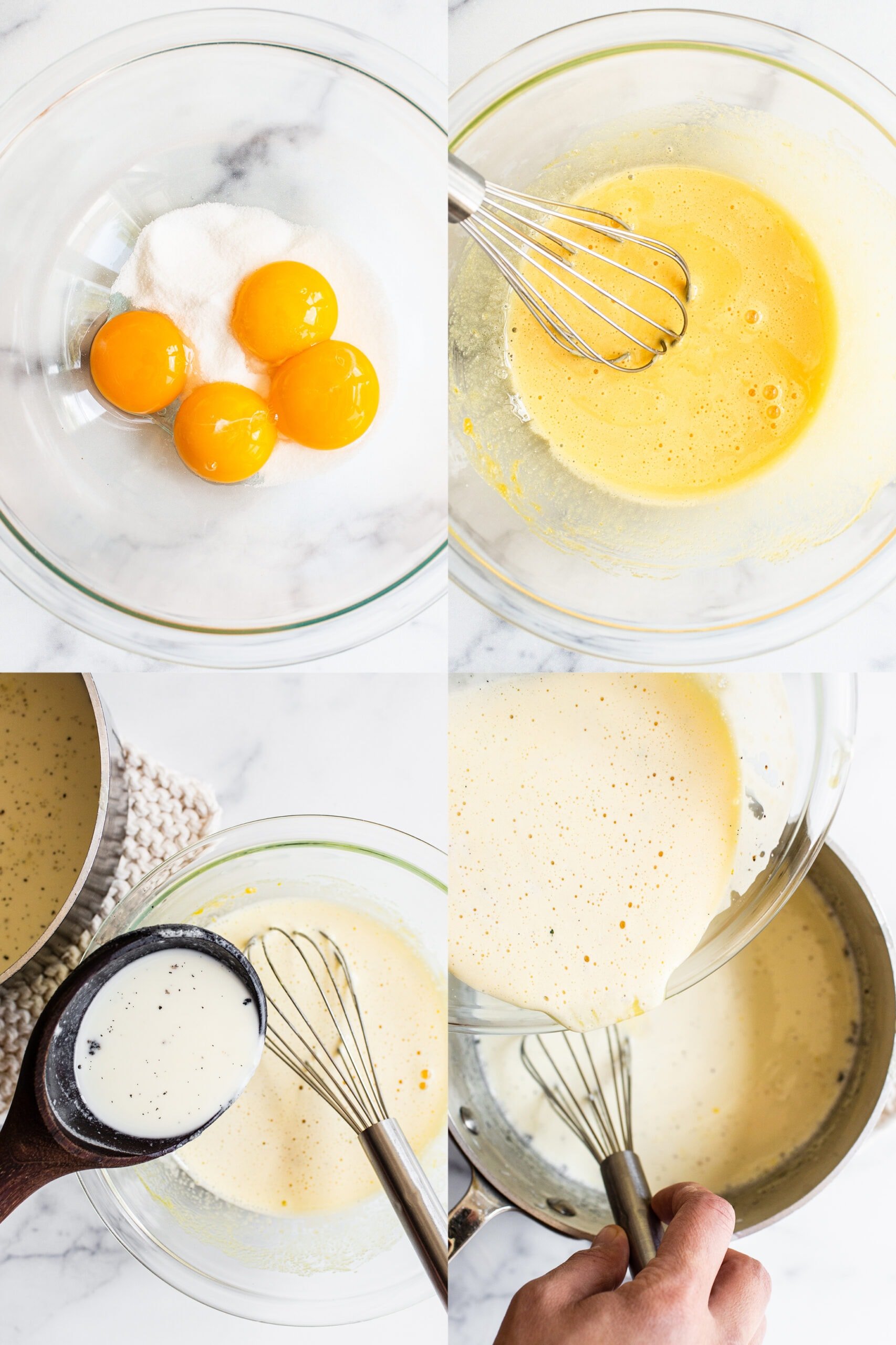 4. Cook the Custard
Cook the mixture over medium heat, stirring constantly with a wooden spoon, until it thickens enough to coat the back of the spoon and reaches a temperature of approximately 175°F on an instant-read thermometer (this should take around 5 to 7 minutes). Be careful not to let the mixture boil, as this can result in scrambled eggs. Also, ensure that the thermometer does not touch the bottom of the pan when measuring the temperature.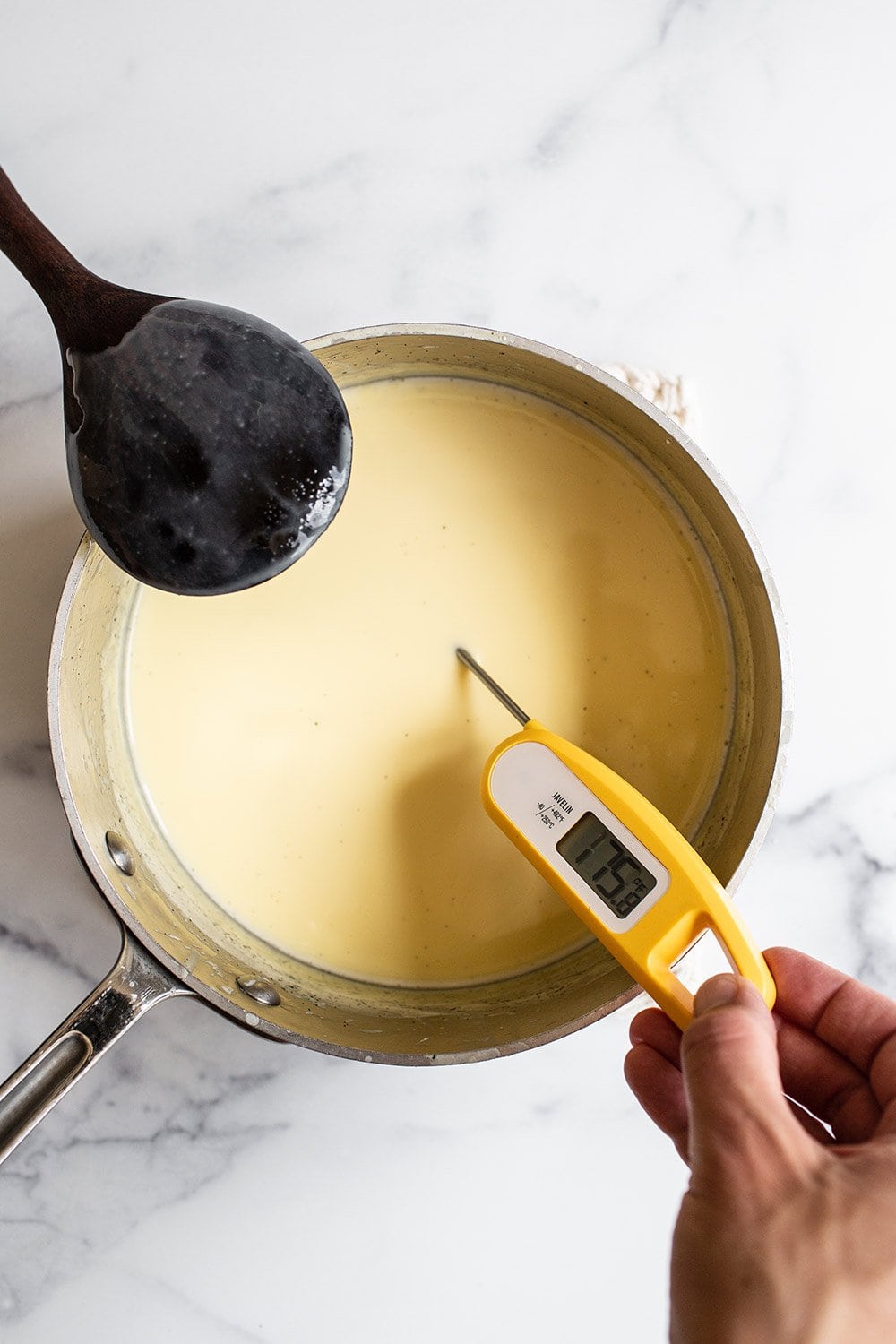 5. Chill the Custard
Immediately strain the cooked custard through the fine strainer into the prepared ice bath to prevent overcooking. Discard the vanilla bean pod. Allow the custard to cool in the ice bath until it reaches room temperature, stirring occasionally. Once cooled, cover the surface of the custard with plastic wrap, refrigerating it for at least 4 hours or up to 1 day. For optimal flavor development, chilling the custard overnight is recommended.
6. Churn the Custard
Pour the chilled custard mixture into an ice cream maker and freeze it according to the manufacturer's directions. Once churned, transfer it to an airtight container. Before sealing the container with the lid, cover the ice cream's surface with plastic wrap. Freeze the ice cream until it becomes firm and the flavor ripens, which typically takes at least 2 hours.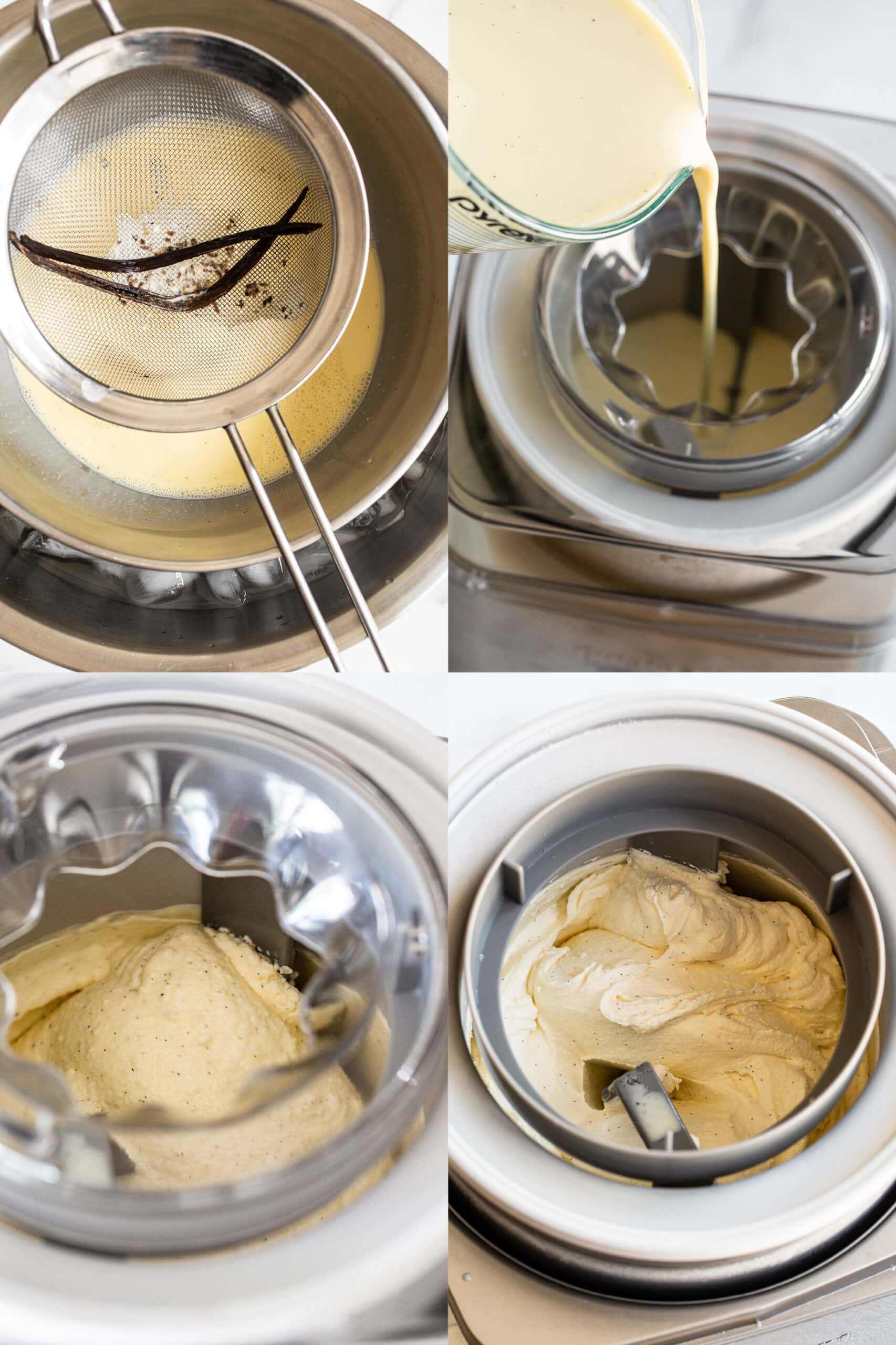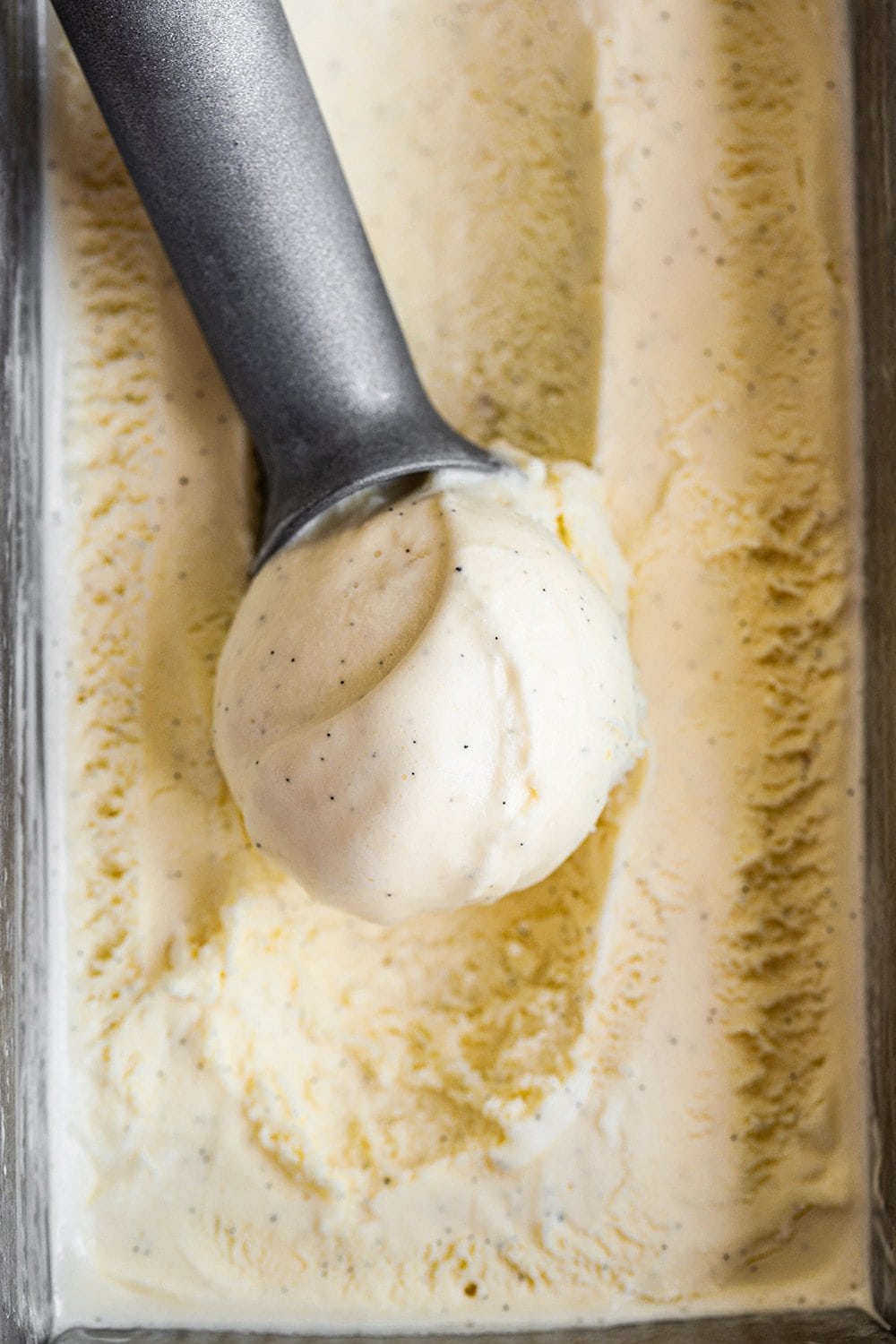 More Ice Cream Recipes You'll Love:
Chocolate Chip Cookie Dough Ice Cream
Strawberry Cheesecake Ice Cream
Death by Chocolate Ice Cream
4th of July Ice Cream Sandwiches
Photos by Ashley McLaughlin.
Frequently Asked Questions about Making Ice Cream
Help! My Custard Boiled and Curdled!
If your custard accidentally boils and becomes curdled, don't worry! There is a way to salvage it:
While the custard is still warm, blend it with an immersion blender or carefully transfer it into a standard blender (ensure that it is not filled more than half full).
Blend the mixture until it becomes smooth.
Once smooth, strain it into the ice bath as described earlier and in the recipe below.
What Type of Vanilla is Best for Making the Best Vanilla Ice Cream?
The absolute best vanilla option is a whole vanilla bean pod. As you'll notice in the recipe below, I scrape out the seeds and steep the milk and cream mixture with the vanilla pod to ensure maximum flavor. If you don't have a vanilla bean pod available, vanilla bean paste is the next best option as it provides those lovely flecks of vanilla seeds. Approximately 2 teaspoons of vanilla bean paste should suffice. However, if you're flavoring your ice cream with another robust flavor, such as the suggestions listed below, using vanilla extract is perfectly fine. It's an easier and more economical choice since the other ingredient will likely overshadow the vanilla flavor anyway.
Which Ice Cream Machine is Best for Homemade Ice Cream?
My personal favorite ice cream maker is the Cuisinart ICE-21 1.5 Quart Machine. I've owned mine for nearly a decade, using it to test all the recipes for my first cookbook, Cookies & Cream: Hundreds of Ways to Make the Perfect Ice Cream Sandwich. I've used this machine countless times, and it has never failed me. If you're using a standard ice cream maker without a self-freezing function, ensure that your ice cream machine's freezer bowl is thoroughly chilled, following the manufacturer's instructions. If it's not properly chilled, you may end up with a liquid consistency even after 30 minutes of churning. For more information and recommendations on ice cream makers, check out my article on How to Use an Ice Cream Maker (and which one to buy!) here.
How to Store Homemade Ice Cream to Maintain its Smooth Texture
After churning the ice cream, transfer it to an airtight container, such as a 1-quart or 1.5-quart ice cream tub, ensuring that you press plastic wrap against the surface to prevent any ice crystals from forming. For optimal results, freeze the ice cream until it becomes firm, which usually takes a minimum of 2 hours. The longer you freeze it, the more time the flavors have to mature. If you encounter issues with the ice cream hardening, try adding up to 3 tablespoons of alcohol during the last few minutes of churning. Alcohol doesn't freeze, so this will help maintain a creamy texture. Vodka works well for vanilla ice cream, while liqueur products like kirsch not only enhance the flavor but also ensure a creamy consistency for other ice cream flavors. Alternatively, if you prefer not to use alcohol, adding a tablespoon of corn syrup can help prevent the ice cream from crystallizing.
How to Perfectly Scoop and Serve Ice Cream
To achieve the perfect scoop, allow the ice cream to soften by placing it in the refrigerator for 30 minutes before serving. This allows it to soften evenly, instead of softening mostly on the edges while remaining hard in the center of the container. Additionally, using a high-quality ice cream scoop, such as the OXO or Zeroll brands, can make a significant difference. Ensure that the scoop is completely dry before use.
That's it! Now you have all the information you need to create delightful French Custard Vanilla Ice Cream. Get ready to enjoy a creamy and dreamy frozen treat that will satisfy your sweet cravings. Remember, making ice cream is an art, and with a little practice, you'll become an ice cream connoisseur in no time. Have fun experimenting with different flavors and enjoy your homemade ice cream creations!