Making an Ice Cream Cake from scratch is simple! This layered ice cream cake recipe features both chocolate and vanilla ice cream, a fudge center with cookie crunchies, and an easy whipped cream frosting.
Don't buy an ice cream cake full of questionable ingredients. Learn how to make an ice cream cake and control each ingredient and the decorations.
I'm sharing all of my best ice cream cake recipe tips, including flavor options and step-by-step directions.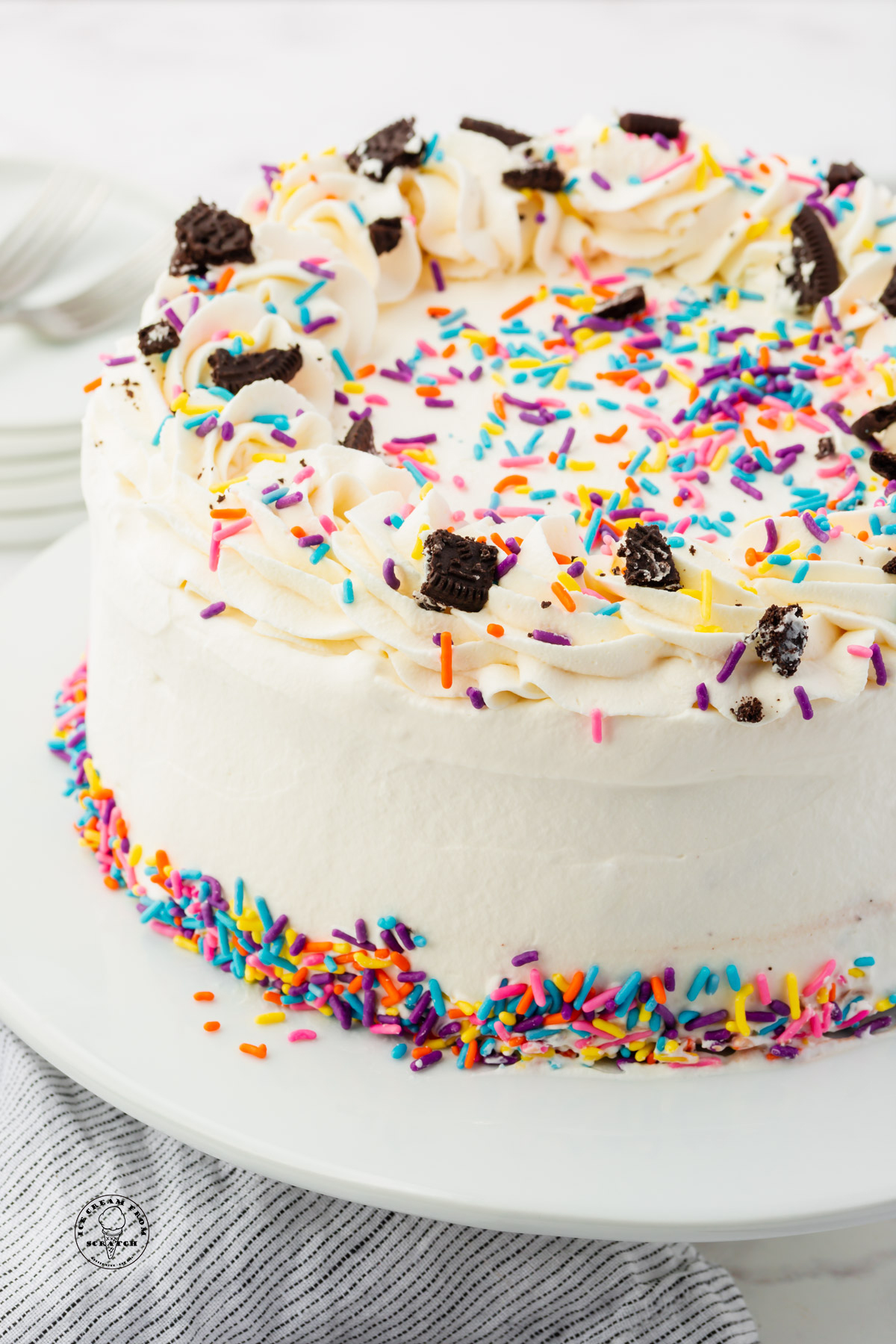 Ice Cream Cake Recipe
Homemade ice cream cake can be made with store-bought ice cream, or you can use your homemade flavors in this recipe. The basic recipe calls for Vanilla ice cream and Chocolate ice cream. You can also use Vanilla Bean Ice Cream. Keep reading for more ice cream flavor options.
Want a festive celebration ice cream recipe that is a bit easier than making a whole ice cream cake? Try making Sprinkles Ice Cream or Birthday Cake Ice Cream instead.
Funfetti Ice Cream works too. For another traditional classic, make a Banana Split.
This is a Dairy Queen ice cream cake copycat recipe! It's got layers of chocolate and vanilla ice cream, sandwiching a sweet and gooey layer of chocolate fudge sauce with crunchy cookies. The chocolate crunchies are the best part of an ice cream cake!
Why You're Going to Love this Ice Cream Cake Recipe
Step By Step Instructions – I'll be honest, there are a lot of steps to this recipe, and a lot of back and forth from the freezer. I promise it's worth it, and it's not difficult at all to make your own ice cream cake.
Amazing Textures – Ice cream cake is an amazing mix of textures from creamy ice cream, thick fudge sauce, and chocolate crunchies. It's a party in your mouth!
No-Bake Birthday Cake – Perfect for summer birthdays, you can make a fun and delicious birthday ice cream cake without ever turning on the oven.
Customizable – While vanilla and chocolate are the classic flavors of an ice cream cake since you're making it, you can choose whatever flavors you like! You can also adjust the filling or get creative with the decorations.
Iconic – There are a few things that I can count on when I think about birthdays, and ice cream cake is one of them! Even if you haven't had ice cream cake since you were a kid, I know you remember how much fun they are.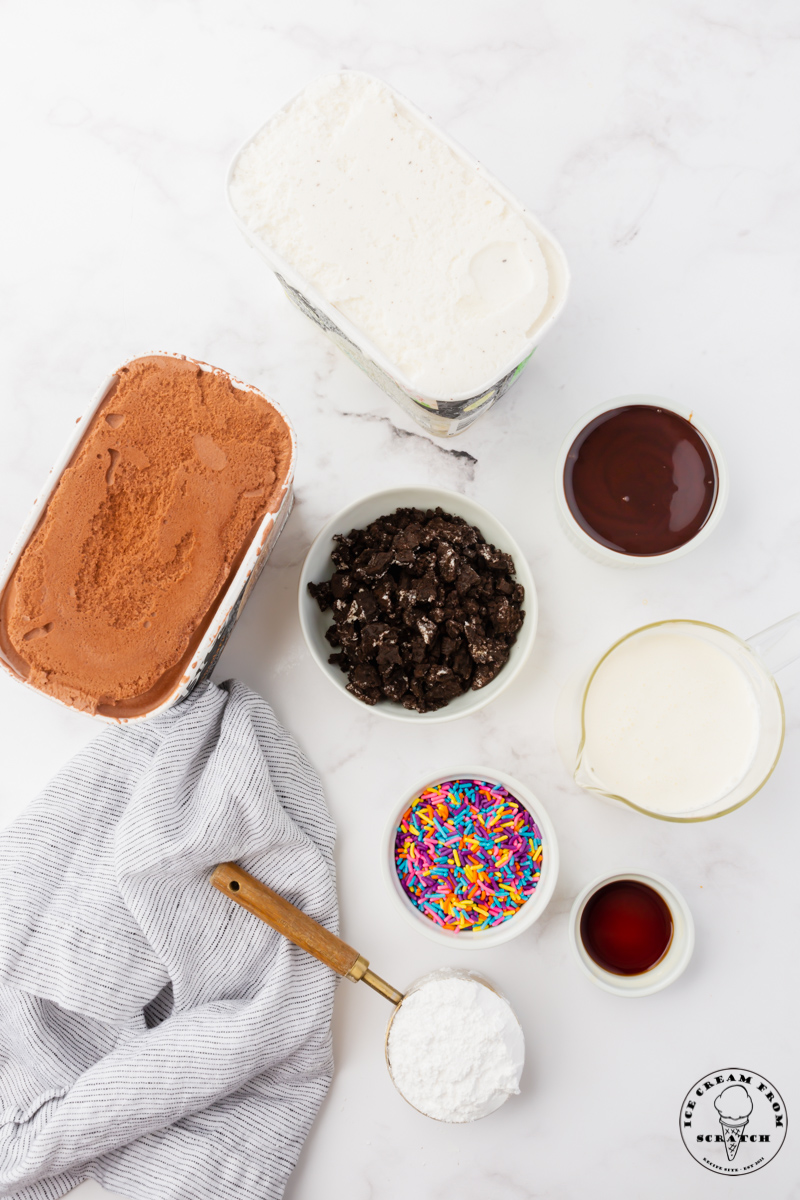 Ingredients in Homemade Ice Cream Cake
Also read: Easy Homemade Ice Cream Cake (Just 3 Ingredients!)
Vanilla Ice Cream – One typical 1.5 quart container of your favorite vanilla ice cream is needed for the first layer of the ice cream cake. Sprinkles Ice Cream works really well in this recipe too.
Chocolate Ice Cream – For the other flavor, a container of chocolate ice cream is perfect.
Hot Fudge Sauce – This chocolatey ice cream topping makes a sweet and gooey center layer for our ice cream cake
Oreos – The chocolate crunchies in a Dairy Queen ice cream cake are easily replicated by using crushed Oreo cookies. Make this recipe gluten free using gluten-free Oreos or another gluten-free chocolate cookie.
Heavy Whipping Cream – The frosting for ice cream cake is a simple sweetened fresh whipped cream.
Vanilla Extract – This adds flavor to your whipped cream topping.
Powdered Sugar – Just a small amount helps to stabilize and sweeten the whipped cream.
Rainbow Sprinkles – These are technically optional, but I think sprinkles make everything more fun, especially a cake!
If you have any questions about the ingredients for homemade ice cream cake, please leave a comment below and I will get back to you.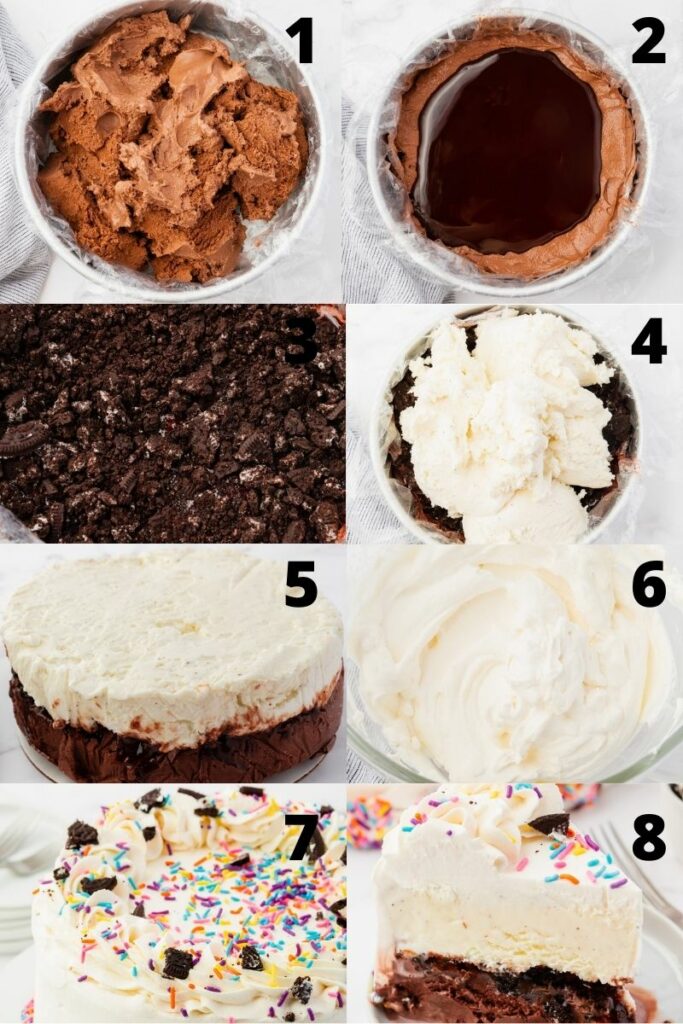 How to Make an Ice Cream Cake from Scratch
Line an 8×3-inch round cake pan or springform pan with clear plastic wrap. Let the chocolate ice cream soften for 10-15 minutes, then add the softened chocolate ice cream to the lined cake pan. Spread until even and smooth, then freeze for 1 hour.
Pour the chocolate fudge sauce over the hardened chocolate ice cream layer. Place back in the freezer for another hour.
Sprinkle the crushed Oreo sandwich cookies over the chocolate sauce layer. Freeze again for 30 minutes.
Next, let the vanilla ice cream soften at room temperature for 10-15 minutes. Then spread the vanilla ice cream over the crushed cookies. Place back in the freezer for at least two hours, until the ice cream is very firm.
Remove the ice cream cake from the freezer use the plastic wrap to remove the ice cream from the cake pan. You can also invert it onto a plate if that's easier. Place in the freezer while you make the frosting.
Make the frosting by adding heavy cream, powdered sugar, and vanilla to a large mixing bowl. With an electric mixer, whisk on medium speed for 3-4 minutes, until stiff peaks form.
Remove the cake from the freezer and frost with the prepared whipped cream and decorate with sprinkles or more crushed sandwich cookies if desired.
Serve your homemade ice cream cake immediately or freeze until ready to serve.
These numbered steps match the numbered photos above and are for illustration purposes. For the complete list of ingredients and instructions for ice cream cake, please see the recipe below.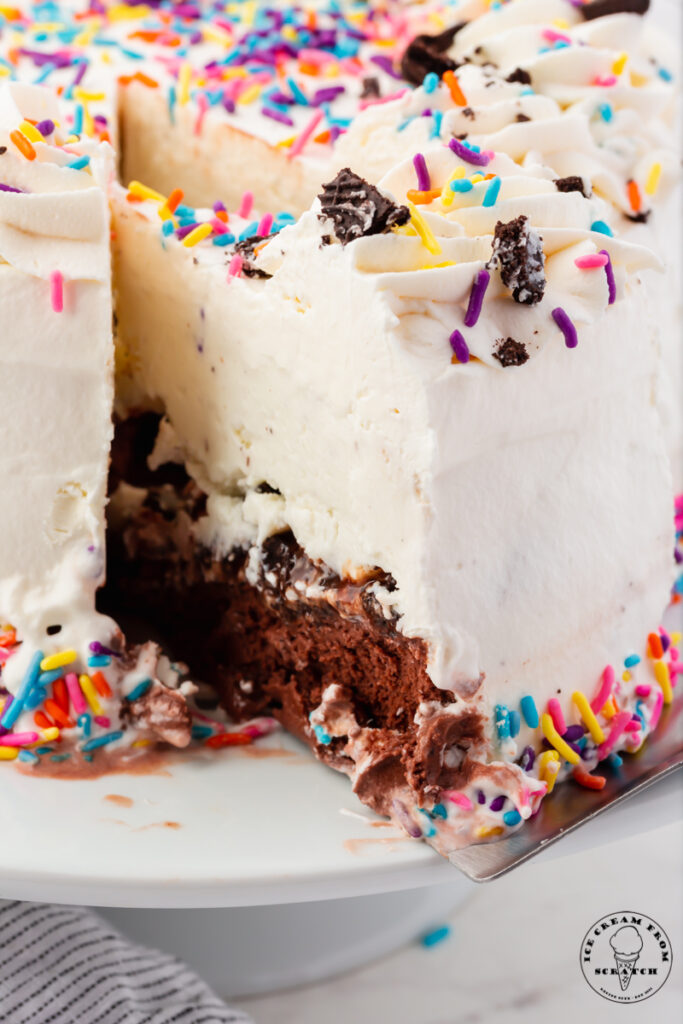 How to Store a Homemade Ice Cream Cake
You have ice cream cake leftovers? I'm not sure that's ever happened in my house! You should obviously store any leftover ice cream cake in the freezer so you can enjoy it later. Wrap it with plastic wrap to keep it from freezer burn or crystalizing. It will be best enjoyed within 7-10 days.
Avoid letting the ice cream cake soften too much if you plan to re-freeze it.
If you want to make your ice cream cake ahead of time, it's easiest to make it minus the whipped cream frosting for storage, then make the frosting and decorate the cake the day you plan to serve it.
Also read: Vanilla Malted Ice Cream Cake Recipe | Food Network Kitchen
A disposable cake box or a plastic cake taker will be useful for storing your cake in the freezer.
Tips for Making this Homemade Ice Cream Cake Recipe
Use Quality Ingredients – When making a homemade ice cream cake, you want to be sure that you're using high quality store-bought ice cream or fresh homemade ice cream for the best flavor and outcome.
Chill Out – This recipe has multiple chilling steps. You need to chill each layer of the ice cream cake so that the layers don't melt or run together. Don't skip or try to lessen the time of these chilling steps.
Fudge Sauce – Store-bought hot fudge sauce is the easiest thing to use in the center of your ice cream cake. Just don't warm it up before adding it! If you prefer, you can make a homemade fudge sauce and use that instead.
Make it Gluten Free – Gluten free Oreos can be used to make this ice cream dessert gluten free!
Choose Your Cake Pan – In the photos here I used an 8-inch round cake pan that is 3 inches high. Not all cake pans are this high, so you can also use a 9 inch round standard cake pan, freeze the ice cream layers in two separate 8 inch cake pans, or use a springform pan so long as it doesn't leak.
Easily Cut Your Ice Cream Cake by running a large knife under hot water before each slice.
We also have a recipe for Oreo Ice Cream Cake, if you're interested.
Best Ice Cream Cake Flavors
You can make this classic chocolate and vanilla ice cream cake and everyone will be thrilled, but you can also change up the flavors and add-ins to make a specialty ice cream cake just like Cold Stone Creamery or your favorite local ice cream shops make. Use any of our Homemade Ice Cream Recipes to create your custom ice cream cake.
Try some of these delicious ice cream cake flavor combinations:
Cookies and Cream Oreo Ice Cream Cake – Use Cookies and Cream ice cream for both the top and bottom layers, and fill with fudge and crushed Oreos.
Peanut Butter Chocolate Ice Cream Cake – Start with a layer of Chocolate ice cream, fill with fudge and chopped Reese's cups, and top with a layer of homemade Peanut Butter Ice Cream. Iced with chocolate ganache, this cake will be so decadent!
Also read: CRAZY Easy Vanilla Ice Cream Cake Recipe – Kitchen Mason
Strawberry Shortcake Ice Cream Cake – One layer of Strawberry Ice Cream and another of Strawberry Shortcake Ice Cream. Fill the center with a mix of Golden Oreo crumbs, chopped freeze-dried strawberries, and whipped cream.
Customized Ice Cream Cake – You can choose any two ice cream flavors! Try using Pistachio Ice Cream, Pumpkin Spice Ice Cream, Chocolate Chip Ice Cream or Black Raspberry Ice Cream to make a really unique ice cream cake.
Other Ice Cream Cake Fillings and Add Ins
For the center layer of your ice cream cake, feel free to experiment with your favorite ice cream toppings and add ins. Here are some ideas to spark your creativity:
Caramel, Butterscotch, or Peanut Butter Ice Cream Topping
Chocolate or White Chocolate Ganache
Actual Cake – you can make a single layer of chocolate or vanilla cake to sandwich in between the ice cream layers.
Fruit Spreads, Jams, or fresh fruit purees
Other cookies, such as chocolate chip cookies or vanilla shortbread.
Chopped candy bars, like Snickers, KitKat, or Reese's Cups.
More Homemade Ice Cream Treats
Make fresh chocolate cookies and make your own Homemade Ice Cream Sandwiches with Vanilla ice cream or your favorite flavor.
You can enjoy your favorite Mexican restaurant treat, Fried Ice Cream, any time when you make it at home!
Bubblegum Ice Cream is a fun ice cream flavor that is a treat all on its own.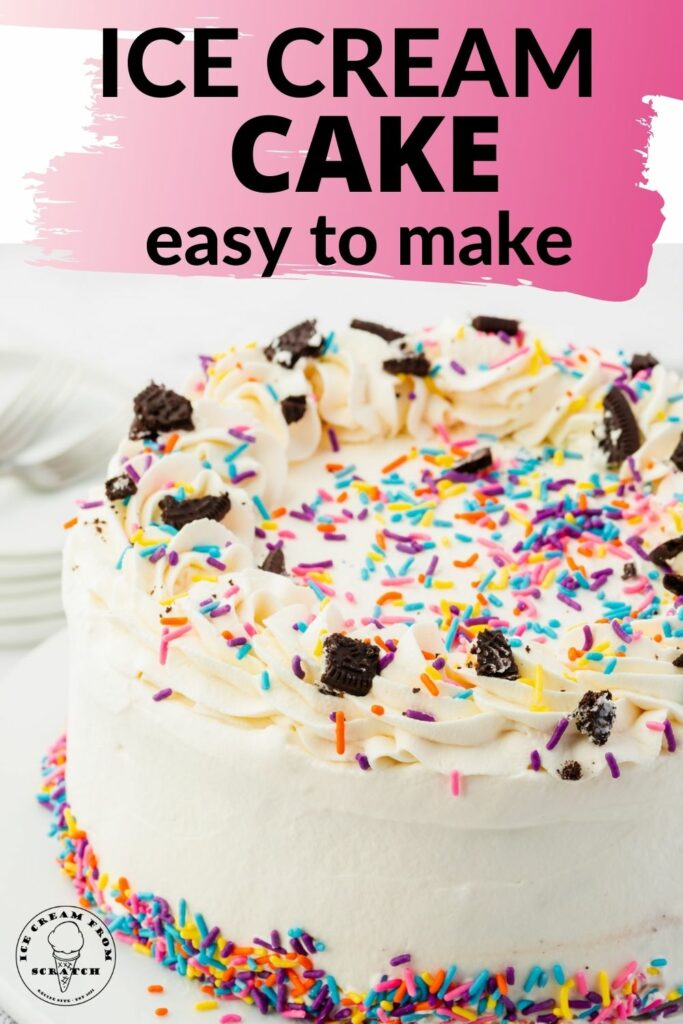 Will Ice Cream Cake Melt in the Fridge?
You want to let your ice cream cake thaw in the fridge for about 10 minutes before trying to cut into it, but if you leave an ice cream cake in the fridge for any longer amount of time it will likely melt. Set a timer!
How Long Can Ice Cream Cake Sit Out?
You want to avoid letting the ice cream cake start to melt. Depending on the temperature in your house or outside, you probably have about 10 minutes to slice and serve the cake before that starts happening.
Put the cake back in the freezer if there are any leftovers after serving.
Who Invented Ice Cream Cake?
History tells us that ice cream cake style desserts were first enjoyed in the Victorian era in Europe. Desserts called Bombe glacee (that's French) were made from molded ice cream and often included cake or biscuits.
Our Favorite Ice Cream Making Tools
Cuisinart 2QT Ice Cream Maker – Works with ice cream, sorbets, and frozen yogurt.
Loaf Pan – You can use any 9 x 13 loaf pan or a shallow pan, but we like this one.
Ice Cream Scoop – Make sure you have a good ice cream scoop. This is one of our favorites.
Ice Cream Bowls – You can use any bowl, but we think these are fun.
Ice Cream Containers – We love keeping a couple of ice cream containers on hand for when we make homemade ice cream.
Note: Each of these links will take you to the exact product on Amazon. As an Amazon associate, I earn a little from each qualifying purchase.
LET'S GET SOCIAL, you can follow us on Pinterest or leave a comment below if you have any questions.
Did you make this Ice Cream Cake Recipe? Leave a comment below letting us know what you thought and if you added any additional add-ins or tried any other flavors.
Ice Cream Cake Post
Through this article, we hope to help you understand Vanilla ice cream cake