Life is all about little moments of joy, and what better way to experience pure bliss than by sinking your teeth into a delicious treat? Imagine a glazed donut sliced in half, filled with luscious ice cream, adorned with colorful sprinkles, and drizzled with decadent chocolate. Introducing the irresistible creation – Donut Ice Cream Sandwiches!
In these challenging times, where our daily routines have been disrupted, finding moments of happiness is essential. The first week of school closures has been quite a rollercoaster for us here in Wisconsin. Amidst the chaos, our incredible teachers have seamlessly adapted to virtual learning, ensuring that our children continue to receive education. A heartfelt "thank you" is in order.
As we navigate through this new normal, I've come to realize just how challenging it can be to have kids at home while juggling work, homeschooling, and managing household chores. It's no easy feat, and focus becomes a luxury. However, one thing I've discovered this week is the sheer excitement that snack time brings to our little ones.
While I strive to provide a mix of healthy and tasty options, today I am delighted to share a recipe that will make snack time an unforgettable experience for your children – Donut Ice Cream Sandwiches. With just five simple ingredients, these treats combine two of their favorite indulgences: donuts and ice cream. And let's not forget the joy that sprinkles bring!
How to Make Donut Ice Cream Sandwiches
To embark on this culinary adventure, gather the following ingredients:
Glazed donuts
Vanilla ice cream
Sprinkles
Chocolate chips
White chocolate chips
Begin by slicing each glazed donut in half, creating a space where the masterpiece will come to life. Place a generous scoop of creamy vanilla ice cream on each donut half, ensuring that it reaches the edges. Then, bring the halves together, firmly pressing down to create a delightful sandwich.
To add a burst of color and flavor, roll the sides of the donuts in a mesmerizing array of sprinkles. Arrange the donut sandwiches on a small baking sheet lined with parchment paper and let them rest in the freezer for a couple of hours, allowing the ice cream to set.
Before serving, unleash your creativity and drizzle melted chocolate over the donuts, adding a touch of elegance to these delightful treats.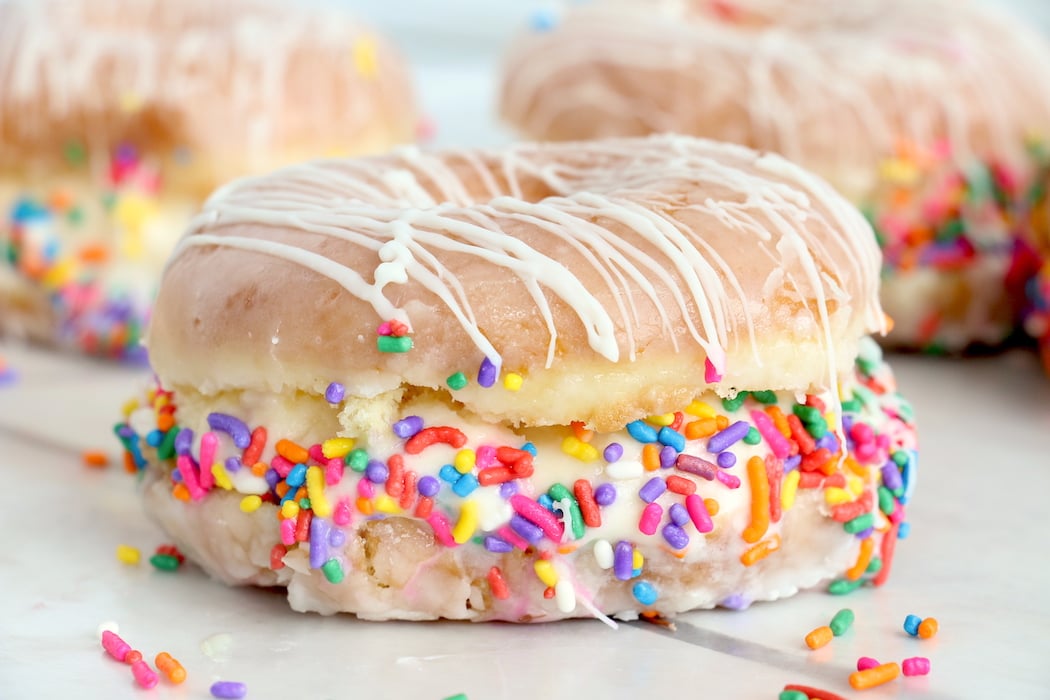 And voila! You've crafted an incredibly easy and scrumptious snack that will captivate both young and old alike.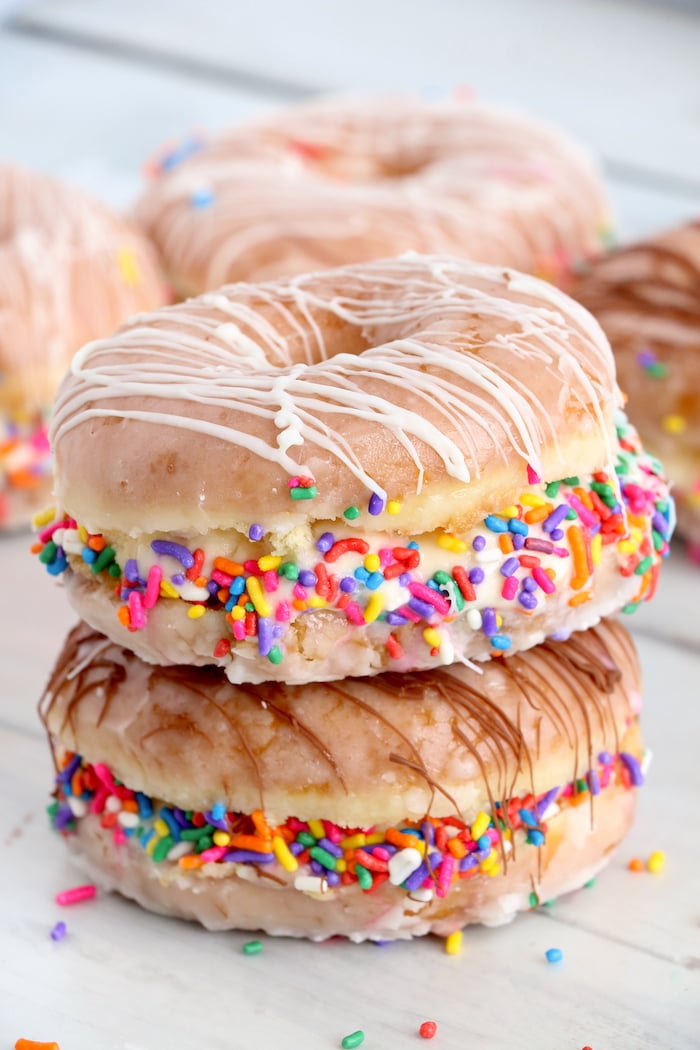 What Toppings Could You Substitute for the Sprinkles?
If you're feeling adventurous and wish to experiment with different flavors, you can substitute the sprinkles with an array of delectable alternatives. Consider using cookie crumbs, colorful cereal pieces, graham crackers, M&Ms, chocolate chips, chopped nuts, or grated chocolate to create your own unique twist.
Can I Make These Donut Ice Cream Sandwiches Ahead of Time?
While prepping these donut ice cream sandwiches ahead of time may lead to hardened donuts, you can still find a way to indulge in this delightful treat without compromising its texture. Instead of assembling the complete sandwich, you can pre-scoop your ice cream, freeze it, and add the scoops to the donut halves just before serving. This way, you get to relish all the flavors without any compromise.
Hungry for More Frozen Treats & Drinks?
If your love for frozen delights knows no bounds, we have a few more recipes that will satisfy your cravings:
Homemade Rainbow Ice Cream
Mermaid Slush
Ultimate Ice Cream Sundae Pie
Grasshopper Ice Cream Drink
Brandy Alexander Ice Cream
Very Berry Popsicles
Blue Raspberry Lemonade Jell-O Slush
So, why wait? Embark on this culinary journey, create memories, and treat yourself to the sheer delight of a doughnut filled with ice cream. Indulge in the heavenly pleasure of Donut Ice Cream Sandwiches today!