Here are the best information about Dairy free mint chocolate chip ice cream public topics compiled and compiled by our team
Rich, creamy and perfectly mint-y, this dairy free mint chocolate chip ice cream is a must for warm summer days! With the perfect texture and pale green color thanks to a secret ingredient, you'll never believe this dreamy homemade dessert is dairy free, egg free, gluten free and vegan.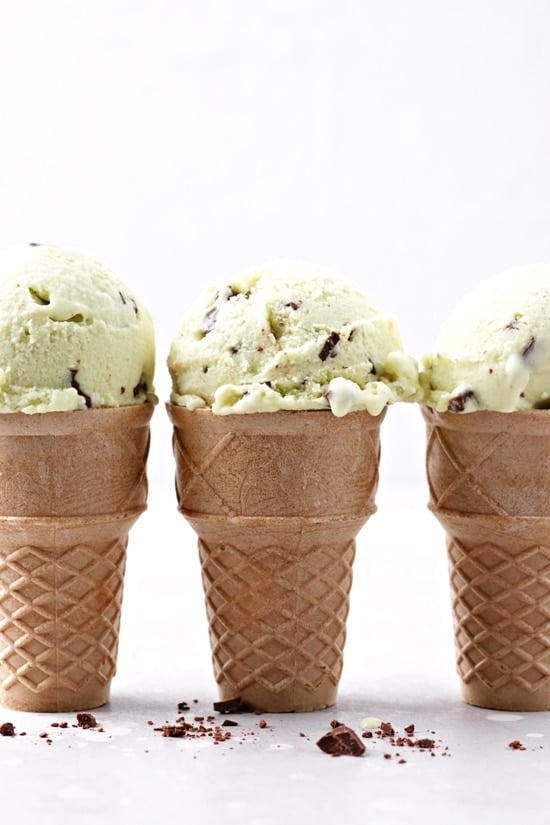 Mint + chocolate. It's a match made in dessert heaven.
And when we combine that goodness with an incredibly smooth, creamy and luscious ice cream base?
We wind up with a sweet treat that is downright impossible to resist.
Added bonus? It's completely dairy free thanks to a combination of coconut milk, oat milk and dreamy avocado.
Now, hear me out. You absolutely DO NOT taste the avocado.
It just gives the ice cream the perrrrrfect texture AND adds a bit of pale green color (without the need for any food coloring or dye).
Leaving you with some seriously swoon-worthy dairy free ice cream that is absolutely delightful anytime of the year.
How To Make Dairy Free Mint Chocolate Chip Ice Cream
So, let's talk about how this delicious treat goes down.
Prepare base. First up, we'll warm some coconut milk, sugar and salt in a saucepan until smooth, before whisking in a bit of oat milk, peppermint extract and vanilla.
Blend in avocado. We'll transfer the mixture to a blender, along with some ripe avocado, and give it a whirl until combined.
Chill for several hours. Next, we'll pop the mixture in the refrigerator until well chilled, about 4 to 6 hours.
Churn in an ice cream maker. We'll pour the chilled base into an ice cream maker and churn until the consistency of soft serve, before folding in some dairy free chocolate.
Freeze until firm. Finally, we'll pop the ice cream in a container and stick in the freezer for about 2 to 3 hours, until hardened to the consistency of regular ice cream.
And then, we grab those spoons and dig in.
Tips & Tricks
First things first. The full-fat coconut milk is non negotiable. Please do not try to use light canned coconut milk – you really need the extra fat.
The same goes for the avocado – it's there for the added fat which helps make the ice cream nice and creamy. I would not suggest skipping it – the results won't be the same. If you can't do avocado, you could maybe try cashew butter instead (which is fairly neutral in taste) … but I haven't tested that myself.
As far as the oat milk, I personally like to use either Chobani Plain oat milk or Oatly Original oat milk (not sponsored, just what I prefer!). With that said, other oat milk brands will totally work as long as you do NOT use anything that's low fat or light. Because again, we want the extra fat.
Feel free to adjust the amount of chocolate chips or chopped chocolate to taste.
And finally, the optional vodka. Because homemade ice cream doesn't contain any preservatives or fillers, it freezes harder than store-bought versions. Vodka doesn't freeze, so adding a touch to the ice cream helps make it more scoop-able and softer in texture. It's not necessary but I've found it does help.
How To Store
Freezer: Store the ice cream in an airtight container in the freezer for up to 2 weeks. With that said, it is 100% best enjoyed within the first 24 to 48 hours after churning – it will be creamiest during this time. The longer it sits, the icier it will get.
Personally, we love to enjoy this ice cream about 2 to 3 hours after churning – giving it just enough time in the freezer to harden to the consistency of regular ice cream … and yet still perfectly soft and creamy in texture. It will also scoop super easily.
If you go longer, you can let the ice cream sit on the counter for about 10 to 20 minutes to soften before scooping.
Additional Dairy Free Desserts You Might Enjoy:
Dairy Free Peanut Butter Ice Cream
Watermelon Coconut Milkshake
Mango Coconut Ice Pops
Coconut Mojito Ice Pops
Coffee Cookies & Cream Popsicles
Did you make this recipe? Rate and review it down below! I'd love to hear from you.