You Won't Believe How Easy It Is!
Are you ready to indulge in a delectable treat that's not only dairy-free but also incredibly easy to make? Look no further than this mouthwatering dairy-free ice cream cake. With just a few minutes of effort and a few simple ingredients, you can create the most unforgettable vegan dessert that will impress everyone at any birthday, holiday, or event. Get ready to savor every heavenly bite of this scrumptious ice cream cake!
The Perfect Vegan Dessert
Picture this: a towering masterpiece of frozen custard, cookies, frosting, and sprinkles, each slice bursting with an explosion of flavors, colors, and textures. An ice cream cake is the ultimate centerpiece for any celebration, whether it's the heat of summer or the chill of winter. The best part? You don't have to sacrifice your vegan lifestyle to enjoy it!
Why You'll Love This Recipe
No experience necessary: Don't consider yourself a master baker? No problem! This recipe is more about assembly than actual cooking. Anyone can make this delicious cake, and you can even get the kids involved too!
Make ahead: Plan ahead and make your cake in advance, allowing it to chill in the freezer until it's party time. This not only saves time on the day of the event but also ensures the perfect texture and flavor.
Endless flavor combinations: Let your creativity soar by mixing and matching your favorite ice cream flavors with different cookies, candies, and toppings. The possibilities are endless!
Gluten-free options: If you or your guests have gluten sensitivities, simply choose gluten-free cookies and enjoy a treat that everyone can savor.
Crowd-pleasing: Who can resist the allure of an ice cream cake? Whether young or old, vegan or not, this delectable dessert is guaranteed to be a hit.
Key Ingredients
To create this delightful dairy-free ice cream cake, you'll need:
Vegan ice cream: Choose your favorite plant-based ice cream, whether it's made from oats, soy, coconut, or other vegan alternatives. Just make sure to grab a full pint (16 ounces) for the perfect amount.
Sandwich cookies: Classic chocolate wafer cookies with a creamy filling are the traditional choice, but feel free to explore various Oreo flavors to add unique twists to your cake.
Vegan butter: Use vegan butter to bind the cookie layer and prevent it from becoming too soggy.
Chopped peanuts: For a delightful crunchy contrast to the smooth ice cream, add some chopped peanuts. If you have a nut allergy, substitute them with pepitas, sunflower seeds, or simply more cookies.
Melted chocolate: Drizzle your cake with a generous amount of melted chocolate for visual appeal and a burst of flavor. Whether it's melted chocolate, ganache, magic shell, or chocolate syrup, the choice is yours!
Chocolate and buttercream frosting: Take your cake to the next level by frosting it with homemade or store-bought frosting. Duncan Hines frosting offers many vegan options, but always double-check the labels.
Sprinkles: Add a touch of magic and joy with your favorite brand of vegan sprinkles. From colorful to sparkly, the market offers a wide variety of vegan-friendly options to make your cake truly delightful.
Flavor Combination Ideas
If you're unsure where to start or overwhelmed by the countless possibilities, here are some flavor combinations to inspire you:
Cookie Monster: Double the cookie dough ice cream, crunchy chocolate chip cookies, and a layer of vanilla frosting. Top it off with whole or mini chocolate chip cookies or even Cookie Crisp Cereal!
Neapolitan: Layer strawberry, vanilla, and chocolate ice cream with chocolate sandwich cookies and chocolate and vanilla frosting. Garnish with fresh strawberries and mini chocolate chips.
Grasshopper: Enjoy a refreshing mint chocolate chip ice cream paired with chocolate ice cream, mint-chocolate sandwich cookies, and chocolate frosting.
Chocolate-Covered Strawberry/Cherry: Combine chocolate and strawberry or cherry ice cream with double chocolate sandwich cookies and chocolate frosting. Complete the cake with a drizzle of melted chocolate and fresh strawberries or maraschino cherries.
Recipe for Success
Don't worry if this is your first time making an ice cream cake. Follow these tips for perfect results:
Temper the ice cream: Let the ice cream sit at room temperature for about 10 minutes until it softens slightly. This will make it easier to spread smoothly.
Press down firmly: To ensure an even and compact fill, press the ice cream layers down firmly to remove any air bubbles.
Keep it cool: Work in a cold kitchen or take breaks between each step to prevent the ice cream from melting. If needed, place the cake back in the freezer to re-solidify.
Easy slicing: Before each slice, run your knife under hot water and wipe it off with a clean kitchen towel to achieve neat cuts.
Tips for Storing and Saving Your Ice Cream Cake
Prepare your cake well in advance of your event to allow time for chilling. Keep the cake in the pan to avoid any accidental damage, cover it with plastic wrap, and label it clearly. It can stay in the freezer for up to 6 months.
When you're ready to serve, transfer the cake to the fridge and let it sit for 20-30 minutes to soften slightly. Add any fresh fruits or final garnishes just before presenting it to your guests. Remember to return any uneaten portions to the freezer immediately to prevent melting.
More Frozen Dessert & Vegan Ice Cream Recipes to Try
If you're craving more delicious vegan desserts, here are a few recipes worth exploring:
Vegan Matcha Chip Ice Cream
Vegan Creamsicles
3-Ingredient Watermelon Gelato
Vegan Rocky Road Ice Cream
Chocolate-Dipped Banana Pops
Minimalist Mango Berry Nice Cream
Vegan Drumsticks
Ready for a frosty froyo adventure? Check out our guide to the best dairy-free frozen yogurts (plus recipes!) for even more frozen delight.
Equipment You'll Need
To create your very own dairy-free ice cream cake, gather the following equipment:
Measuring cups
Measuring spoons
Food processor
Springform pan
Spatula
Parchment paper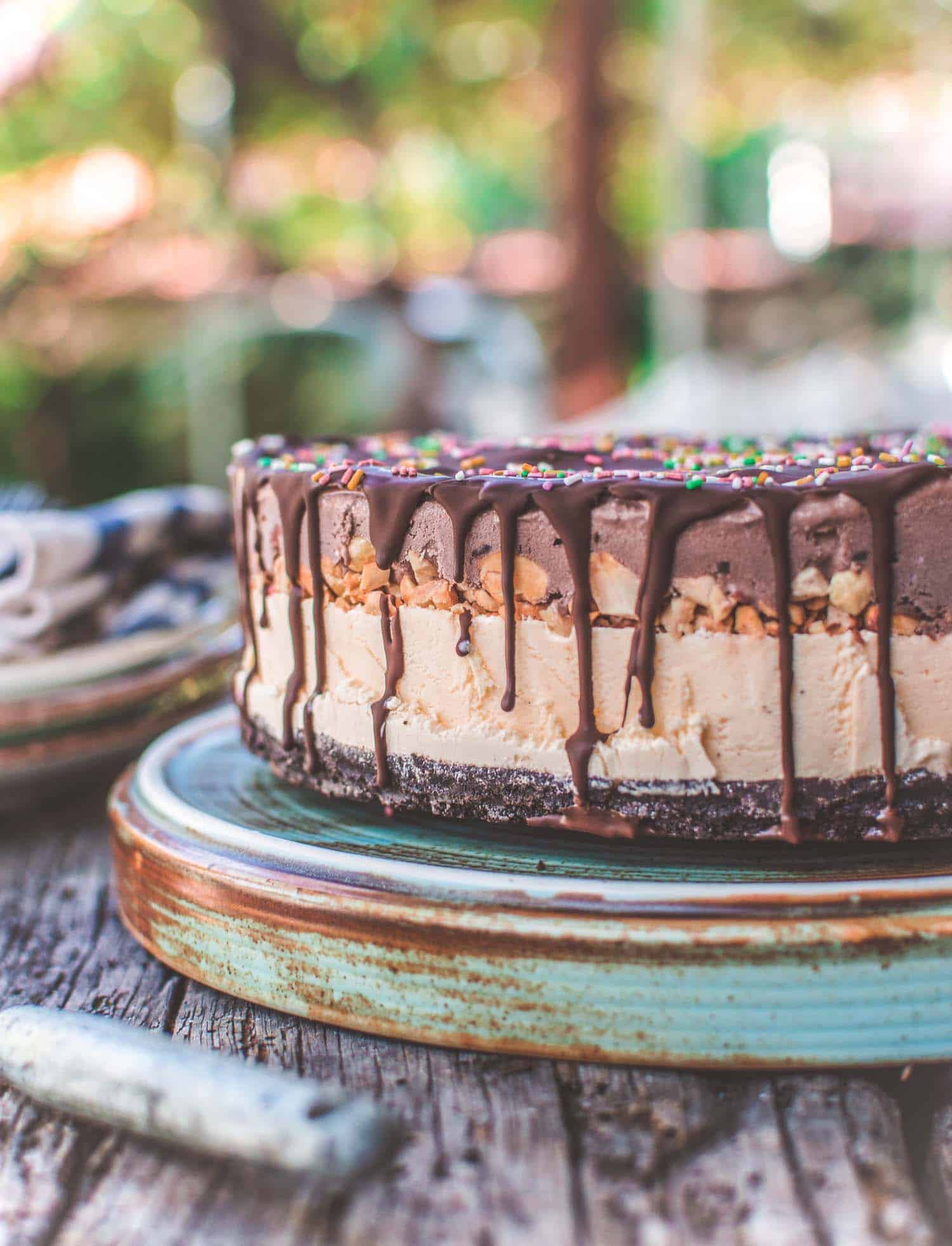 This decadent vegan ice cream cake recipe was created by the talented Jolene Shapiro and originally published in The Friendly Vegan Cookbook by Michelle Cehn and Toni Okamoto. The mesmerizing photos of this cake are courtesy of the incredibly gifted vegan photographer Zhoro Apostolov. We hope you enjoy this recipe, and remember to visit Ice Cream for all your frozen dessert cravings.