Below are the best information about Chocolate covered banana ice cream public topics compiled and compiled by our team
This post may contain affiliate links. As an Amazon Associate I earn from qualifying purchases. Please see my disclosure policy for more information.
Big news. BIG NEWS!! Sorry to shout, but I'm way too excited to be bothered by social niceties like moderating my Internet tone of voice. (Tone of type?) Do you know what's happening one week from today?
I'll give you a hint: it starts with an "A," ends with an "rrested Development," and is only the greatest, funniest, most awesomest show ever to be cruelly yanked from the airwaves before its time.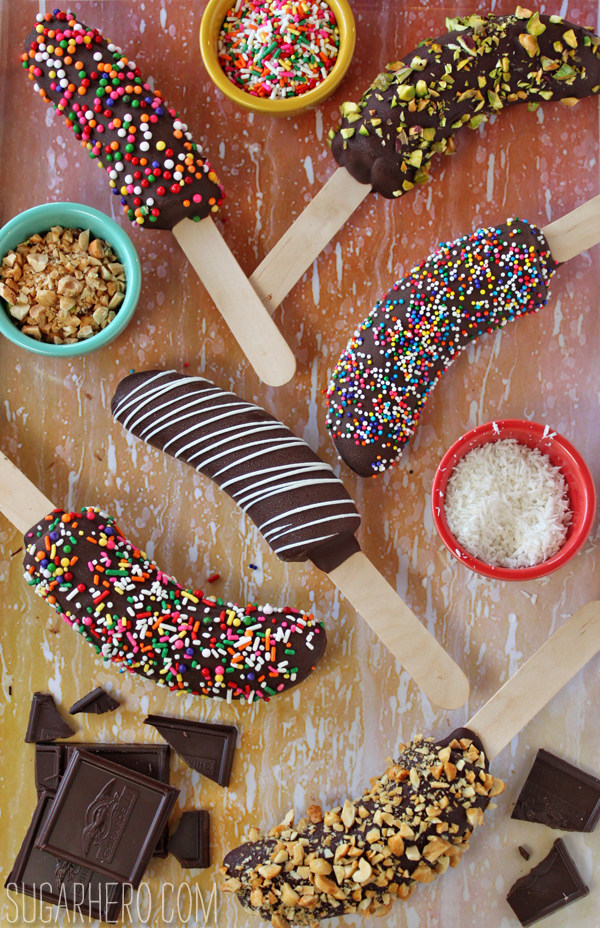 Yes, Arrested Development is coming back to television, and I couldn't be more excited. Imagine me running in circles flapping my arms and making high-pitched yipping noises, and you're getting close. To celebrate, I'm teaming up with my blogging BFF Danguole at 10th Kitchen to bring you a whole week of Arrested-Development themed food. This is going to be bananas. Pun most definitely intended.
Danguole started our week off right, with an Elderflower Collins recipe. And in honor of our favorite early-morning drinker, Lucille Bluth, it should be served with a side of toast. Because toast=breakfast, duh. Go check out the recipe, and stay for the AD jokes and "Best of Lucille" video clip show.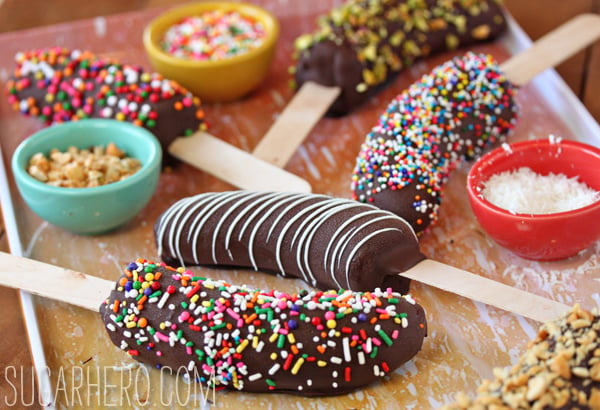 I knew right away what I wanted my first contribution to be. Chocolate-dipped frozen bananas are a big part of the Arrested Development world. After sketchy real estate deals, selling national secrets to Saddam Hussein, and composing folksy jingles for pharmaceutical companies, frozen bananas are the Bluth's main business. Their "Bluth's Original Frozen Banana Stand" is like another character on the show.
The banana stand has been the scene of more heartbreak, magic tricks illusions, sibling rivalry, and uncomfortable cousin moments than any plywood structure should have to witness. And let's not forget the #1 rule of the banana stand: don't burn it down, because there's always money in the banana stand.
But enough TV talk, let's get to the goods! This was my first time making frozen bananas, and I wanted to do them justice. Turns out, making frozen bananas is super easy! (So easy, even Steve Holt could figure it out.) Because they're so simple and fast, this is a great recipe to make with kids. With the weather heating up, it's perfect to have in your arsenal for hot summer days when everyone's craving something cold and the popsicle stash is gone.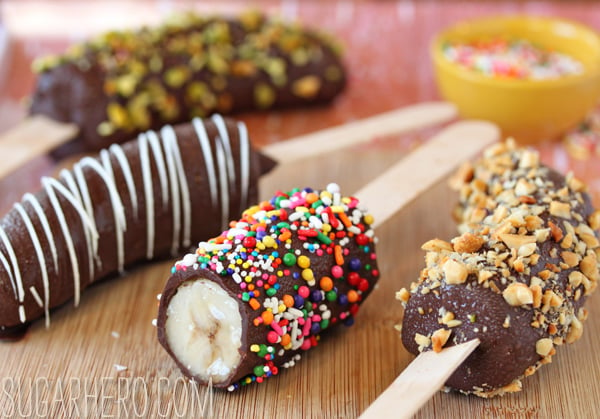 I coated my bananas with semi-sweet chocolate and a variety of toppings: salted nuts, sprinkles, toasted coconut, and white chocolate. I think my favorite variation was the salted pistachios, but really, anything that adds a little crunch is perfect. I liked them best when they sat out of the freezer for about 10-15 minutes, so that the bananas softened just a bit and had a creamy, almost ice cream-like consistency, instead of their initial rock-hard texture.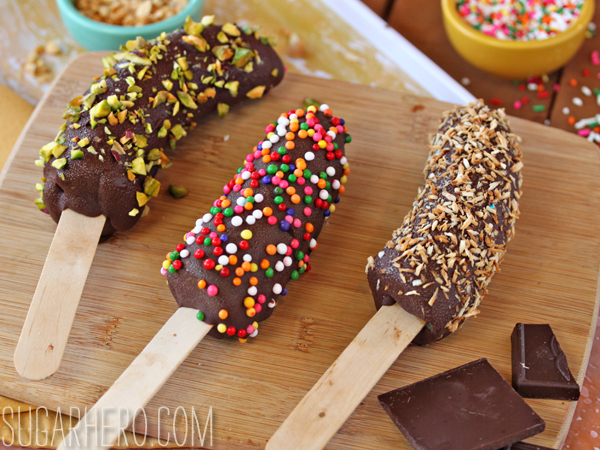 🍓 More Fabulous Fruit Recipes
Berry Shortcake in a Jar
Grilled Pound Cake and Peaches
Lemon Blackberry Trifle
Doughnut Trifles
Strawberry Rhubarb Shortcake
Strawberry Shortcake
Mixed Berry Cobbler